I've got 6 leaky gut supplements. Well, those are the main ones. And then 9 more!
Do you know how much research around Leaky Gut Syndrome I did when writing The Leaky Gut Meal Plan: 4 Weeks to Detox and Improve Digestive Health?
A lot.
Like, more research than some people might want to do their whole lives. And here's the thing, the research part of the book was way over word count. A lot of it had to be thinned out and cut down.
And this is okay because the book is now direct and to-the-point. I can still share everything else with you here.
The book gives you my top 6 leaky gut supplements.
After I share these top supplements for leaky gut, I'll share some more miscellaneous thoughts that did not make the book.
These are things I still think are good, valuable, and important.
Why Take a Leaky Gut Supplement?
Though far more research needs to be done on all leaky gut supplements, their biggest claim to fame is that they support immunity. This is key because somewhere between 70-90% of the body's immune system cells lie within the digestive tract.
If the gut is "leaky," the immune system is thought to inherently weaken.
Thus, the leaky gut supplements can help strengthen the gut lining in order to strengthen the immune system.
6 Leaky Gut Supplements
Click HERE to save this post for later.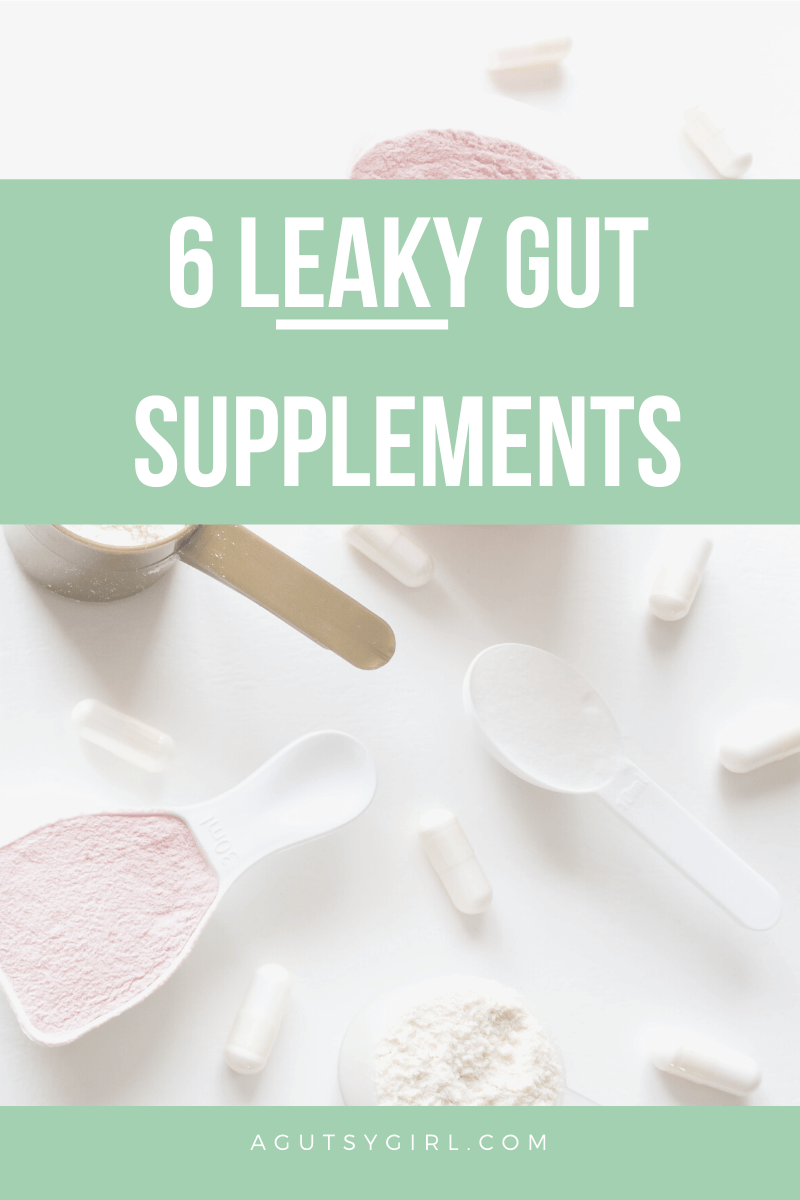 HCL (Betaine) with Pepsin

This helps support healthy stomach acidity, gastric function, and protein digestion. Without adequate stomach acid, vitamins and minerals are not absorbed properly, and protein becomes harder to digest. For those with a leaky gut, it becomes even more imperative that food is broken down as much as possible.

Digestive Enzymes

These support optimal digestion by helping the body absorb nutrients and convert food into energy. They can help with gas, bloating, indigestion, and irregularity.

Digestive enzymes help turn larger molecules found in foods (carbs, protein and fats) into more easily absorbed particles (such as amino acids, fatty acids, cholesterol, simple sugars and nucleic acids). The body can then actually use these particles to function and for energy.

L-Glutamine

L-glutamine, in my opinion, is a staple for those healing leaky gut syndrome. Glutamine is an essential amino acid that is anti-inflammatory and necessary for the growth and repair of your intestinal lining.

L-glutamine acts a protector and coats your cell walls, acting as a repellent to irritants.

Digestive Bitters

These are made of herbs, bark, roots, and fruit and are used to improve digestion and breakdown of fats, reduce gas and bloating, and even help prevent SIBO and yeast overgrowth.

A digestive bitter is an herb that supports digestive function by stimulating bitter receptors on the tongue, stomach, gallbladder and pancreas.

Their primary effect is to promote digestive juices such as stomach acid, bile and enzymes to breakdown food and assist in the absorption of nutrients.

Zinc

This mineral is known for its ability to boost the immune system and help tighten the junctions of the intestinal lining. Zinc supplementation tightens "leaky gut" in Crohn's disease.

Zinc deficiency can arise from several sources, and a major physiological effect of zinc deficiency will be to induce leakiness in tight junctional seals and consequently epithelial cell layers. (source)

Probiotics

Probiotics for leaky gut are common. These help improve the overall microbiome of the gut by restoring beneficial bacteria that have been depleted. However, when choosing the right probiotic for leaky gut (or any other condition), here are three things to consider:

Research: Is there research to back up the probiotic strains and species; overall efficacy?
Trust: Do you trust the brand?
Next generation thinking: Is the manufacturer going beyond the basics of commonly used strains and species? Is there something/anything unique?
(All of the above information is taken from page 17 in The Leaky Gut Meal Plan: 4 Weeks to Detox and Improve Digestive Health.)
By the way, if you're interested in any of these supplements, I have a "where to buy leaky gut supplements" section below.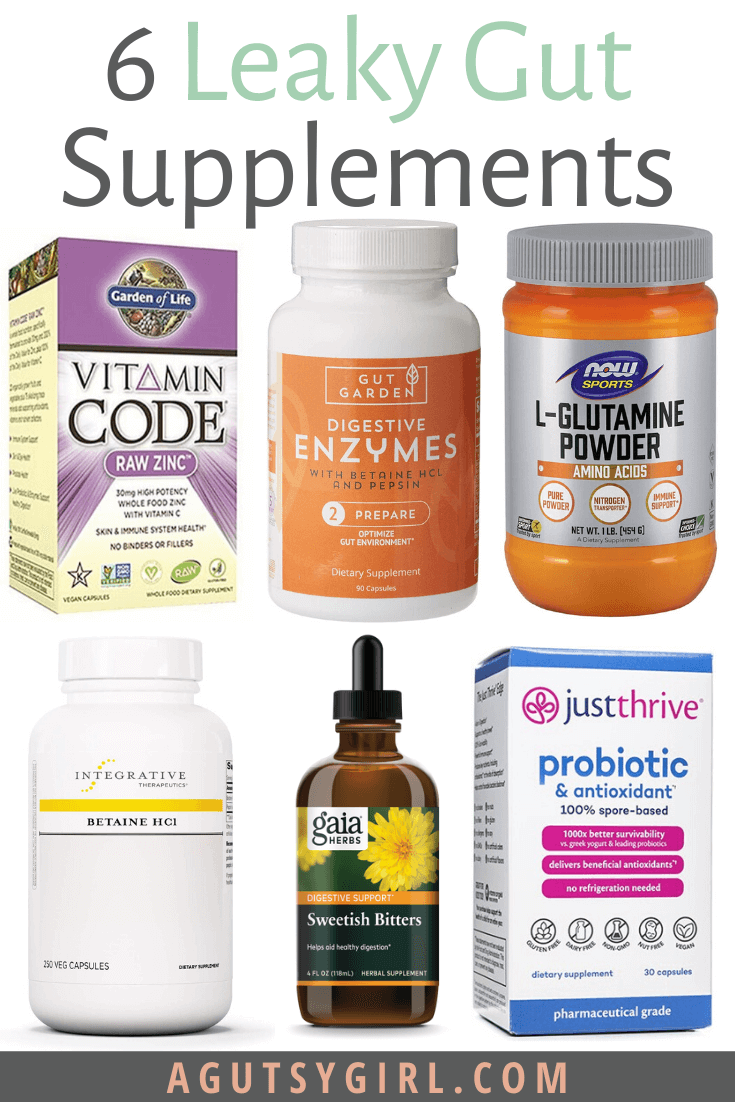 8 More Leaky Gut Treatment Supplements
The above supplements are what I believe the top 6 supplements for leaky gut.
But that's doesn't mean there aren't more leaky gut supplements.
Here are 8 more leaky gut treatment supplements:
Omega-3 fatty acids

Some studies have shown that omega-3 PUFAs can modify the intestinal microbiota composition [52] by increasing the number of Bifidobacteria that decrease gut permeability. (source)

Vitamin D3

Epidemiological studies show that individuals with higher serum Vitamin D have a lower incidence of IBD, particularly Crohn's disease. A deficiency in vitamin D leads to dysbiosis of the gut microbiome and has been reported to cause severe colitis. You can read my full post on Vitamin D3 [HERE].

Vitamin K2-7

Vitamin K2 is also produced by gut bacteria in the large intestine.

However, people with malabsorption syndromes and other gastrointestinal disorders, such as cystic fibrosis, celiac disease, ulcerative colitis, and short bowel syndrome, might not absorb vitamin K properly. You can learn more about it HERE.

Collagen

Collagen is one of the best ways for treating leaky gut syndrome, which is why bone broth is almost always recommended. It is made up of 19 different amino acids; non-essential and essential amino acids. So even if you're sick, getting collagen in can help boost those amino acids.

Prebiotic

Prebiotics cannot be digested by human enzymes. Instead, they feed the bacteria in the colon that can digest them. Therefore, the idea is that consuming prebiotics will help feed "good" bacteria, which then strengthens the overall gut environment. Of course, you already know, but if you have active SIBO, this might not be your best strategy. SIBO and a leaky gut go hand-in-hand oftentimes.

Coconut oil (as a supplement)

The "caprylic acid / medium-chain fatty acids in coconut products are rich in antimicrobial properties that work fantastically well to decrease levels of bad yeast and bacteria in the gut (help say goodbye to candida and SIBO)."

Leaky Gut Revive

This is more of an all-in-one leaky gut supplement (by Dr. Amy Myers). The formula contains: l-glutamine, larch arabinogalactan, marshmallow root powder, licorice root powder, slippery elm bark powder, and aloe vera leaf powder. You can get it on Amazon HERE or if you are part of my Wellevate dispensary, you'll get it for far cheaper ($15+ cheaper). Sign up HERE.
And there is still one more leaky gut supplement that I'm a huge fan of. In fact, it might be my number one recommendation for anyone dealing with a leaky gut and/or weak immune system….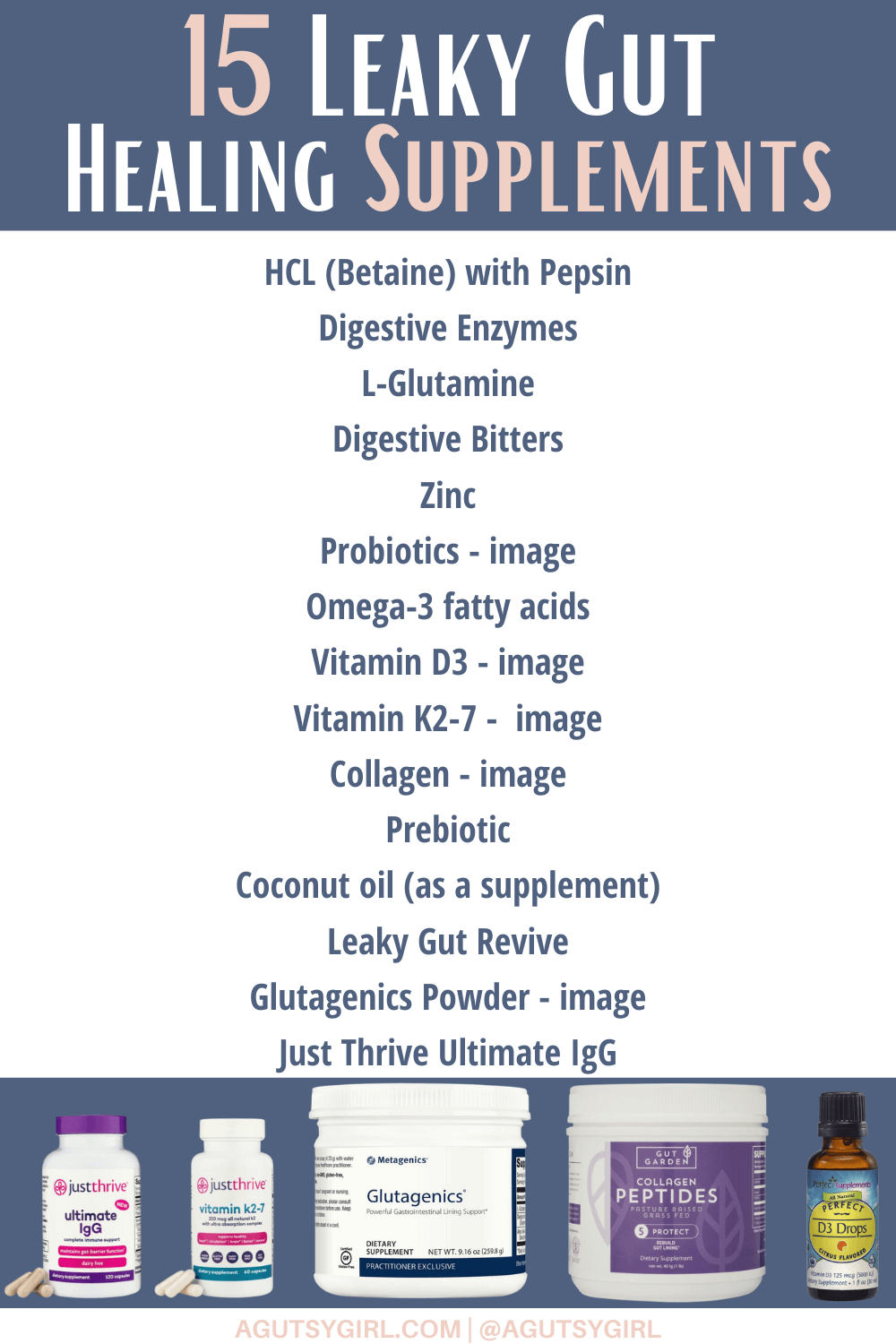 Just Thrive Ultimate IgG
Why?
Let's break it down.
IgG is an antibody – a protective protein that your immune system produces when it senses an invader. And bacterial inflammation is known to be one of the main causes for leaky gut symptoms.
Therefore, when IgG is adequate, they have the capability to "catch the invaders," i.e bind to them so they can't escape.
Just Thrive even states the following two main things the Ultimate IgG does:
Supports healthy intestinal function
Encourages optimal health and strength of your gut barrier
This supplement is sort of a leaky gut supplement hack that not many know about and/or use.
I literally and actually always have at least 2 bottles on hand. I take 2 pills, 2 times per day. You can get them HERE and with my code AGUTSYGIRL you will save 15% at checkout.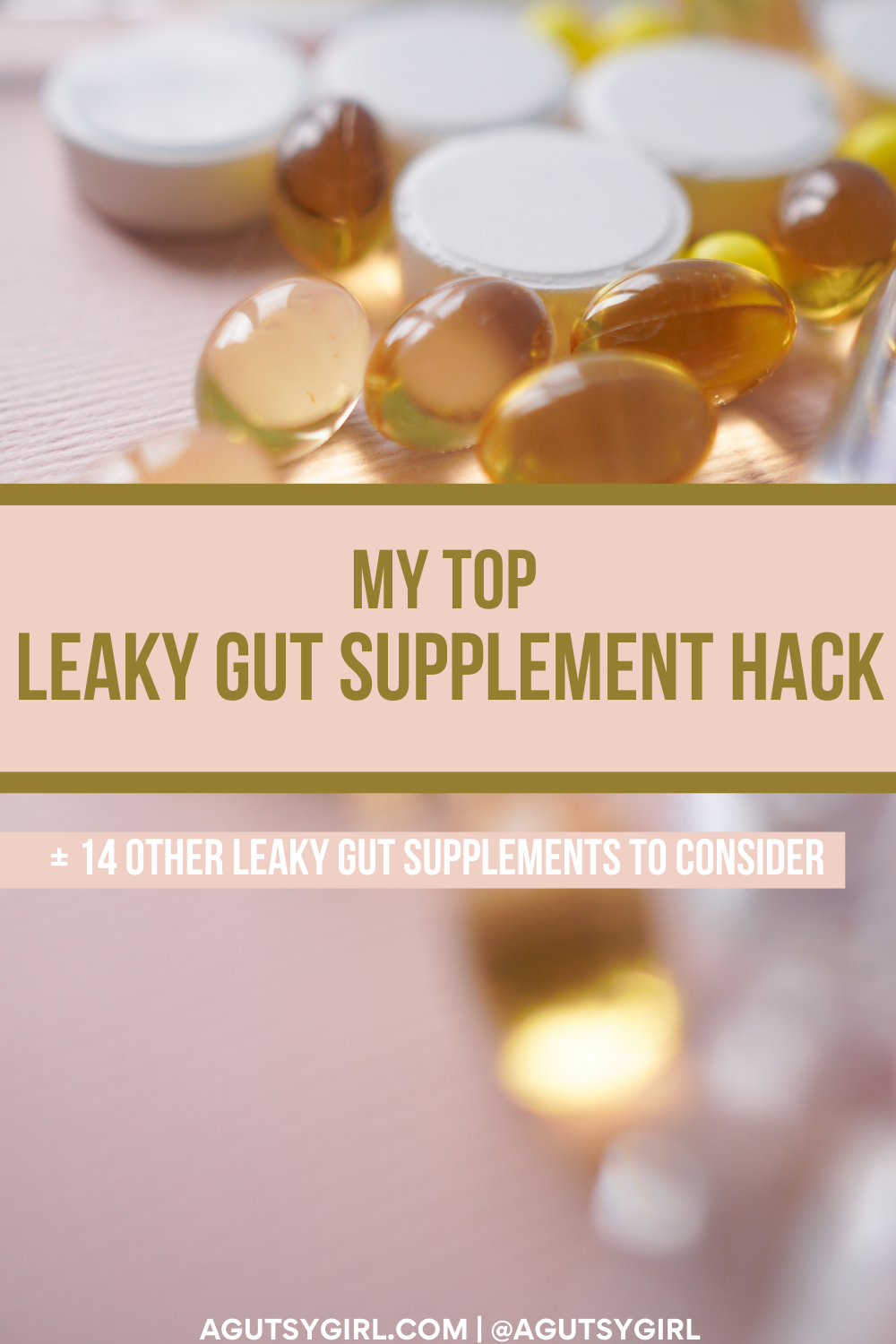 Where to Get Leaky Gut Supplements
Because I tend to take a more minimalist approach to supplements these days, I'm careful about what I use and who I buy from.
And because of this, I do partner with various supplement companies so that both you and I can receive a discount.
When you purchase from (some of) these companies, I make a small amount. That said, their prices do not increase in order to pay me. In fact, by partnering with and purchasing from me, you are simply saving money.
With that, let me share some high-quality places to get leaky gut supplements.
---
Note
You can always check my Wellevate Dispensary [HERE] for any of the below to see if they are cheaper. Once you're signed up for my Wellevate Dispensary, I'll go in and bump up your personal savings from 10 -> 15% off the already lowered prices.
---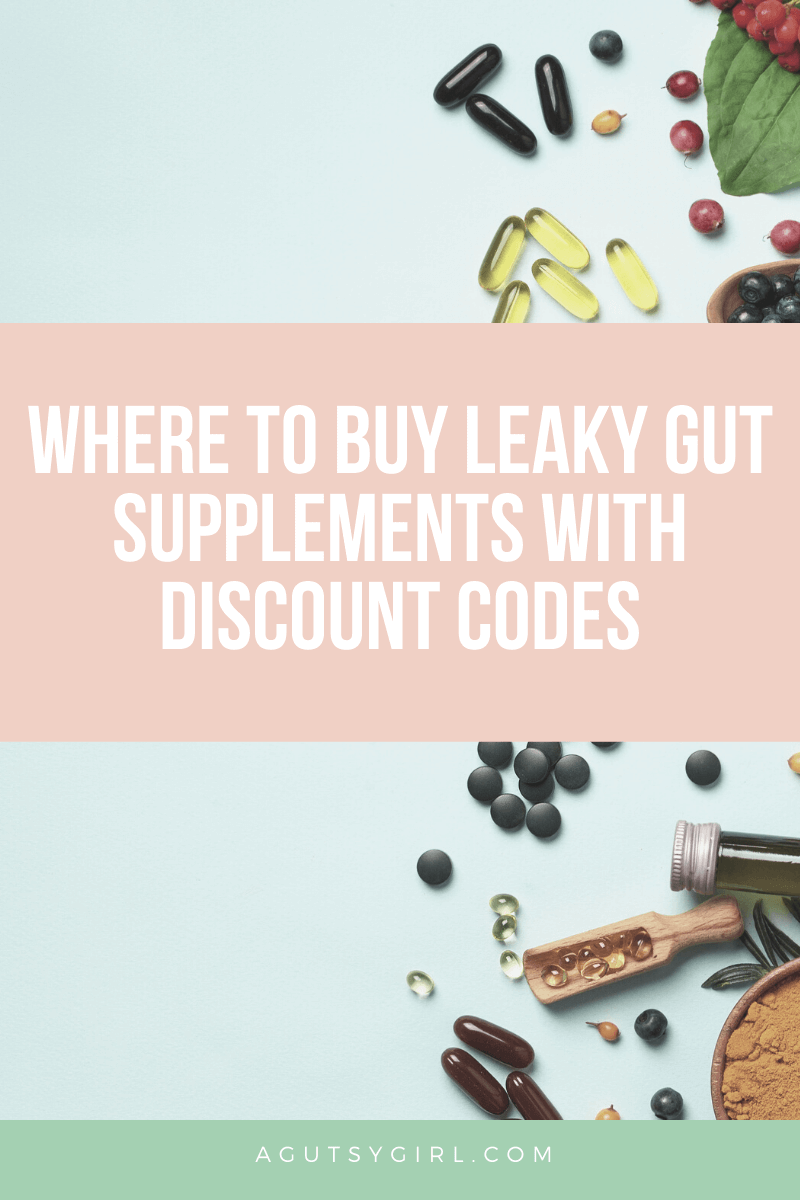 Supplements for Leaky Gut Caution
Know and trust the source.

With the supplement market booming (almost $200 billion by 2025), not all supplements are equal.

Many supplements now contain extra additives and fillers and/or the main source of whatever ingredient you are trying to get from it is not as high-quality as you think. Do your research.

Work on using them in conjunction with a doctor or other health practitioner.

Approach some supplements with more caution than others. Like HCL with pepsin, for example. Taking too much can cause damage (you would feel a massive burning in your stomach).

On the flip side, if you need a larger dose of something and you're not taking enough, you're less likely to reap the benefits.

Minimize to maximize.

Because the supplement industry is so large and constantly telling us that we need their supplement to optimize health, we tend to think more is better. The truth is that, usually, minimizing is maximizing. The more supplements you're taking, the less you are able to understand what is truly working; what is not.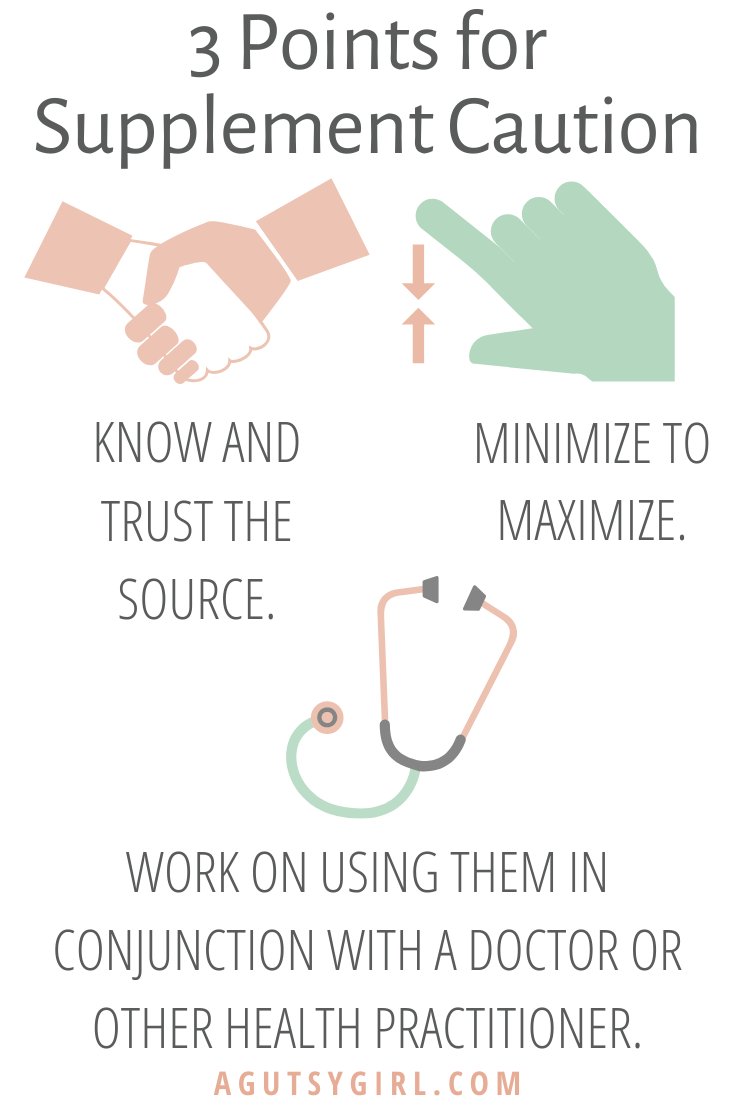 A supplement is simply "in addition to" and/or to give a boost.
Healing Leaky Gut Syndrome is about far more than the supplements you take or do not take.
In fact, if the supplements and diet aren't working, you might need to do some troubleshooting.
Here is one way to troubleshoot.
Factor in Your Lifestyle
Even though it's in the book, people avoid the lifestyle part and write it off as "not important."
Tough love here. It's very, very important. And if you're doing all the other things, this might be your golden ticket to healing. Oftentimes, you can't diet harder. Think about the primary foods. I'm serious. Stop right now and really think about them.
BTW – the number one tool you can have for this entire list, troubleshooting, and your journey is the 90-day gut healing journal.
Grab 8 other ways to troubleshoot your leaky gut healing plan HERE.
If you liked this post, you might also enjoy:
You will heal. I will help.