It seems like I have written a ton about HCL, but I still get many questions so I decided to write an all-in-one, all about HCL post to address any outstanding questions.
HCL (with Pepsin) has been a game changer for me personally. I don't believe I will ever know for sure why and how I got SIBO and why it has relapsed from time-to-time, but at this point, we are almost certain it's due to my low stomach acid levels.
When I was first diagnosed with SIBO in 2014, I could take upwards of 8 HCL with Pepsin pills at higher-protein meals and still not barely feel an ounce of burning.
These days I'm down to about 3, and I simply stay consistent with that amount vs. going up so that I never get lazy with taking them.
In this post, I'm going to share with you: all about HCL, what is HCL, how to tell if you have low stomach acid, how to take HCL (pill version), and who should not take HCL.
All About HCL
Click HERE to save this post for later.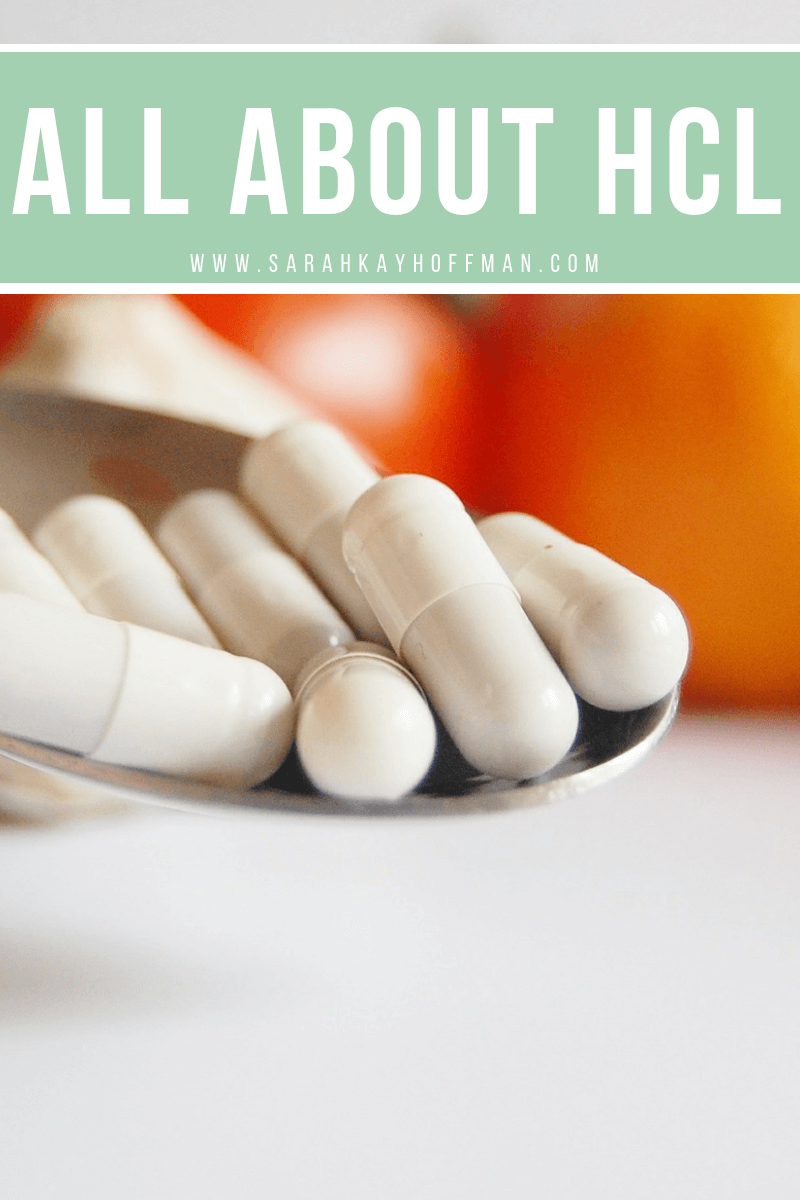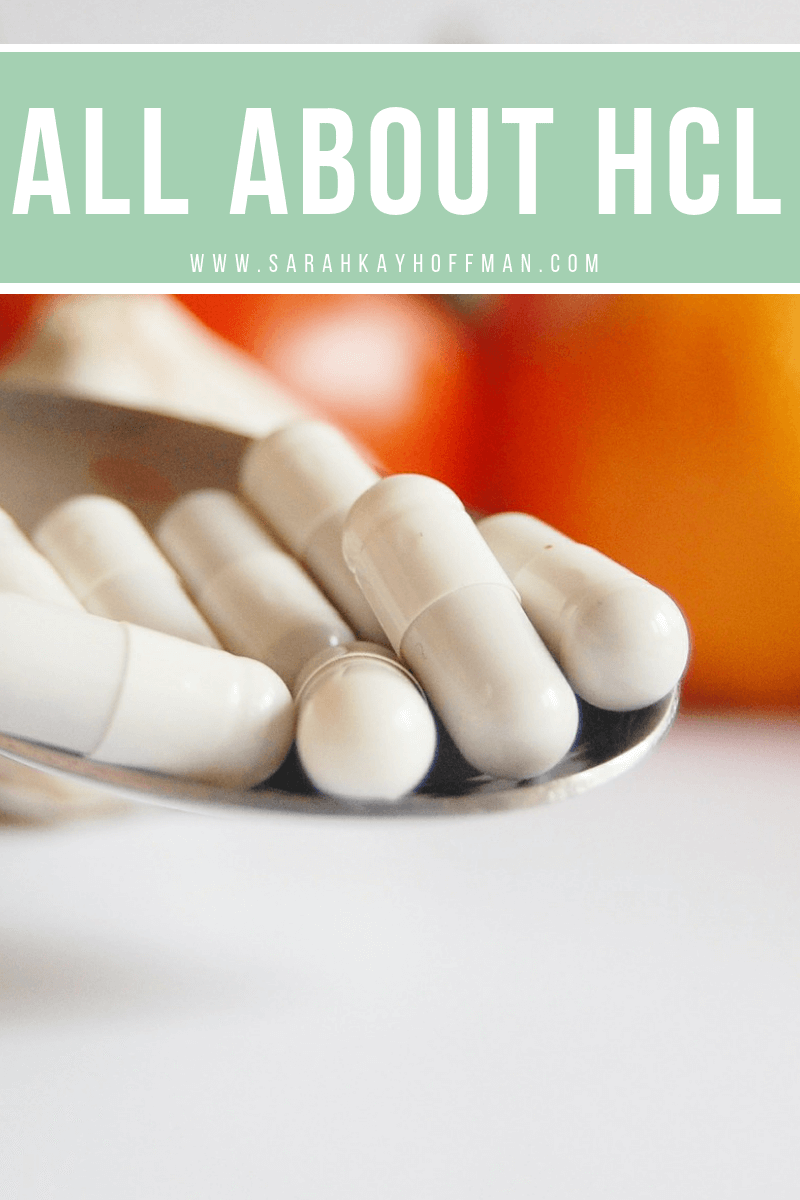 First, here are all the 3 main posts about HCL I have written up to this point:
All three posts are very comprehensive, and if you haven't read them yet, I'd recommend starting there.
What is HCL?
HCL = Hydrochloric Acid
According to my studies through the ADAPT program, here is the HCL definition,
The stomach produces hydrochloric acid as part of the normal digestive process. The breakdown and absorption of nutrients occurs at an optimum rate only within a narrow range of acidity in the stomach. If there isn't enough acid, the normal chemical reactions required to absorb nutrients are impaired. Hydrochloric acid is required for proper digestion of protein, carbohydrates, and fat, as well as efficient absorption of vitamins and minerals. Low stomach acid production can be caused by H. pylori infection (the bacterium that causes ulcers), stress, acid-suppressing drugs, a vegetarian or vegan diet, and advancing age.
Chris Kresser also makes note that, "While many people assume that GERD and heartburn are caused by too much stomach acid, research suggests that's not the case. In fact, in my clinical experience, I've found that low
stomach acid is a far more likely cause of these conditions."
How to Tell if You Have Low Stomach Acid?
In all 3 posts I've previously written about low stomach acid and HCL, I have provided ample ways to tell if you have low stomach acid. If you want the simple and quick version, according to Chris Kresser, here are some (not an exhaustive list):
GI tract: feeling of fullness after meals (especially high-protein meals), gas and belching one to three hours after meals, acid reflux or burning sensation in the throat, nausea, constipation, undigested food in the stool, bad breath, food sensitivities

Skin, nails, and hair: acne vulgaris, acne rosacea, eczema, dry skin, dry/brittle nails, hair loss in women

Systemic (from malabsorption of micronutrients): chronic fatigue, anemia, hypoglycemia, neuropathy, difficulty concentrating, poor memory
How to Take HCL (pill version)
First and foremost, you need to know and be very clear and certain if you do or do not need to take HCL to help with digestion. Work with your doctor on this (or do the at-home HCL challenge if you don't fall into any of the categories below). Taking HCL when you don't need it is a huge mistake that could cause further damage to the GI lining.
Besides that, here are a few tips:
Make sure you're taking a quality HCL that includes pepsin. Without pepsin, you are not likely to gain the full benefits of HCL.
Only take HCL with higher-protein meals. For example, if you have pasta with red sauce, you would not take it. If you have pasta with chicken and red sauce, you would take it. Taking HCL without protein could prove to be a painful experience.
Make sure you're taking the correct amount. If you're not taking enough, you're not deriving the benefits. And if you take too much, your stomach will burn. (p.s. If the stomach burning happens, chug as much water as you can until the burning subsides.)
Who Should NOT Take HCL?
Even though I'm a huge advocate of HCL (I recommend the Thorne one HERE or the NOW Foods one HERE), there are definitely some people who should not supplement with it.
Some of these people where HCL is contraindicated include:
Those with an ulcer
People who are taking NSAIDs
Be sure to take special note if you fall in either of these categories.
I hope this article has been helpful to you. For a comprehensive guide on gut healing, be sure to grab The Gutsy Girl's Bible: an approach to healing the gut, 3.0.
Xox,
SKH
You will heal. I will help.