Ready to find out what I think is the best packaged bone broth on the market?
This post is super important because of my beliefs around Bone Broth Benefits (for gut health and gut healing).
So, on my marks.
Get set.
Time to share it today!
p.s. You'll find a huge discount on the best packaged bone broth at the bottom of this post. Don't miss your chance to grab the limited time offer.
Best Packaged Bone Broth
Click HERE to save this post for later.
The best packaged bone broth is Kettle & Fire.
Now don't you even dare, for one second, think I'm just saying this without ever trying the product. Nope. In fact, I have used it many times. I was using Kettle & Fire before it was as "cool" as it is today.
I created this delicious bowl for Lotus Foods using the Kettle & Fire Beef Bone Broth back in 2017.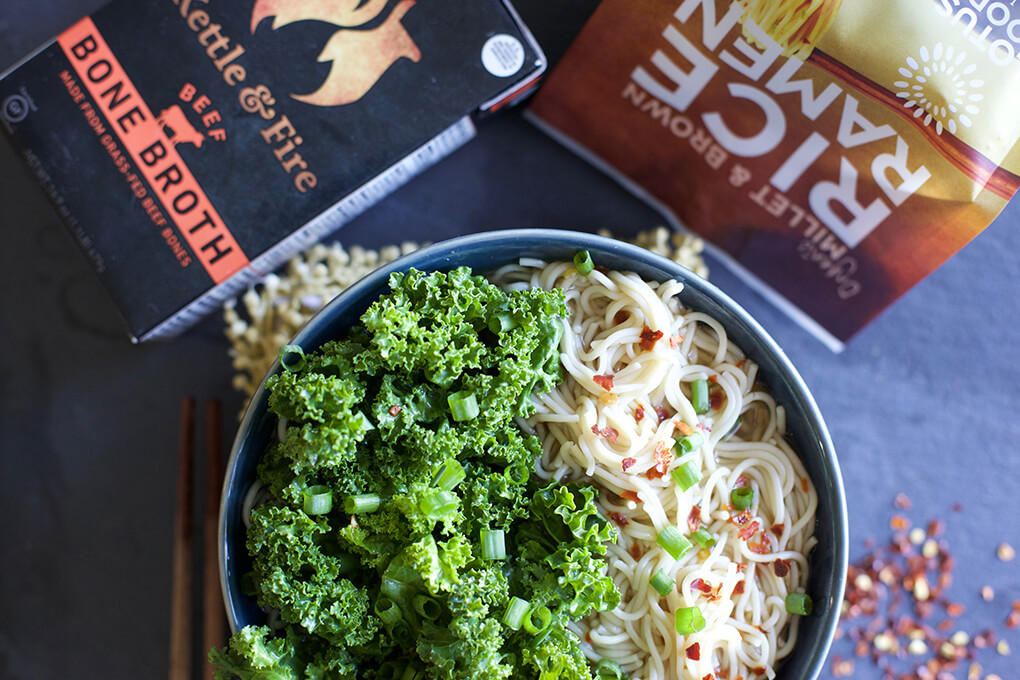 See, even the packaging has changed.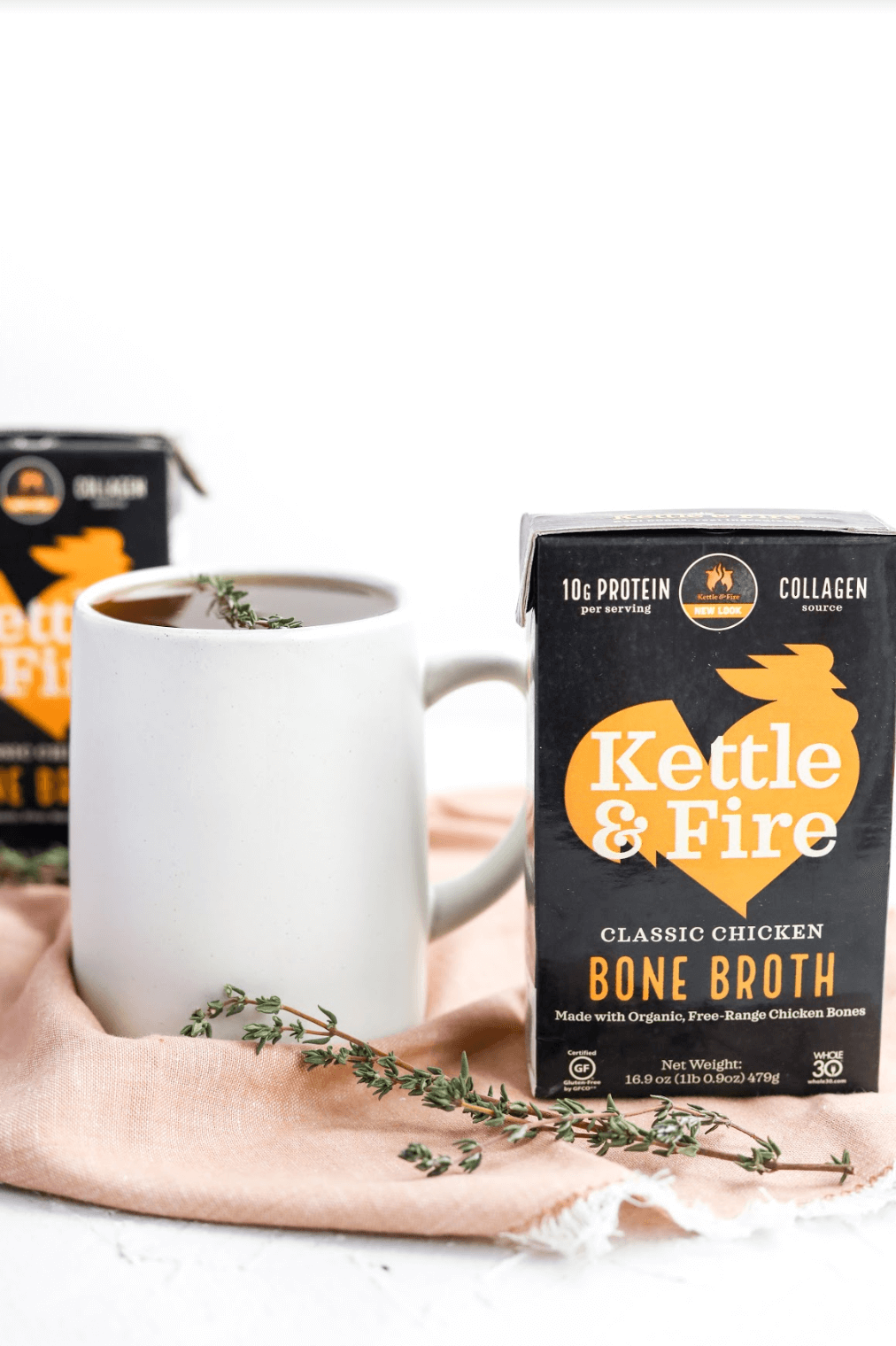 What is the Healthiest Bone Broth – in a Package? Kettle & Fire – My New Partner
Before I get into more nitty gritty details about why love Kettle & Fire, I think it's important for you to know that moving forward, when you purchase from Kettle & Fire through my website and links I provide, I do make a small commission. 
Up until this point, though, I have never written a full, dedicated blog post to a packaged bone broth company because I've been waiting for the right one that I felt 100% confident in recommending to you.
There are a handful of questions I'm asked constantly.
Because I'm an OG queen of bone broth making – yes, I said it, OG queen – been here doing this since 2009 (!) this is one of those questions,
I'm going to make your broth. But what about those times when I simply don't have time to make it. What is the best packaged bone broth? What do you recommend?
Privately, Kettle & Fire was always a recommendation.
Publicly, it's now my top recommendation.
Packaged or Homemade Bone Broth
Do not misunderstand this endorsement, partnership or post in general.
I STILL think you should be making your own broth if and whenever possible. Seriously.
I'm never, ever going to stop teaching and preaching it.
In fact, I want you to know how serious I am about this, so let me give you my resources for making your own:
I believe that making your own is only "difficult" (it's not difficult, just intimidating) the first couple of times. After that, you'll know it like the back of your hand.
---
So Then Why Buy Kettle & Fire Bone Broth?
Here are 4 reasons you would buy Kettle & Fire Bone Broth.
Click HERE to save them for later.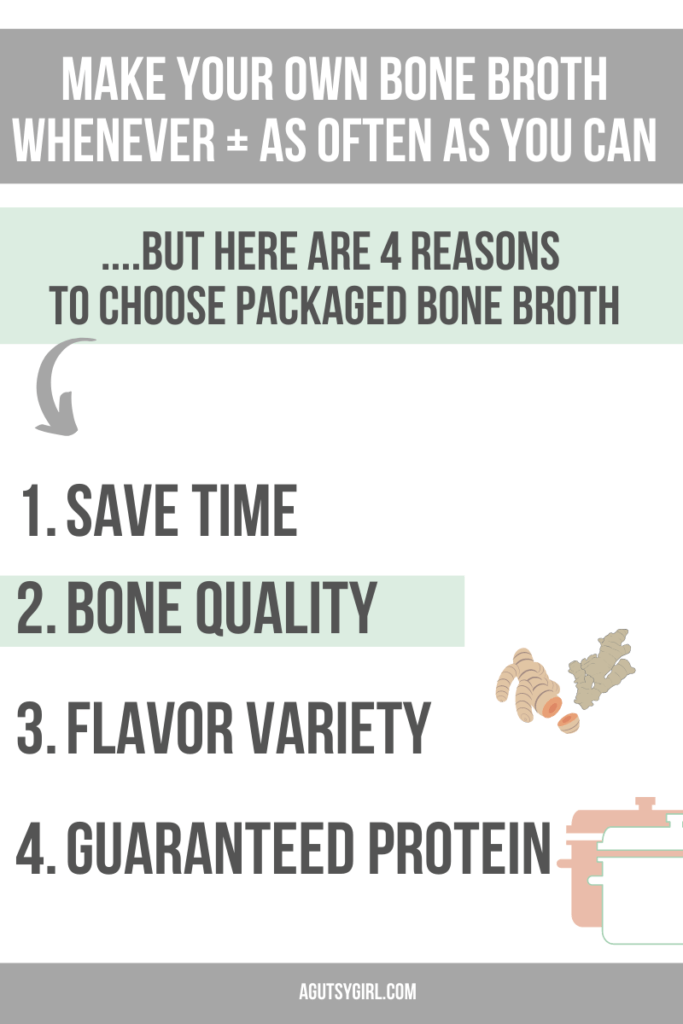 1. Save Time
I don't think it's hard to make bone broth, but with three kids vs. none (or even 1), I do find myself making it homemade less due to time.
Because even when you make it in the Instant Pot, it's still time consuming for sure.
2. Bone quality
If I had to give one reason as the main reason for why I think many (if not most) people should buy from Kettle & Fire vs. making their own is due to bone quality.
Kettle & Fire uses pasture-raised marrow bones that are 100% grass-fed. They don't use carcass (i.e. "leftover") bones; they use the best bones. The bones create the collagen, which creates the gut-healing properties and best flavor. 
This is why I use bones from whole, organic chicken or I buy the best organic bones from a local farmer.
3. Flavor variety
I have standard recipes that are so good. But I certainly don't have the time to be a bone broth chef.
You know what I mean?
Well, Kettle & Fire does because that's all they do. And they do it so well.
4. Guaranteed protein
I have no idea how much protein is in most of the broths I make. According to the beef and chicken broth recipes from my book there are 6g and 4g (respectively) of protein per serving in each. That's good.
But the Classic Beef Bone Broth from Kettle & Fire contains a whopping 10g of protein per serving. 
Also, maybe you just want to buy it vs. make it. I get it. You do not have to justify anything to me or anyone else. But do get your bone broth in 🙂
Kettle & Fire Soup Reviews
Do you know why they give 100% money back guaranteed?
Because with thousands of reviews, they have 5 (or nearly 5) stars across the board.
Note: They only ship within the U.S. and do not ship to Canada.
Have I made it clear yet why I have chosen them as my only packaged bone broth partner?!
Questions? Let me know.
If you liked this post, you might also enjoy:

Xox,
SKH
You will heal. I will help.