Ever heard of Functional Dyspepsia?
Though it's not talked about often nor is it even well known, according to Dr. Hubbard, it's far more common than we think.
Learn all about Functional Dyspepsia (FD) today during my conversation with Dr. Andrew Hubbard.
Subscribe Today:
Apple Podcasts | Google Podcasts | Spotify | iHeart Radio | RSS
---
Functional Dyspepsia (Episode 32 with Dr. Andrew Hubbard)
Click HERE to save this post for later.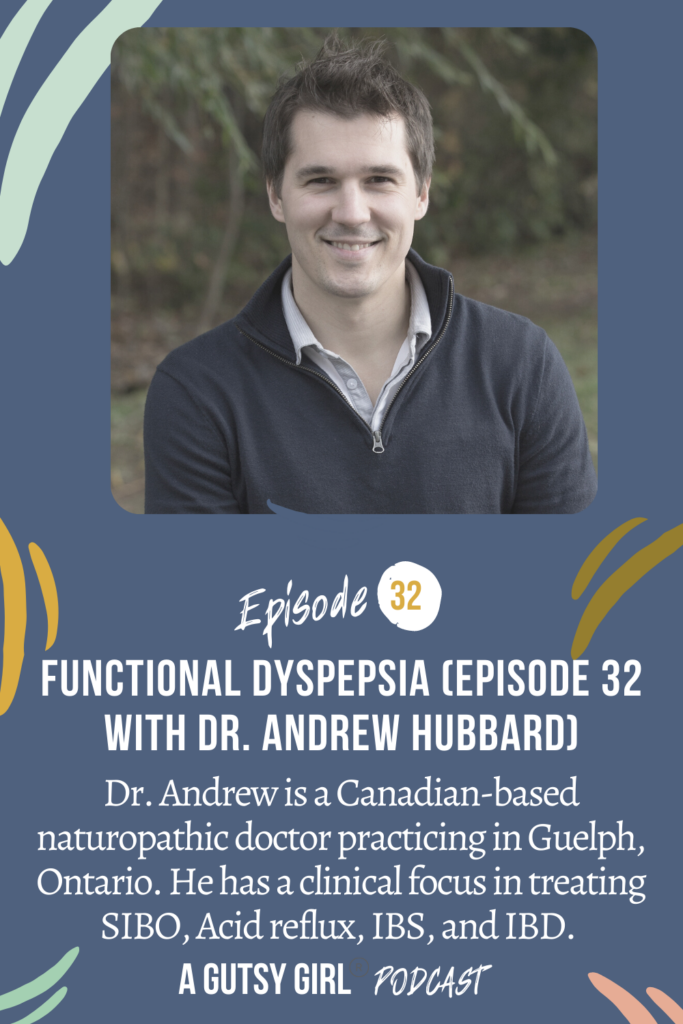 Resources Mentioned
Dr. Hubbard on Instagram
Clinic: Natural Choice Medical Clinic
More info on Gut-directed Hypnotherapy app (no affiliation)
Dr. Hubbard's information has all been added to the Master Gutsy Resource Spreadsheet HERE under "Practitioner Referrals."
Don't Miss These Thoughts
Who is Dr. Hubbard?
What is Functional Dyspepsia (FD), and is it common?
Dyspepsia vs FD?
Symptoms fo FD (the 4 main ones, and others)
What are the 2 types of Functional Dyspepsia?
How is FD different from other digestive disorders?
Is there a way to diagnose FD?
What are some underlying causes of FD?
Effective treatment options for Functional Dyspepsia
What is 'gut directed hypnotherapy?'
How to navigate diet with FD?
Dr. Hubbard's 3 convictions around gut health and gut healing.
"Every gut needs something different to heal."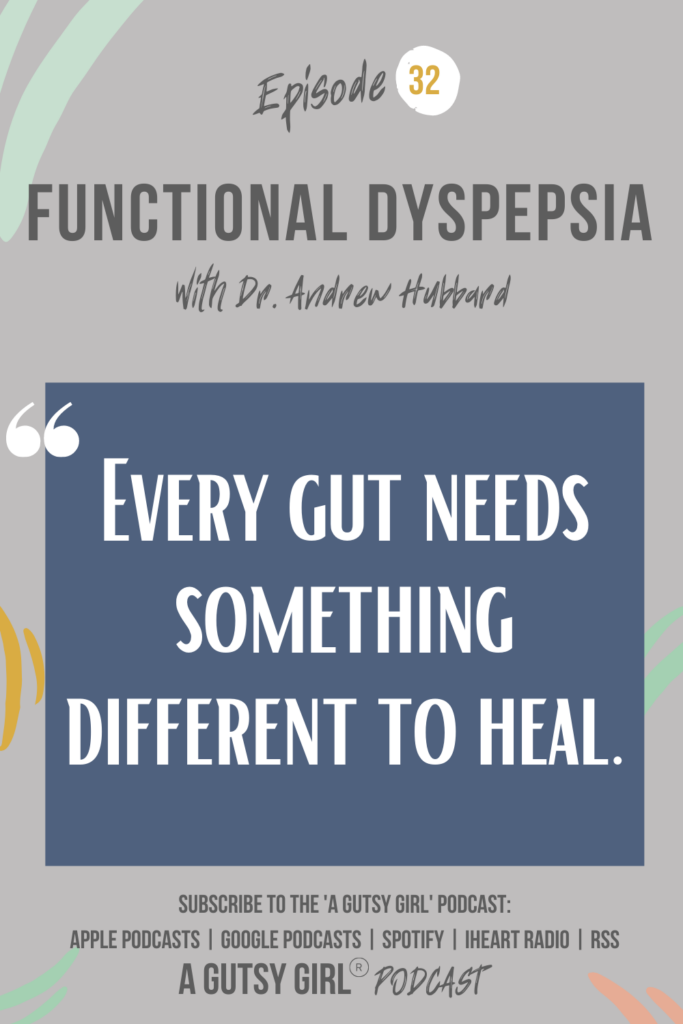 More from A Gutsy Girl
1. Welcome to A Gutsy Girl Podcast
2. Hang out on Instagram
3. BFF's on YouTube
4. Free resource: The Master Gutsy Spreadsheet
5. Rated-G Email Club
Wrap Up
Time to wrap this up. As always, a huge goal for this show is to connect with even more people. Feel free to send an email to our team at podcast@agutsygirl.com. We want to hear questions, comments, show ideas, etc.
Did you enjoy this episode? Please drop a comment below or leave a review on Apple Podcasts.
Dr. Andrew Hubbard Bio
Dr. Andrew is a Canadian-based naturopathic doctor practicing in Guelph, Ontario.
He strongly believes in a gut-centered approach to health and healing.
He has a clinical focus in treating SIBO, Acid reflux, IBS, and IBD.
Patients seek him out to help them get relief from their chronic digestive complaints like indigestion, stomach pain, gas, bloating, diarrhea and constipation.
Xox,
SKH
You will heal. I will help.