I want to help you explore if intermittent fasting for SIBO might be an appropriate option for you.
In a recent post, Will the Keto Diet Help If I Have SIBO, I stated,
Try Intermittent Fasting. I still want to do a whole blog post on this one because it has helped me, but Intermittent Fasting (IF) at its core means you go a long(er) period of time without eating anything. Again, for women, I still believe that you have to tread lightly for anything over 12-14 hours. I do about 12-14 hours, 3-5 times per week, and I think it has truly helped. Essentially, you're just giving the digestive system a break.
So here is the post to detail intermittent fasting more. (For the duration of this post, I'll refer to intermittent fasting by its abbreviation IF.)
Intermittent Fasting for SIBO
Click HERE to save this post for later.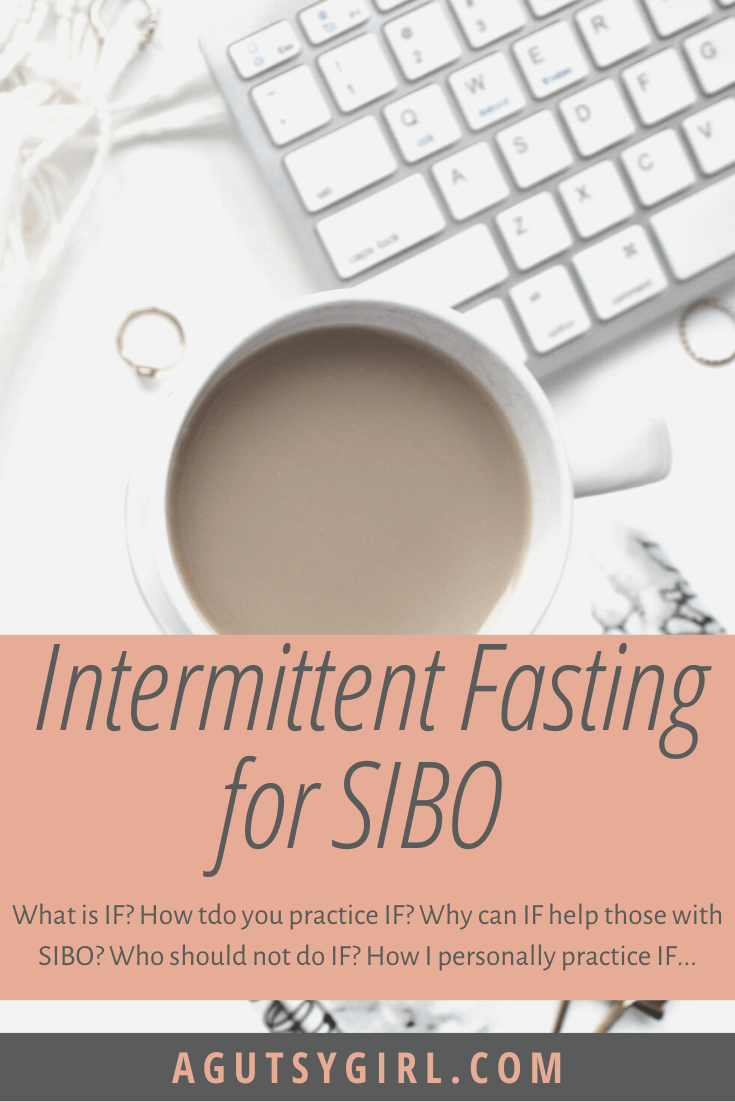 Intermittent Fasting 101
James Clear described IF simply and perfectly,
Intermittent fasting is not a diet, it's a pattern of eating. It's a way of scheduling your meals so that you get the most out of them. Intermittent fasting doesn't change what you eat, it changes when you eat.
It is, literally, no more or no less complicated than that.
What can be perceived as a little complicated about IF, though, are the many different patterns of eating you can choose.
How to Practice Intermittent Fasting
If you want to follow a doctor who is intelligent and informative, check out Dr. Amy Shah. She shares a ton of information about IF.
I could write out all the ways for practicing IF or I could keep it super simple and show you via an awesome visual from Dr. Amy Shah.
During the fasting window, you eat no food and are limited to only drinking water, tea, and black coffee (though that area is a little gray because many people say it's okay to have "Bulletproof coffee" – i.e. coffee with coconut oil, ghee butter, etc. – as well)
During the feeding window, you eat as you normally would. If you have SIBO, and it's active, you should eat high-quality, nourishing foods to help heal your gut without including FODMAP foods. HERE is a list of my favorite low-FODMAP foods.
Why Intermittent Fasting Can Help Those with SIBO
In the graphic above, you can see all the benefits associated with IF.
Do I like the list? Of course, but that isn't why I chose IF. I chose to practice it because it can help those of us with SIBO.
SIBO occurs where there is an abnormally large amount of bacteria in the small intestine. The goal is to eradicate that and to have a more balanced bacterial load in the small and large intestine.
In order to do this, though, two main things need to happen (in my experiences):
Bacteria needs to normalize; the overgrowth stopped
Motility needs to normalize
IF helps with both of those.
When our digestive system is given a break, the body is not processing anything and thus, there is nothing to feed the plethora of bacteria in the small intestine.
The migrating motor complex (MMC) is a cyclic, recurring motility pattern that occurs in the stomach and small bowel during fasting; it is interrupted by feeding. It occurs every 90-120 minutes, but only while fasting. Normalizing the MMC could help with SIBO relapse and initial occurrence.
The Complete Guide to Fasting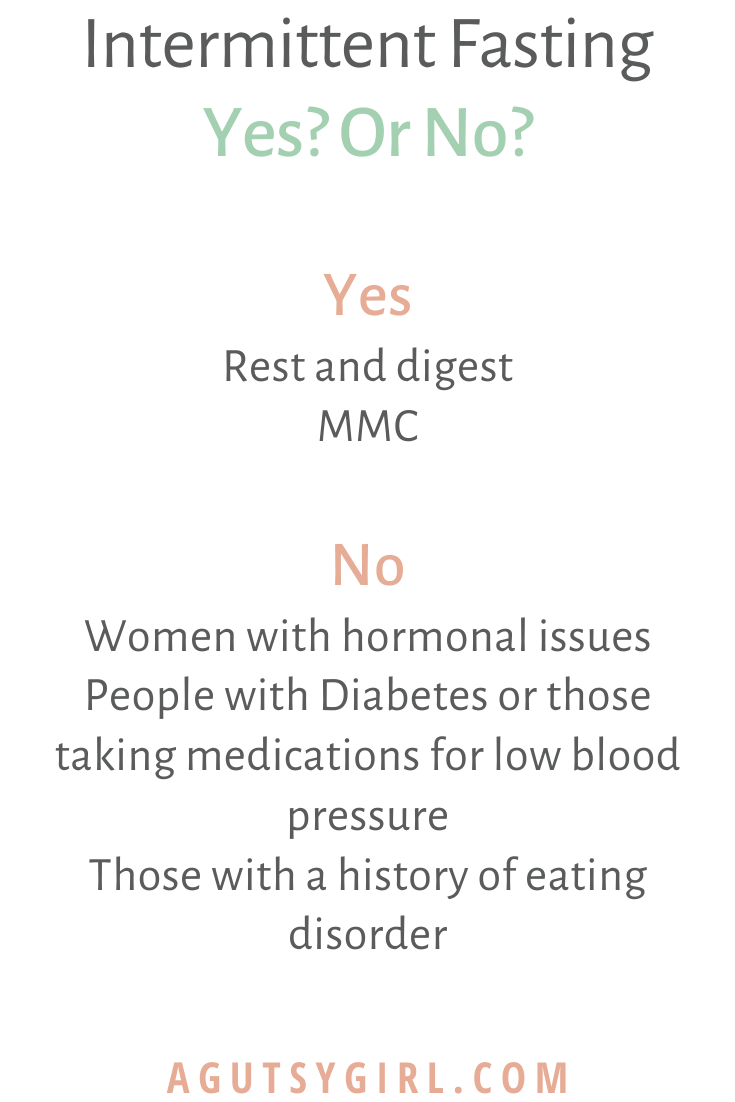 Who Should Not do Intermittent Fasting?
With all the research out there on IF and its health benefits in general and for SIBO, I personally do not believe it is for everyone. And when I say "it" I mean doing IF the traditional way (the graphic above) with super long and extended periods without food.
Here are three populations I believe need to tread lightly on diving in head first with traditional IF:
Women with hormonal issues and women in general

Dr. Amy says, "The problem with fasting too aggressively in women is that we are so sensitive to "starvation signals". If our body senses that there is starvation it will turn up the hunger signals – such ghrelin."

When the body senses starvation you run the risk of irregular periods, infertility, poor bone health and other health effects. (source) Take it from someone who knows; it's not worth it. Also note; this does not mean it's not okay for all women. You know who you are if it's not something for you right now.

People with Diabetes

Or those taking medications for low blood pressure.

Those with a history of eating disorder

If you've ever had a past that includes any sort of eating disorder, traditional IF can be extremely triggering. This makes logical sense; long periods of no eating (except maybe some black coffee with coconut oil) with the "bonus" feeling of accomplishment and weight loss.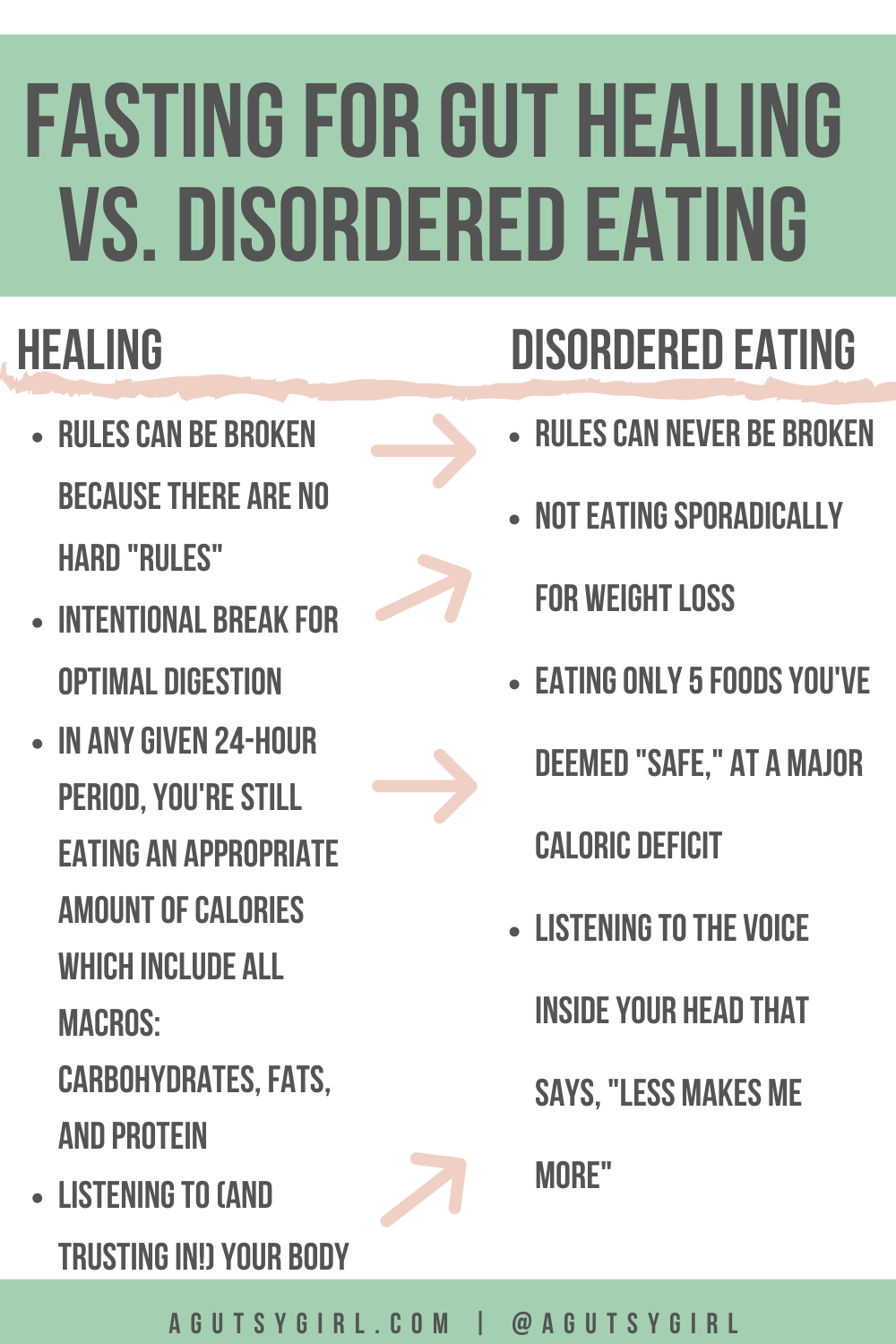 I realize that there are people out there who will say IF is for anyone and everyone; but really, it's not.
How I Personally Do Intermittent Fasting
As mentioned above, I do 12-14 hours usually, and average about 3-5 days per week. For me personally, given my history of low-functioning thyroid and adrenal fatigue, going over the 14 hours feels far more stressful to my body than the extra benefits it might provide if I held out longer.
Here is an update as of 2021 for how I practice IF + meal spacing.

A sample day of Intermittent Fasting for SIBO looks like this:
Wake up and fast until 7:30 or 8am
Eat (usually 3 meals, sometimes a snack) until 5-6pm
Stop eating
Fast begins
Note: "Normal" people don't eat that last meal until 7 or 8pm at night. That's why and how I am able to eat much earlier in the morning. Keep in mind also that I'm up around 4 or 5 am, so by 7:30 or 8 am, I'm really ready for a big breakfast.
Lately I've been doing IF closer to 5 than 3 days per week, but the reason I'm not stringent on anything is that I don't want the stress of feeling like I have to.
I'm simply trying to IF for gut healing reasons without stressing my body out, even to the slightest degree.
And I believe it's really, truly working.
Do I believe that IF is the end-all, be-all for keeping SIBO at bay? Absolutely not.
I'd love to hear your experiences with IF. Do you do it? Have you tried it? Is it working for any piece of your gut healing? Has it negatively affected you? Let me know in the comments.
If you liked this post, you might also enjoy:

Xox,
SKH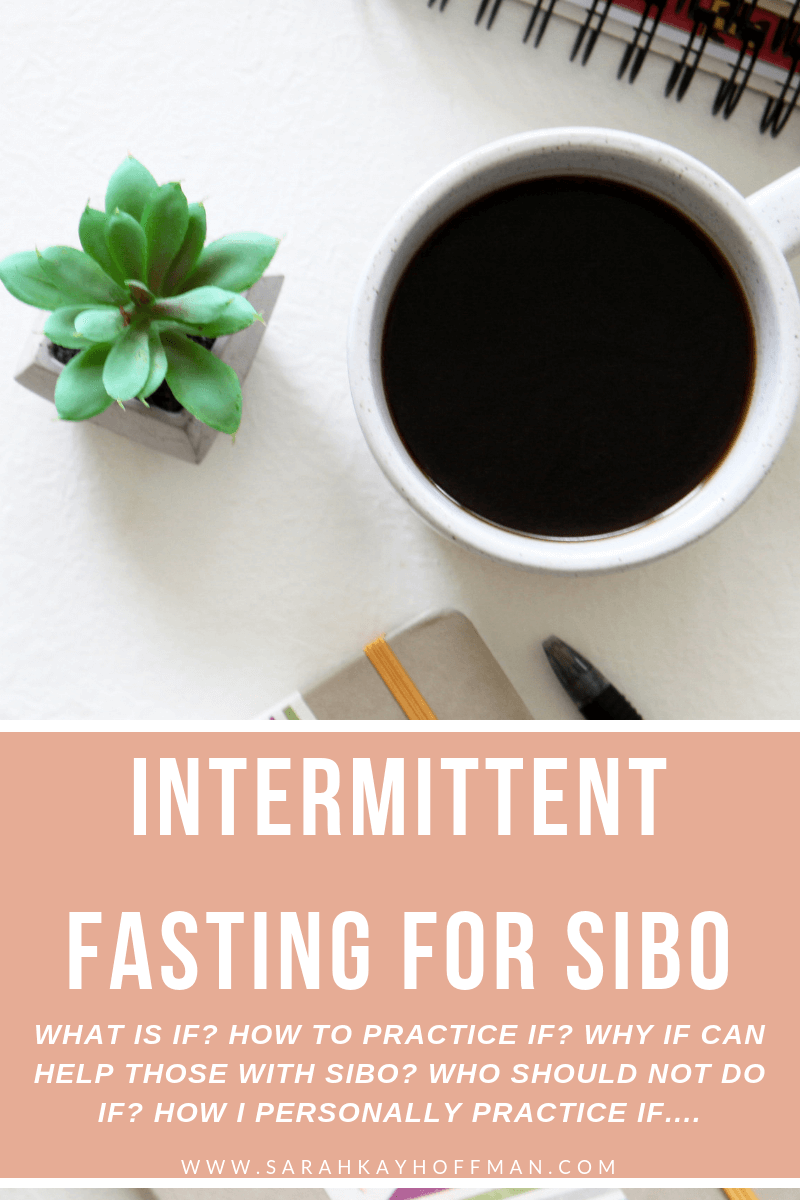 You will heal. I will help.