Today I'm going to share some reasons for why you might be bloated and constipated.
Someone messaged me,
Why am I still bloated and constipated when I eat all the 'right' foods and exercise daily?
So I'll tell you my real and honest thoughts, based both on personal experience and research.
Why You Might be Bloated and Constipated
Click HERE to save this post for later.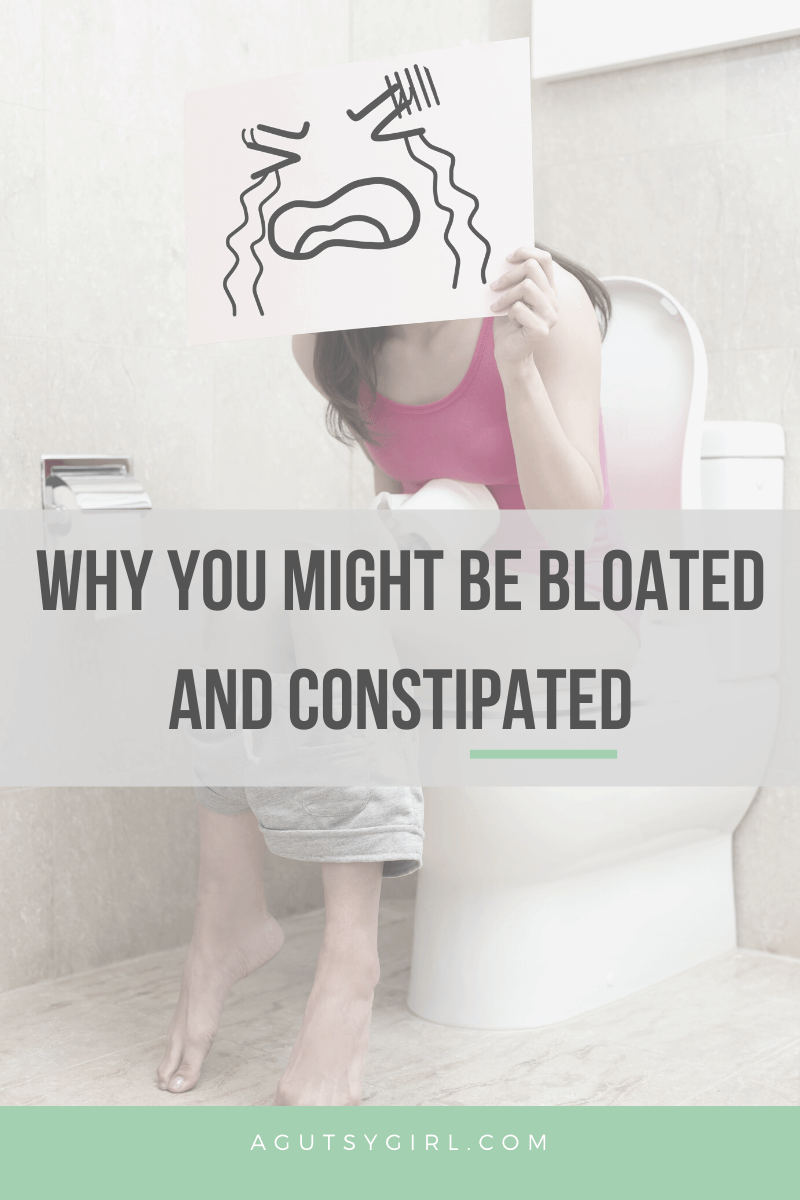 This question is easy for me to address because that was me for 10+ years.
It was like I was a dog constantly chasing her own tail.
Eat well, workout, repeat…..bloated and constipated?! Nothing added up.
4 Reasons
So let's break this down with 4 reasons you might be bloated and constipated (still) even after seemingly doing all the right things.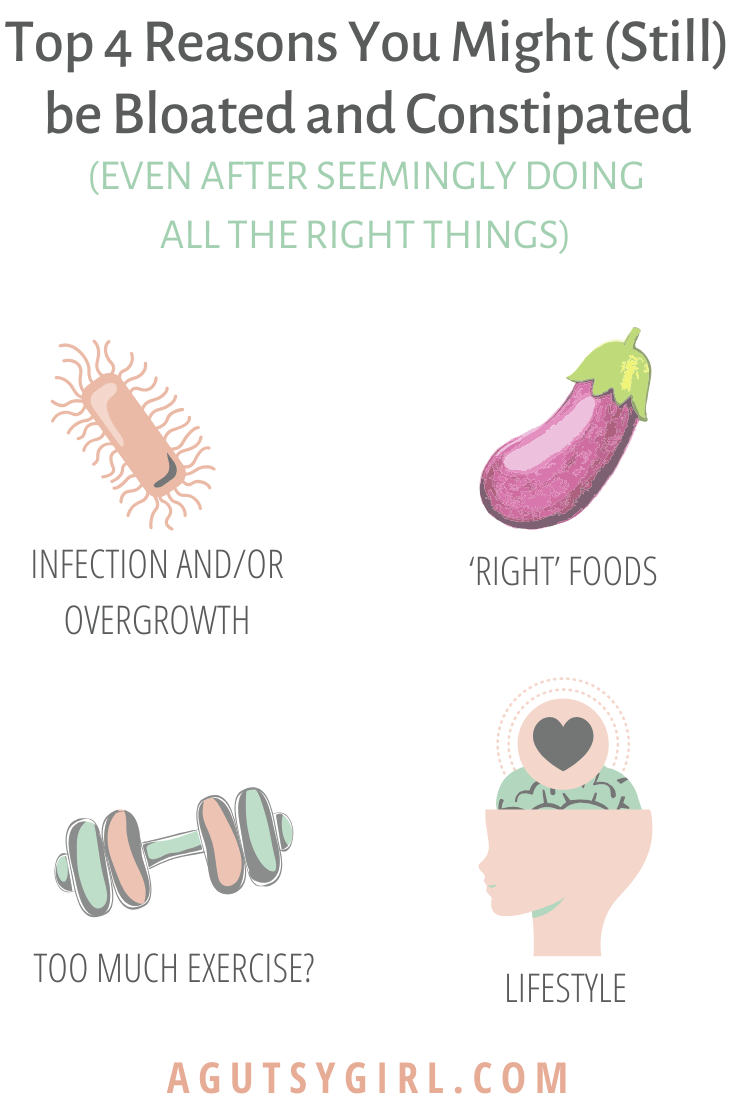 Are there any other reasons?
Yes, of course. The above four reasons are just the main ones I wanted to point out, but believe me when I say that healing is extremely tricky; no matter if you are constipated and majorly bloated and/or have diarrhea.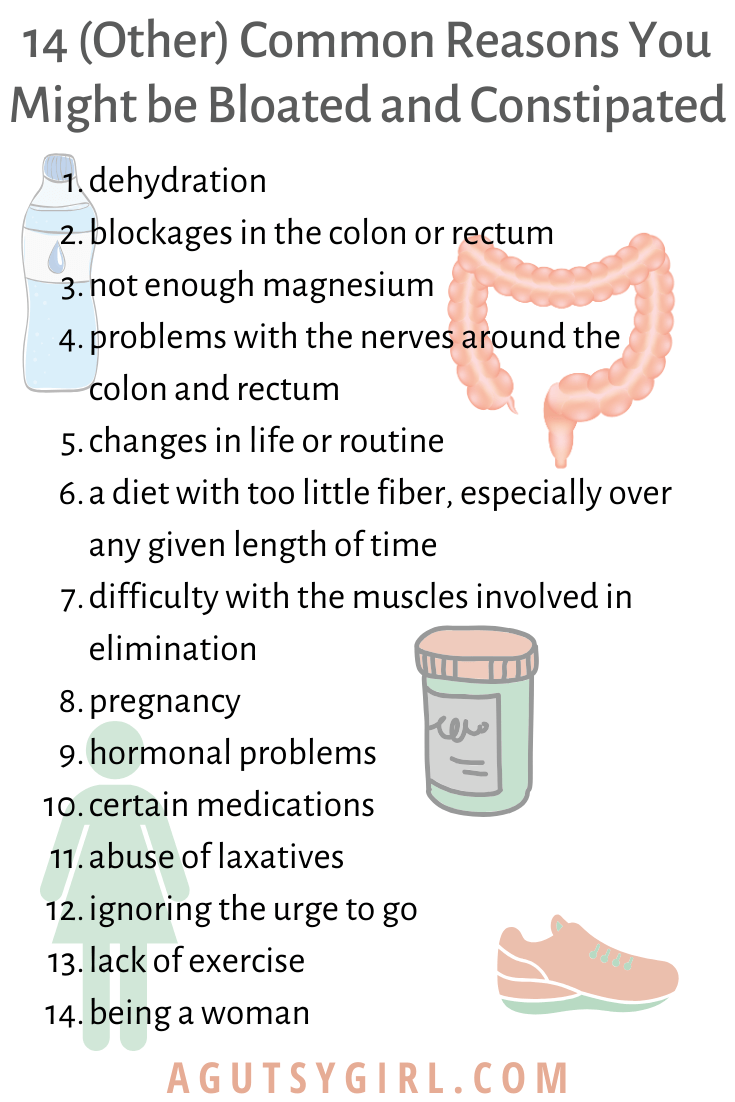 Other (common) reasons for constipation and bloated include:
dehydration (drink more water!)
blockages in the colon or rectum
not enough magnesium
problems with the nerves around the colon and rectum
changes in life or routine
a diet with too little fiber, especially over any given length of time
difficulty with the muscles involved in elimination (i.e. weakened pelvic muscles)
pregnancy (I wouldn't know this one; research)
hormonal problems (i.e. hypo and hyperthyroidism)
certain medications
abuse of laxatives
ignoring the urge to go (you know, "holding it" due to embarrassment; p.s. there is something for that, you know –> Poo-Pourri)
lack of exercise (yes, "too little" exercise can be a reason)
Dealing with Constipation
So what's a girl (or guy) to do?
Start HERE with these 15 ways to deal with constipation.
In most cases of diarrhea and/or constipation, any underlying condition also includes a gut that is leaky. If you want to know more about leaky gut syndrome, click HERE.
Each day you can get one step closer to forever healing. Some other resources to start:
You can and will heal! Just imagine your gut healed. Is THIS what it might look like?
p.s. During my research, I noted Mayo clinic said "being a woman" was a factor that may increase your risk of chronic constipation. I'll never stop helping the darlings in this Gutsy community!

Xox,
SKH