High and mighty time I pick this series up again. Welcome to food for thought issue 2.
The first post I ever wrote in this series was way back when. The post was published on March 13, 2014. You can read it HERE. So yes, it's been 6 years. I'm finally getting to the next post in this series.
Why Food for Thought?
While at home during this extended period of time, I've taken it upon myself to become even more educated and invested in every last thing from a true health and wellness, gut health and gut healing, standpoint.
And I want to talk about it.
Sure, some might be more controversial (finally got to Food, Inc.) but I think these conversations are extremely important to have. And of course, they are likely to be subjective. After all, this is my "food for thought," an opinion-based series on a platform I have created with thousands of words and factual information.
But this is my way for creating some new and interesting thoughts, thinking, and (mostly) conversation.
No need to explain anymore, let's dive in for this second issue (by the way, the next issue will be about Food, Inc.)
Today's issue is about Beautycounter.
Food for Thought Issue 2: Beautycounter
Click HERE to save this post for later.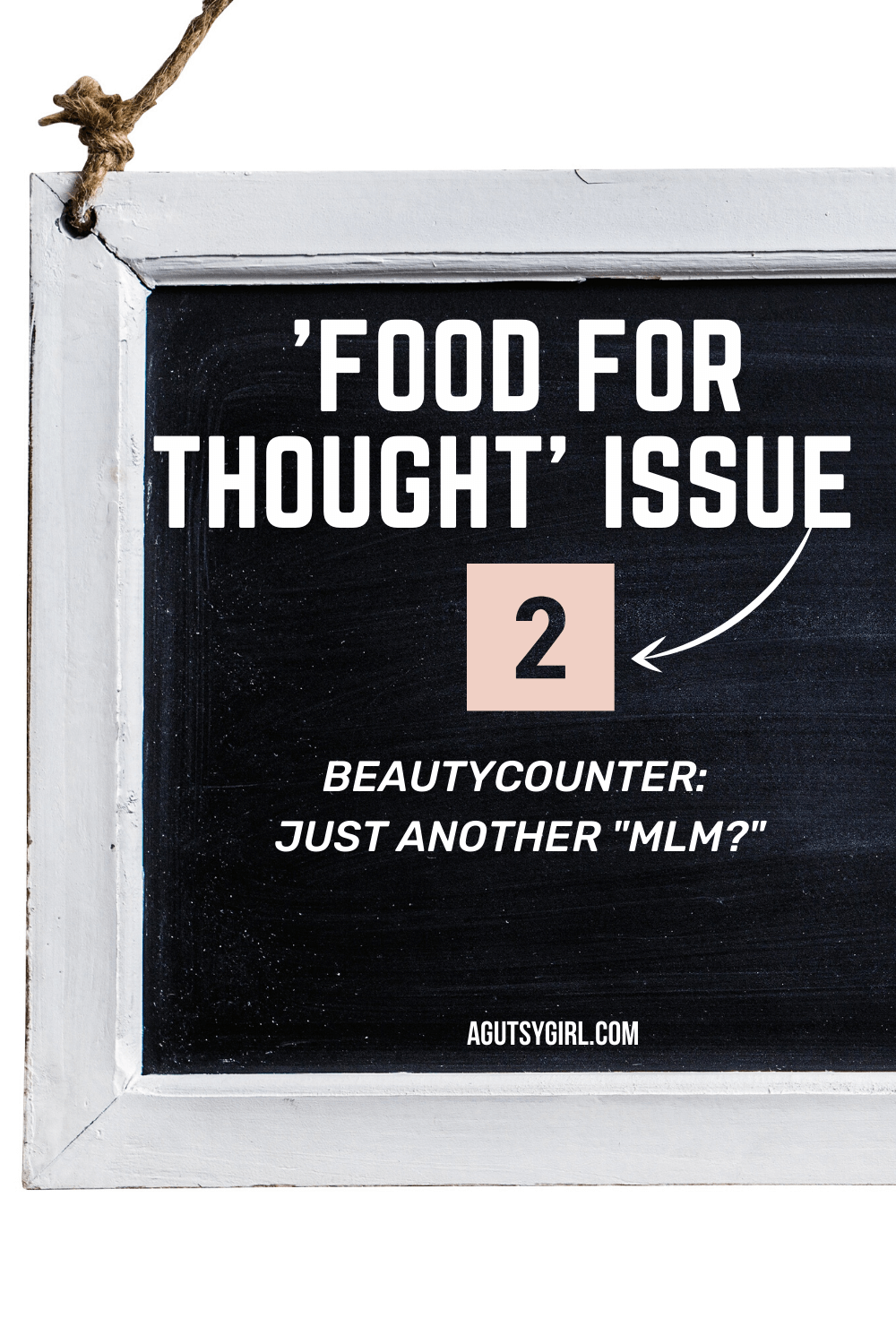 Whyyyyyyy Beautycounter?
Here's why.
I recently updated my Beautycounter story. And when I did, I realized that it's been over 2 years since the post was written.
In fact, when I updated it, I had to remove some of the product links because the names and/or products have been updated and upgraded since then.
I'm currently on a mission for building awareness around the idea that gut healing involves every last piece of your life. It's not just about food, and if you think that, I promise – you'll never heal.
One major thing I've started doing over the past few years (remember when I trashed all my old skincare and makeup HERE?!) is getting more serious about skincare and makeup products.
To this day, I've never hosted a Beautycounter in-person "party." To be honest, not sure I ever will. And yet, I continue to be passionate about the company, that I "sell" the products, and that I'm growing a team of women who are or will become just as passionate.
But none of it is without controversy.
After all, "isn't Beautycounter just another MLM?"
Beautycounter isn't What You Think
Lindsay Dahl, SVP of Mission at Beautycounter, activist, writer and non-toxic living guru posted a picture of herself on Instagram yesterday with this caption:
People say you won't grow a business. They say it's a pyramid scheme. They say don't be one of "those" people. You say Lindsay, I don't want to seem salesy.

Here's what I say:

You're making clean beauty your business and many of you bring home more income than your partners (who's counting?). Your friends are supporting YOU rather than giving their money to corporate executives at an impersonal retailer.

For every snarky comment, five more people are ready to support you.

You're not just selling lipstick, you're making history by transforming our laws to protect future generations.

You should be proud to be in sales, especially when that product reduces people's exposure to harmful ingredients.

Don't think twice about the haters.
(If you want to become highly educated about non-toxic living and the scary truths in the skincare and makeup industry, give her a follow on Instagram or check out her website HERE.)
What Lindsay said is spot on.
Did you Know?
If you want to learn more about the dirty industry secrets, I have a FREE 12-Day Safer Beauty Exploration Journey course HERE. You'll learn things like:
Did you know the last piece of major legislation in regards to the Personal Care industry was in 1938? And did you know it was instigated because a woman went blind from a mascara product?
It's a major RED FLAG to me when I can't track down the ingredients in products. In foods you often see words like "Spices" and "Natural Flavorings". In products you put on your skin, you often see words like "Parfum", and "Fragrance".
Something incredibly important to keep in mind is that the terms "safe" and "natural" and "pure" are not regulated by the Federal Drug Administration (FDA), and there is no agreed upon definition of either term in the cosmetics industry. Companies often use 'natural' or 'organic' verbiage on their labels, but those descriptions are nothing more than really great marketing tools.
Lead, cadmium, chromium, manganese, and aluminum have been found in lipsticks and glosses (this is actually very common, some in very unsafe levels).
….and so much more!
Only Beautycounter?
I'm advocating for you to use safer, more caring and loving skincare and makeup products.
You can't heal your gut and heal your life if your body is constantly fighting with toxins and chemicals being poured all over it on a daily basis.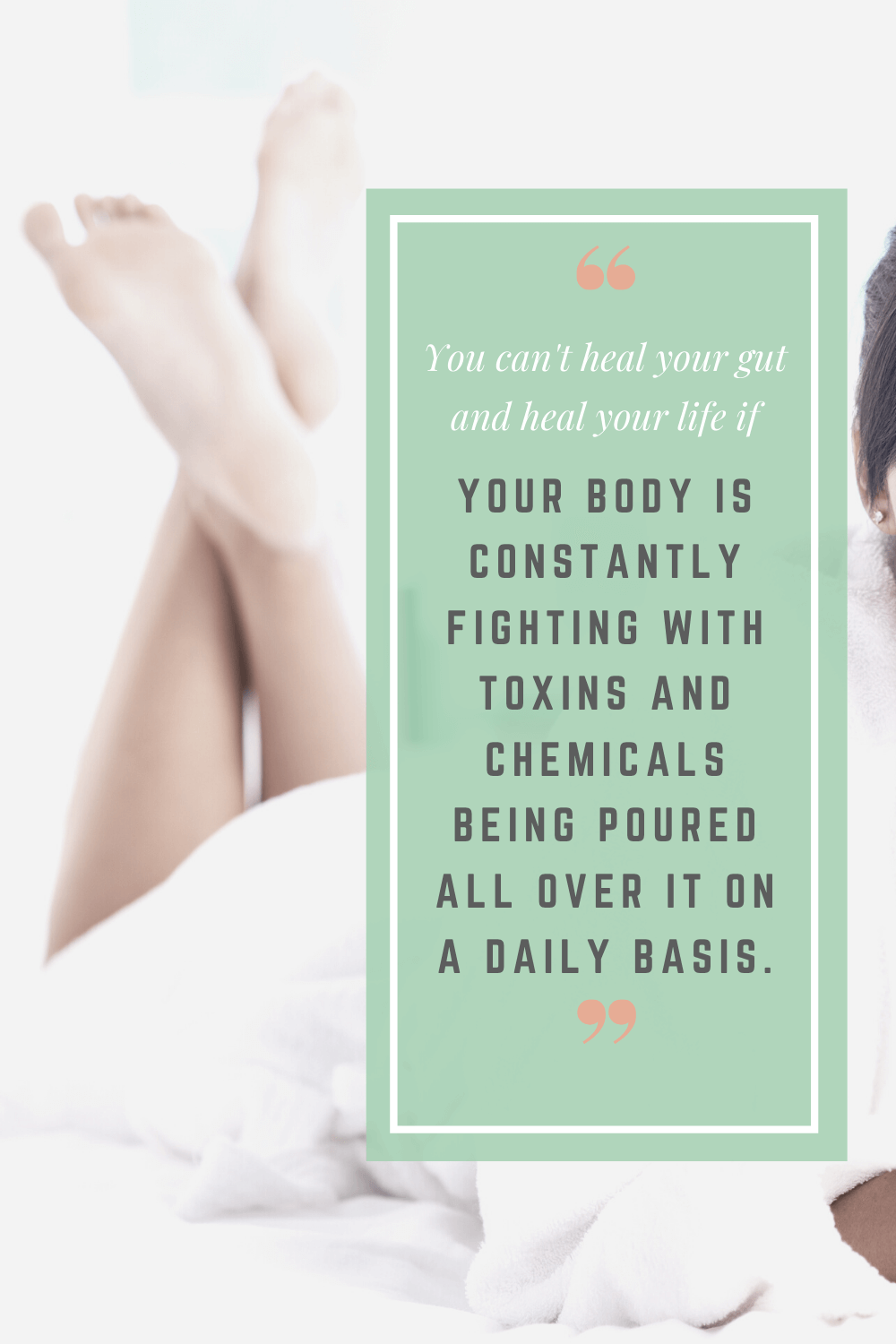 But here's the truth, I don't only use Beautycounter. I also don't think you or anyone else needs to, either. That's not realistic.
And to prove it, I also love and use skincare, makeup, and other personal products from companies like:
Primally Pure Skincare (In fact, go ahead, purchase from them! I even have a code – AGUTSYGIRL – that you can use at checkout to save 10% off your first order).
Wellnesse (shampoo, conditioner, toothpaste, hand sanitizer!)
DIY – yeah, that's "I make my own xyz…."
….and more
The Stigmatism Must Go
But the reason I even wanted to dedicate an entire food for thought post to Beautycounter is because it has the added "MLM" stigmatism added to it. And this is totally unfair.
I'll be up front and very honest. I'm not going to stop talking about Beautycounter for these three reasons:
Beautycounter has incredible products.
And they use ingredients that I'm confident in and trust for myself, the kids, and even Ryan.
The company truly empowers women.
So I continue talking about the products because I use and love them. And I continue reaching out to women and invite them to join Beautycounter Team A Gutsy Girl because I want to empower as many women as I can to fight for holistic healing while also having the opportunity to make unlimited income. (In fact, if you're interested in learning more about it all, click HERE and I'll immediately send more information.)
Finally, Beautycounter IS an income source for me. It wasn't in the beginning, but it definitely is now. Women (and always us with an online presence and business) get the raw end of the "money deal." We shouldn't talk about it, desire it, or work hard for growth.
Oh, But We Should, Darling
Lindsay is right. "You should be proud to be in sales, especially when that product reduces people's exposure to harmful ingredients."
I'm proud every single day that I get to write, research, and provide you with the best gut health and gut healing information. This is because I'm helping you heal yourself – your gut and your life.
And in that, I have zero apologies.
Sharing the skincare, makeup, and personal care information is all part of that.
Again, zero apologies necessary.
I'll never stop giving to you the very best to…..heal your gut and heal your life.
If you liked this post, you might also like:
Xox,
SKH
You will heal. I will help.