I'm really good at being basic so today I have some simple meal ideas while gut healing for you.
It's not always easy; certainly not always glamorous. But eating simple meals while gut healing can be done. In fact, when I was healing, I did it daily.
A girl once told me a long time ago that her nutritionist put her on a very strict diet. She was adding in different foods over time, but very slowly (aka Elimination Diet).
Here is a comprehensive list of everything (and only) what she was allowed to eat at that time:
Chicken
Turkey
Millet
Quinoa
Green Pea
Mushroom
Carrot
Apricot
Grapefruit
Banana
Orange
Cheddar Cheese
American Cheese
Olive
Cashew
Honey
Mustard
Maple
Crab
Barley
Amaranth
Eggplant
Celery
Cucumber
Honeydew Melon
Avocado
Grape
Plum
Whey
Cottage Cheese
Pistachio
Almond
Black Pepper
To be clear, my very first instincts were to question some of those "Elimination Diet" foods, but that is neither here-nor-there at this point.
Regardless, after looking at this list you were probably thinking one of three things:
Where's the fast-food option?
Forget that.
Now that's a small grocery list.
Whatever your thoughts, you can be certain that with a little creativity, a lot of positivity, and the 'tude that you'll do anything to feel better, this list quickly turns into something delicious.
So, by only using the (33) foods above, here is how I'd get creative. Below you will find simple meal ideas while gut healing. Again, if we assume that that list will help heal the gut.
Simple Meal Ideas While Gut Healing
Click HERE to save this post for later.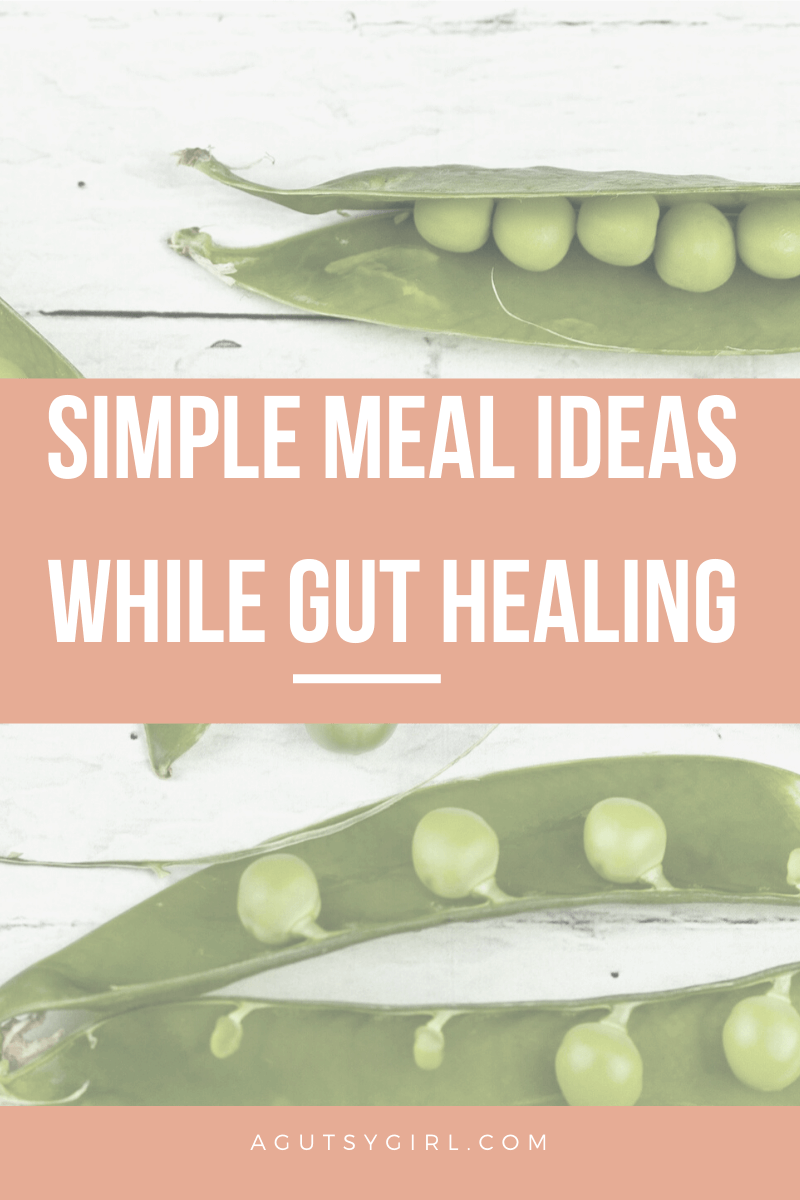 Breakfast
Fruit Cup: 1/4 c. each of: apricot, grapefruit, banana, grapes, honeydew melon and orange (if desired for added protein: 1/2 c. cottage cheese)
Millet "Oatmeal": millet mixed with a tiny organic maple syrup, chopped almonds and banana (if desired for added protein: whey)
Awaken-Me-Up Smoothie: cucumber, carrot, banana or apricot, celery, drizzle honey (if desired for added protein: whey)
Lunch / Dinner
Salad and Homemade Salad Dressing: green peas, mushrooms, carrots, celery and cucumber sprinkled with cashews (if desired for added protein: grilled or baked chicken or turkey) (toss in homemade salad dressing: 1 part honey and 1 part mustard with 2-3 parts olive oil)
Warm Salad: Millet (cooked ~ 1/2-1 cup) mixed with grilled chicken, chopped almonds, dried apricot (with no preservatives) and sprinkled with a little black pepper
Stir Fry: grilled chicken or turkey, green peas, mushrooms, celery, cucumbers and slivered almonds (add a touch of honey/maple syrup and pepper if desired)
A "Pasta": Melt cheese (American or Cheddar). Add grilled mushrooms to it. Pour it over quinoa (just try it!) and add either grilled chicken or turkey to it (or leave the meat off altogether)
Snacks
Almond "Sandwich:" 2 almonds + 1 small dried apricot (apricot goes in between the almonds)
The Log: Celery + raw, unsalted almond butter
Freeze grapes: Eat them frozen. Enough said!
Sweet 'n Protein: Plum or honeydew melon, cottage cheese and a sprinkle of pepper.
And of course, as always, eating any of the foods from the list, alone, is a great idea. You know, like an avocado a day keeps the doctor away. I mean, unless you have SIBO.
Most of these options are portable. You would only need a Bento box of sorts like THESE and/or a Stasher-like food bag HERE.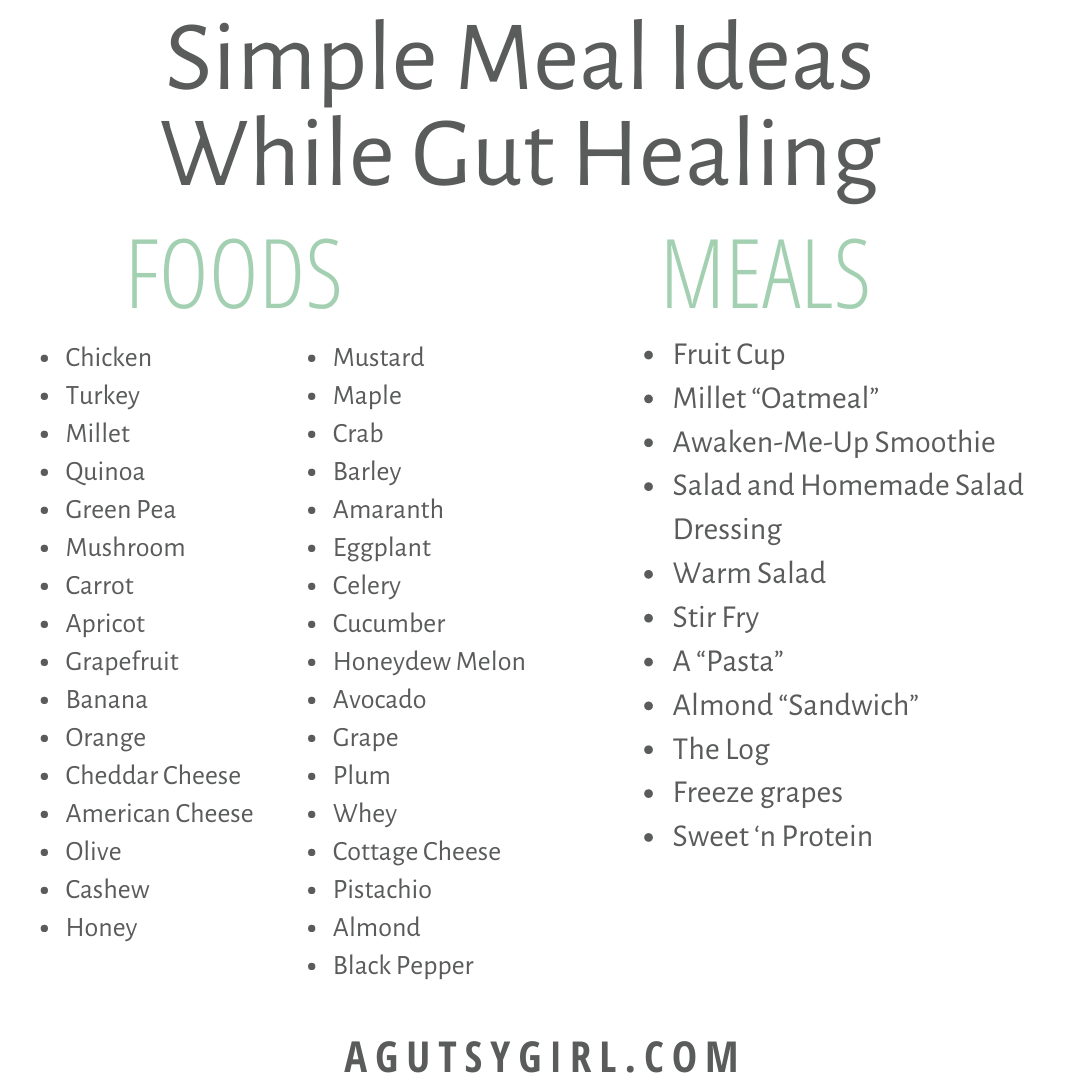 Boring Food
I heard an awesome quote once from someone who gets all of this. The quote went like this,
Eat boring, have an exciting life.
I agree, and I also do not agree with that quote.
My arguments on either side of the fence are not what's important. What is important is that we remember the quote when life gets us down about what we can and cannot eat.
By eating simple meals while gut healing now, you might be setting yourself up perfectly for eating all the foods in the (near) future.
More Thoughts on Food Lists Like These
Remember, I was once in these shoes. It wasn't a list of what I could eat; instead, what I could not. THIS is a list of the 22 foods that were not allowed.
What I want to make clear to you all are these four points:
If you have been given a list of minimal things you can eat, you likely just need to heal your leaky gut. Grab The Leaky Gut Meal Plan, and start there. Join the 28-Day Leaky Gut Program to accompany it.
PLEASE make sure that you are working with someone you trust if you are only eating 33 total foods. I don't care if it's a nutritionist, a doctor, or your own mother. Eating less variety can also produce negative effects. You might find yourself worse off than before.
Sometimes, like in the case of SIBO, it's not so much about what you're eating, but how much. See REASONABLE SIBO HERE for more context.
If I truly was sticking to a food list this lean, I personally would be sure I was using a quality Probiotic, and multi-vitamin. I'd also be sure to routinely have complete blood work panels drawn up.
By the way, I actually think it's a blast to be given odd-and-random food lists like this to work with. If you have your own food list you've been given by a nutritionist or doctor, I'm happy to help you make it work! Just join the 28-Day Leaky Gut Program HERE.
Xox,
SKH
You will heal. I will help.