I made this Glowing Green Smoothie after I made a similar smoothie that didn't feel as glowing.
Glowing Green Smoothie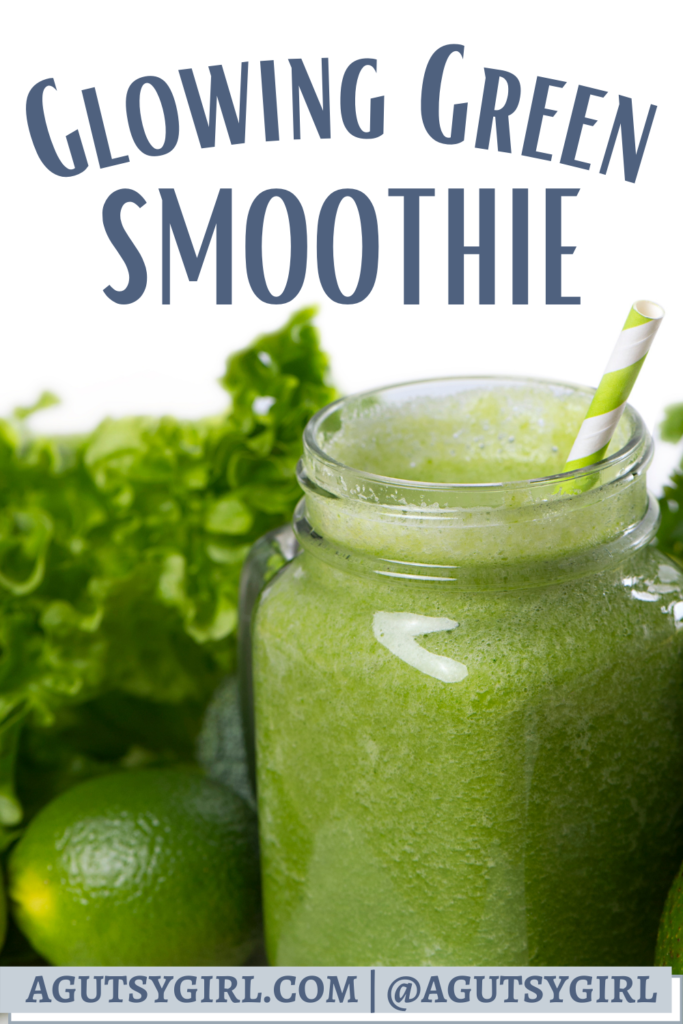 Huh? What's glowing and not glowing anyways, you're wondering?
TBH, I'm not sure.
But what this green smoothie contains are so many different greens that it can only be one thing: glowing.
Did you know?
The more greens we get, the better our gut functions and also the more the skin glows?
So maybe that's why this Glowing Green Smoothie is glowing so good!
Anyways, I do love smoothies, but one thing I'm not sold on with them is that a lot of times they are filled with just a protein powder, milk, and 3 different fruits. 
Never would I sit down for a meal and eat that many fruits at once. 
If you are craving fruit, then by all means, go for it. It's not going to kill you and you aren't going to gain weight from that alone (don't listen to what people try to tell you about fruit). 
But for me personally, the reason I'll choose a smoothie is so that I can pack all the goods in one glass. 
It's why I just recently wrote and published my Top 13 Gut Healing Boosts for Smoothies.
This Glowing Green Smoothie falls into all the boosted categories.
There are greens, nutrition, and flavor, all while remaining low sugar. 
Glowing Green Smoothie Recipe
Click HERE to save this recipe for later.
Glowinng Green Smoothie
Prep time:
Cook time:
Total time:
A smoothie filled with greens, nutrition, and flavor that's low in sugar and contains no gluten, dairy, or soy.
Ingredients
1 cup plant-based milk of choice
½ cup frozen banana
½ ripe avocado
2 Tbsp Nutiva Organic Hempseed
large handful kale
1 large handful spinach
one tsp cinnamon
1 tsp moringa
Instructions
Place all ingredients in a blender and blend until completely mixed together.
Serve immediately.
Notes
You can make the Glowing Green Smoothie recipe low-FODMAP simply by removing the avocado.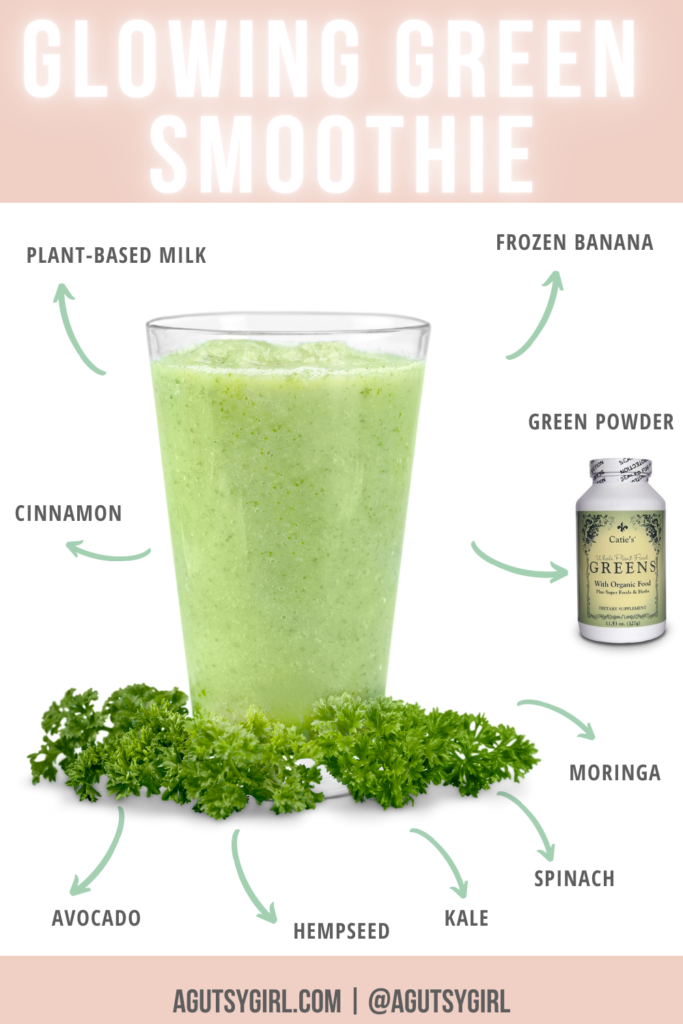 Notes for Green Smoothie
Yes, yes you can easily make this smoothie low-FODMAP. Simply just remove the avocado. If you need more thickness once you remove it, use a whole banana. If your SIBO is alive and active, just make sure it's an un-ripened banana.
Elmhurst milks are 100% Vegan and incredible. If hazelnut is not your thing, you can sub in any of their nut milks. If you can't do nuts, you can swap in your favorite oat milk for a delicious, low-FODMAP alternative. HERE is a good plant-based milk comparison chart.
Is the moringa critical? No, but moringa is an incredible boost, and you can read all about it HERE. Additionally, moringa acts as an adaptogenic herb.
Green powder.
Best Green Powder
And finally, for the best addition to this Glowing Green Smoothie, add a scoop of Organic Greens.
For a massive blend of greens, grab a bottle of Catie's Organic Greens.
Here are some of the benefits in just one serving (1 Tbsp):
One tablespoon of Catie's Organic Greens is equal to 7 daily servings of the most potent green vegetables.
Catie's Organic Greens is rich in natural glutathione from one of nature's richest sources- asparagus.
Catie's Greens is easily absorbed into the digestive system and can be mixed into any beverage.
The blend consists of a multitude of organic greens and other things which you can see HERE. If you want to try this organic green powder blend (or anything else from Perfect Supplements, you can always use my code GUTSYG at checkout to save 10% on your order.)
Let me know if you try this one, mmmmmkay?!
If you liked this post, you might also enjoy:
Xox,
SKH
You will heal. I will help.