As promised, I put together a list of 7-day smoothie challenge ingredients.
Click HERE for all 7 smoothies/recipes in one blog post.
It's going to be fun because obviously smoothies are fun!
It's the little things in life, friends. The little things.
7-Day Smoothie Challenge Ingredients
Click HERE to save the 7-day smoothie challenge ingredients list for later.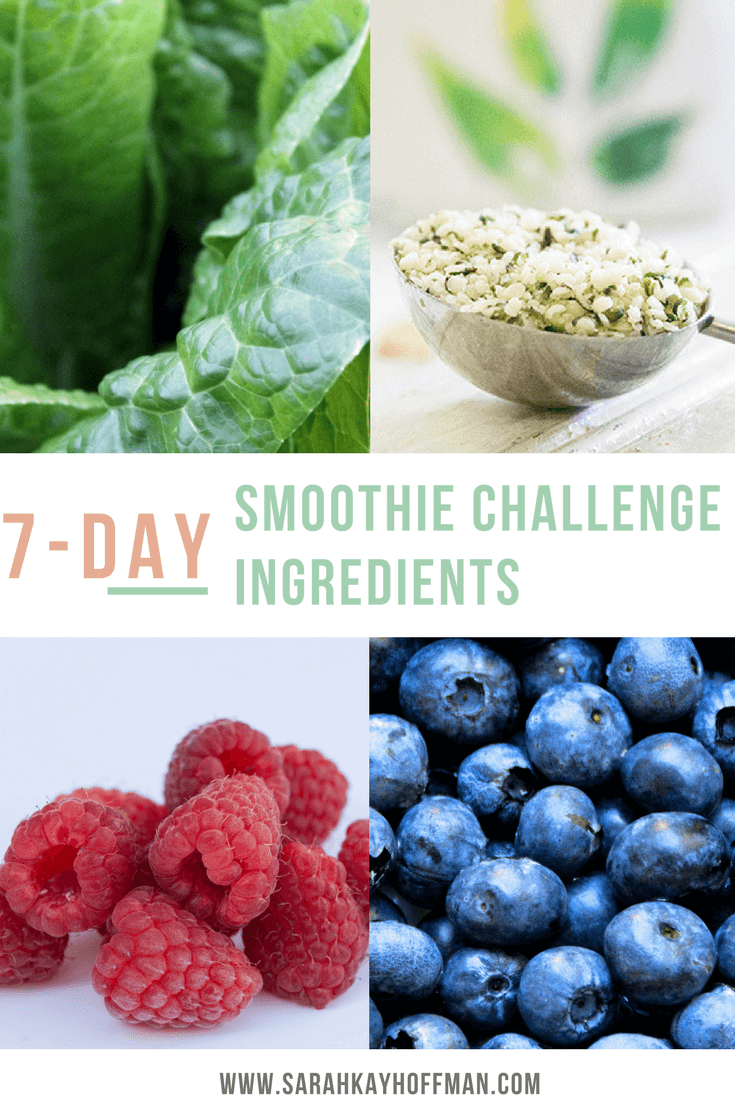 Need more smoothie challenge information? Click HERE.
1.5 cups blueberries (1 pack)
2 Tbsp Nutiva Organic Coconut Manna (1 jar)
(2 cartons/cans full fat coconut milk)
5 bananas
4 Tbsp Nutiva Organic Hempseed (1 bag)
1.5 cups raspberries (1 pack)
4 Tbsp + 2 tsp vanilla extract (1 jar)
4 cups spinach (fresh) (one bag/container)
1 large avocado
one pack fresh mint leaves
2 Tbsp Nutiva Organic Coconut Sugar (1 bag)
Cacao nibs/mini Enjoy Life chocolate chips, as desired
one scoop (or packet) Wildway Smoothie Bowl Starter Mix (This one is simply a "boost" that you can choose to use or not. And on that, you might want to grab many of these other gut-healing smoothie boosts to incorporate into the 7 days.)
1 large handful kale (1 bag/container)
2 tsp cinnamon (1 jar)
1 tsp moringa (1 bag)
1.5 cups Elmhurst Milked Oats™ (1 carton)
½ cup old fashioned oats, gluten free (1 bag)
2 Tbsp maple syrup (1 jar)
1.5 cups Elmhurst Milked Almonds™ Unsweetened (1 carton)
1.5 cups frozen strawberries (1 bag/carton)
½ cup cucumber, peeled, de-seeded and cubed (1 cucumber)
1 cup papaya (1 papaya)
½ cup mango (1 mango or 1 small, frozen bag)
1.5 cups frozen cauliflower (1 bag, I buy this frozen in florets or riced)
½ cup watermelon (small watermelon)
½ cup Elmhurst Milked Walnuts™ (1 carton)
1/3 cup + 1 Tbsp cacao powder (1 bag/can)
½ cup raw walnuts (buy in bulk if you can, or a small bag)
Above are all the ingredients for the 7 days.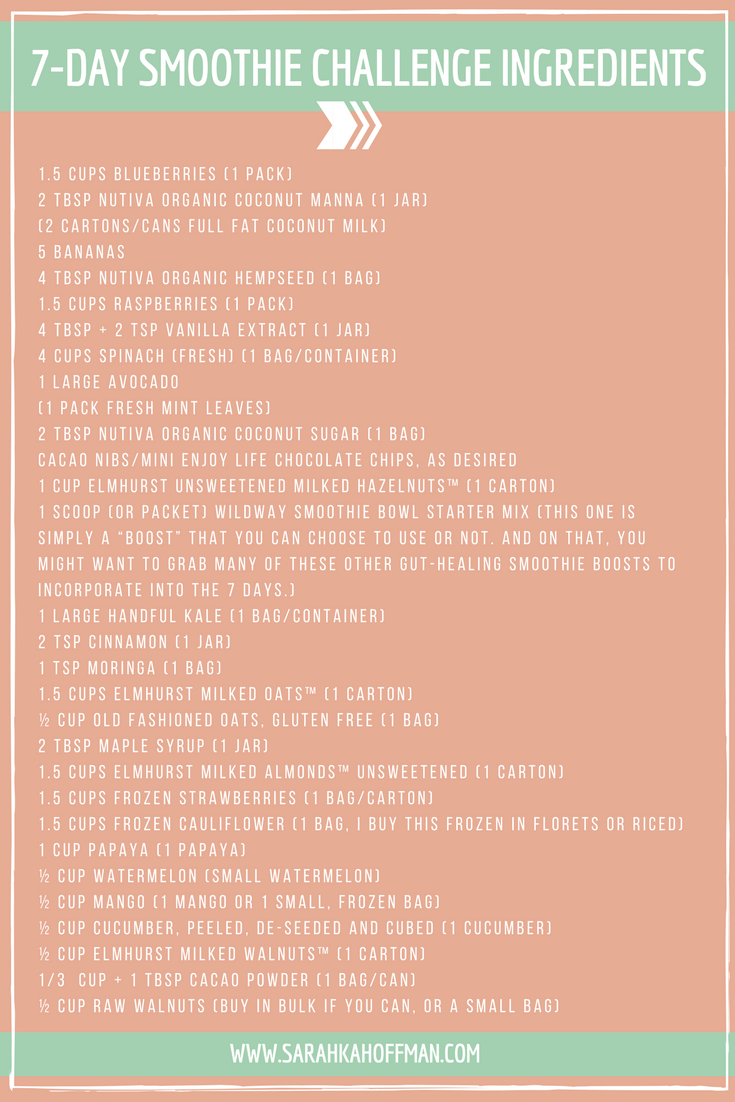 Notes
The last 3 ingredients are actually an 8th (and bonus) recipe day. It's an "ice cream" of sorts, and it's so good that you should probably eat it every single day.
Many recipes use some of the same ingredients, so I combined any like ingredients (i.e. vanilla, bananas).
I put down roughly the entire quantity you will need and then in parentheses, I listed how many units needed – i.e. what you'd write on your grocery list.
You can purchase almost all of these ingredients at your local grocery store. I have linked to many of the ingredients online, if you prefer to have them shipped to you.
Can you make substitutions? Sure can. But do remember that I crafted these recipes very intentionally, and the products/brands I use are those I believe in and trust. (No one – no product or brand – is sponsoring any portion of this 7-day challenge. I make nothing when you buy, unless it's an Amazon affiliate link and even then it's pennies.)
When I give the recipes for the smoothies, I'll also give some practical substitutions for those who may need something a little different (i.e. low-FODMAP).
Hate some of the ingredients on the list? That's okay! Here are my solutions for that:

Swap the ingredient for something else. If you need a recommendation or idea, head to the Facebook event group and ask.
Skip that recipe altogether. Make the ice cream instead that day 🙂

I listed many different alternative milks. Some of the recipes I would not recommend swapping any alternative milk you choose, but some would be okay to swap in a different milk. If you can't get all the milks on my list, do your best. The smoothie will still turn out fantastic. (Note: except for the ice cream. You need walnut milk for that.) By the way, one alternative milk I did not include on the list, but is a favorite to use in smoothies is THIS Milked Cashews. It's so thick, creamy and incredible, and you might want to grab one for a smoothie, your coffee, or just to sip.
Alright, I think you're ready to gather.
Consider Starting Here
Want to get started with some juices and smoothies this weekend? Simple. Starting on page 115 of The Gutsy Girl's Bible: an approach to healing the gut, 3.0, you'll find 4 pages filled with them.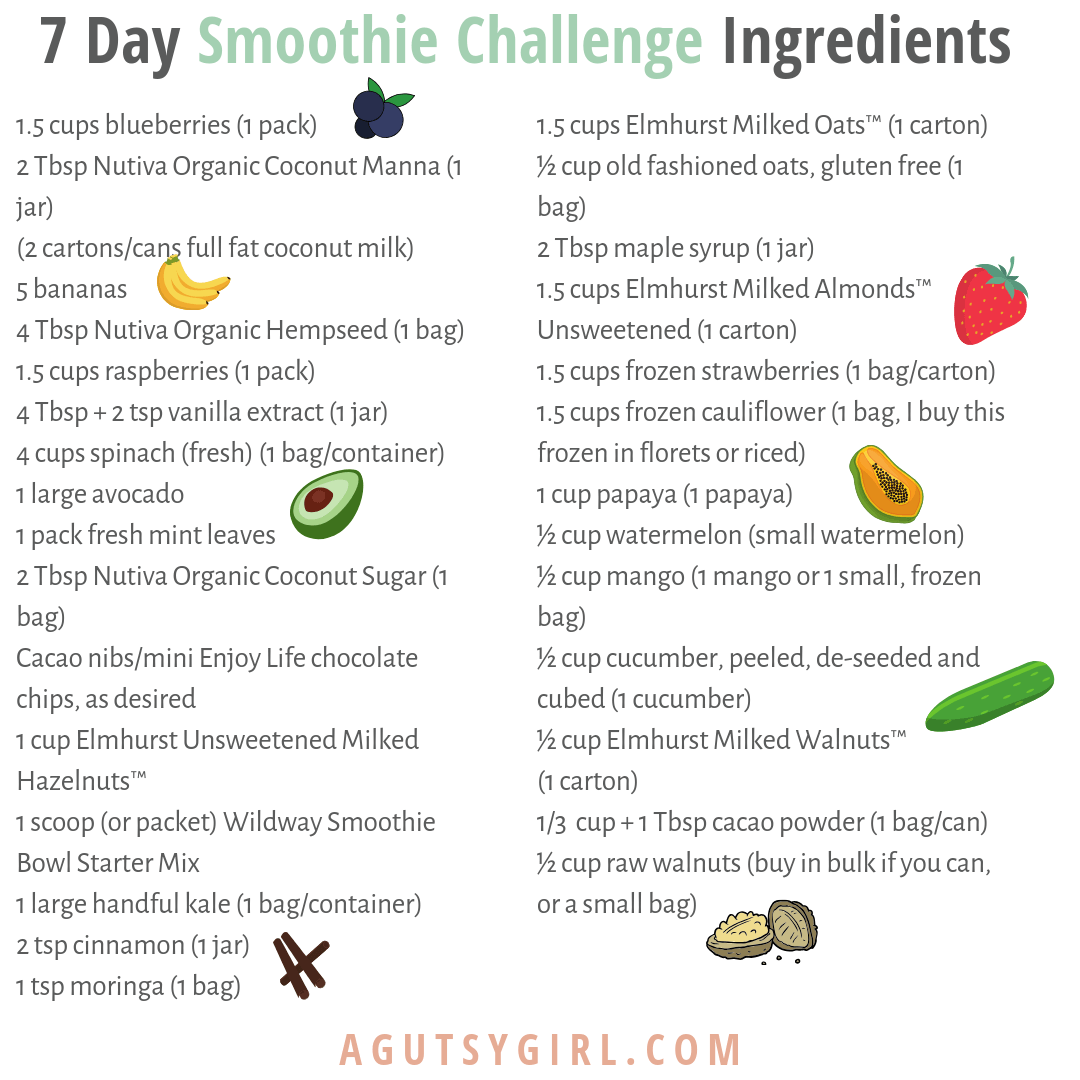 You can also join my FREE 21-Day Gut Healing Inspiration Journey HERE.
Tag me on Instagram using @agutsygirl and/or #AGutsyGirl in your smoothie creations.
Xox,
SKH
You will heal. I will help.