All 8 SIBO signs and symptoms were present in my life for the entire month of March.
Instead of kicking them in the a#$ immediately, I ignored it because I didn't want it to be true.
Thus, my SIBO fully relapsed because guess what? That's not how life works. We can't just put a mask over something, anything, and expect that somehow it's just magically going to disappear.
If you do a Google search, you'll easily find SIBO signs and symptoms.
I'm sharing them with you today, but I also want to share my own, personal symptoms to make it more real life. I find too often that almost every single condition out there has the same set of standard symptoms, but those who live with the conditions can give far more insight into them than a book or medical list can.
That's my goal with this post.
8 SIBO Signs and Symptoms
Click HERE to save this post for later.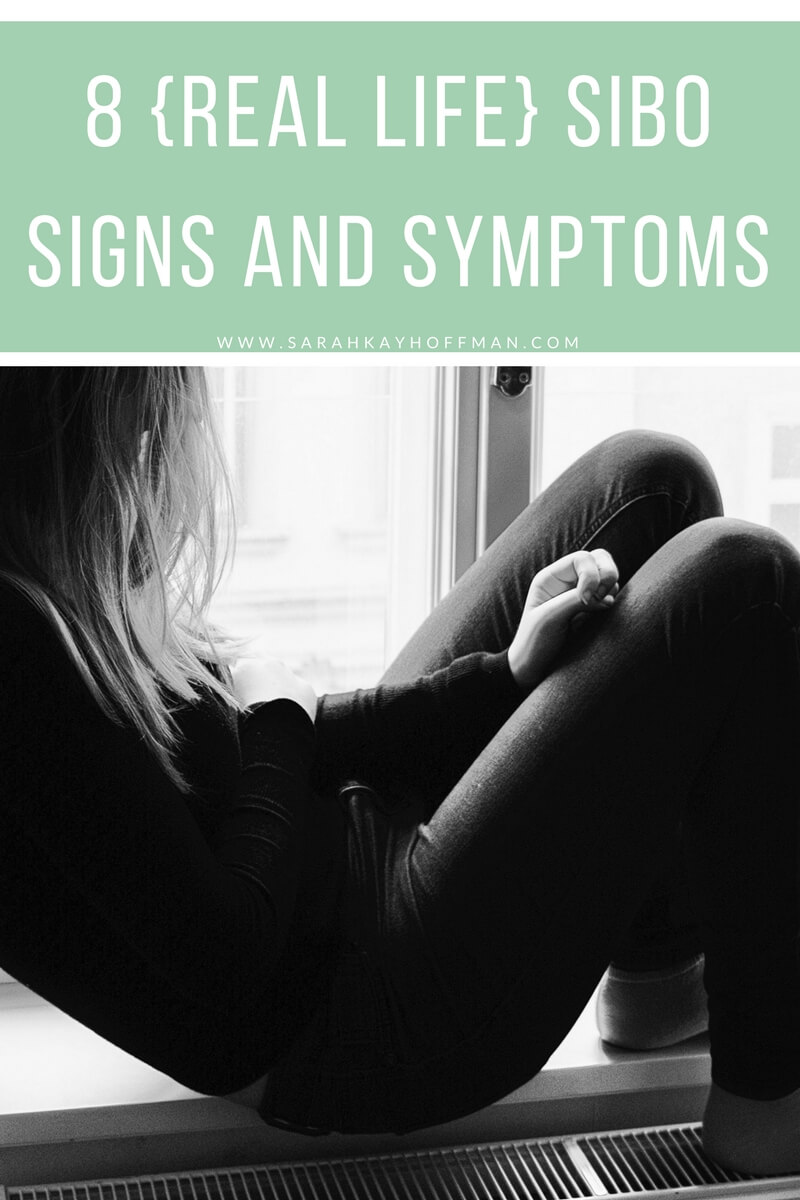 Here is a list of SIBO signs and symptoms you would likely find online:
bloating
diarrhea
constipation
undigested food in stool
pain
B12 deficiency
rashes
fatigue
food sensitivities
dark circles around eyes
hypersensitivity
headaches
all of the above (ugh, the dickens!)
And here is how I personally knew I was on the verge of a full relapse plus the SIBO signs and symptoms that accompanied it: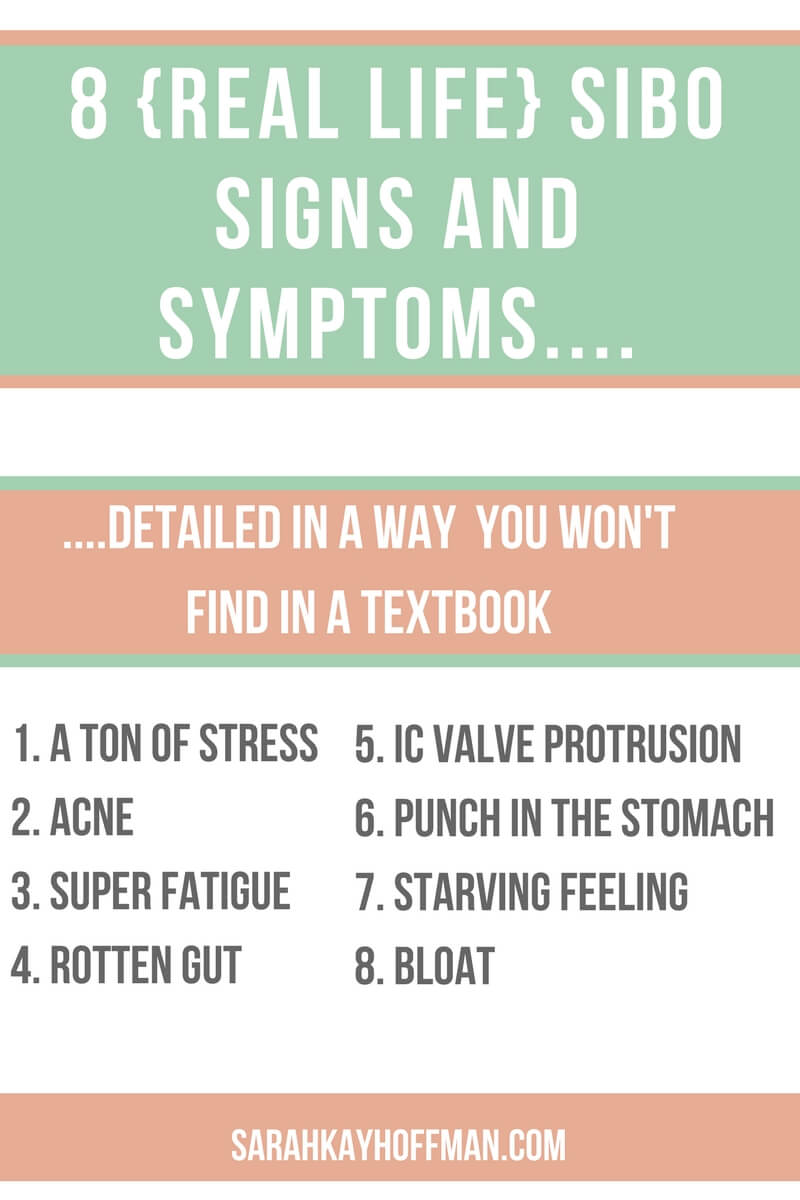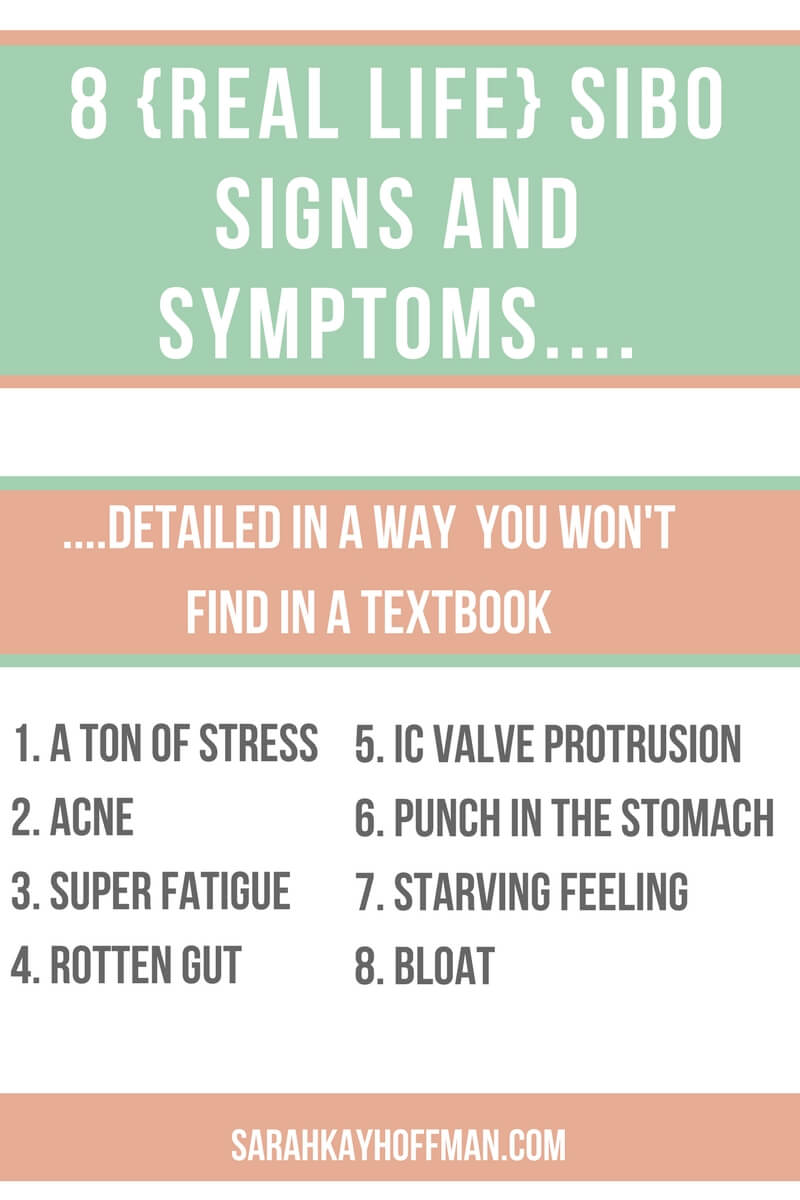 A ton of stress. I have been under a crazy amount of stress since December 20 when we moved back. Some has been good, and some not-so-good, but every single day there has been a level of underlying stress. Stress doesn't cause SIBO; it's a trigger. In my life (probably yours, too), stress is always the trigger.
Acne. My whole body has been showing SIBO signs and symptoms. Namely, I have been breaking out 24/7, no matter what time of the month I was in. This was another sign that I totally ignored because I didn't want it to be true, but major breakouts can usually always be linked back to the gut. For me, I breakout on my back, and around my mouth primarily (but I've still kept the perioral dermatitis completely at bay). This time I even broke out some on my neck. Based on this alone, I should have nipped it long ago because getting rid of it now is going to take a long time.
Super fatigued. For so long I had been telling you that I was up, without an alarm, between 3:30 – 4 am. Currently I need an alarm to wake up at 5 am. It started a couple weeks ago. I wouldn't naturally wake u until 6 or 7 am. Then, even after 10 hours of sleep, I'd still be tired. My energy levels started to tank, and while I was still working out, I made sure to just sleep at night vs. fighting the fatigue battle. Quite honestly, though, I had no idea it was SIBO in the beginning. I thought I was getting sick.
Rotten gut. Rotten gut is nasty, I'll leave it at that. I wrote about what happens to me way back in 2013 via Rotten Gut, Starving, and Weight Gain. I now know that this is mostly due to the fact that I have both high levels of hydrogen and methane SIBO. In What is Methane Dominant SIBO, I stated, "Methane dominant SIBO can make you smell like a barn." Enough said.
IC Valve protrusion. I talked about the IC valve in my 2017 SIBO status update. You can see exactly where it is HERE. I have a very defined one. In fact, I think it's too defined and as I explore with my new doctor, it's something I want to talk about. (Updated late summer, 2018: After my Colonoscopy and Endoscopy, they don't think it's my IC Valve anymore.)
Punch in the stomach. About two weeks ago, right before I left for work, I doubled over in pain. It felt like someone was punching me in the stomach. It was the same feeling that lead me to the ER back in October and during the whole eggs episodes a couple years back. I got goosebumps, and I thought I'd throw up, but never did. It only last about 20 minutes and has not returned, but it was central to the small intestine. And miserable.
Starving feeling. I always know when SIBO is trying to relapse or has relapsed by that tugging, nagging feeling in my small intestine that says, "You are hungry" 24/7, even if I've just eaten a huge meal. No amount of food can satisfy, and my stomach is constantly off.
Bloat. And last, but certainly not least, I get massive bloat. Within a matter of minutes, I can go from normal to 5-months pregnant looking. It all sits in my lower gut, and nothing I do helps (really not even going to the bathroom) until I hunker down with addressing the nasty SIBO. One of the most annoying comments to me when I'd explain this to women has always been, "Oh, I totally know how you feel. When I have my period, I get like that, too." No. No. Just no. It is nothing like that. Not even a little bit. I get my period, too, so I know exactly what that bloat is like. In fact, when I used to Bullet Journal for Gut Healing, I'd always make note of "bloat like period" or "bloat like SIBO." SIBO bloat is absolutely miserable, and if you have SIBO, you know the difference.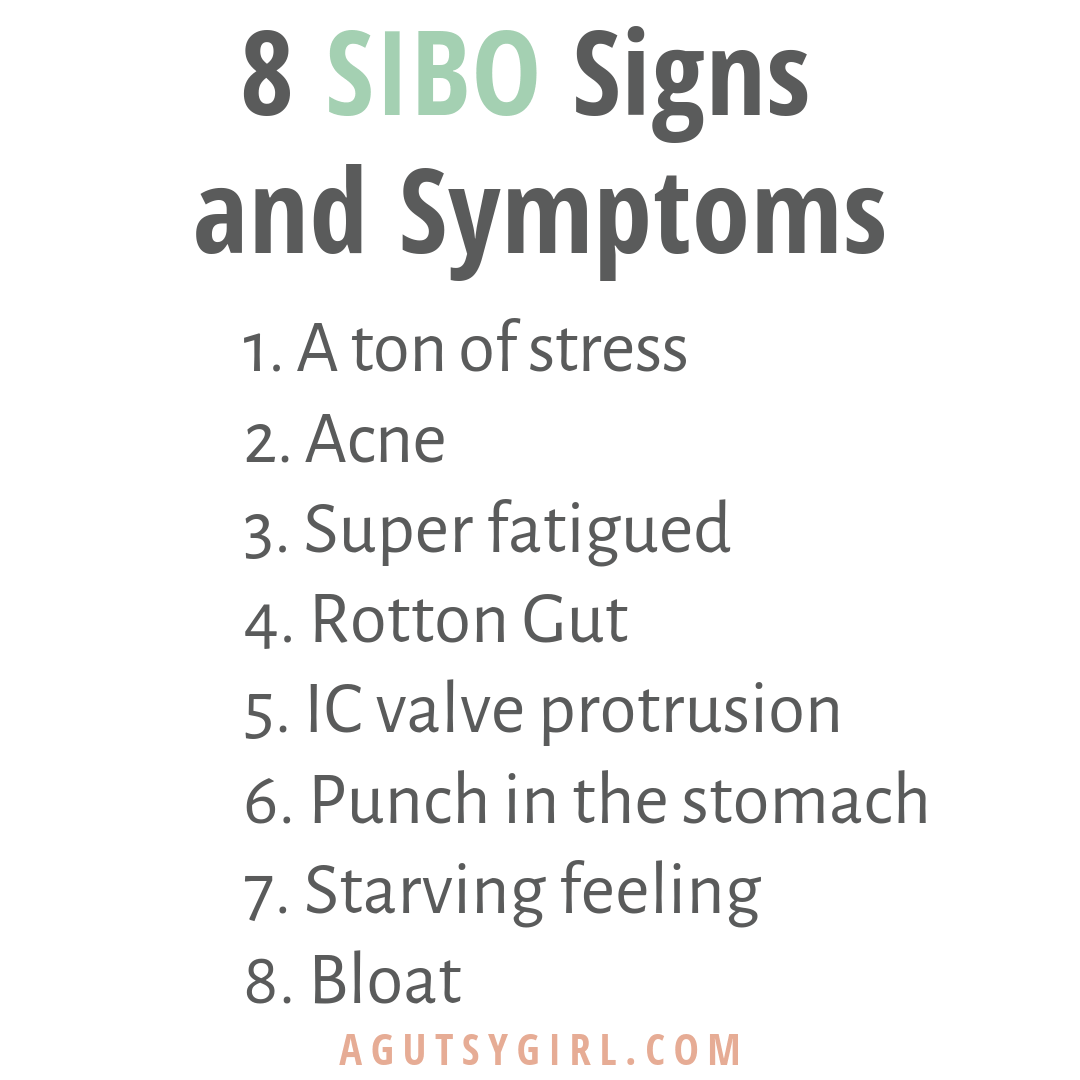 That lingering health issue? Seriously. Don't let it linger. I PROMISE on my life that it's not going to get better if you don't address it because nothing changes if nothing changes.
Now for the good news — I told you about the SIBO relapse on Saturday. That was the day I decided to quickly nip it in the butt. Saturday and Sunday were hard days; all the feels both physical and emotional. But immediately, I implemented all the things I know to ensure I'd start healing (or at the very least suppress symptoms).
Yesterday (Monday) was a wonderful day! Other than the visible signs and symptoms, inside, all the bloat, starving feeling, punch in the stomach, rotten gut, etc. was gone.
How did I do it? What have I been doing? Check it out – 28 Things to Do During a SIBO Flare Up.
Xox,
SKH
You will heal. I will help.