What do you do when SIBO keeps relapsing? Perhaps the better questions is, "Why does SIBO relapse?"
SIBO
SIBO is real, and it's popularity (not the good kind of popular) is growing.
I have been saying it for such a long time now, but I have to say it again. My prediction is that SIBO diagnoses are only going to rise.
With the rise in diagnosis, two main problems will remain:
There will be a high percentage of people who will relapse.
Of those who do or don't relapse, they will not know how to heal. And by heal, I mean, for good, not just take a course of Rifaximin and/or Neomycin and call it a day. (This, of course, will typically lead back to #1, and the cycle will continue.)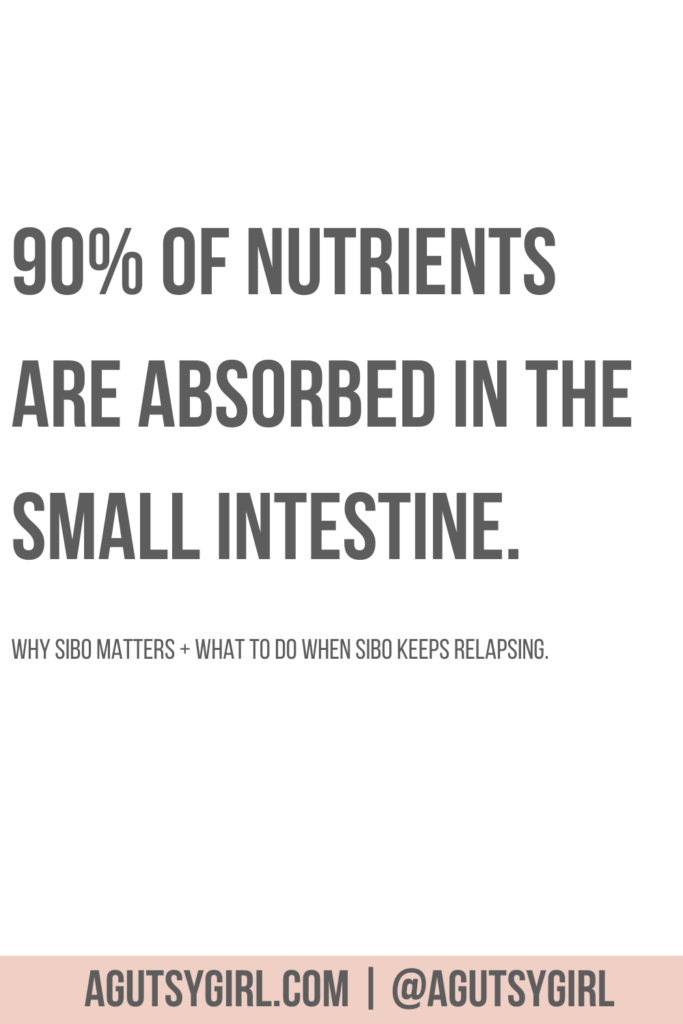 And why is this whole SIBO issue such a big deal? (Enter sarcasm) I mean, it's not even a digestive disease. It's "just" an overgrowth, right?
Know this….90% of nutrients are absorbed in the small intestine.
When SIBO is present, it affects every last thing about you.
The signs and symptoms of SIBO can translate in harsh ways for the everyday life.
Why Does SIBO Relapse
Click HERE to save this for later.
This is the main question I posed once to Dr. Schweig,
Why does SIBO relapse? And more importantly, "Why do I keep on relapsing?
His answer?
That's a great question. And it's the hardest one to answer.
But he didn't stop there.
We discussed the many reasons why I might be relapsing. My favorite part was when he told me,
You have relapsed so many times that I know it's nothing you are or are not doing. It's not your fault.
Here's the deal, barely anyone gets through SIBO without relapsing, but most people don't relapse this many times.
The difference is why SIBO was present to begin with. Sometimes it's something mild. In those cases, I believe you relapse a time or two and if you do all the right things from a diet and lifestyle, medication and supplementation standpoint, you are able to fully heal and move on with your life.
But for me, and according to Dr. Schweig, there must be something underlying that is keeping the SIBO around. Everyone is different, but here are the two main things he thinks could be my underlying conditions:
Mold
Lyme Disease
And here are the additional tests (all via blood) I'll be doing:
HNK1 (CD57)
Bartonella Antibody Profile
Lyme Disease AB, Total and IgM, w/ Reflex to Western Blot
C6 Borrelia burgdorferi w/Reflex to Western Blot
VCS Test
Shoemaker VCS Test (this is actually a vision one done at home)
What Do You Do When SIBO Keeps Relapsing?
Click HERE to save these for later.
So, then, what do you do when SIBO keeps relapsing?
The answer is two fold and it includes one part simple, and the other part simple, but not easy.
The simple part is that you make sure you have a doctor as good as Dr. Schweig to keep seeking answers with further testing.
The simple, but not easy, part is that you re-evaluate prior SIBO protocols and adjust, if need be.
For me, the antibiotics are staying the same as the last round. I'll be on Rifaximin for 4 weeks, and Neomycin for 2 weeks (the first two weeks of Rifaximin).
That combination has always cleared the current "ickies" I have going on in my small intestine, and after the course, I have always felt incredible. 
Right now, that relief will be lovely.
But we are doing something different with diet this time.
Their ideas around SIBO during the course of the antibiotic(s) have changed from a diet standpoint. I'm still not sure if I fully agree, but I am going to give it a shot.
Wondering what it is? You'll find it HERE.
---
Updated in 2022 to add: I'm healed. I have had zero SIBO relapses or SIBO symptoms since July, 2018. And then I wrote an e-book to share it all with you. Grab Reasonable SIBO HERE.
---
If you liked this post, you might also enjoy:
Xox,
SKH
You will heal. I will help.