Can you heal your gut on a Vegetarian diet are words I never thought I'd write or a topic I never thought I'd be interested in exploring.
Until Facebook.
Stupid Facebook.
My goal on this gut-healing journey and optimal wellness is and always has been to be super transparent with you. I'm not here to shill people, products, and brands for anything or anyone.
I'm here to help YOU and help myself because a healthy gut leads to a happy life. I know this for sure because I have lived it, and I do live with it, daily.
Meat
I swear by the GAPS Diet. It changed my life in 2009, and I will forever be grateful and indebted to it.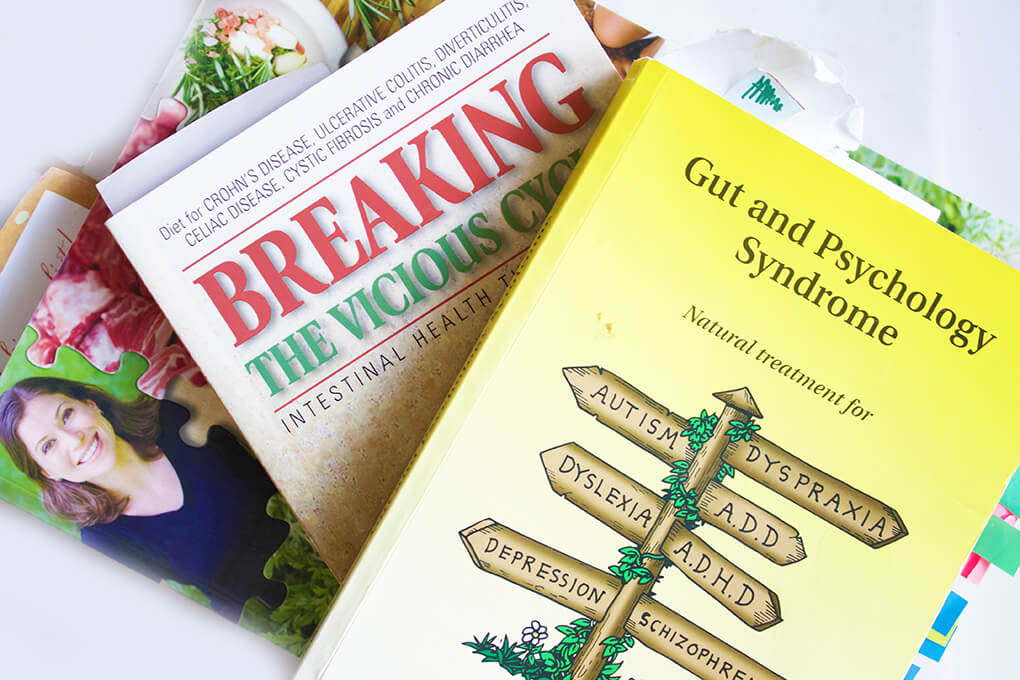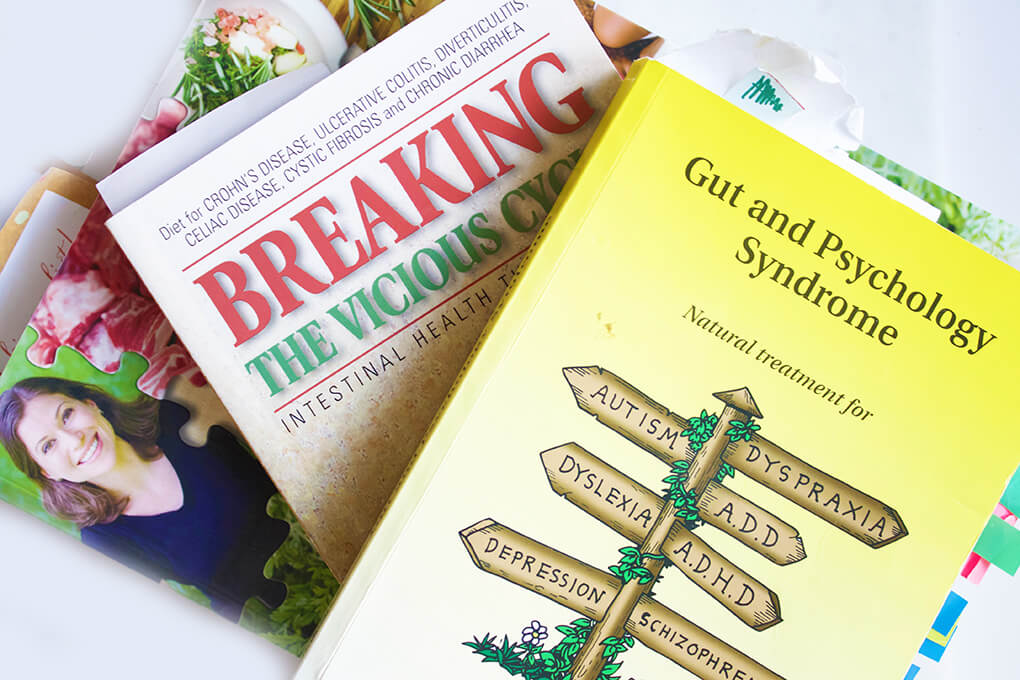 Most people (even people who really know me) assume that I am – and always have been – Vegan. False. Completely false. There was never a day in my life when I was Vegan, and especially not from 2009 on, when I dug in to intense gut healing through the GAPS Diet.
My mind told me I wanted to thrive on grains, fruits, and vegetables, but my body screamed otherwise.
I listened to my body, and healed in major ways.
And, in fact, it's the basis for The Gutsy Girl's Bible: an approach to healing the gut, 3.0.
So I stand by it 1,000%. I did then, I do today, and I always will.
Over the past couple years, though, I started to believe that you must live life while simultaneously having weird meat aversion. Ugh. (Literally, FML is what I've been constantly thinking.)
Enter Facebook
And then something really weird happened early this week. I was scrolling through Facebook one night (my first mistake) and someone shared this awful video of a dog tied up and a man beating it. My heart broke into a million pieces. I have – literally – been fixated on it all week, and had I not scrolled on past, I would have immediately removed the person who shared it from my feed. Just why?
But all the sudden, my mind went from the dog to eating meat from other animals, and I felt a bizarre sickness.
I've sat with it all week, while not eating any meat, to try to understand why and where it's coming from.
And I think I know.
It's been months since I've known where my meat is coming from. I've been eating it to eat it, but I have no idea why because long before this the aversions started.
I don't want to live on meat autopilot anymore. Instead, I want to learn more and find out where and how to go from here.
What is a Vegetarian Diet?
There are several versions of the Vegetarian diet. Here are several according to the Global Healing Center,
A semi-vegetarian will eat some meat, but attempt to avoid it as much as possible. In the order of importance, red meat is particularly avoided in favor of poultry or fish.
A pesco-vegetarian will eat fish, but not red meat or poultry.
A pollo-vegetarian will eat poultry, but will avoid meat and fish.
A lactoovo-vegetarian will avoid meat, poultry, and fish, but will eat dairy products and eggs. Most insist on eating only free-range eggs and believe hen farming is an inhumane practice that should not be economically supported.
A lacto-vegetarian will consume dairy products, but not eggs.
A full-vegetarian will avoid all meat, poultry, and fish. Additionally, he or she will avoid eating products such as gelatin or marshmallows that are made from animal byproducts.
A very strict form of vegetarianism is known as the vegan lifestyle. Vegans avoid eating or using any kind of animal product, dairy products, eggs, processed foods made with animal derivatives, and clothing made from animal hide. Vegans also avoid using products that have been tested on animals for commercial or medical purposes.
For me personally, I am talking about a combination of semi-vegetarian and pesco-vegetarian.
Can You Heal Your Gut on a Vegetarian Diet?
Click HERE to save this post for later.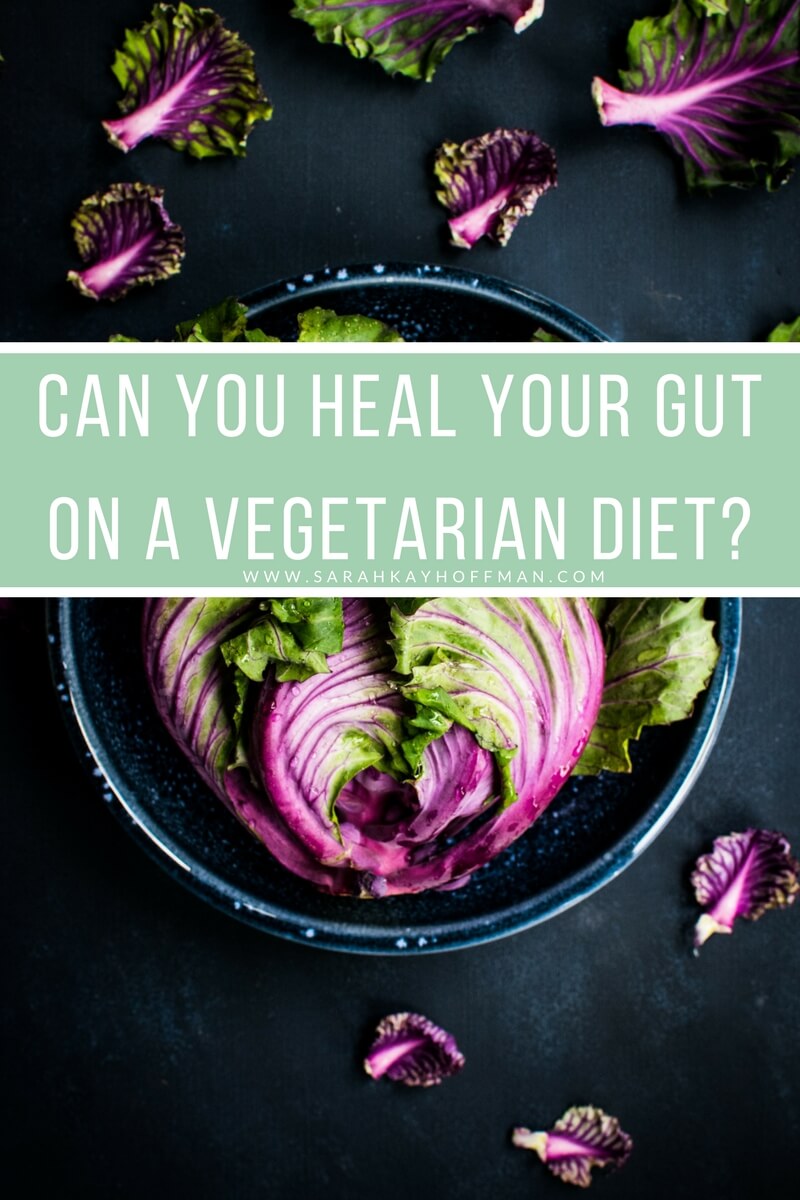 My desire for not wanting to live on meat autopilot anymore, lead me to this place, to this question, and to seeking answer the answers to:
Can you heal your gut on a Vegetarian diet?
If ever there was a time for this to happen, I am thankful it was early this week because yesterday I had an appointment with my doctor (the one in California).
Besides our biggest conversation we would have around SIBO, this was my only other main question.
Yes or No?
His quick and dirty answer,
Yes, yes you can heal your gut on a Vegetarian diet as long as you keep mindful about nutrient density.
One of the first statements he made was that he was totally fine with me leaving red meat out, which actually made a ton of sense to me that he'd say that because he is a big fan of Dr. Sara Gottfried and in her book (I have it), The Hormone Reset Diet, there is an entire section and "reset" on going meat-free, which for her is mostly defined as red meat (because you can still have turkey, chicken, etc.)
He then went on to specifically call out three foods to focus on if I would be going more Vegetarian. Here they are:
Beans

Yes, I was shocked, too. But he's talking about properly prepared beans, not just canned garbanzo beans. Wondering how you do that? I put together a list of 8 ways to properly prepare beans.

Sardines

Oh for the love, back to these. I have done it, and I can do it, but it's still a huge feat for me to get them down. I'll need to figure out more recipes in order to really incorporate them. The first stop, though, will be to grab them from a brand I trust, Wild Planet.

Fish (in general)

He especially pointed out salmon.
I told him these following foods/categories of foods I wanted to mostly focus on:
fish
vegetables
some fruit
eggs
fats (avocado, coconut oil, other oils)
nuts and seeds
fermented foods
He said that was fine (with the exception of the diet protocol I have to follow for probably the next few months), but asked if I could throw in some high-quality, organic chicken from time-to-time. I agreed, and I also said that if I was able to find another high quality, organic meat meal, I would be open to that as well.
I am not entirely certain where this is going to lead me, but I do know that right now it feels right. And not only does it feel right, but I've been enjoying a new-ish spin to the daily eats. Yesterday I had:
eggs
a smoothie (because remember, it's smoothie week!)
a lot of vegetables (green beans, mushrooms, arugula, kale)
a Paleo Bar (duh)
coconut milk latte
kombucha
rice
banana
tuna
nut butter
sunflower and flaxseeds (but that's really for seed cycling, which I do daily)
coconut oil
I covered most of Dr. Schweig's recommendations, and quite honestly, I felt fantastic all day long.
So what do you think? Can you heal your gut on a Vegetarian diet?
Xox,
SKH
You will heal. I will help.