Today I have 6 low FODMAP complete proteins for Vegetarians and Vegans (in case SIBO does still affect you).
I've been asked before, "Can you heal your gut on a Vegetarian Diet?"
I explored the question HERE. You may or may not agree with my conclusions; I have lived it, though, so I remain confident with them. Today, though, in a place where gut issues no longer affect me, I eat in line with a Flirting Vegetarian. I refused to live as a junk-food Vegetarian, so I figured out different proteins that work for me.
What is a Complete Protein?
A complete protein has all nine essential amino acids. The body is made up of 20 amino acids; nine of these are essential. The nine essential amino acids include:
Histidine
Isoleucine
Leucine
Lysine
Methionine
Phenylalanine
Threonine
Tryptophan
Valine
(Table via National Institutes of Health)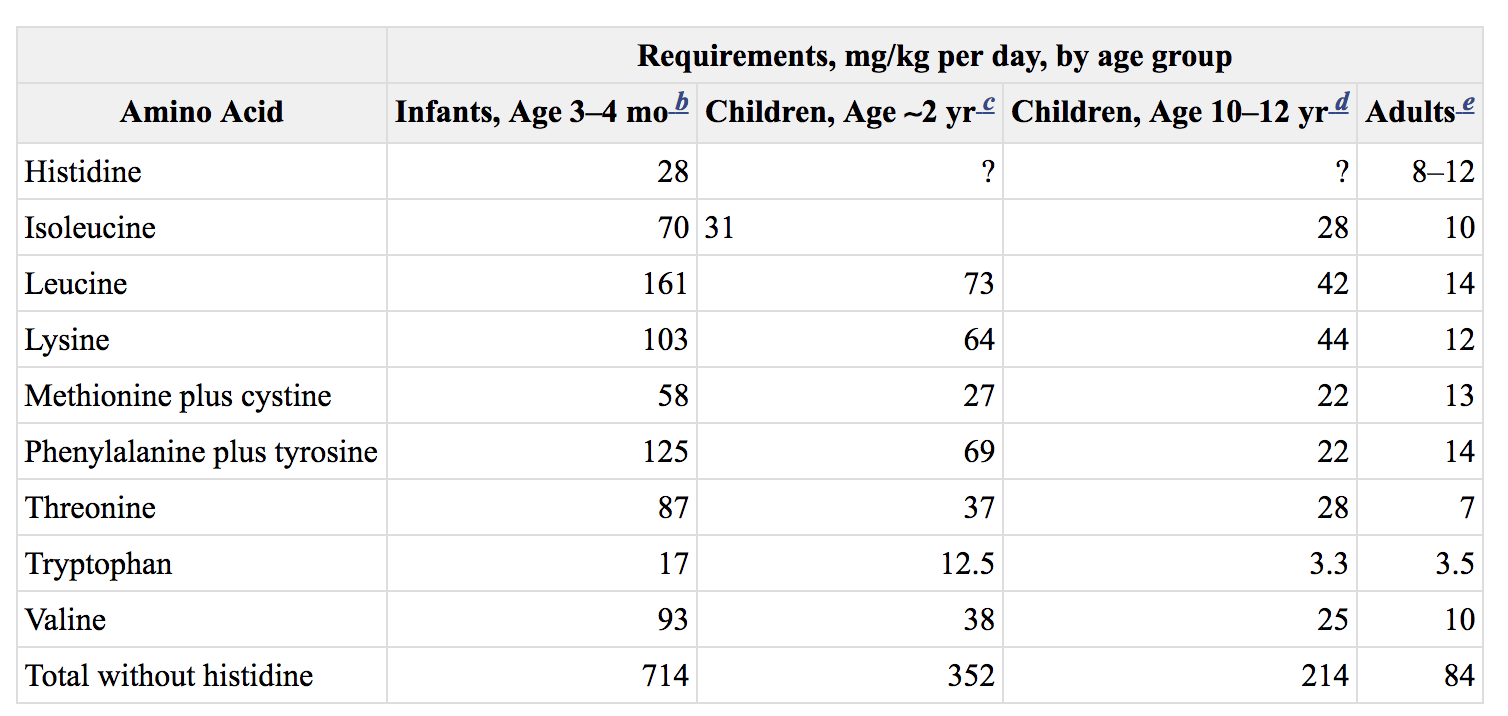 The other 11, we naturally make on our own, and don't need to worry about getting from food.
When I lived off of meat, fat, and broth, I never had a problem getting in all nine essential amino acids because all animal protein – meat, fish, eggs, and even dairy – are complete proteins.
Gut Healing for Vegetarians and Vegans
You know what I really love doing for the Gutsy community? I love finding articles like this, "15 Complete Proteins Vegetarians and Vegans Need to Know," and then dissecting it in a way that figures out how to make it approachable if you also deal with IBS and/or IBD.
Why? Because millions of women suffer with IBS and IBD. They are looking for healthier options and/or ways to make a desired lifestyle work. The problem is that conventional information about those "healthier lifestyles" (I always use quotation marks because healthy is subjective) usually is not doing you any favors.
I mean, if you want proof, just read 15 Reasons Why Your New Year's Resolution Left You More Bloated Than Ever. You see what I mean?
So, you might have a sound reason (any reason is sound, really) for wanting to stay Vegetarian and/or Vegan on your healing journey. You must know that it might not work. You don't want to hear that, I get it, but I have to always tell you the truth. On the flip side, it might totally work. And in that case, you can be rest assured a complete protein will be (safely) in your daily diet.
6 Low FODMAP Complete Proteins for Vegetarians and Vegans
Click HERE to save 6 Low FODMAP Complete Proteins for Vegetarians and Vegans for later.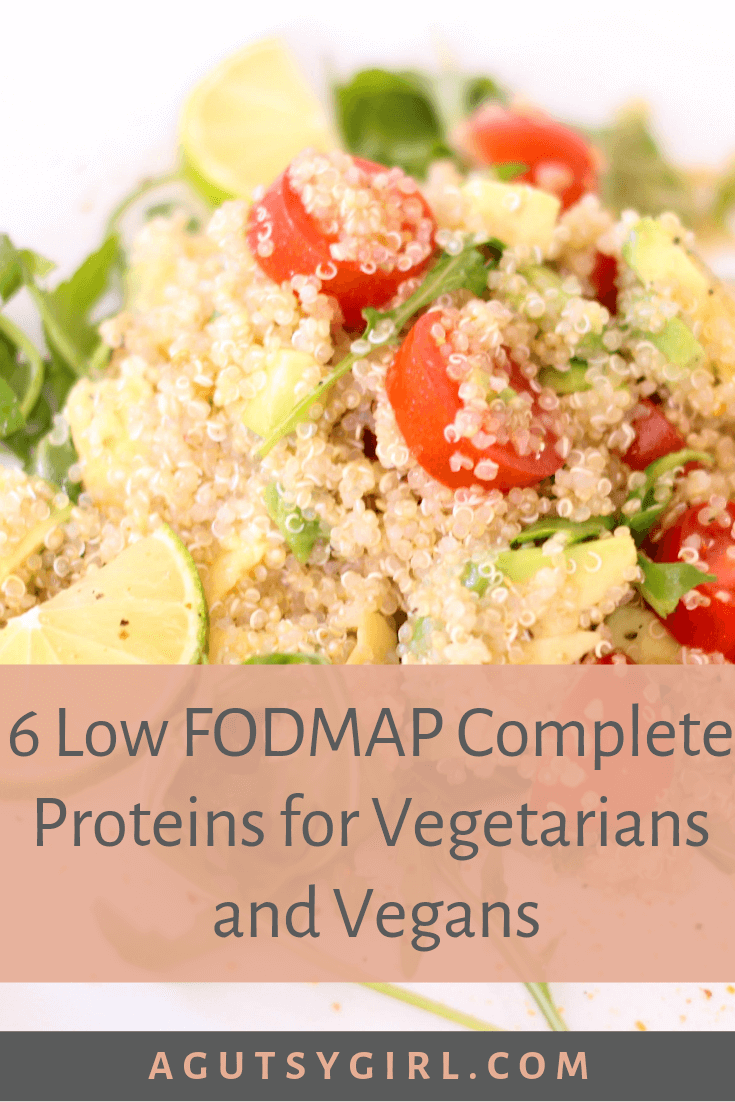 I read the article (above) which listed out 15 complete proteins for Vegetarians and Vegans, and then chose my favorite 6 to share with you today.
The information on each below, as it pertains to being a complete protein, was taken from the article.
Thus, some of their "must try ideas" are not all Low FODMAP. If you aren't sure, feel free to leave a comment on this post to ask me. I have added in how much safely qualifies as a Low FODMAP option.
Buckwheat Groats

3/4 cup, cooked is Low FODMAP
Protein content: 6 grams per 1 cup, cooked.
It is NOT a type of wheat – comes from the rhubarb family.
Can help improve circulation and lower blood cholesterol.
Must try ideas: use buckwheat as a protein in your favorite chili recipe.

Quinoa

1 cup, cooked is Low FODMAP
Protein content: 8 grams per 1 cup, cooked.
Full of fiber, magnesium, iron and manganese.
A fantastic substitute for rice.
Must try ideas: use quinoa as a filling for a breakfast burrito.

Peanut Butter

2 Tbsp is Low FODMAP
Protein content: 15 grams in one sandwich. (Note: the Peanut Butter itself only contains 8 grams)
This is a great idea even children will love. They won't even notice that they are meeting their protein through a vegan protein source.
Make sure to use natural and organic peanut butter for the healthier vegan complete protein.
Must try ideas: make peanut butter and jelly or peanut butter and honey sandwiches. Try different nut butters for variety. Add peanut butter and nut butter to lettuce wraps and tortillas to get creative with your vegan complete protein.

Tofu

2/3 cup, cubed is Low FODMAP
Protein content: 10 g of protein per ½ cup.
Tofu is a super versatile vegan protein source. You can use it as a meat substitute, however, it is great for baking. You can make a vegan cheesecake for vegan complete protein!
Must try ideas: try tofu scrambles for breakfast and baked tofu with your favorite side for lunch. Add tofu to your stir-fries and Asian-inspired dishes.

Lentils

1/2 cup, canned is Low FODMAP
Protein content: 8.84 g of protein per ½ cup.
Lentils are versatile vegan protein sources. They are also great if you are not feeling like beans.
Must try ideas: try lentil soup. Add it to stews, curries, salads, or rice.

Hemp Seeds

2 Tbsp is Low FODMAP
Protein content: 5 g of protein per tablespoon
Hemp seeds are great to add a sweet and nutty taste to salads, smoothies and meals.
Must try ideas: Add it to your salads, fruits salads, smoothies and granola.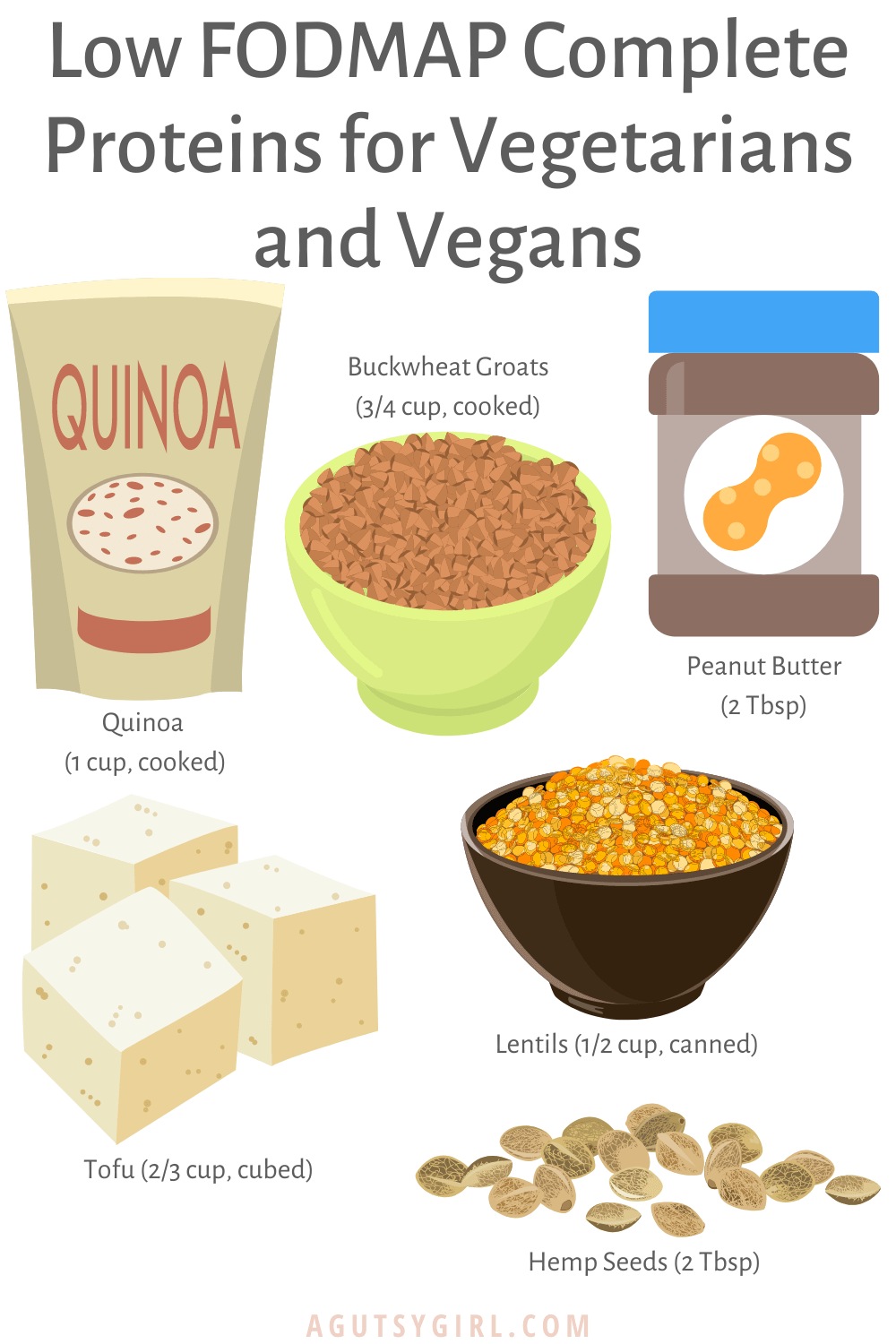 Any other Vegetarian and Vegan Proteins?
For me personally, I eat all of the above (except #1) on a very regular (daily) basis.
In addition, I eat (both on and not on the list of 15, too):
Rice and beans. 7 grams per 1 cup. Rice is Low FODMAP; beans, it all depends on the variety and preparation. (Want to digest beans easier? Learn how HERE.)
Hummus. Not Low FODMAP, and does 1g count as an adequate amount?! Oh it does. Good, because THIS hummus is my dessert-of-choice currently.
Almonds. 16.5 g of protein per ½ cup. Up to 10 almonds are Low FODMAP.
Potatoes. 8 g of protein per serving. White potatoes are Low FODMAP.
Broccoli. 4 g of protein. It depends on the part of broccoli eaten that determines if it's Low or High FODMAP.
Chickpeas. 7.25 g per ½ cup. When they are canned, up to 1/4 cup is Low FODMAP.
Spirulina. 4 grams per 1 tablespoon. It's Low FODMAP, and makes a great gut healing smoothie boost.
The best Low-FODMAP, Organic, Vegan Protein Powder HERE. (NO pea protein in this one.)
NOW Foods Pea Protein. Low FODMAP.
Finally, I do still eat meat, but when I started my journey I was probably eating 75% meat, 25% other. Now, it's probably 25% (or less) meat, 75% (or more) other.
And the answer is, "Yes. Yes, I'm getting plenty of protein."
If you liked this post, you might also enjoy:

Xox,
SKH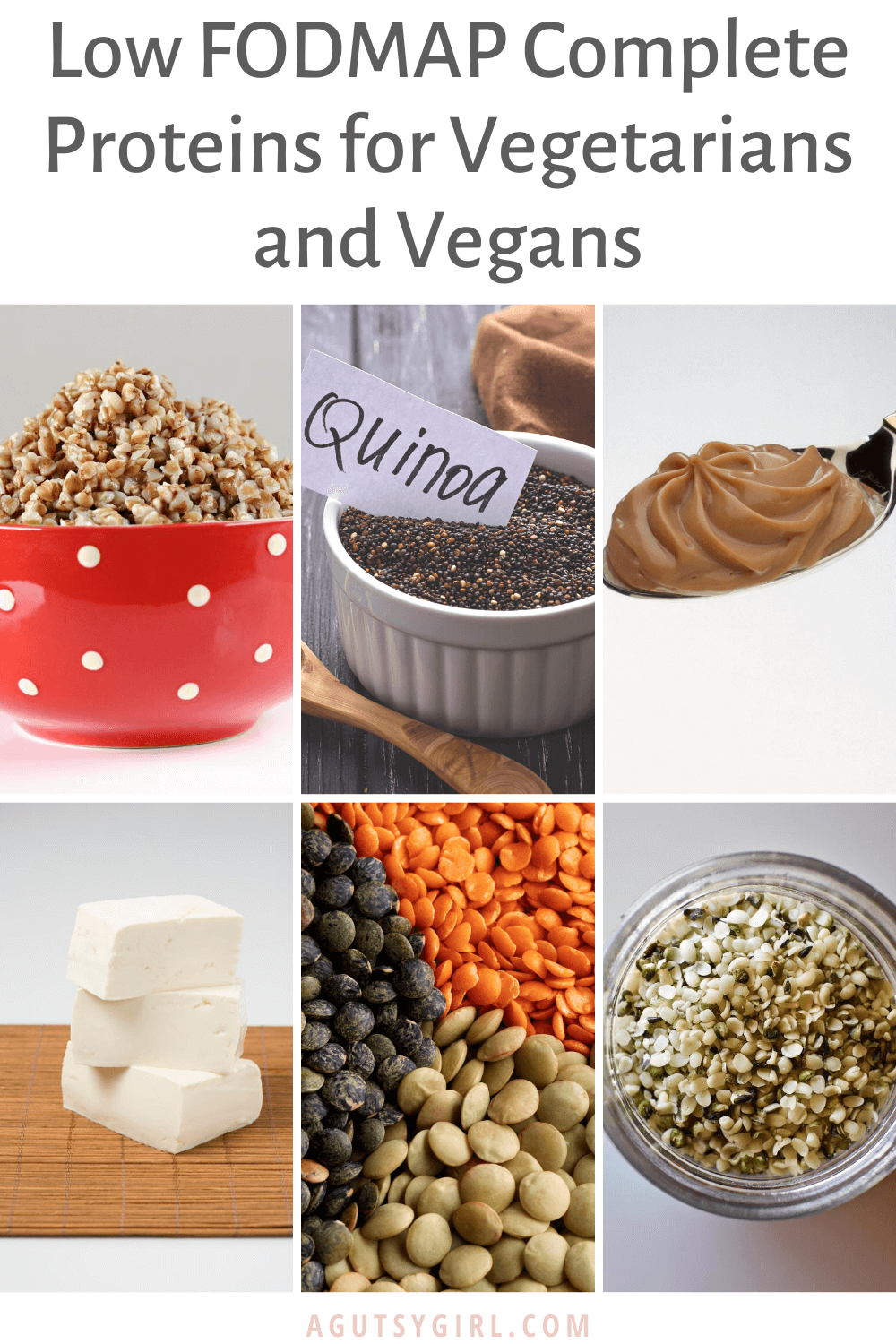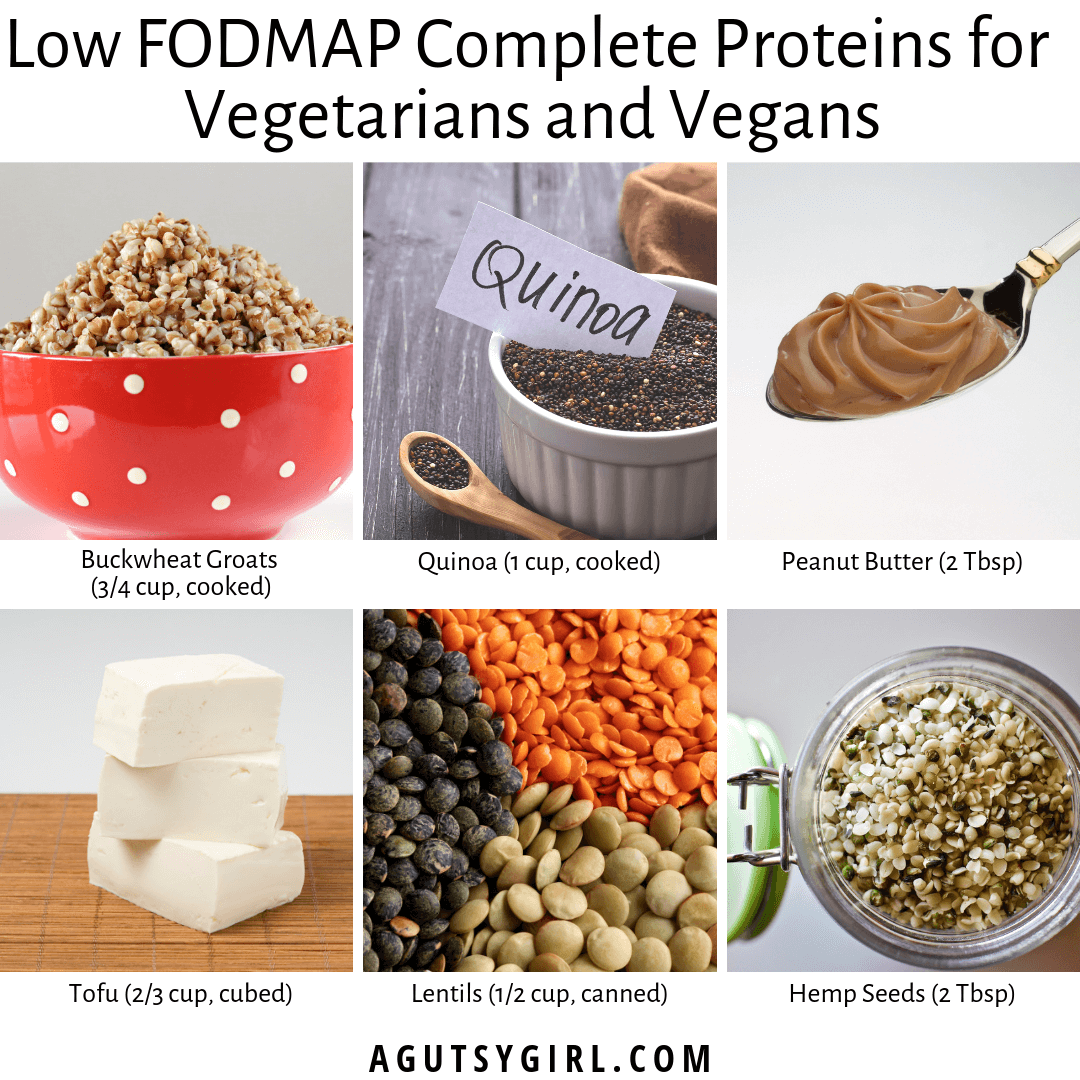 You will heal. I will help.