I'm asked about skincare and makeup in leaky gut associated dermatitis and other skin issues often.
The correlation between various kinds of dermatitis like perioral or seborrheic ones and the leaky gut syndrome has not only been experienced by thousands of people but also scientifically proven.
What it does mean in practice, though, is that it may pose problems with choosing the right skincare or makeup products on the everyday basis.
If you are struggling with this, you know exactly what I'm talking about. (And remember, I know, too. HERE is my story and journey with perioral dermatitis.)
In such a case, you may also be wondering where to find all the information needed to solve the dilemma. That's when I can help come to your rescue.
Let's examine how leaky gut syndrome is associated with dermatitis and what products are best to use.
Skincare and Makeup in Leaky Gut Associated Dermatitis
Click HERE to save this post for later.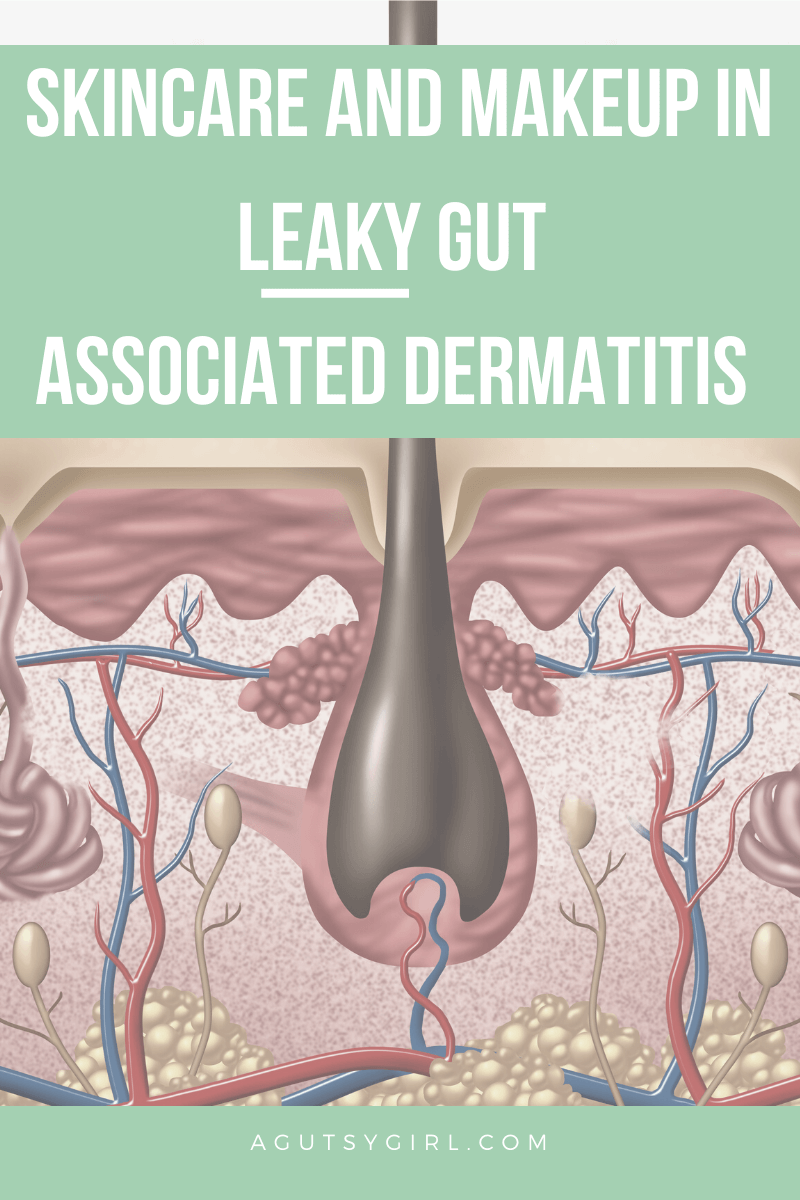 How is dermatitis associated with the leaky gut syndrome?
Dermatitis and the leaky gut syndrome do coexist so often because of building proteins genes' mutations which manifest simultaneously in the gut as well as in the skin.
Owing to them, both mentioned structures are weakened and "leaky," making space for chronic inflammation and possible infections.
The skin is devoid of its natural protective lipid barrier. The lipid barrier is what makes it less resilient, dry and easily irritated.
At the same time, it is more susceptible to damage, including the one coming from free radicals and increased oxidative stress – factors that only aggravate inflammation. The whole process propels itself at this point.
What products are best to use in this scenario?
Products in leaky gut – associated dermatitis should target all of the underlying causes of the condition:
lipid deprivation
inflammation
protection from the oxidative stress and infection prevention
At best, the products used should also undergo a strict selection process to eliminate any ingredients which could bring about any further irritation.
All of that is embraced by Primally Pure which advocate for clean, conscious beauty to the core. The brand opts for and prioritizes sustainability while ensuring that their ingredients are safe for the skin and comply with highly demanding standards.
Okay, so now the real question is…..
That's all nice. Thanks for the research. But what would you use on your skin if your dermatitis was active?
Here you go.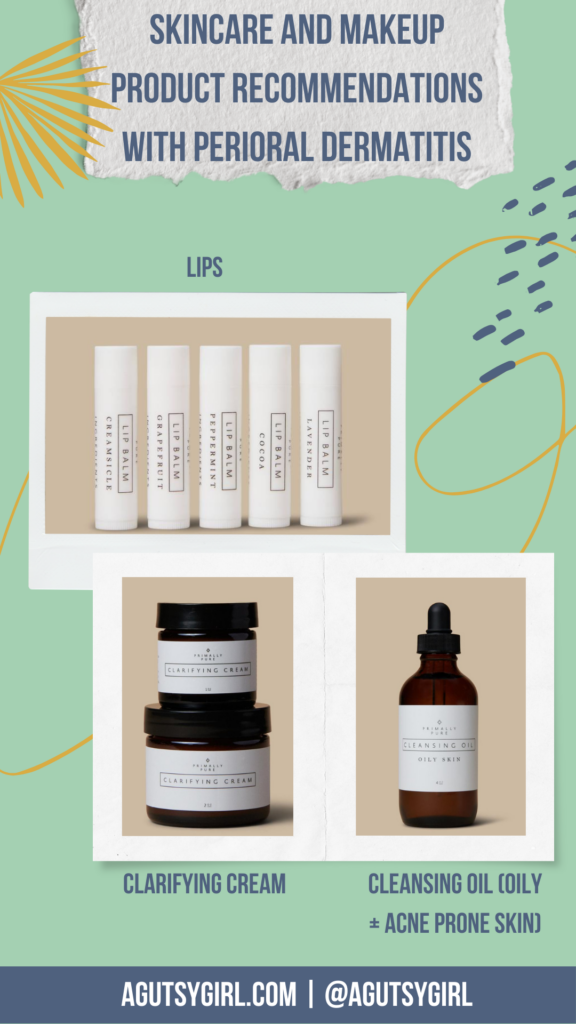 Skincare and Makeup Product Recommendations with Perioral Dermatitis
Lips
Ingredients like tallow from grass-fed cows, coconut oil and shea butter deeply moisturize and heal chapped lips.
Organic essential oils provide added benefits + flavors for your lips to enjoy.
Shea butter is great for soothing, antioxidant and anti – inflammatory properties.
Grab your Natural Lip Balm HERE.
Face Wash
Based on the scientific principle that like dissolves like, the oil cleansing method utilizes beneficial oils that penetrate deep into pores to dissolve grime and build-up. Our Cleansing oil for acne deeply cleanses the skin while promoting more balanced oil production.
When struggling with dermatitis, it is crucial to always use oil – based cosmetics, even when washing the face.
This one is specifically formulated for oily skin, and is made with a blend of oils known to detoxify the skin, clear acne and dissolve impurities without drying it out and forcing the skin to over-produce oil/sebum (which can lead to a vicious cycle of ongoing breakouts).
Grab your face wash HERE.
Face Cream
This concentrated blend of clarifying and anti-inflammatory oils offer synergistic benefits to balance sebum production and calm acne along with fatty acids, antioxidants and vitamins A, D, E and K to repair skin, reverse sun damage and deliver nourishment where skin needs its most.
This face cream is lightweight and is formulated for skin tones prone to acne, excess oil production, hyperpigmentation, sun damage or inflammation.
Get your face cream HERE.
Conclusion
I still maintain that when it comes Perioral Dermatitis less is more.
Though you might feel like you need to apply all the things in order for it to disappear, that's not the case. Use less of the best and forget the rest.
Because remember, unless you heal your gut, all the skincare and makeup in the world won't matter.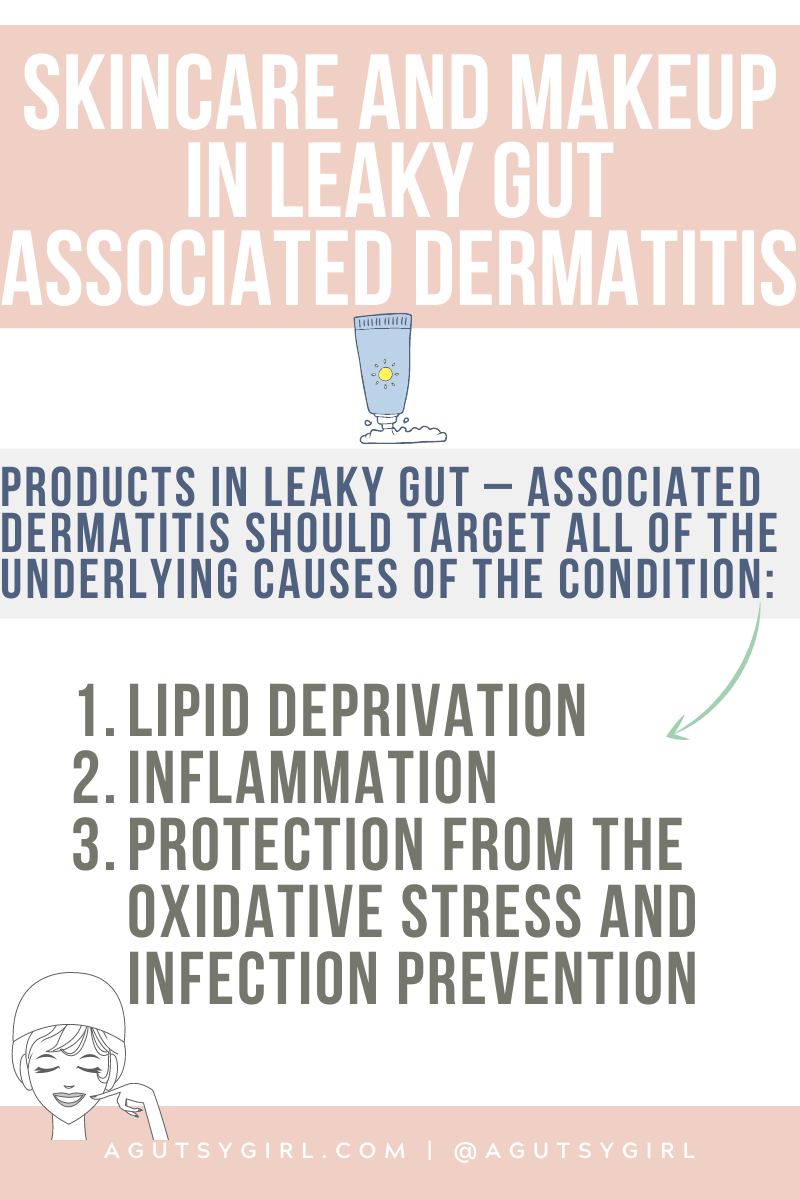 Start somewhere today. Here are three things to consider for your gut healing journey:
Want to learn even more about safer beauty and skincare? Go on my FREE 12-Day Safer Skincare Journey HERE.
Xox,
SKH
You will heal. I will help.