Who knows about the relationship between the D3 vitamin for gut health?
Today we are exploring vitamin D. And before doing a short breakdown of vitamin D, here is why it's important for gut health.
D3 Vitamin for Gut Health
Click HERE to save this post for later.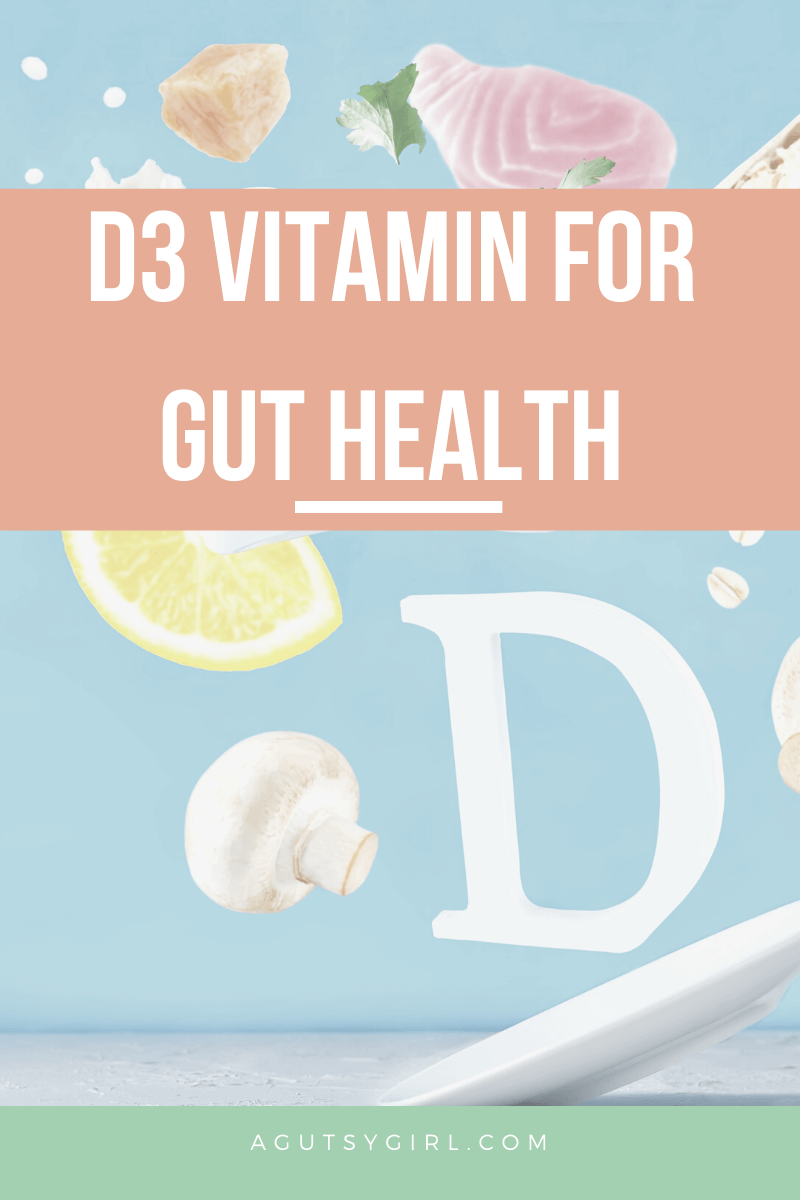 While most consider vitamin D the vitamin for bone health, there is some evidence that Vitamin D can regulate gastrointestinal inflammation.
Epidemiological studies show that individuals with higher serum Vitamin D have a lower incidence of IBD, particularly Crohn's disease. A deficiency in vitamin D leads to dysbiosis of the gut microbiome and has been reported to cause severe colitis.
However, there is another side to this as well. According to Harvard,
The vitamin D that is consumed in food or as a supplement is absorbed in the part of the small intestine immediately downstream from the stomach. Stomach juices, pancreatic secretions, bile from the liver, the integrity of the wall of the intestine — they all have some influence on how much of the vitamin is absorbed. Therefore, conditions that affect the gut and digestion, like celiac disease, chronic pancreatitis, Crohn's disease, and cystic fibrosis, can reduce vitamin D absorption.
While vitamin D can be for gut health, Harvard suggests that without prior gut healing, you might not even be absorbing it.
The idea around D3 for gut health is sort of a chicken and egg scenario. This is typically the case with all digestive issues.
Is Vitamin D the Same as Vitamin D3?
I've been using the terms vitamin D and vitamin D3. You're wondering, "So are they the same thing?"
Kind of. Vitamin D3 is a form of vitamin D.
Vitamin D is found in supplements (and fortified foods) in two different forms: D2 (ergocalciferol) and D3 (cholecalciferol).
Both increase vitamin D in the blood.
However, these days vitamin D3 (cholecalciferol) seems to be more synonymous with vitamin D than vitamin D2 (ergocalciferol).
And here's why.
What is Cholecalciferol? How about Ergocalciferol?
You may have seen the word Cholecalciferol used in place of Vitamin D3. The reason is simply that they are the same thing.
Cholecalciferol is a dietary supplement that is used to treat vitamin D deficiency. It is also used with calcium to maintain bone strength. It is produced in the human body.
In contrast, vitamin D2 (ergocalciferol) is not produced in the human body, but is created by exposing certain plant-derived materials to ultraviolet light.
Most studies show that vitamin D3 is more effective than vitamin D2 at raising blood levels of calcifediol.
For this reason, I decided to focus this article on vitamin D3 as the preferred form of vitamin D for gut health.

Vitamin D Supplementation
It has been proposed that the benefits of supplementation with Vitamin D in IBD because it can regulate homeostasis in the gut.
For patients who meet criteria for vitamin D supplementation (which is an entire argument in itself), vitamin D3 (cholecalciferol) should be selected over vitamin D2 (ergocalciferol).
The National Institutes of Health give the following recommended dietary allowances (RDAs) for vitamin D.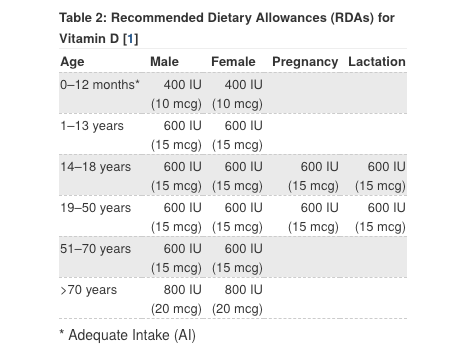 Keep in mind that you should always work with your practitioner to determine the right amount for you. It's easy to have your vitamin D levels checked. With any IBS and/or IBD, many times your doctor will have you supplement with vitamin D (I always did) and they will be able to give you the right dose.
Vitamin D3 Food Sources
It's a common misconception that the sun is the only source of vitamin D.
Here is a list of good vitamin D3 food sources:
cod liver oil

I have always used the NutraPro Peppermint flavor. It does not taste fishy; that's how I was able to do so well with it. You'll find it HERE and HERE. Remember, when you purchase anything from Perfect Supplements, use my code 'GUTSY10' at checkout to save an automatic 10%. 
Perfect Supplements has a ton of high-quality cod liver oil brands. Search the store HERE for cod liver oil to see them all.

swordfish
salmon

If you have The Leaky Gut Meal Plan: 4 Weeks to Detox and Improve Digestive Health, then you have access to these incredible salmon recipes: Lemon and Dill Broiled Salon, Macadamia-Crusted Salmon with Cream Sauce, Salmon Patties, and Wild Salmon Salad with Blackberry Vinaigrette.

tuna

I get a high-quality, lower-priced option from Thrive Market

orange juice
milk
yogurt
margarine
sardines
liver
egg

Remember, the egg yolk is where the goods are found. I have written about this before HERE. 

ready-to-eat cereal, fortified
cheese

Wondering why mushrooms are not on this list? It's because they are the D2 form.
Note: I am not saying I think you should run out and eat margarine. I'm just giving you the food facts.
Can I Take a Vitamin D3 Supplement?
Yes. Getting nutrients from food is always optimal; it's just not always attainable.
Remember, when looking at vitamin D supplements, be sure you're choosing the D3 form.
Four recommendations:
You can also get many of the above and more via my Wellevate Dispensary HERE. (Note: You'll always save 10% on supplements, but once you sign up using my link, I'll bump your personal savings up to 15%.)
Any questions?
Do you like learning about all things gut health and healing? Don't stop now! Get started today on your own gut healing and health journey, check out:
Sources: HERE, HERE, HERE, and HERE.

Xox,
SKH
You will heal. I will help.