This year to celebrate my birthday (February 10), I'm beginning the Gut Health Course.
Updated in December of 2020 to add: I have completed this course, passing with flying colors.
Alright, so what is this Gut Health Course?
I promised myself (and you) that I'd never stop learning about the gut, and that I would continue educating myself forever.
Next up is a 7 month Gut Health Course.
Gut Health Course
Click HERE to save this post for later.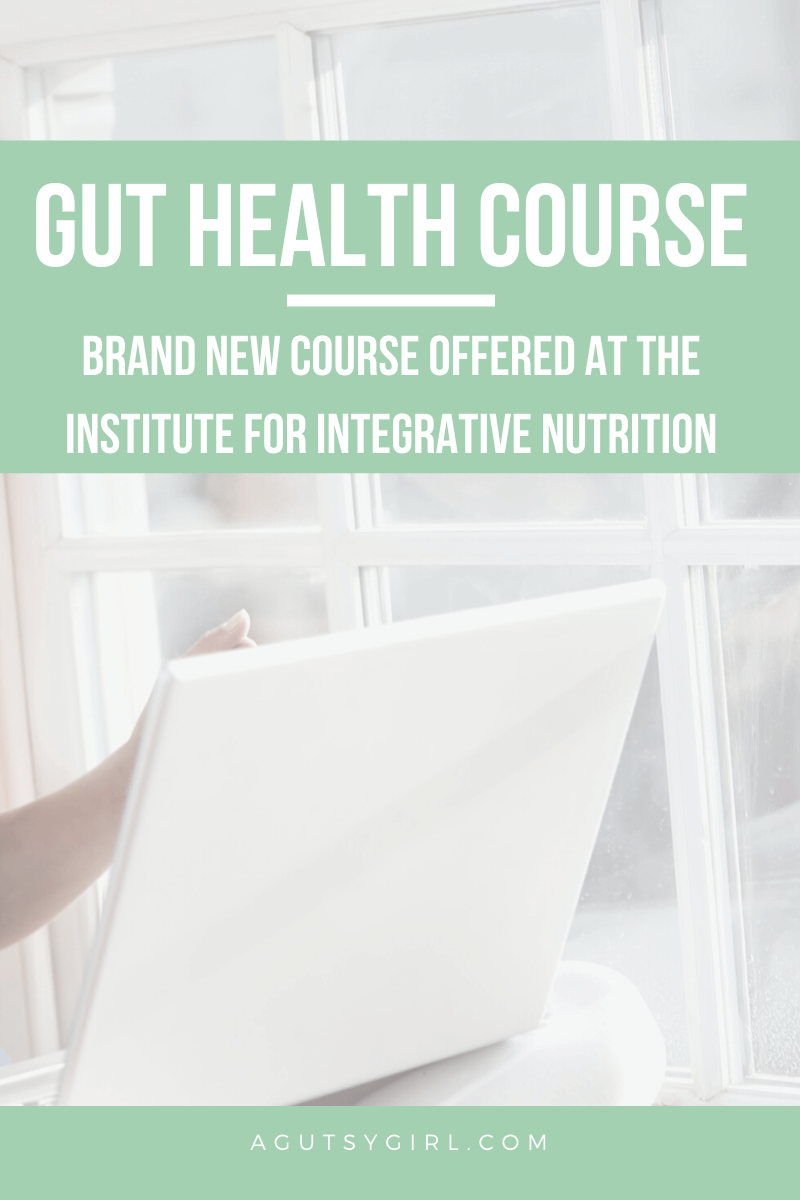 If you're reading this right now, you fall into one (or more) of these categories:
health coaches / nutritionists / doctors / other medical professionals
aspiring health coaches / nutritionists / doctors / other medical professionals
Gutsy women, on a gut health and health journey
Literally, no one else is reading this post right. Unless of course you're my mom – hi, Mom!
No matter where you fit, this is likely to benefit you. More on that later.
First, let me share what I'm about to embark on.
Gut Health Course Breakdown
For the next 7 months, I'll be studying a new round of advanced courses at Integrative Nutrition. Here are the topics:
Breakdown of the digestive system
Absorption of nutrients during digestion; hormones that play a role in digestion
Gut bacteria and the microbiome
Probiotics, prebiotics, and fermentation
Constipation and diarrhea, what they signify, and how to improve bowel movements through lifestyle changes
Gut and immune system connection; autoimmune and auto-inflammatory conditions (celiac, type 1 diabetes, inflammatory bowel disease)
IBS and the gut-brain connection
The impact of stress on gut health
Food intolerances and leaky gut
Candida 101
SIBO
Heartburn and acid reflux
Blood sugar, metabolism, and obesity
The connection between the gut and thyroid
Gut and estrogen
Gut health through an Ayurvedic lens
Traditional Chinese Medicine and gut health
Working amongst healthcare professionals
Supplements that promote gut health
Toxins in food, environment, and personal products that impact gut health
Detoxing the gut
Supporting the gut through food, spices, herbs, and food preparation methods
Lifestyle practices for optimal gut health
The ones I have put in italics are the ones I am most looking forward to learning about.
The others I could probably teach 🙂 Kidding. Maybe?!
Weekly Commitment for the Gut Health Course at IIN
Now I know for sure that making the commitment to do A Gutsy Girl full-time was the right decision. Going through this 7 month program will take some time.
Each Monday, a new module will release. The modules each contain:
2-3 video lectures
1-2 handouts or worksheets

These done-for-you handouts are info and exercises to help reflect further on the topics learned during each module. They will double as helpful resources that can be used in client consults or even handouts for clients to print out and refer to.
There are also 11 supplementary works which are a mix of readings, visual diagrams, content, and application guides that go along with audio/video lectures and work as tools for personal wellness goals and as action steps to incorporate in client consultations.

a small quiz (not graded)
Each module also includes skill building activities, along with a reflection assignment an an optional recommended reading list on the topics covered during that week.
As an added bonus, this course has a private Facebook group for extra feedback and support. If you've done any of my programs, you know just how much I believe in groups for growth.
Why Continue your education with the Gut Health Course?
I chose the Institute for Integrative Nutrition (IIN) way back when (graduated in 2012) because it was the world's most recognizable health coaching program.
At the time, I was miserable from my own gut-health issues (which were mostly unknown at that point) and knew I wanted to eventually help other women who were in my same shoes. While going through the section on gut health during the main health coaching course, I was hooked.
IIN would lead to my massive gut health passion, healing my own gut, and building a thriving business which serves other women who have (or suspect they have) IBS and/or IBD.
Incredible!
And now that I'm hyper-focused on the gut, my goal is to learn every last thing about it I can. When I saw that the school had a brand new program for IIN graduates dedicated 100% to the gut, I wanted in.
Gut health is everything.
I cannot stress that enough.
When you heal your gut, you heal your life. And that's the absolute truth.
Why Does the Gut Health Course Matter to You, Darling?
See? I told you I'd get here.
health coaches / nutritionists / doctors / other medical professionals – if you graduated from the Institute for Integrative Nutrition, you can join me for this course! Click HERE to learn more and enroll now.

If you've ever considered focusing in on a gut health coaching business, I strongly recommend this course. I have a 7-day e-course to help you dial-in that niche (gut health!) and then grow your online business. This course will help!

aspiring health coaches / nutritionists / doctors / other medical professionals – I'm constantly getting messages from people looking to attend IIN. In order to take this course, you must be enrolled in the school. You can enroll in the Gut Health Course even if you haven't graduated the Health Coach Training Program (as long as you're a student, that satisfies the requirement to enroll!) Enroll today! HERE is the FAQ I put together on the school. Grab the Integrative Nutrition Curriculum Guide HERE.

BONUS: Get a FREE 30-minute online health coaching business private session with me once you sign up for the program and mention 'Sarah Kay Hoffman' at sign-up. Once you're signed up, send me an email and we will get the 30-minute session scheduled. opportunities@agutsygirl.com

Gutsy women, on a gut health and health journey – I take the time and invest so much of myself in order to give back to you. I'm looking forward to sharing everything I learn; new or re-confirmed.
Questions
Questions? About the school, the program or gut health in general?
I'm an open book. Leave them for me in the comments, and I'll get to them as soon as possible.

Disclosure: While this post was not sponsored by IIN, I am producing various pieces of content on the Gut Health Course for IIN in exchange for the course fee. All opinions are my own. And I would never continue education with the school if I didn't believe it was beneficial for myself, my clients, and customers.
Xox,
SKH

You will heal. I will help.