Most everyone knows about probiotics at this point. Today I have 10 probiotic recipes to start the New Year.
I can't count the number of times I've written about probiotics on A Gutsy Girl.
You might be a phase of healing where you don't want a lot of extra probiotic and prebiotic foods in your diet. If that's the case, it's okay. You do you. Bookmark this page and come back to it when you're ready.
But the majority of people do benefit from these foods. Because probiotics are "good" bacteria that contribute to overall better digestion, healthy skin, happier moods, and a stronger immune system, it's critical to keep talking about them.
10 Probiotic Recipes to Start the New Year
Click HERE to save this post for later.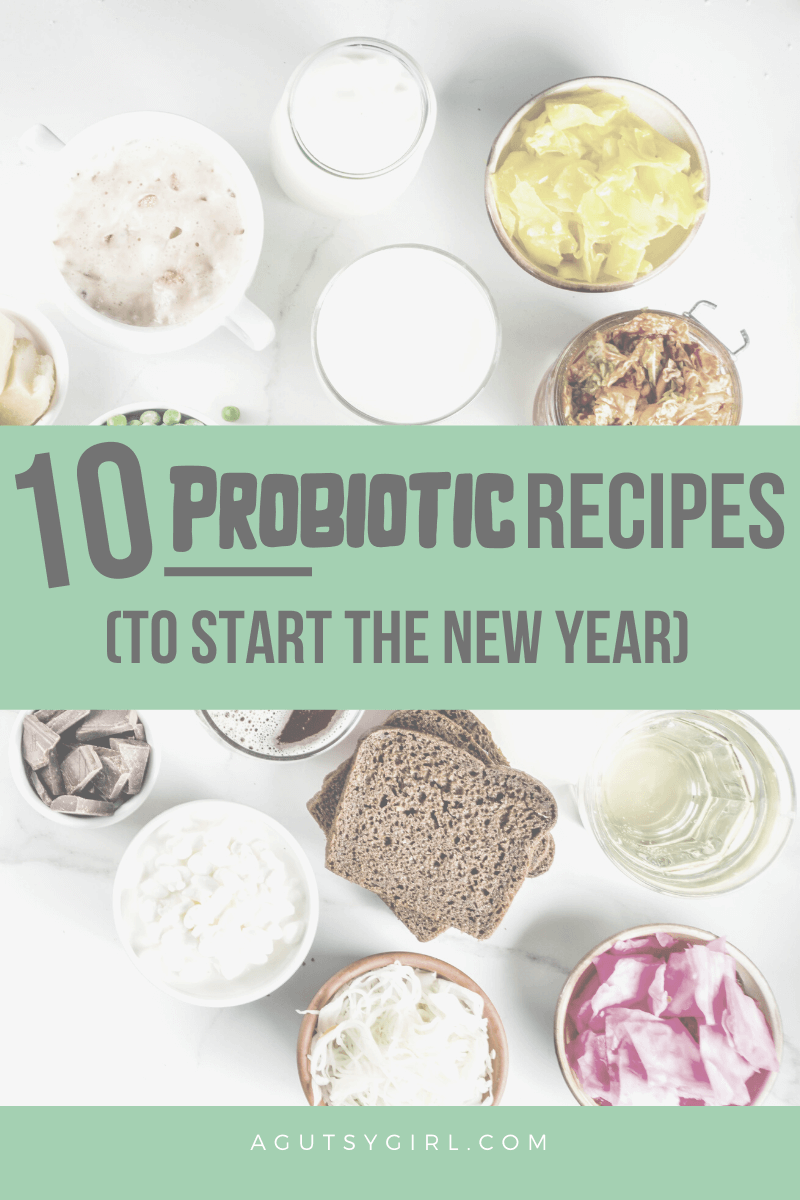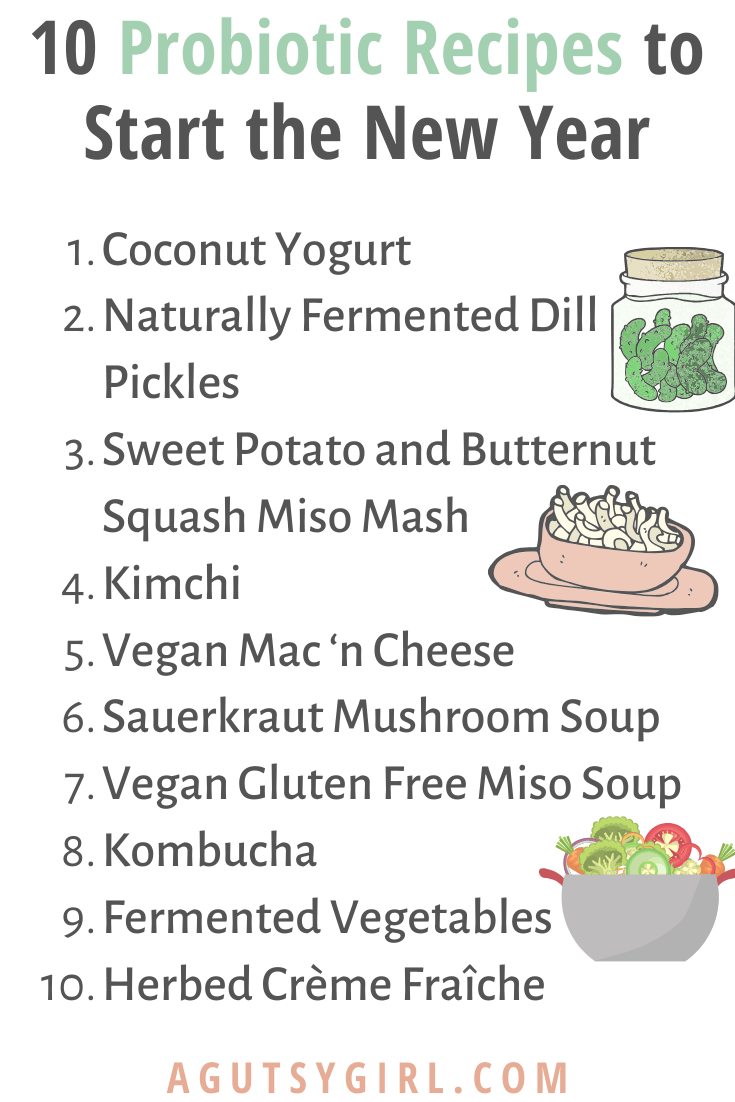 How to Get a Probiotic Boost (no matter what)
Making these recipes will take a little time. That's the nature of eating high-quality probiotic foods. What makes them high quality and probiotic by nature is (usually) the process they undergo.
By contrast, the prebiotic foods are various ingredients you can simply incorporate into your diet.
Prebiotic foods include foods like: tomatoes, artichokes, onions, garlic, etc.
However, here are my top two ways for ease with getting those probiotic boosts daily no matter what (through food vs. swallowing a pill):
Buy it at the store.

Grocery stores, even standard ones now, carry things like kombucha, kimchi, sauerkraut, and more.

Find a high-quality brand and product, grab and go. Eat or drink by the spoonful (gulp) and go.

Grab the Just Thrive Probiotic.

Grab a bottle of the Just Thrive Probiotic HERE. Open up a capsule, and sprinkle over anything and everything desired. Put it in nice cream, mix it with that Mac n' Cheese, or even bake it into your favorite cookie recipes. YES! It's that simple, but no, no you can not replicate this method with any old probiotic. To understand why, click HERE and see Myth number 4. By the way, be sure to enter in code AGUTSYGIRL at checkout for the Just Thrive Probiotic. You'll save 15%.
Why Just Thrive Probiotic?
So why do I mention to simply "grab the Just Thrive Probiotic" and go? Because it's a simple way to get a (or more) high-quality probiotics into your everyday meals.
Take any meal, open the capsule, and sprinkle over your food. Here are the reasons why:
The Just Thrive Probiotics are heat and cold stable. They can be baked up to 455 degrees, sprinkled into any recipe, etc.
With this probiotic you can be certain you're getting the probiotic benefits because the product doesn't even come alive until it hits your intestines.
The formulation is as high-quality as that meal your consuming: all-natural, non GMO, and made WITHOUT soy, dairy, sugar, salt, corn, tree nuts or gluten. It's also Paleo, Vegan, and Keto friendly.
When you sprinkle it over your meal, the meal flavor itself will not change. It's odor and tasteless.
Avoiding histamines like the plague? It's okay. This is a great probiotic option for people with histamine intolerance because the spores do not produce histamine, unlike many lactobacillus species.
Finally, if opening up a capsule and sprinkling it over a meal is too difficult, then I am out of ways to help you boost the probiotics in your life.

🙂
Honestly, if you need more reasons why, check out All About Just Thrive Probiotic HERE.
If you enjoyed this post, consider checking out the following:

Xox,
SKH
You will heal. I will help.