Probiotics are dang tricky. To start the conversation, you must understand all about probiotic strains and species.
Yes, this topic is sort of geeky, but nonetheless it's an important one.
The Gates of the Stomach: History
I think you'll enjoy this to start the post off.

Just Thrive Probiotic
It was 2018 when I began my final SIBO relapse.
My stomach felt grumpy more often than not, and I knew it was back.
So shortly before heading to Expo West that year when I felt the slightest hint of stomach discomfort, I began doing all the things. The main things I did:
My daily mantra, "You are healed. Your SIBO is gone, and you're feeling incredible."
Strict on the 12-14 hour daily fasting + meal spacing
NO probiotic
But then I got to Expo West and the very first night I met Kiran Krishnan.
I told you that meeting him was an Expo West highlight. He and I discussed all things microbiome, SIBO, why long-term restrictive diets cause more harm than do good, and…..probiotics.
Due to his extensive knowledge and adamant stamp-of-approval for the Just Thrive Probiotic, I immediately (like at the show) started taking their probiotic. Literally within a couple days, back to zero gut issues (don't get me wrong, it was likely the combination of everything I did).
The point is that, I now believe taking a probiotic (strategically like the Just Thrive Probiotic) can in fact help – immensely – no matter where you're at on your gut-healing journey.
Note: If you like the information I'm providing on the Jut Thrive Probiotic, you can grab it HERE and if you put in code 'AGUTSYGIRL' at checkout, you'll automatically save 15% off your entire order.
Who is Kiran Krishnan?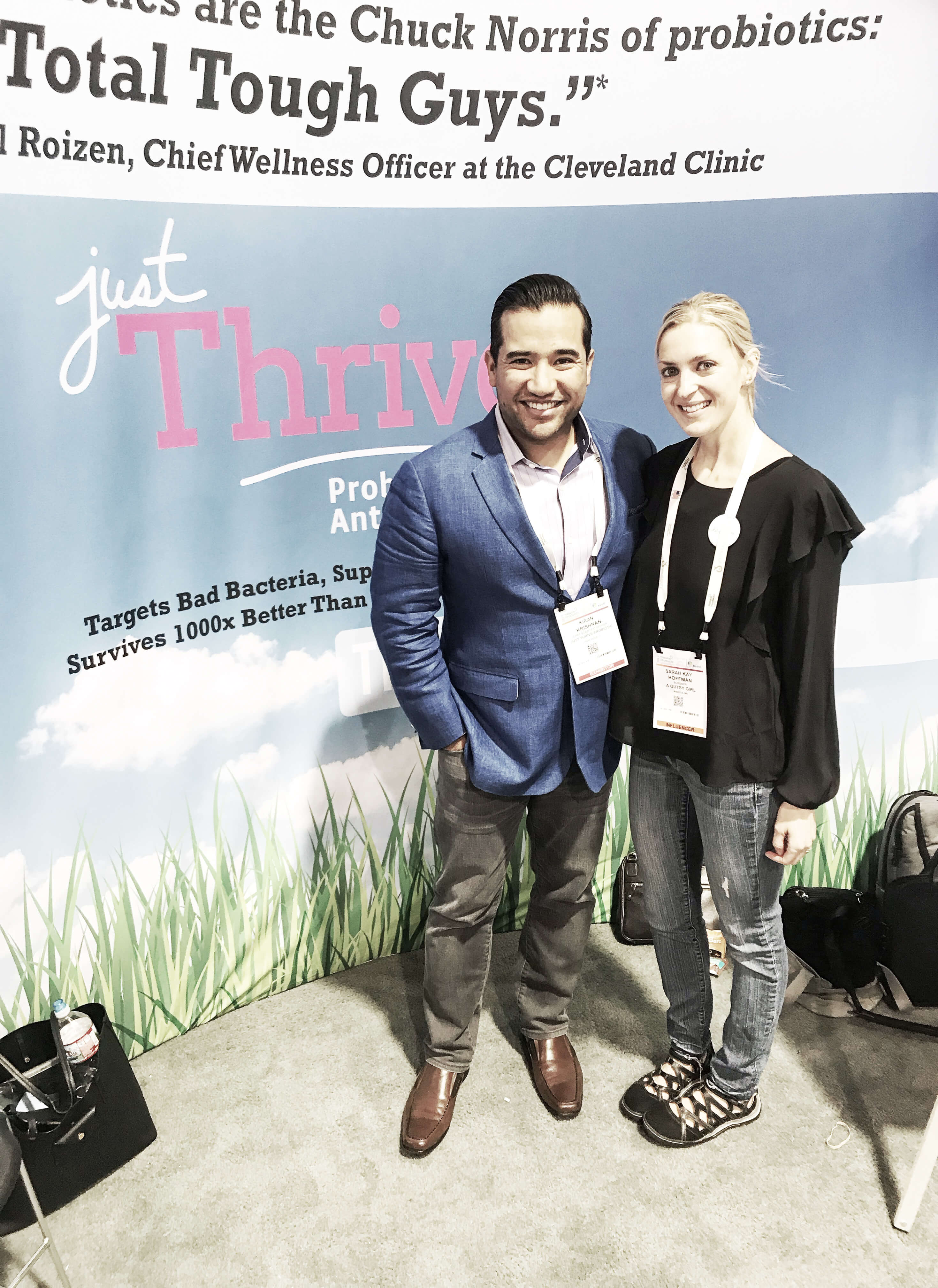 Before I even get into probiotic strains, I want you confident right along with me that Kiran is legit.
Microbiome Labs
Kiran Krishnan is a microbiologist and researcher on Soil Based (Spore-based) Probiotics and designed the formulation in MegaSporeBiotic from Microbiome Labs. (source) He has been involved in the dietary supplement and nutrition market for the past 15 years.

He comes from a strict research background having spent several years with hands-on R&D in the fields of molecular medicine and microbiology at the University of Iowa. As a microbiologist, he has a deep understanding of microbial science and has spent the last 8 years studying the strains used in Just Thrive® Probiotic & Antioxidant. (source)

In addition to his recently published, ground-breaking leaky gut study showing reversal of gut enteropathy within thirty days, Kiran is currently involved in nine other ongoing human clinical trials testing the effect of gut commensal spore probiotics on many conditions including, Thyroid/Hashimoto's, Irritable Bowel Syndrome and Liver Failure, as well as a longer, more extensive Leaky Gut trial. (source)
You'll find Kiran on several podcasts and stages worldwide speaking about everything he knows.
In fact, you can listen to him on my podcast right now if you want!
So when I say he's legit, and I start giving information found via Just Thrive through him, I promise you can trust it.
Well, I at least did, which is why I'm here to share with you now.
All About Probiotic Strains and Species
Click HERE to save this post for later.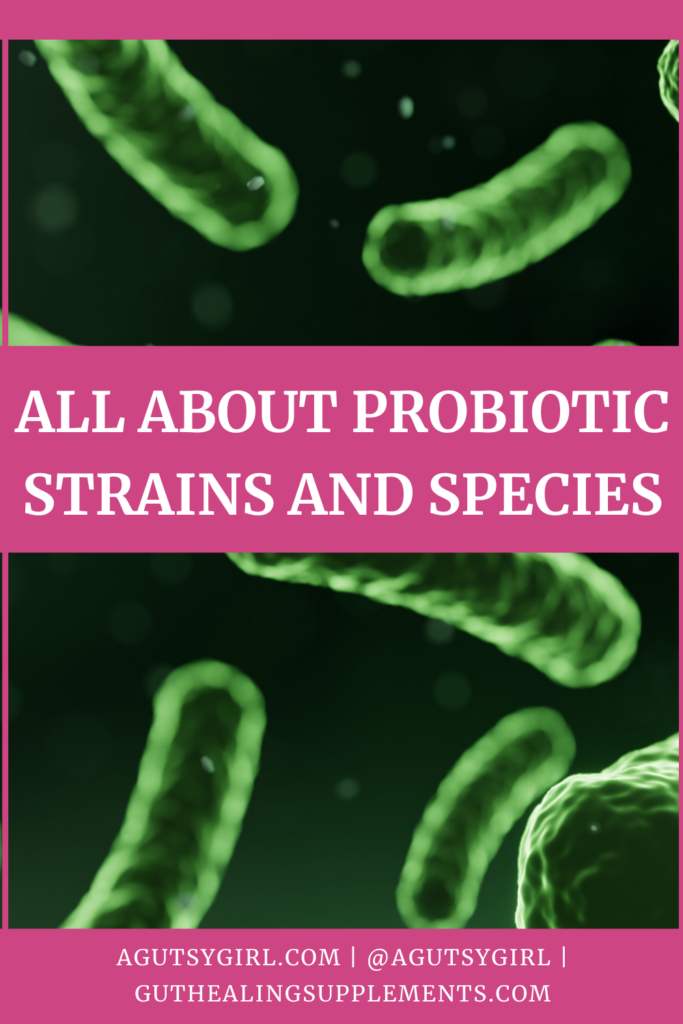 To review what a probiotic (vs. prebiotic) is, read THIS.
Probiotic strains matter because each strain has unique properties. Depending on what those properties are and what they aim to do will determine if it's right for you.
This is why any old probiotic will not work, which is something I tried to demonstrate first when I wrote Should I Take a Probiotic with SIBO?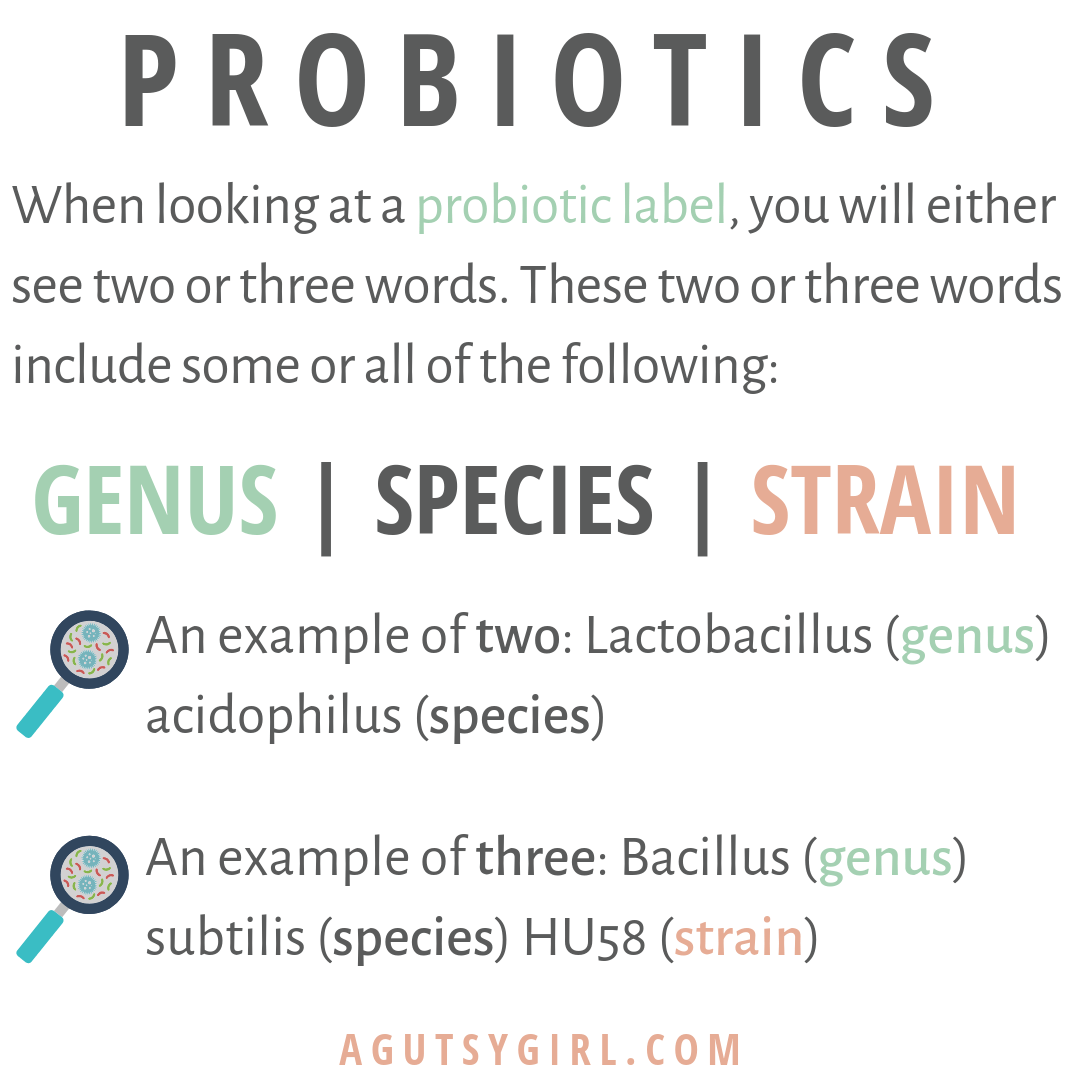 When looking at a probiotic label, you will either see two or three words. These two or three words include some or all of the following: genus, species, and strain.
An example of two: Lactobacillus (genus) acidophilus (species)
An example of three: Bacillus (genus) Subtilis (species) HU58 (strain)
When you see two, that means they have only provided the species, not the strain of probiotic being used.
And when you see three, like Bacillus Subtilis HU58, you're getting more information about the strain.
Bacillus Subtilis HU58 + Bacillus Indicus HU36
Below are the four strains you'll find in the Just Thrive Probiotic (source):
Bacillus Subtilis HU58
Bacillus Subtilis has been extensively studied on a genetic and functional level. There are several probiotic products in the pharmaceutical and agricultural markets that utilize this powerful probiotic.
One very interesting function of Bacillus Subtilis is its ability to produce nearly 12 strong antibiotics that are potent fighters of opportunistic and harmful bacteria. This is part of its wide use in high level feed products.
Bacillus Subtilis HU58 offers Just Thrive® the ability to support the prevention of harmful bacteria growth in a variety of conditions.
In addition, HU58 produces a very healthy compound called Nattokinase in your digestive tract.
Nattokinase is a key compound found in the Japanese food Natto that uses Bacillus subtilis for the fermentation of soy beans.
The serine protease known as Nattokinase is secreted from vegetative cells of Bacillus subtilis and has been shown to support healthy blood pressure, support healthy cholesterol levels and support healthy circulation.
Along with Nattokinase, Bacillus Subtilis also produces a number of other nutrients that have systemic health benefits. In addition, Bacillus Subtilis HU58 is an extremely potent immune stimulator.
It has the function of germinating in the small intestines to some degree and this offers the effect of broad spectrum immune stimulation. It has also been shown to increase the growth of your natural good bacteria.
This strain is recommended for travel
Additionally HU58:
100% survivability in the digestive tract
40% increase in short-chain fatty acid (SCFA) production
Maintains healthy digestion
Supports healthy immune function
Effective during antibiotic therapy
This is why, when someone reached out yesterday about this probiotic during and after Rifaximin and Neomycin, I said, "All the yes." (Also, because I know that Dr. Michael Ruscio recommends it as well and he works so much with SIBO patients.)
Thrive Probiotic
So what is the game changer in the Just Thrive Probiotic?
Here's your answer.
Bacillus Indicus HU36
The Bacillus strain found in Just Thrive® that makes it a real game-changer in the probiotic market is Bacillus Indicus HU36 (Bacillus HU36). Bacillus HU36 is a well-studied, unique, patented strain of Gram-positive spore forming bacterium that produces a distinct yellow-orange pigmentation.
The pigmentation is due to the synthesis of carotenoids, which are gastric stable, bio-accessible, and significantly more bioavailable than carotenoids from other sources. Bacillus HU36 offers Just Thrive® the most effective antioxidant probiotic on the market. Bacillus HU36 produces high levels of carotenoids such as Lycopene, Lutein, Astaxanthin, Zeaxanthin and Beta-Carotene. Along with these crucial antioxidants, Bacillus HU36 also produces quinols and essential vitamins B and K2.
Just Thrive® is the first and only probiotic and antioxidant product on the market today, making it the new paradigm in probiotic therapy.
– Potent immune stimulation.
– Produces high levels of carotenoids – lycopene, axtaxanthin, beta-carotene, and lutein.
– Produces quinols and vitamins.
– The most effective antioxidant probiotic on the market.
More on HU58 and HU36
Do you want more on HU58 and HU36?
My favorites are below, but you can grab the full thing HERE:
Both strains naturally survive the stomach and immediately germinate in the upper GI. This seems like a simple point, but considering that many studies show that most commercial strains don't even get pass the stomach, this is an important feature to prove.
Both strains are well suited for life in the GI and colonize effectively. If it can't colonize, it's not a probiotic. This has to be proven, most people just assume their probiotic colonizes.
Best germination occurs when taken with food. Most probiotics recommend taking it on an empty stomach due to the pH. This is stable enough to be taken with food and in fact the probiotics utilize the food to germinate.
Both showed increased saccharolytic fermentation over proteolytic which favors lowered pH (beneficial pH change for the GI) and does not produce gas (which can be an issue for many probiotic supplements).
They both strains produce significant amounts of short-chain fatty acids (SCFA) from carbohydrate digestion – in particular there is an increased production of acetate initially and then higher levels of butyrate in longer term use.
Both strains showed the ability to alter the entire microbiota – this is unique for a probiotic to have demonstrated the ability to alter the microbiota. This has profound implications on the types of claims that can be made as far as the probiotic benefits of these strains. The Human Microbiome Project has shown that all diseases correlated to the gut comes from a dysbiosis in the gut. That means the balance of good and bad bacteria is off.
The HU36 strain has now been verified to produce RDA levels of carotenoids in vivo – this is a powerful dietary source of antioxidants.
The Other Two Strains
The other two strains (Bacillus Clausii SC -109 + Bacillus Coagulans SC-208) in the Just Thrive Probiotic are currently listed on the bottle as species. I reached out to the company on this, and they informed me that all four are actually strains; just not yet reflected on the label.
Make note that the label will be updating soon to reflect this strain and not just the species. Here is the information we know about the species as whole (extracted this from Dr. Amy Myer):
Bacillus Clausii:

Helps modulate your immune response
Assists in IgA synthesis
Antibiotic resistant for use with antibiotic treatment of SIBO
Produces bactarin, a weapon against pathogens

Bacillus Coagulans (B. Coagulans):

Helps the good bacteria successfully colonize in your gut
Potent immune stimulator
Long history of studied use in IBS, Crohn's, and ulcerative colitis
Thus, if SIBO (or many other Gutsy conditions) is what you face daily, one could conclude that this probiotic could be the one you've been looking for.
Don't think that these four probiotic strains and species above are the only ones out there, though.
There are far too many to count, but here are 13 common ones you may have seen (and/or currently use).
Probioticos: 13 Common Probiotic Species
Click HERE to save these for later.
And please remember, these are the species not the exact strains.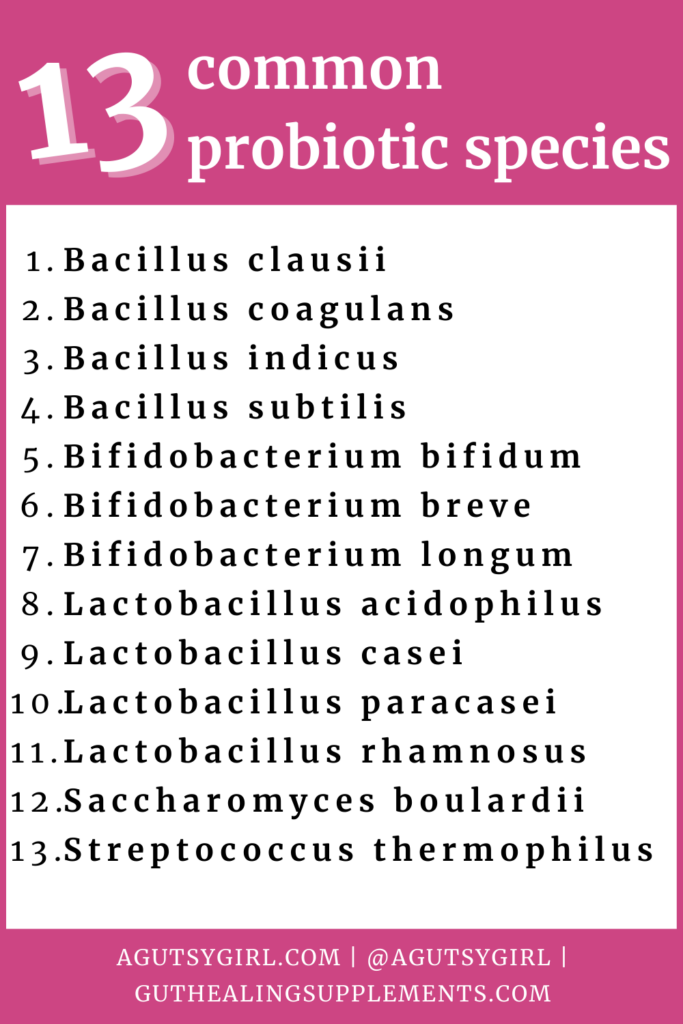 Bacillus
clausii
coagulans
indicus
subtilis
Bifidobacterium
Lactobacillus
acidophilus
casei
paracasei
rhamnosus
Saccharomyces boulardii
Streptococcus thermophilus
Please remember: quantity does not always correlate to quality. More strains in a probiotic doesn't necessarily mean it's better.
Now, go check out the 8 Probiotic Myths as dispelled by Kiran Krishnan.
Follow up: Is there a genus, strain, or species in your current probiotic that you're wondering about? Leave it in the comments below or CONTACT ME so I can look into it for you. Because remember, to eat a steak, you'd never use a spoon.
Disclosure: When you purchase Just Thrive via any of the links in this post, I am paid a small affiliate commission. All opinions stated here are 100% my own. I appreciate your support, as this compensation helps with expenses to keep this blog up and running, and for me to continue sharing all that I can with you. For my full disclaimer and disclosure click HERE. Thank you for your support!
If you liked this post, you might also enjoy: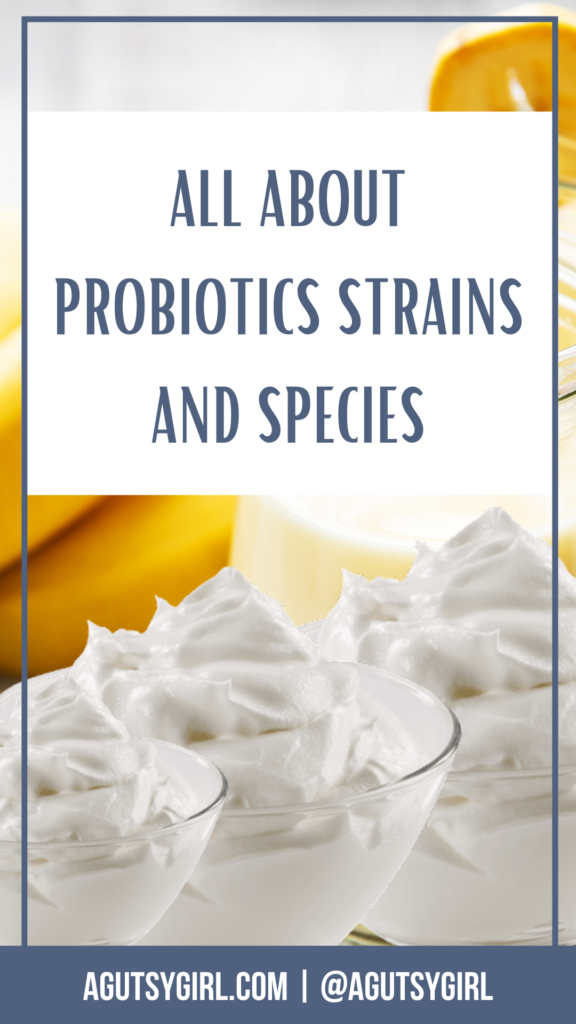 Xox,
SKH
You will heal. I will help.