So many questions around probiotics for children.
It's a very common question series I get,
Should I give my child a probiotic? If, so, which one? And how do you give it to your children?
The truth?
You must work with your pediatrician on it. I'm not a doctor or a nutritionist; I don't play one here. But I will gladly share with you what I do because I believe most people can apply it for their own children.
Probiotics for Children
Click HERE to save this post for later.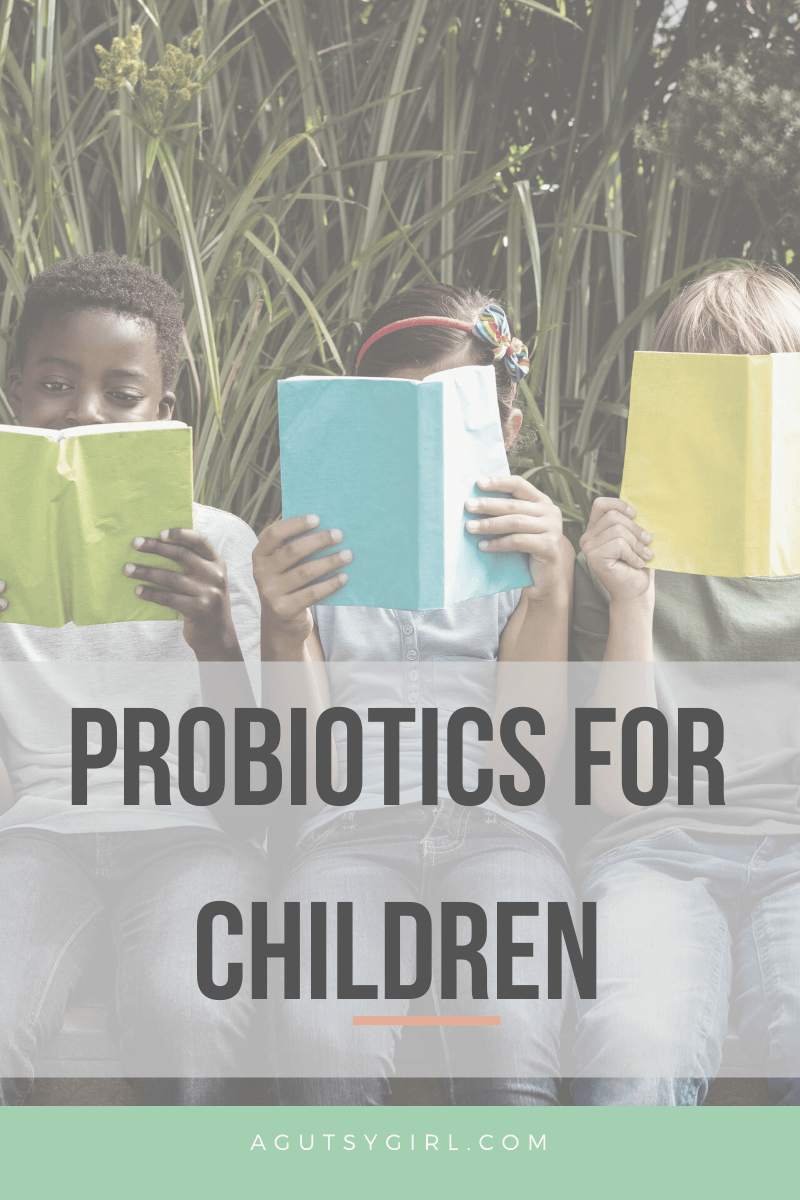 Let's cut right to the chase. Here is how I answer those questions above for my own children:
Yes my children get a probiotic. They use the same one I do – the Just Thrive Health probiotic. The difference is how much they get at any given setting and how its consumed.
Are Probiotics Safe for Children?
It's generally accepted that probiotics are not only safe for children, but can also be truly beneficial. As with adults, probiotics can regulate the digestive system and help boost the immune system.
For children, probiotics can also reduce respiratory tract infections, diarrhea, colic, and even tooth decay. Some research also suggests that probiotics help kids avoid conditions like autoimmune diseases, allergies and asthma, but more research is needed.
Dr. Samonte cautions, though, "probiotics are safe for kids, unless your child has a compromised immune system, cancer or is a premature infant." I was not giving Samarah probiotics freely as a preemie.
Which Probiotic to Choose?
As I already mentioned, my children take the same one I already know, love, and trust – Just Thrive Health. Trust me, it's not just me loving on them. Huge names in the industry stand behind the product, too. In case you want to listen to the latest, check out Dave Asprey's podcast interview with Tina Anderson, the co-founder and CEO of Just Thrive Health and Kiran Krishnan, a research microbiologist with particular expertise in the newest frontier in microbiology—gut commensal spore bacteria.

I have met them both; and I adore them.
According to the Just Thrive Health website, Just Thrive® can be mixed in different foods to be given to children over the age of 3.
But let's just say you don't want to use the Just Thrive Health probiotic. Here are some other thoughts and options:
What does your child need? Check out Probiotic Strains vs. Species HERE.
Have an infant? Check out the Powder L. reuteri supplement HERE.
Consider the NOW Foods BerryDophilus Kids HERE if you want a chewable.
There is a pure powder to check out from Garden of Life – RAW Probiotics Kids – Acidophilus and Bifidobacteria Organic Probiotic HERE.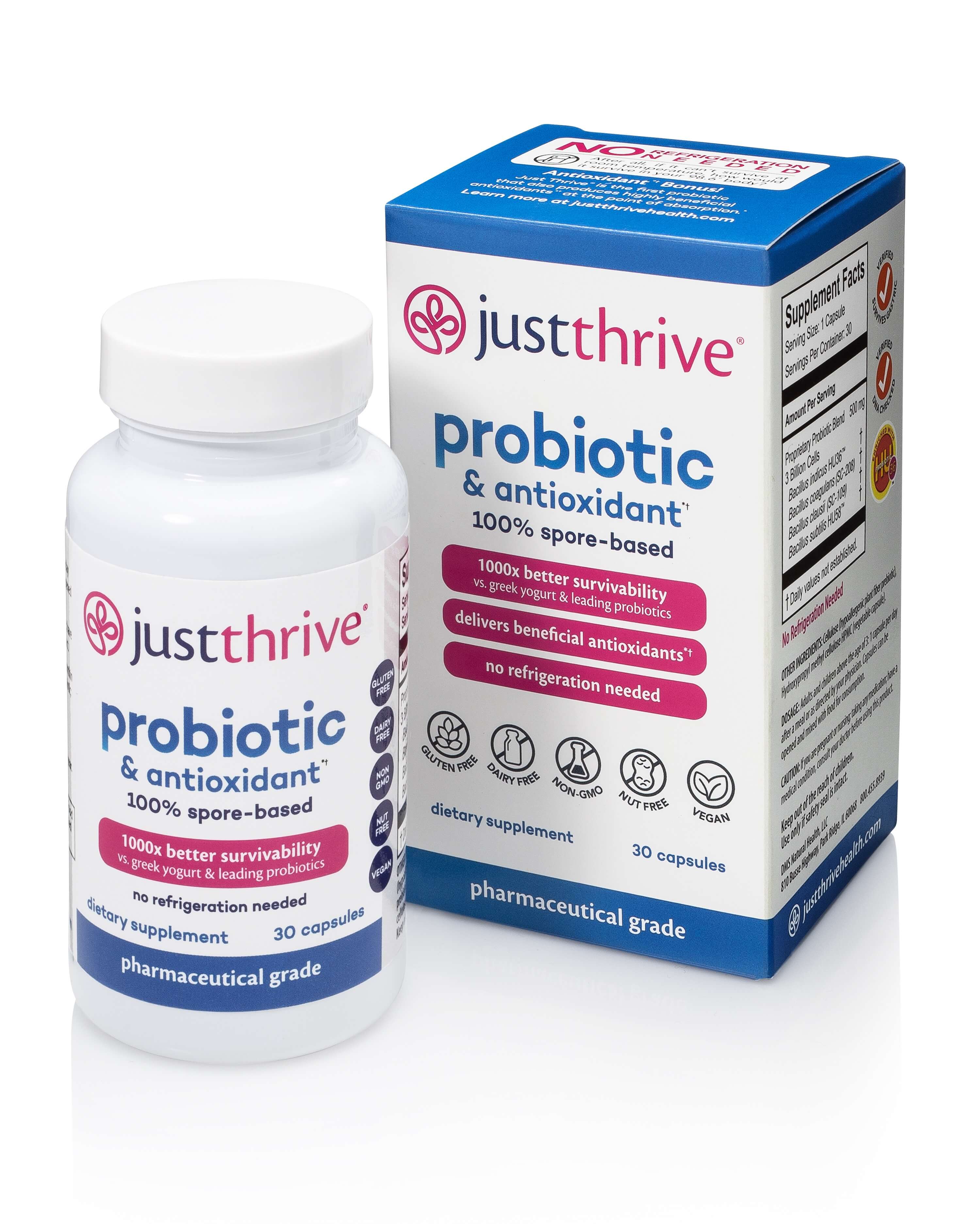 Sneaking Probiotics Into Their Meals
I've never been one to sneak a ton of vegetables into my children's meals. No, I'd rather them enjoy eating fruits and vegetables for what they are. They will only be little for awhile; the trickery can't last. Once they are a little older, if they don't know what something is, they definitely won't like it.
Anyways, I do sneak probiotics into their meals. The reason? The probiotic is flavorless, so it doesn't matter. And I want to give them the best probiotic, the one I take, but at 3, 4, and 6-years-old they cannot swallow whole capsules. Additionally, I don't want them to take an entire capsule in one sitting.
Each day, I open up the capsule and pour a little bit into their food. They may or may not know; it doesn't matter, they can't see or taste it.
Remember, the reason I can do this is because the Just Thrive Health probiotic can survive low and high heat. A good probiotic should be able to!
So what types of meals do I add the probiotic to?
7 Delicious and Easy Items to Add Your Child's Probiotic To
Click HERE to save these for later.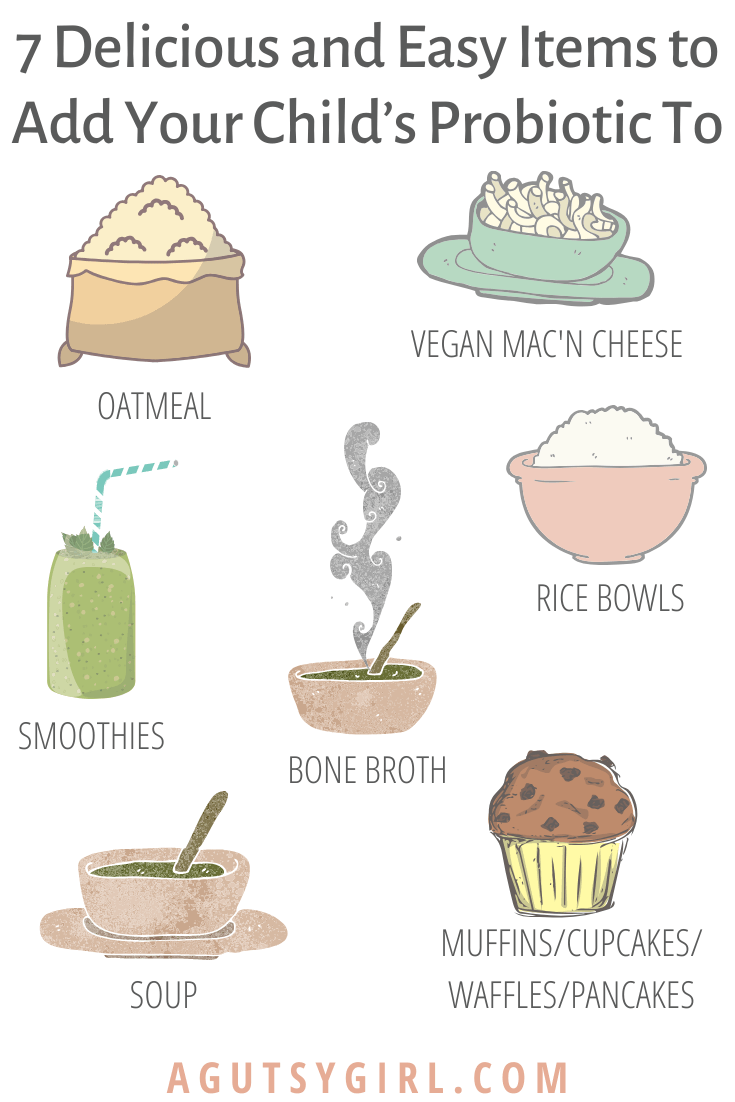 Oatmeal. Stir it into hot oatmeal and/or sprinkle over any kind of cold cereal in general. We love Puffins, so this is an easy cereal to add it to.
Vegan Mac 'n Cheese. I've even showed you how to do it with the recipe HERE.

Smoothies. This one is super simple.
Soup. Any and all soups.
Rice bowls. We make a lot of rice bowls, so I'll usually add the probiotic at the point when I'm stirring the rice and olive/coconut oil together. Blends in perfectly.
Bonus: bone broth! This is the ultimate because they are getting all the bone broth benefits with the probiotic boost. p.s. HERE is how to get your baby to drink bone broth.
Muffins/cupcakes/waffles/pancakes. Literally, you can add the probiotic to the batter, cook/bake, and then serve.
Okay, I hope that has shed some good light on probiotics for children. I'm never saying, "This is what you must do." I am simply always saying, "Here is an option. This is what I do. Work with your doctor and/or nutritionist." Got it?!
Remember, if you choose to purchase anything from Just Thrive Health HERE, you'll save 15% off your entire order. But also, I do make a small amount from each order. This does not get me rich, but it does allow me to keep producing the information on this website to you – for FREE. And I'm always grateful for your support.
My full disclosure can be found HERE.
Xox,
SKH
You will heal. I will help.