There is a new supplement kid on the block. It's called Ultimate IgG Immune and Digestive Support from Just Thrive Health.
You know I'm always sharing the latest in supplements and information like this, so here you go.
First, in case you need a little refresher course check out IgG vs. IgE HERE.
---
Updated at the end of 2022 to add: A Gutsy Girl believes so much in the power of IgG for immune and digestive support that we came out with our own. The product is called Tummy Soothe. It boasts all the same qualities as the Ultimate IgG Immune and Digestive Support, but also the following:
Tummy Soothe has a higher dose of ImmunoLin®
Since Tummy Soothe is a powder (vs pill), the dosing is easier to add to anything for quick consumption (p.s. it's also flavorless)
There is an added NAD Glucosamine benefit (1 g of N‐acetyl‐D‐glucosamine per serving to support normal immune function and mucosal health)
This is a premier practitioner grade
All of that said, you choose the one YOU think is best for YOU.
I stand by both, and also swear by the powers of IgG.
---
Ultimate IgG Immune and Digestive Support
Click HERE to save this post for later.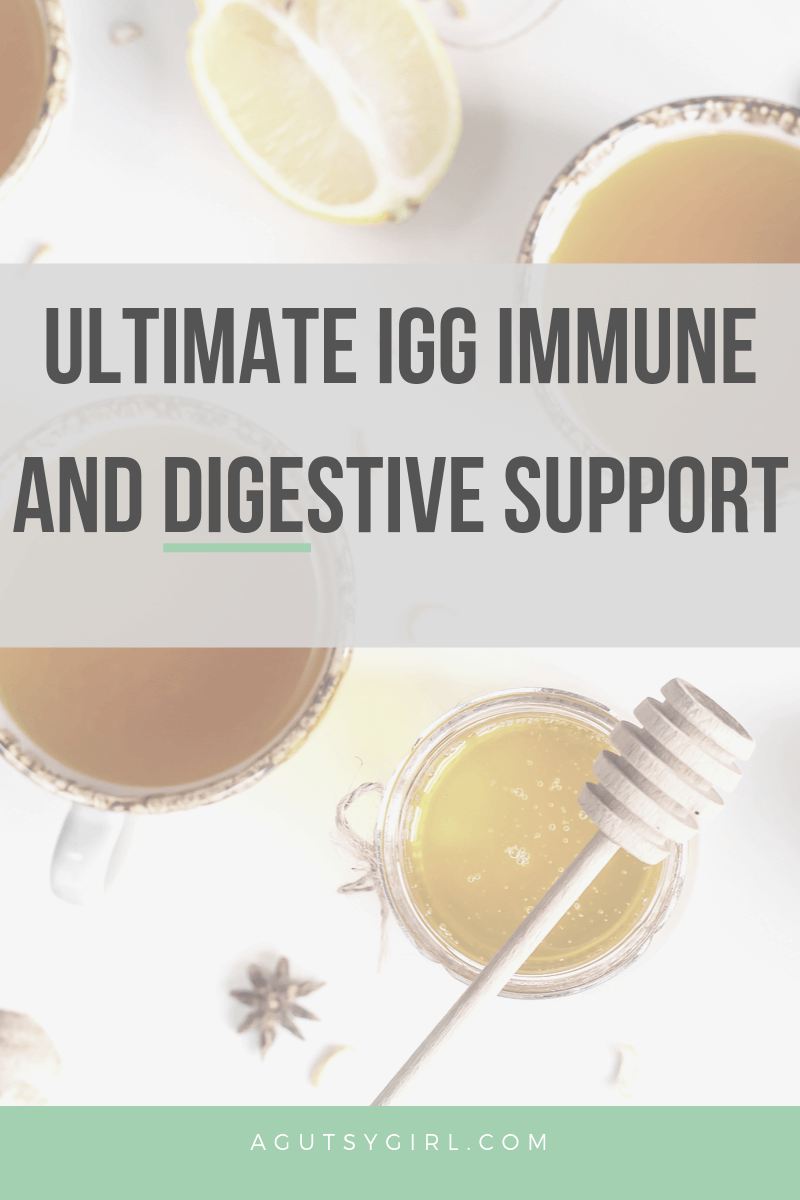 Just Thrive's Ultimate IgG contains 4 different forms of Immunoglobulins: IgG, IgM, IgA and Bovine Serum Albumin.
To put it simply, Immunoglobulin's are extremely effective components in the gut that Detox, Rebuild and Support.
We can break these three down as such:
Detox
Removes pathogens,
Binds up the toxic byproducts of pathogenic bacteria,
Neutralizes any toxins introduced from outside the body like pesticides, heavy metals, etc.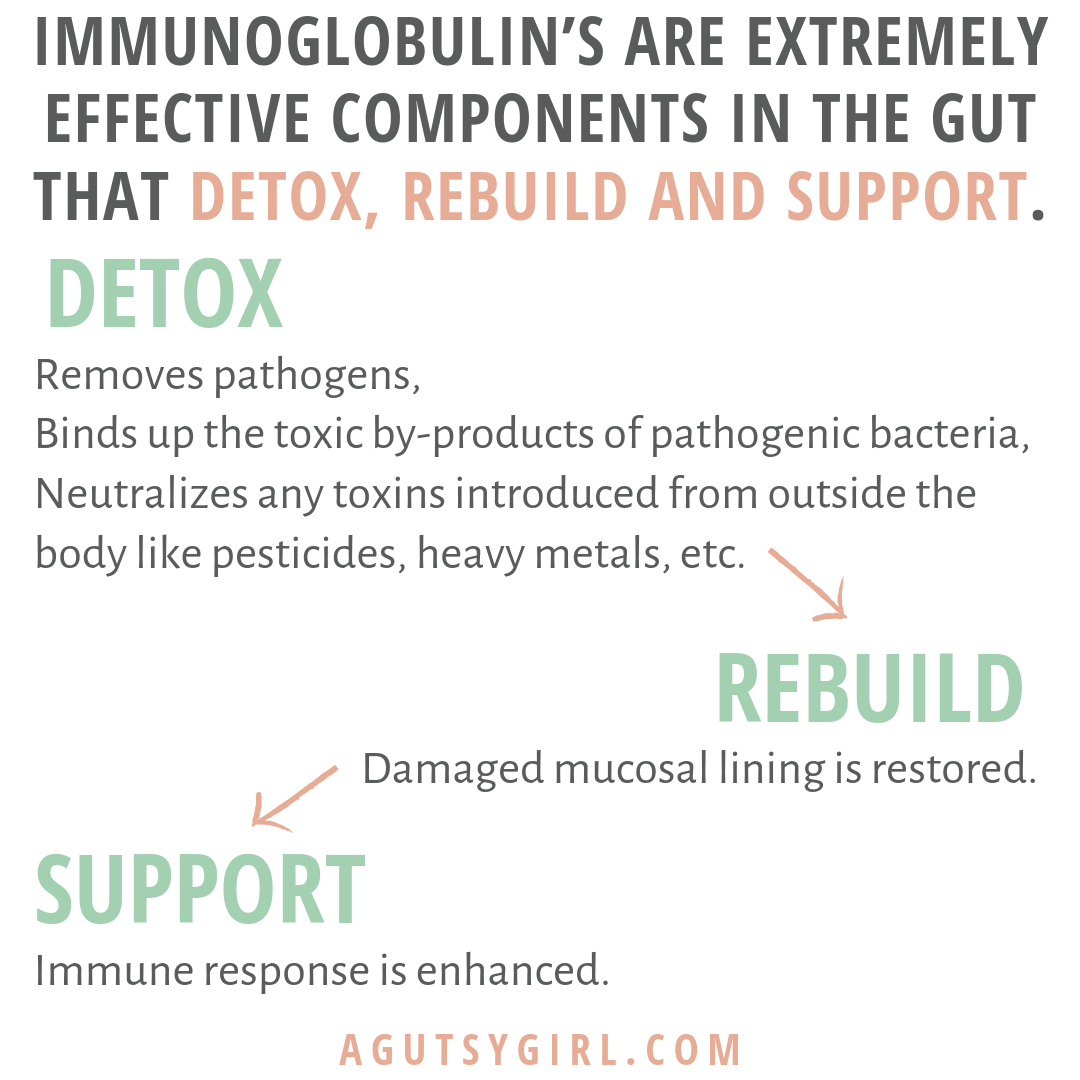 Rebuild
In order to restore damaged mucosal lining.
Support
In order to enhance the immune system response. 
IGG Deficiency
Your first question is likely,
….but am I deficient in IgG? Do I need to take it?
Here are some signs that you could be IgG deficient.
Sinus infections and other respiratory infections
Digestive tract infections
Ear infections
Pneumonia
Bronchitis
Infections that result in sore throat
Severe and life-threatening infections (rare)
In some people, infections cause scarring that harms the airways and how the lungs work. This can affect breathing. People with IgG deficiency also often find that pneumonia and the flu vaccines don't keep them from getting these infections.
(source)
In fact, I have a whole post dedicated to the differences in IgG and IgE [HERE].
Bovine Colostrum
The greatest retail competition is IgG-containing Colostrum products:
Low amount: Typically Colostrum contains only about 12% IgG versus Ultimate IgG at 50%.
Dairy-based: Increasing Colostrum intake to increase IgG levels also increases your exposure to dairy allergen. It also increases any other potentially undesirable components in the product.
Potential contaminants: Any animal-derived product, including Colostrum, can potentially also have many other undesirable and/or toxic components in it. That is, unless the company is doing a very high level of purification.
No published studies: If the Colostrum lacks clinical studies, you don't know exactly what the effects are.
Is Colostrum superior to IgG because it naturally contains additional, useful components such as lactoferrin, PRPs, etc.?
While those naturally occurring components are important, unfortunately,
They are in extremely low amounts in Colostrum and
Many commercial Colostrum products don't reveal how much of each component is in the product. So you have no idea how much you're getting.
In order increase your chances of experiencing actual efficacy while reducing your risk for contamination, it is recommend to take the isolated, purified version, based on specific and clinically validated doses.
p.s. Is it confusing when you see terms like PRP? I've got you covered with the brand new Gutsy Glossary HERE.
Bookmark the page so you always can go back and refer to it.
What are the toxic byproducts potentially contained Colostrum?
Most Colostrum comes from commercial (not organic) milk. All milk contains relatively high levels of fat. Toxins to which the cow is exposed or consumes through commercial feed (pesticides, Roundup, Bovine Growth Hormone, heavy metals, etc.) are deposited in her fat. They then appear in concentrated levels in her milk.
For example, we know that testing has shown high levels of glyphosate herbicide in human breast milk. And yes, even in mothers consuming a largely organic diet.
Could these 3 gut microbiome support products be considered a Post-Natal Super Formula appropriate for both mother and child?
Ultimate IgG is the perfect complement to the spore-based Probiotic & Antioxidant and the Precision Prebiotic since each product focuses on a different aspect of gut health.
Precision PREbiotic
Supports the increase of low populations of critically protective, keystone gut bacteria, and
Promotes diversity of strains in the gut. Diversity is associated with all aspects of health, including longevity, brain development, modulation of inflammation, etc.
Spore-based PRObiotic & Antioxidant
Will enhance all those effects by killing pathogens and supporting beneficial bacteria. And it has been shown in clinical studies to….

Help seal the tight junctions in the gut and
Encourage the regrowth of blunted microvilli necessary for correct nutrient absorption.
You'll find both the pre- and probiotic supplements HERE.
Ultimate IgG functions to profoundly detox the gut environment.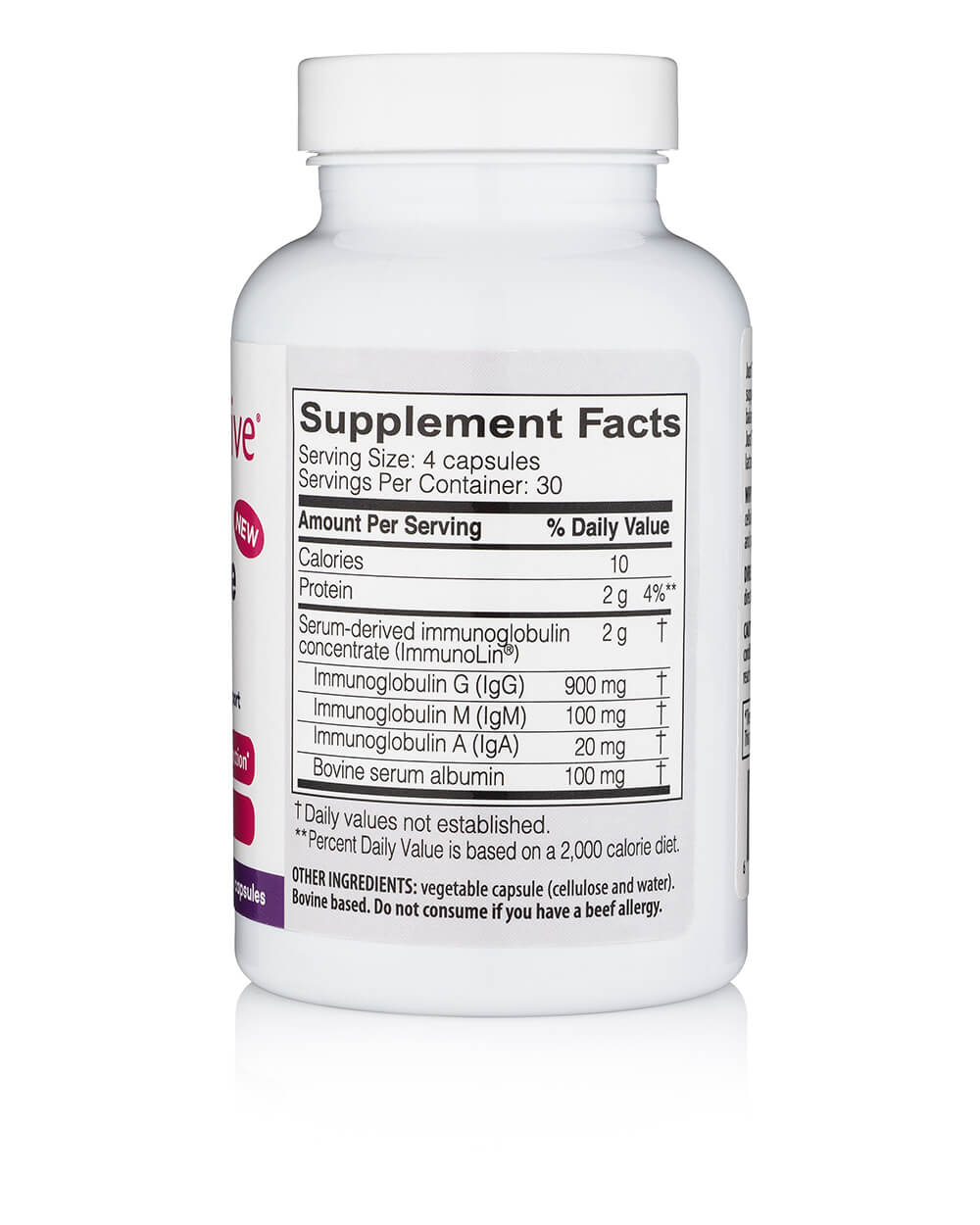 Post-Natal Super Formula
Child
Illness risk factors that affect that person for their entire lifetime are heavily determined by what happens in the gut microbiome in the first 2 ½ – 3 years of life. Ensuring a balanced gut microbiome during this time period is critical.
(p.s. YES, yes I give this to my children, especially given that cold and flu season seems to linger all year long.)
Mother
Mum's gut microbiome changes dramatically after pregnancy. This can lead to post-natal stress.
Often referred to as "Fourth Trimester" problems linked to hormone surges, this condition can develop into post-partum depression/psychosis, the emergence of an autoimmune disease, long-term immune and hormonal imbalance, etc. And all of which are strongly linked to a pre-existing dysfunction in a mother's gut microbiome.
How does the Ultimate IgG Immune and Digestive Support work in conjunction with my Probiotic?
Immunoglobulin G works together with probiotics to boost the number of beneficial gut bacteria and strengthen the intestinal barrier. By eliminating harmful antigens, IgG makes it easier for probiotics to survive and thrive in the gut.
Plus, IgG and probiotics join forces to support optimal intestinal barrier function.
Other Notable Information
Just Thrive Ultimate IgG is a dairy-free, lactose-free, casein-free immunoglobulin concentrate.
Other ingredients include: vegetable capsule (cellulose and water)
Note that it does contain Bovine ingredients. Do not consume if you have an allergy to beef.
Always use caution (for this and any / all medications and supplements). If you are pregnant or nursing, taking medications or have a medical condition, please consult with your doctor before using this product. Keep out of reach of children. Do not use if safety seal is broken. Store in a cool, dry place.
Ultimate IgG dosage directions: Ages 2+: Take 4 capsules daily with or without a meal, or as directed by your healthcare professional.
Purchasing Anything from Just Thrive
Alright, before I let you go, I must remind you again that if you choose to purchase this (or anything) from Just Thrive Health HERE, you'll save 15% off your entire order.
But also, I do make a small amount from each order. This does not get me rich, but it does allow me to keep producing the information on this website to you – for FREE. And I'm always grateful for your support.
My full disclosure can be found HERE.
By the way, I love Just Thrive and have been a huge fan for about a year now. The highly respected Kiran Krishnan has this to say about the company,
It's incumbent upon any company in the health space to do research and increase the scientific knowledge base… 99% of the companies of all the products sitting on the shelves do no research at all. Imagine if even only 10% of those companies invested in research, all we would learn and all the benefit we would gain from that scientific knowledge! So, here at Just Thrive, we're doing our part.
Ready to try the product out? Click HERE to grab a bottle today. If you're interested in learning more about their probiotic (that we use and love!), click HERE for all the goods.
If you enjoyed this post, you might also like:
Xox,
SKH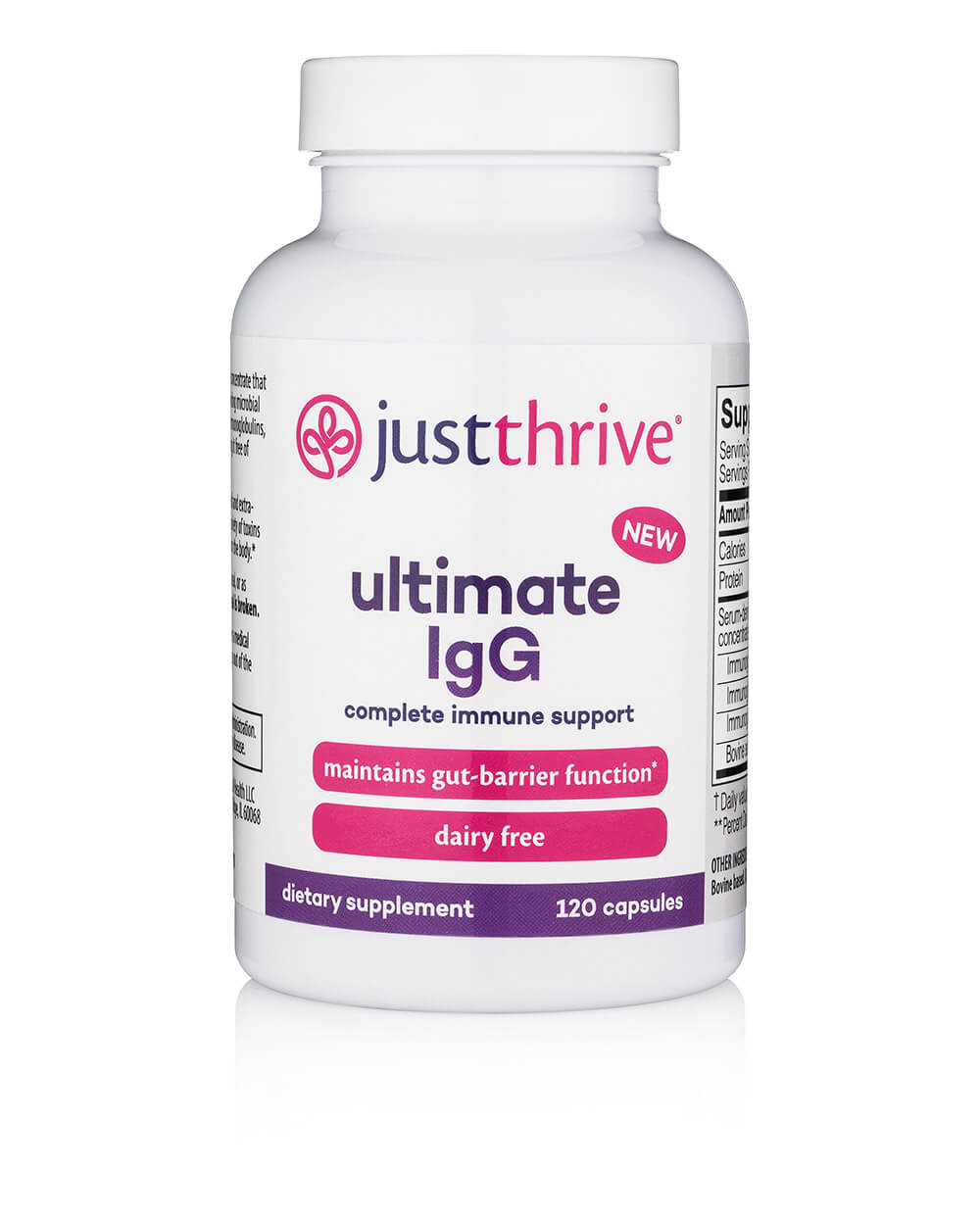 You will heal. I will help.