In Found, I promised that I'd share more about what a disclosure meeting looks like and what comes next.
This has been such a different process than the one we had with Samarah. With Samarah, we got a call one night and they said, "Do you want to pick up this baby from the NICU tomorrow? She needs to be discharged immediately."
We agreed without hesitation, picked her up and that was that. We were never a day without her again.
It was a huge leap of faith that, when looking back, we are oftentimes shocked we took.
Up until this point, here is how the process has gone (and will go) with the little man.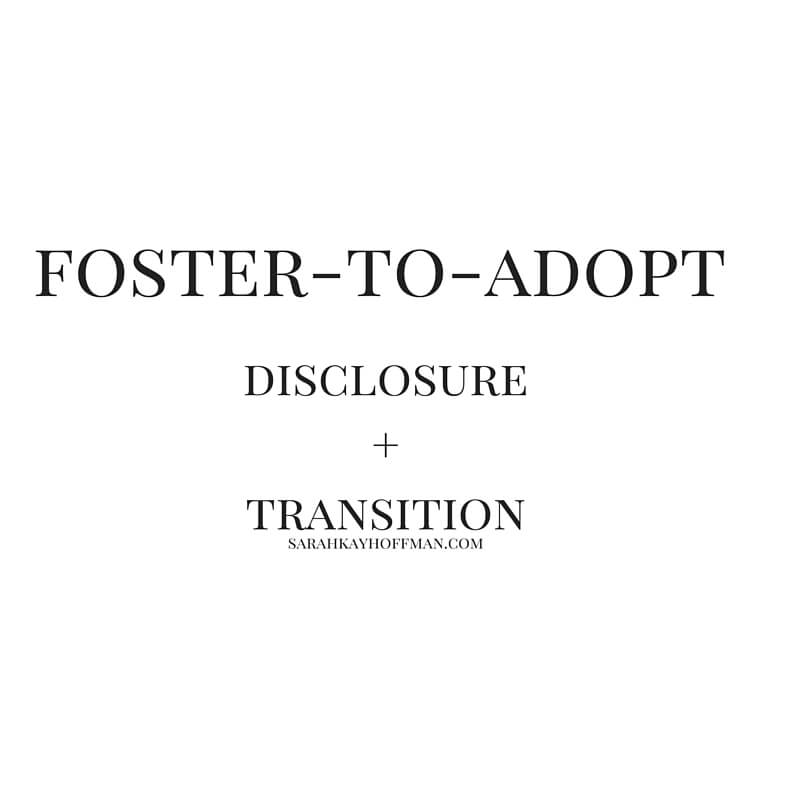 Disclosure
We received the call for him on Wednesday, February 17, 2016. During this call, we learned a little bit about him from our agency social worker. She described his name, age, race, and a brief background.
The following day, our disclosure meeting was set for Thursday, February 25, 2016, at 10:30 am.
For almost an entire week we waited impatiently.
On Thursday, February 25, 2016, at 10:30 am, we stepped into a conference room with our agency social worker. For about 5 minutes she reviewed what she told us on the phone. Around 10:35 am, the state adoptions worker came in and went over everything in detail; when parental rights were terminated, where he is currently at now, more background details, and really every single case note she had written down since the beginning. Both social workers let us know that, after meeting the current foster mom and baby, if we wanted to move forward, to let our agency social worker know (they encourage you to not make a decision on the spot).
On Thursday, February 25, 2016, around 10:52 am (Type A much?!) the foster mom entered the room holding the little man. The heart skipped several beats just prior to that door opening. We have had so much anticipation building for weeks and months, and when the time finally came, I had a brief out-of-body experience. When I landed back to Earth, I feverishly took notes, asked questions and listened. The foster mom described his usual days, talked about his interaction with their dogs and other 2 foster children, told us about how he eats and sleeps and literally did her very best to screencap his life currently. She talked, we held him.
Our disclosure meeting ended a little before noon. You know what happened next, but even though we knew immediately, we waited until we got home to let our agency social worker know we absolutely wanted him and wanted to move forward.
The next day, on Friday, February 26, 2016, our agency social worker told us that the adoptions worker would be calling us so we could begin transitional visits. She called, and plans were put in place.
What happens next?
I can't tell you how many people have reached out wondering, "Is he with you yet? When does he get to come home?"
This is the hard part for us because, like I said, we got Samarah immediately. This is all new for us. Because he has been in foster care for about 8 months, he has clearly bonded with the foster mom (she is great, by the way, and she has fostered over 250 children – bless her heart). Transitional visits allow for him to get to know us without feeling scared or overwhelmed by an overnight transition.
Transition visit #1 starts today! We get him for 5 hours. These visits are set up as such that family + foster family meet at a common place, exchange the child and then drop off is the same. We will pick him up, and then bring him to our house. Our main priority for today is to introduce him to Samarah, as this has not been done yet. I have so many thoughts and feelings about it, but mostly just excited to see her reactions.
Transition visit #2 is on Tuesday. I'll pick him up in the morning, and I am hoping we get him all day.
Transition visit #3 is tentatively scheduled for Thursday.
Shortly after that, I think, we will have him overnight or for an entire weekend.
If all is still well, then a final meeting is set with all parties involved where we do the final placement for him to make the full transition to our home.
We don't expect any of this to take too long, but like the state and his current foster mom, we want what's best for him. Selfishly, we want him here – now – 100%.
Patience is such a virtue for which I've never been good at.
Adopting through the foster care system is different than outright adopting a child. I've described the main difference HERE.
These steps are all a part of the journey, and while they might look different in every case the end goal remains the same….
The chance to love a child unconditionally
Xox,
SKH
You will heal. I will help.