Time to finally share my Buyer's Guide to Black Friday and Cyber Monday Supplements.
The only reason I care about Black Friday and Cyber Monday is for all the extra stocking up on purchases I will make anyways.
Honestly, Black Friday and Cyber Monday aren't really about the holiday season for me. I mean, are they for you? Be honest.
Because listen, most of the items on the 2019 Gutsy Holiday Wish List are not likely to have Black Friday or Cyber Monday deals. Maybe, but usually smaller businesses I just want to support for fun and gift-giving.
Supplements (and other items on this list) are more of a necessity. The savings, then, is extra-awesome because you now you'll buy these no matter what.
Now is the time to stock up on all of your favorite and necessary items. It's also the time to try the things you've been eyeing for awhile.
I reached out to my favorites and got some upgraded deals and discounts to provide you with, too.
Ready?!
Buyer's Guide to Black Friday and Cyber Monday Supplements
Click HERE to save this post for later.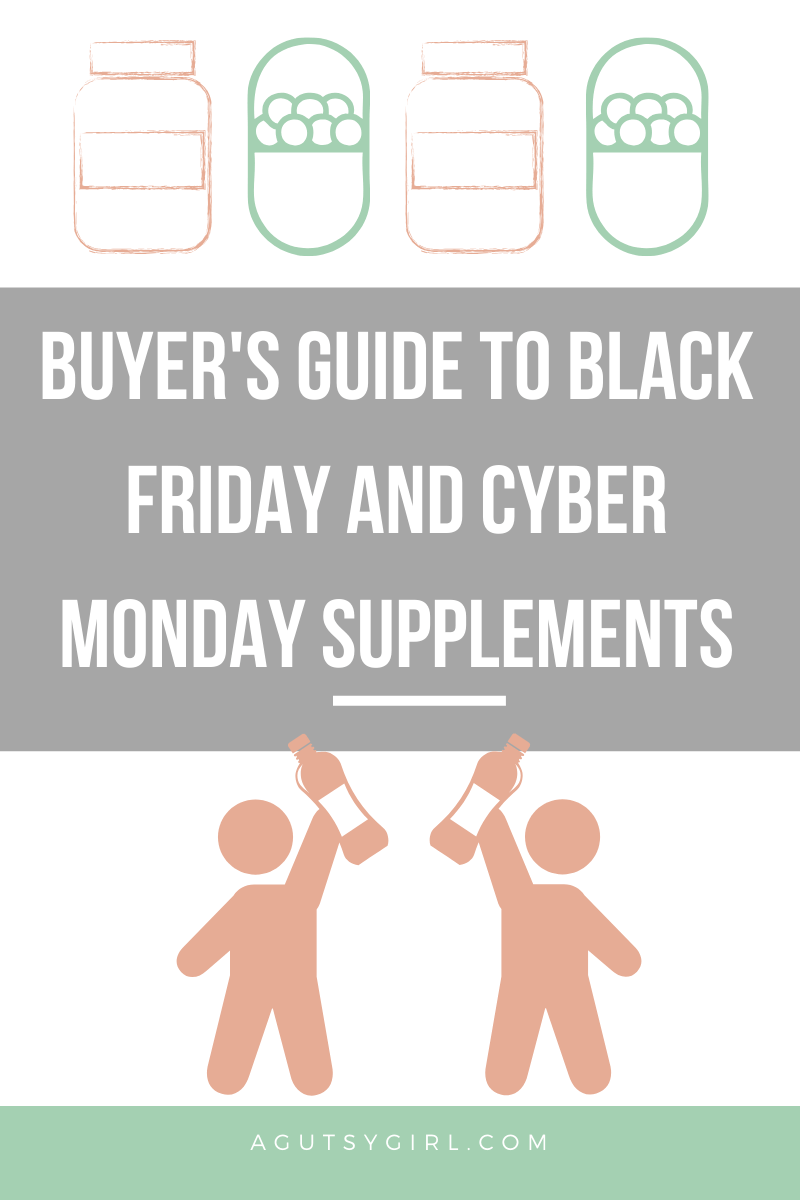 After I list each company and the deal, I'll put some specific information / products beneath it for your reference.
Just Thrive Probiotics. They made my top spot because a discount like this never comes along, and I have heard so much feedback about your love for their products. Use code 'AGUTSYGIRL25' at checkout to save 25% off starting Black Friday 11/29 at 12:00am CST through Cyber Monday 12/2 at 11:59pm CST.

Perfect Supplements. 35% off all Perfect Brand products HERE. No minimums, no limits. But wait, there is more since you are in the GUTSY community. Just use code 'GUTSY10' and you'll save an additional 10% off. This sale runs from (RIGHT NOW!) 6pm EST on Wednesday 11/27 until 5am EST on Tuesday 12/3.
Other Favorite Gutsy Items for Black Friday and Cyber Monday
ALL A Gutsy Girl e-books found HERE are 35% off by using code GUTSYHOLIDAY. This is good from today through Tuesday, December 3 at 11:59pm. (Does not include The Leaky Gut Meal Plan.)
28-Day Leaky Gut Program. Once you sign up for the program, I'll automatically refund you $5. The offer is good from today through Tuesday, December 3 at 11:59pm. (You still need to grab a copy of The Leaky Gut Meal Plan in order to participate.)
Lakanto HERE! From 12:01am on Black Friday through 11:59pm on Cyber Monday, with any purchase through Lakanto HERE, you'll save 30% – 50% off storewide.

Stock up on many of your baking ingredients with Lakanto HERE.
I'm a huge fan of monk fruit, and buy it exclusively from Lakanto,

Beautycounter. Today through December 1, 2019, get free shipping on orders $50+ and save 15% off everything.

Interested in becoming a Holistic Health Coach? Enroll today HERE, and save up to 30% for Black Friday. Just make sure to mention me, Sarah Kay Hoffman.

SIBO Success Plan. I've talked about this comprehensive plan before with Dr. Nirala (see: What Caused Your SIBO HERE) She is offering it all for $97 when you purchase HERE (normally it's $247).
The Instant Pot HERE used for my Instant Pot Vegetable Broth.
Keep in mind that this post is being published on Wednesday night before Black Friday. Therefore, I will be adding to the list. Be sure to bookmark the page, click HERE to save it for later and/or copy and paste this link into your browser – http://bit.ly/aggbyblfs (you know you have 17 tabs open at all times).

Xox,
SKH
You will heal. I will help.