Do you know what grain free baking blanched vs unblanched nuts means?
If you're Gutsy, you should.
A few years back, I was much more confident in my baking skills than cooking. After all, it was so simple to grab a pre-packaged cake mix, add in eggs, milk and butter and bake away. Today, the roles have reversed. I am much more comfortable with cooking than with baking because of things like -> Grain Free Baking Blanched vs Unblanched Nuts.
(But don't misunderstand that….baking is still my favorite!)
Gluten-free baking is tough, and it's even more challenging if and when you also need to avoid things like eggs, dairy, nuts, etc.
I told you I'm baking this month and subsequently making many of my own nut flours. But I won't lie, I've been a hot mess in the kitchen.
Hey, I never said this would be easy or sexy 🙂
When I mentioned on my Facebook page that February was for baking, my friend Steph (you remember her….the rockstar!) mentioned that her little girl's birthday was coming up and she was looking for a super healthy and gut-friendly dessert for her (Claire) birthday "tea" party.
I decided on a form of a tartlet.
The final version turned out amazing and beautiful.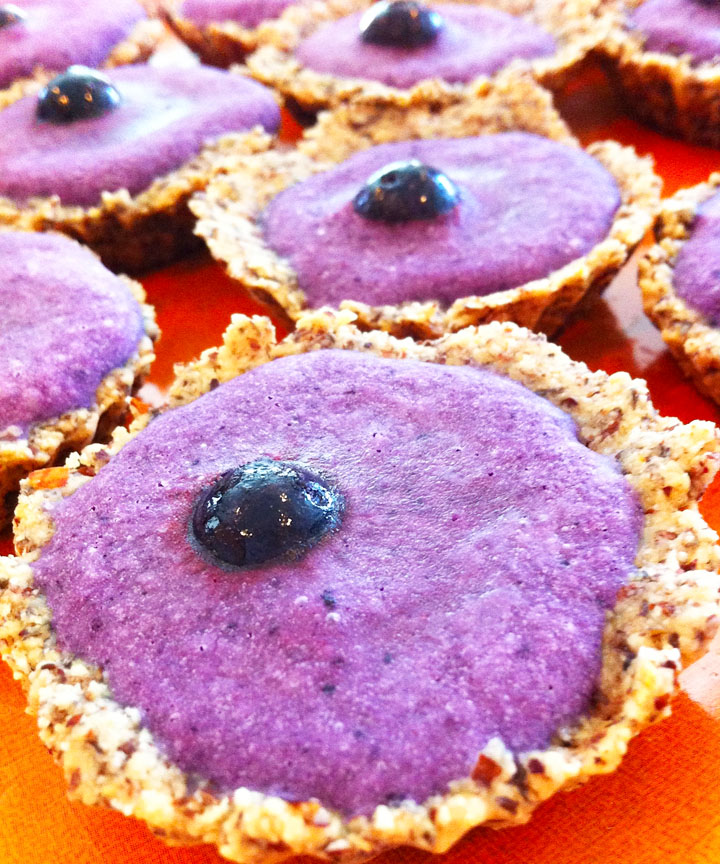 The key word there is "final."
Who knew that when baking with nut flours there is a HUGE difference between blanched and unblanched nuts? Simply put….
Blanched Nuts
Nuts have a skin. Blanching nuts simply means that this skin is removed.
Unblanched Nuts
Nuts have a skin. Unblanched nuts simply means that this skin is not removed.
Grain Free Baking Blanched vs Unblanched Nuts
Click HERE to save this post for later.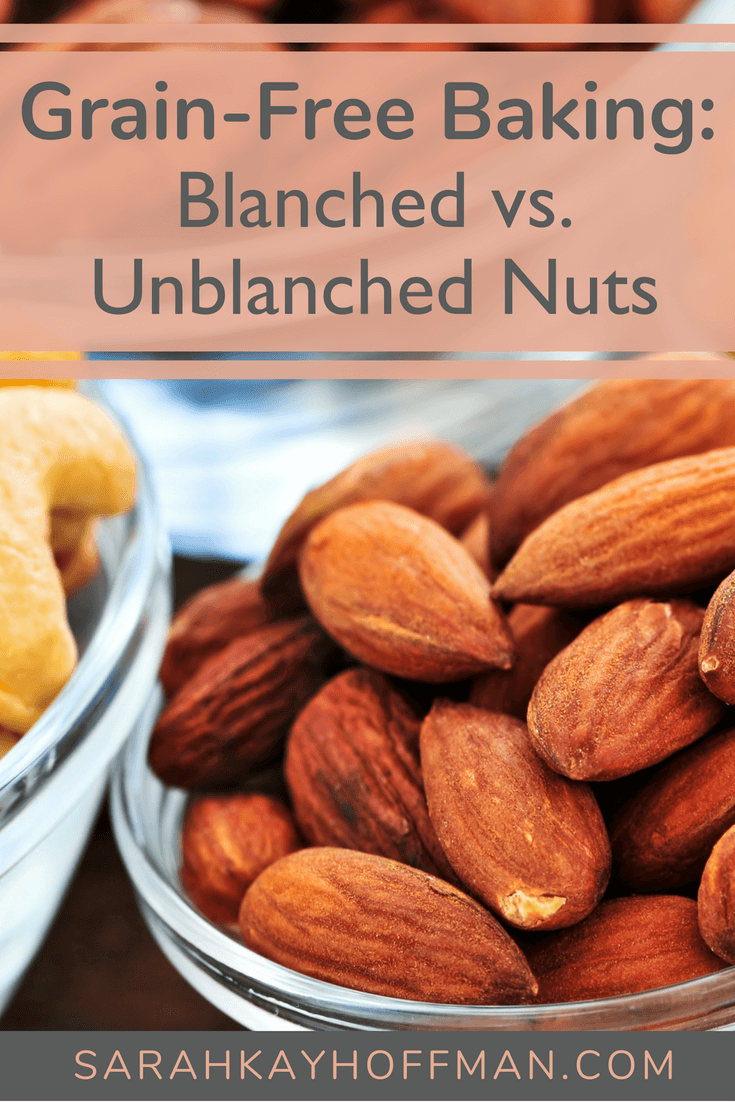 There are two main differences for cooking and baking all intensive purposes:
Color. Blanched nuts will be a whitish/tan color; unblanched nuts will be a blend between that and whatever the "skin" color is. For example, almonds. Almonds will be a brownish color when unblanched.
Consistency. Blanched nuts are more like a "soft flour." Unblanched nuts are gritty and grainy; still a flour, but "chunkier."
A big problem, in my opinion, is that too many recipes do not differentiate appropriately between blanched and unblanched flours. They simply state, "almond meal" or "almond flour," but they are not technically using the term correctly.
Bob's Red Mill sells an Almond Flour called Almond Meal/Flour. This is very frustrating! I have never used it, but just by looking at it, I would say it's more of a "flour" vs. a meal.
When I used Almond Flour, I made my own by simply buying the Blanched Slivered Almonds from Trader Joes and grinding them myself.
Trader Joes also sells a packaged Almond Meal, Just Almond Meal, which is the real deal for a "meal" and sells for just about $3.99. The Almond Meal that I made from whole, raw almonds looks very similar.
The first time I made these, I used Almond Flour (i.e. blanched almonds).
Fail.
When I took the tartlets out of the oven, they just crumbled to pieces. They reminded me of a sugar cookie in how they looked and acted. (Don't kid yourself, Ry and I still ate the whole thing because while they didn't look pretty, they sure tasted pretty.)
The second time I made them, I used Almond Meal.
I had a new, awesome and pieced-together-just-right tartlet.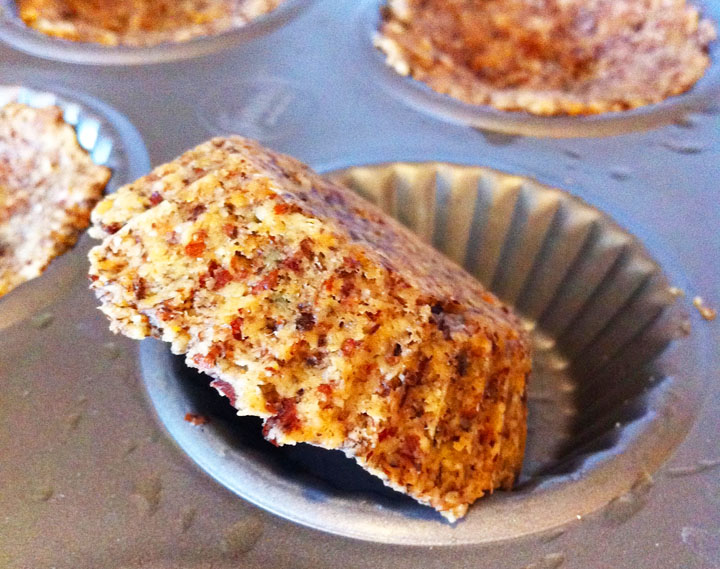 And perhaps an even bigger question on all the Gutsy girl's minds….
Should I Use Blanched or Unblanched Nuts for Gut Healing?
This depends on the state of your gut.
If you have diarrhea, then Almond meal and flour in general, are going to be essential vs. consuming the raw nuts for awhile. (Unless, of course, it's really out of control, in which case I'd recommend you skip this recipe altogether.)
That said, Almond flour could be easiest on the digestive system for those with IBD-D OR IBD-S, since the skin (fiber and roughage) has, for the most part, been removed.
According to Elaine Gottschall (Breaking the Vicious Cycle):
Skins on nuts are fibrous. That is why we use blanched almonds. However, one cannot conveniently blanch all kinds of nuts. If you cannot used blanched almonds, then use walnut flour and, of course, one CANNOT blanch walnuts conveniently nor need they blanch walnuts. Pecans need not be blanched. Filbert or hazelnuts have a tough outer coating like almonds and they should be used without skins in other words, blanched.
I am proud that I stuck with my grain-free baking these past several days.
I have so much more in store.
And as for the tartlets?
Yum, yum and more yum.
I named them:
Claire's Blueberry Ice Cream Birthday Tartlets
And you can grab the full recipe HERE!
p.s. Also try my Strawberry Shortcake for One (which uses Almond Flour – not meal – and is free from gluten, dairy, grains, corn, refined sugar, and eggs. It's Paleo, low-carb, and low-FODMAP'ish.)
Not sure if you need to be using almond meal or almond flour because you don't know the state of your gut? Start HERE and/or grab The Gutsy Girl's Bible.
Xox,
SKH
You will heal. I will help.