Today I am sharing and proving the link between eating disorders and gut health.
Link Between Eating Disorders and Gut Health
Click HERE to save the Link Between Eating Disorders and Gut Health for later.
In case you weren't aware, this week is National Eating Disorders Awareness Week. Just like last year, my hope is that you are able to read these first few sentences and say, "Nope. This has nothing to do with me or my healing journey."
But honestly, you would be one of very few women who are part of the Gutsy community.
And this is why I don't take the topic lightly or skip over it.
Another Day, Another Diet
I did an "all about the gut" phone interview recently with a large brand.
They wanted to "pick my brain" on my story, background, education, knowledge, and you – the Gutsy community.
At one point during the interview they asked,
Which diets have you tried for healing your gut?
I sort of laughed, paused, and then said,
You name it, I've tried it, and am well-versed in it.
Because I needed to be more specific than that, I gave them the answer they were looking for. As it related to healing my gut, here were some different diets I offered up:
Paleo
AIP
low-FODMAP
Vegetarian
GAPS Diet (which I made note of that I did as Keto vs. long-term GAPS – a mistake in my opinion)
SCD
Microbial Reset
and others
After our conversation, I remembered all those "other" diets I did over the years
Atkins
low-fat
Weight Watchers
odd-calorie counts
simply not eating
binge eating
"cleanses'
and others
Odd-calorie counts? What is that even? Well, there was a period of time in high school when I would lay out 8-10 small plastic bags each morning. I would fill each bag with 100 calories of anything so long as it was 100 calories. Seriously, fruit snacks, gummies, carrots, apples, cookies – anything. The only criteria was that 100-calorie mark.
Then, I'd munch on that throughout the day, making sure to never go over so that I could still eat a small dinner.
Seriously, that was a real thing I did.
For most of my life it's literally been another day, another diet.
In fact, I discussed this in the first podcast episode with my full story HERE.
Diets that Lead to Diets
All of "those" diets I practiced in my earlier years lead to all of "those" diets I would have to follow later on.
But even then, the diets I followed later – if you want the real, raw, and honest truth – would never help me recover from the damage previous diets had done.
This is a very real thing in the gut healing community.
Let me show you what happens. And by "what happens" I mean, this happened to me, but I'm proving how statistics show it's a common scenario.
1: Body Image / Societal "Stuff"
Adolescent / high school – body image

By age 6, girls especially start to express concerns about their own weight or shape. 40-60% of elementary school girls (ages 6-12) are concerned about their weight or about becoming too fat. This concern endures through life.
The best-known environmental contributor to the development of eating disorders is the sociocultural idealization of thinness.
When researchers followed a group of 496 adolescent girls for 8 years, until they were 20, they found:

5.2% of the girls met criteria for DSM5 anorexia, bulimia, or binge eating disorder.
When the researchers included nonspecific eating disorder symptoms, a total of 13.2% of the girls had suffered from a DSM-5 eating disorder by age 20.

An ongoing study in Minnesota has found incidence of anorexia increasing over the last 50 years only in females aged 15 to 24.
12.6% of female high school students took diet pills, powders or liquids to control their weight without a doctor's advice.

Athletes

In a study of Division 1 NCAA athletes, over one-third of female athletes reported attitudes and symptoms placing them at risk for anorexia nervosa.
Among female high school athletes in aesthetic sports, 41.5% reported disordered eating. They were eight times more likely to incur an injury than athletes in aesthetic sports who did not report disordered eating.
The initial disorder is there due to many different factors as cited above.
Once the time period of adolescents and/or intense athletics passes, then what?
Well, then you're left with co-occurring disorders; things that do not necessarily pass.
2: Co-Occurring Disorders
NEDA talks mainly about the following co-occurring disorders:
anxiety
depression
OCD (obsessive-compulsive disorder)
PTSD (post-traumatic stress disorder)
alcohol or other substance abuse
ADHD (attention-deficit hyperactivity disorder)
borderline personality disorder
I do believe it's important to make note of what the research continues to prove as it relates to the gut-brain axis:
The gut–brain axis, connected via neural, hormonal, and immunological pathways, is a bi-directional communication system that is initially recognized for its role in regulating digestive function and food intake.

There is a high prevalence of co-morbidity between psychiatric and gastrointestinal symptoms, e.g., 40–60% of patients with functional gastrointestinal disorders experience psychiatric symptoms and up to 50% of psychiatric patients are diagnosed with irritable bowel syndrome where they end up needing treatment options for eating disorders.

Recent advances in our knowledge of the gut microbiota have shed new light on the interactions between the brain and the gastrointestinal tract, with microbiota now being considered an integral part of the gut–brain communication—some even advocate for microbiota being an independent component of the axis.
Certainly these don't just "pass." No co-occurring disorder magically goes away. Nope, not unless you take charge in seeing them out the door and/or getting them under control.
Trust me, I know.
And in the midst of these co-occurring disorders that do not pass mixed with the issues that were created from adolescents and athletics, a new bundle of problems "mysteriously" show up.
Let's pause for a moment so I can say this: Do you see what just happened? So many people think their gut issues erupted from nowhere. They view a massive gut disturbance as a solitary event.
I'd guess this is hardly ever the case.
The Gut + Other Gutsy Implications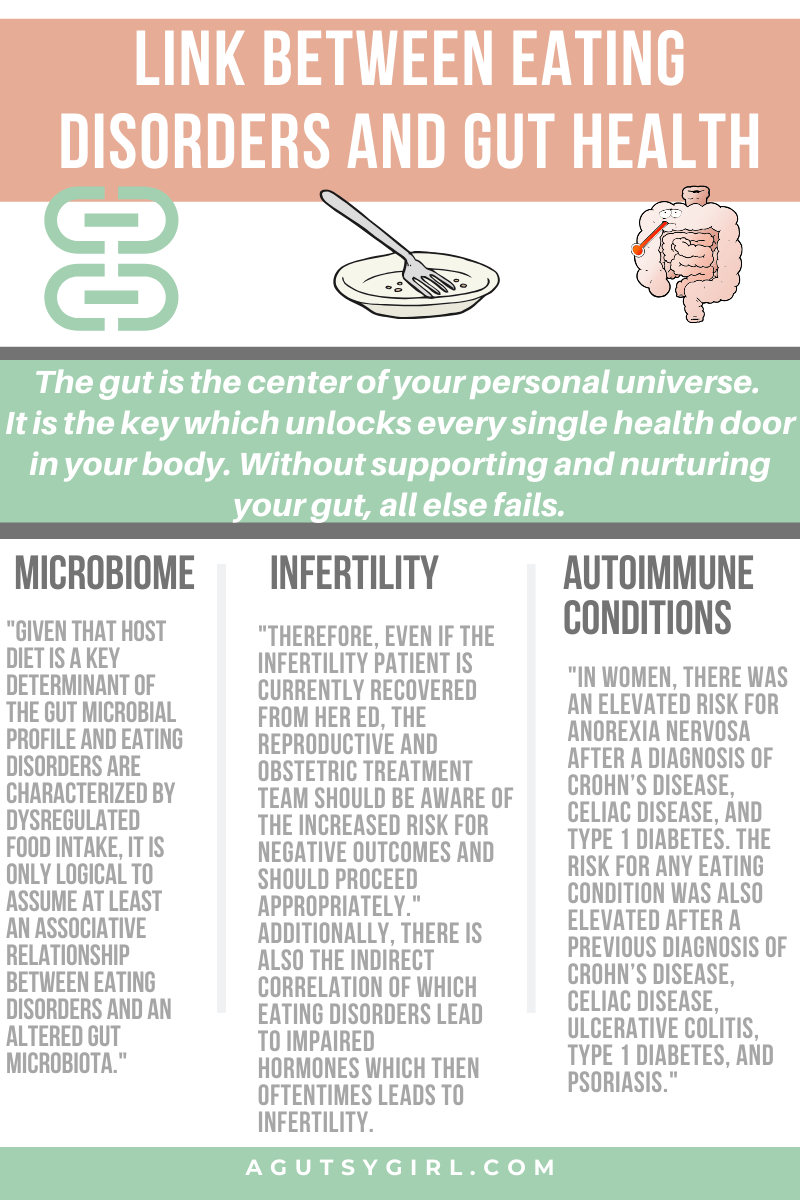 The gut is the center of your personal universe. It is the key which unlocks every single health door in your body.
Without supporting and nurturing your gut, all else fails.
With eating disorders, these other Gutsy implications are very real. We all know them, and research backs the correlations.
Microbiome
Many diseases, ranging from metabolic (e.g., obesity and type 2 diabetes) to autoimmune (e.g., multiple sclerosis) and neurodegenerative (e.g., Alzheimer's disease), have now been linked to dysbiosis and extensive research efforts have gone into developing treatments to achieve a healthy microbiome.

Given that host diet is a key determinant of the gut microbial profile and eating disorders are characterized by dysregulated food intake, it is only logical to assume at least an associative relationship between eating disorders and an altered gut microbiota.

Surprisingly though, literature on this area is scarce, with only a handful of studies measuring gut microbial profile in patients with AN and no data are available on other forms of eating disorders. (source)
Infertility
I once had a doctor tell me, post-failed IVF cycle,
One reason you may not have been able to naturally conceive is because your body was saying, "You're not even adequately feeding me, how will you sustain growing a human?"
While there is not a ton of research and direct correlation between infertility and eating disorders, there is some.
The risk of low birth weight was twice as high in children of women with an ED that had been diagnosed before pregnancy than in children of women without an ED.

Therefore, even if the infertility patient is currently recovered from her ED, the reproductive and obstetric treatment team should be aware of the increased risk for negative outcomes and should proceed appropriately.

These patients may be better served with a referral to an OB/GYN who can treat higher risk patients.
And there is also the indirect correlation of which eating disorders lead to impaired hormones which then oftentimes leads to infertility.
Autoimmune Conditions
You're reading this article. You know (whether or not you want to admit it) that your relationship with food is disordered. And you've maybe even battled for a very long time with an eating disorder.
But also, you have an autoimmune condition. So what's the correlation?
According to Psychology Today,
The bidirectional nature of the link between autoimmune diseases and eating disorders suggests that the two share either the same underlying mechanism or some factor that affects the risk for both types of diseases.

Analysis of the relation between eating disorders and autoimmune illnesses showed that in both men and women, previous autoimmune illness was associated with an increased risk for eating disorders.

In women, there was an elevated risk for anorexia nervosa after a diagnosis of Crohn's disease, celiac disease, and type 1 diabetes. The risk for any eating condition was also elevated after a previous diagnosis of Crohn's disease, celiac disease, ulcerative colitis, type 1 diabetes, and psoriasis.

In women only, the opposite relationship was also found. That is, women receiving a diagnosis of eating disorders were at greater risk for subsequent autoimmune disease.
It's very obvious to you now – this link between eating disorders and gut health.
But there is still an outstanding problem.
That problem would be that the cure and cause are conflicting.
3: Eating Disorders and Gut Healing: Cure and Cause
The hardest part about healing the gut when you have a past with any type of eating disorder is the chicken and egg concept of a conflicting cure and cause.
That "healing diet" certainly could be your cure (by the way, I don't mean "cure" like you'll be cured from an autoimmune condition – not the case – I mean remission and symptom-free).
And on the flip side, it could be a trigger point to relapse or even just another semi-unhealthy relationship with food.
Gut-Healing Diet
Let's say you have Colitis, which is an autoimmune condition. Do I believe that following an AIP (autoimmune protocol) diet could be exactly what you need? Absolutely! But do I also believe it might be exactly what you don't need? Indeed.
And this is where the problem lies, in the end, with eating disorders and gut healing.
It's why I've written both Gut Healing is Not a Diet and Gut Healing is Not a Diet….or Maybe It Is?
Honestly, I think this is why so many people love the Gutsy community, and furthermore, why many want to work with me in particular.
It's not because I hold any extra magical powers.
Instead, it's that I empathize with where you've been, where you are, and am able to help you move in a direction that helps you address both/either the eating disorder and healing your gut.
And this is not to say that I do counseling on eating disorders or prescribing of medications.
I do NEITHER because that's not what I'm qualified to do nor what I'm passionate about doing.
Empowerment
Instead, my job is to empower you. It is to help you see the bigger picture, give thoughts, ideas, recommendations and suggestions of what might be going on so that you can take it to your specialist.
In return, this helps save you time, money. It also helps save you mental and physical energy trying to navigate it on your own. What I would have done for that during the thick of my healing!
Because guess what? I have checked off almost every single box in this article, and have taken my decade+ of learning to help you not feel ashamed to address it all.
Come as You Are
This year, for National Eating Disorders Awareness Week, they are urging you to come as you are.
To know me is to know that I've been cheering you on for almost a decade already to do this.
In 2012, A Gutsy Girl was born out of my desire to talk about issues that women were stuffing away out of fear and shame. At the time, it was infertility and (but mostly) IBS and/or IBD. (Don't believe me? Check out The End of This Road HERE published on April 11, 2012.) From the post,
I can't tell you how many times during the IVF process when I wished I had a website to go to where someone related. Or how many other times I wished when I had no idea what was going on with my bloated stomach that there was someone out there writing and talking to me at that moment.

With that, it struck me that I have held back talking about the issues that impact my life – and thousands of women's lives – the most. I'm now less concerned about who thinks what about the words I write, things I say and issues I will talk about.

I have now gone through and am currently going through two issues that women around the world face daily –digestive disorder and infertility.

No matter what you look like, where you come from, or anything else that might make us different, neither digestive disorder/disease nor infertility will discriminate.

This I know for sure.
Everything is Connected
And over time, what I learned is that every single Gutsy women's issue I have been able to bring light to and speak up about – including eating disorders – are all connected to the gut and oftentimes the demise of it.
Because the link between eating disorders and gut health is so strong, I'm not saying any of this is going to be easy.
But I am saying that, as always, you can come as you are. You can also heal. And when you heal your gut, you heal your life. When your life begins to heal, the gut follows suit as well.
Sources: HERE, HERE, HERE, and HERE.
Hire A Gutsy Girl to speak. Learn more and inquire HERE.
If you enjoyed this post, you might also like:

Xox,
SKH

You will heal. I will help.