I'm sharing my opinion on the 9 best IBS supplements today.
IBS Root Causes
IBS, irritable bowel syndrome, is not "just" IBS like many will tell you it is. However, it is "just" a big pain in the a@#. The reason?
It's rarely ever "just" IBS. There is always something more going on. In fact, I have 7 root causes of IBS.
Here is one of them:
I wrote a book on leaky gut so I know a thing or two about it. To put it simply, leaky gut is when the junctions which are supposed to be tight lining the intestines loosen, causing food particles that should not seep through to seep through.
And when they do, all sorts of problems can arise. But again, though this is a "root cause" it's "technically" not much different than IBS. Leaky gut is actually leaky gut syndrome, so again, a collection of symptoms with an origin that cannot be identified.
Leaky Gut Meal Plan (4 Weeks to Detox and Improve Digestive Health)
….and just like with SIBO, if you search 'leaky gut' in the upper left-hand corner, you'll find many more articles.
Anyways, there are so many ways to naturally help that IBS diagnosis.
While I think you absolutely need to investigate a more true underlying cause, I also believe there are some supplements that can help right now. 
9 Best IBS Supplements
Click HERE to save this post for later.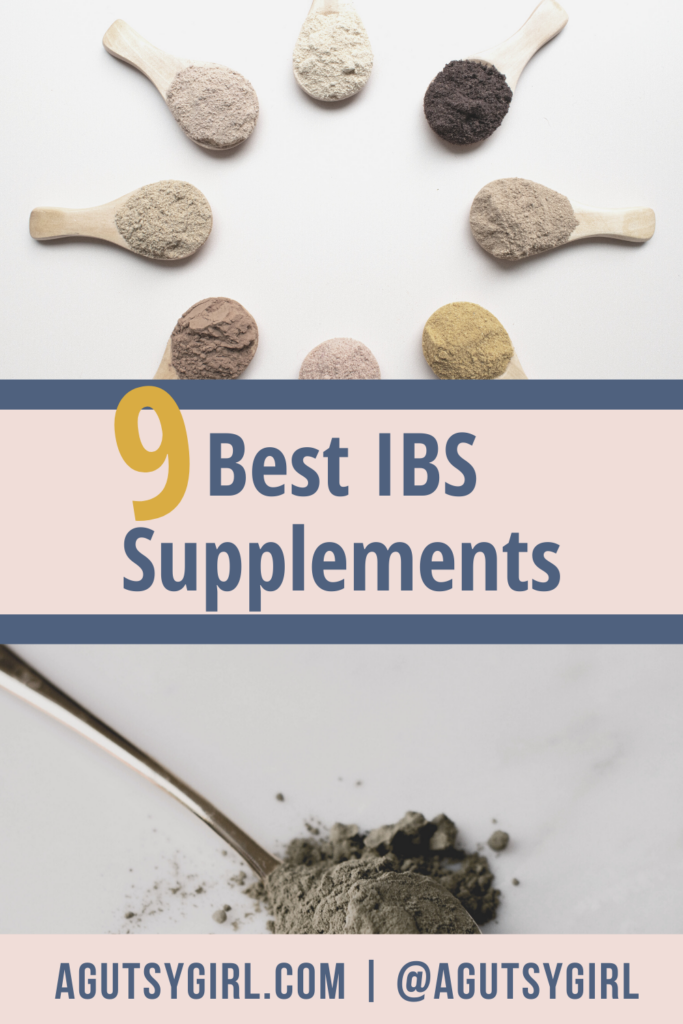 Did you know that the global irritable bowel syndrome treatment market is expected to reach a market value of USD 2,988.6 million by 2023 from USD 1,890.9 million in 2017 and is expected to register a CAGR of 7.58% during the forecast period from 2018 to 2023? (Grab 13 more IBS stats HERE.) 
And when I say "treatment market," what that means is the amount of money we will spend on supplements and medications to help the IBS diagnosis.
Believe me when I say that you absolutely, positively, 1,000% MUST treat the root cause in order to get well.
But some of that money can be well spent.
I believe in these 9 IBS supplements.
IBS – C, IBS – D, and/or IBS – M?
For each of the 9 supplements below, I've also made note of what type of IBS they are primarily used for. Work with your doctor, as always, on any and all of them.
constipation dominant = IBS – C
diarrhea dominant = IBS – D
mixed, both constipation and diarrhea, alternating = IBS – M
Berberine: IBS-D
Berberine is an alkaloid found in many plants, most notably in goldenseal (Hydrastis canadensis), barberry (Berberis vulgaris), Oregon grape (Berberis aquifolium), and goldthread (Coptis chinensis).
These plants have a long history of use for several health conditions.
Clinical studies with isolated berberine have shown significant success in the treatment of acute diarrhea, irritable bowel syndrome, type 2 diabetes, high blood pressure, elevated blood lipids, Alzheimer's disease and cancer.
In particular, Berberine may be an effective way to manage symptoms of IBS-D. Dr. Nirala Jacobi discusses this one in podcast episode 40, SIBO vs IBS HERE.
Probiotic: IBS – C, IBS – D, IBS – M
So how would you know which probiotic to take?
Well, you need to understand probiotic species and strains, which you can learn about HERE.
Depending on what those properties are and what they aim to do will determine if it's right for you. This is why any old probiotic will not work, which is something I tried to demonstrate first when I wrote Should I Take a Probiotic with SIBO?
Yes, of course my preferred and most commonly recommended probiotic is the Just Thrive probiotic, but again, you must choose what's right for YOU.
CBD Oil: IBS-C
According to the post highly-regarded nutritionist Ashley Koff wrote, CBD for Digestion,
If you suffer from IBS-C, then, CBD oil might be for you. According to Ethan Russo, cannabis researcher and physician, endocannabinoid deficiency may contribute to IBS, thus full spectrum hemp-derived CBD or a CBD / THC blend may help prevent or address IBS symptoms.
You can learn more about the Endocannabinoid System HERE.
Magnesium: IBS-C
Magnesium simply relaxes your muscles. When you supplement with magnesium, you increase water in your intestines which help initiate peristalsis (the wavelike motion which moves fecal matter through your intestines).
Peristalsis also pushes food into your stomach.
To learn all about why magnesium is a great IBS supplement, check out magnesium, constipation, and digestion HERE.
L-Glutamine: IBS – C, IBS – D, IBS – M
L-glutamine is the most plentiful amino acid in the body and supports intestinal health. It may work for those with IBS because of this role.
According to Dr. Amy Myers, "People with IBS that is stress induced may find that increasing their intake of L-Glutamine mitigates the impact of cortisol, improving muscle function and helping your body resolve spasms."
To learn more about L-Glutamine, check out L-Glutamine for Gut Healing HERE.
Peppermint Oil: IBS-C
Peppermint oil (PO) has intrinsic properties that may benefit patients with irritable bowel syndrome (IBS) symptoms.
It contains contains L-menthol, which blocks the calcium channels in smooth muscle. This produces an antispasmodic effect in the gastrointestinal tract.
Peppermint oil also has anti-inflammatory properties and may support the immune system.
Work with your doctor to find the right peppermint oil supplement. I personally use the doTERRA Peppermint oil internally (MUST dilute), externally via the roller (dōTERRA Peppermint Touch), and then I also diffuse it next to my bed when needed.
Make note: Peppermint oil is not for those of you with GERD / Acid Reflux. Avoid if you have this condition plus IBS.
Digestive Enzymes: IBS – C, IBS – D, IBS – M
"Digestive enzymes" is a broad term that includes pancreatic enzymes, plant-derived enzymes and fungal-derived enzymes.
They help turn larger molecules found in foods (carbs, protein and fats) into more easily absorbed particles (such as amino acids, fatty acids, cholesterol, simple sugars and nucleic acids).
The body can then actually use these particles to function and for energy.
To learn more about digestive enzymes read What are Digestive Enzymes?
Psyllium: IBS-C
Fiber supplementation, particularly psyllium, is both safe and effective in improving IBS symptoms globally.
Long-chain, intermediate viscous, soluble and moderately fermentable dietary fiber, such as psyllium results in a low gas production and the absence of the symptoms related to excessive gas production.
The effects of type of fiber have been documented in the management of IBS, and it is known to improve the overall symptoms in patients with IBS.
ION Biome (previously Restore): IBS – C, IBS – D, IBS – M
According to doctor and founder of ION Biome, Zach Bush, "IBS and IBD are conditions that have their root cause in inflammation. The source of this underlying chronic inflammation and dysfunction of the immune system is rooted in the injury to the barrier system of the gut lining – small proteins called tight junctions – protecting you from the outside world.
Unfortunately, in our daily lives now we face the presence of potent toxins to these tight junctions, herbicides like RoundUp, pharmaceuticals, refined gluten, etc.  
ION Biome supports the presence and integrity of these critical barrier systems." You can read more about ION Biome HERE.
Sources: HERE, HERE, HERE, HERE, HERE, HERE, HERE, HERE, HERE, HERE, and HERE.
How are they working?
So how to know if they are working for you?
Ask yourself in a weekly recap, "How is this working for me?" See more about this exercise HERE.
Keep that journal! Keeping a food and lifestyle journal is your #1 chance for success. You can grab my 90-day PDF HERE or have me ship a beautiful, spiral-bound journal to your doorstep.

Are there any IBS supplements you'd add to this list? What has worked best for you?
If you liked this post, you might also enjoy:
All of these supplements and my recommendations for each can be found via the FREE Master Gutsy Resource links spreadsheet HERE

Xox,
SKH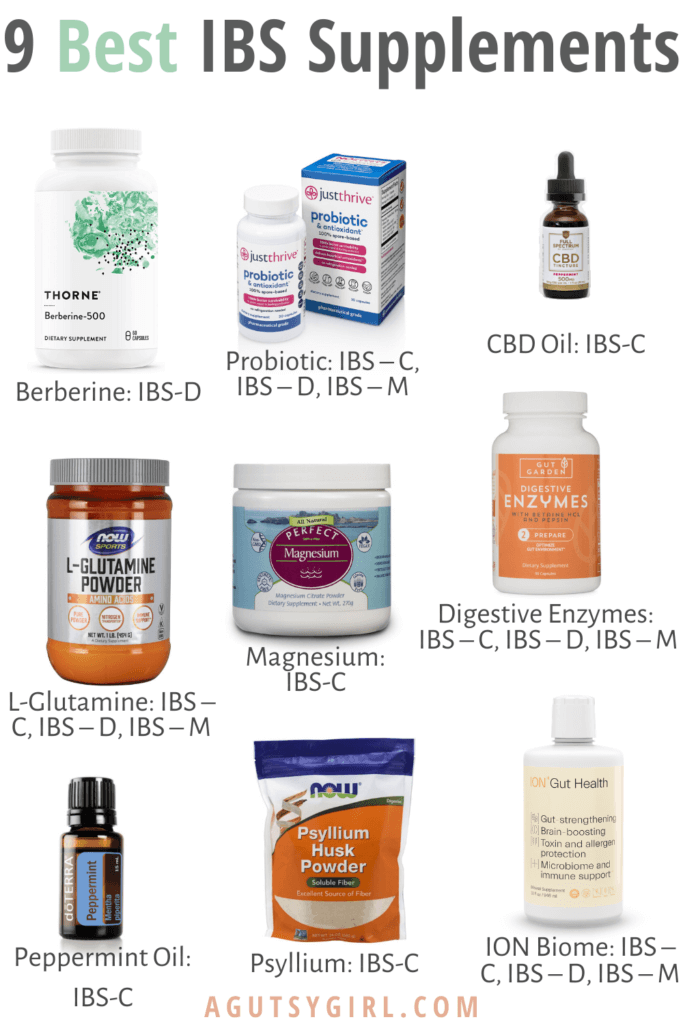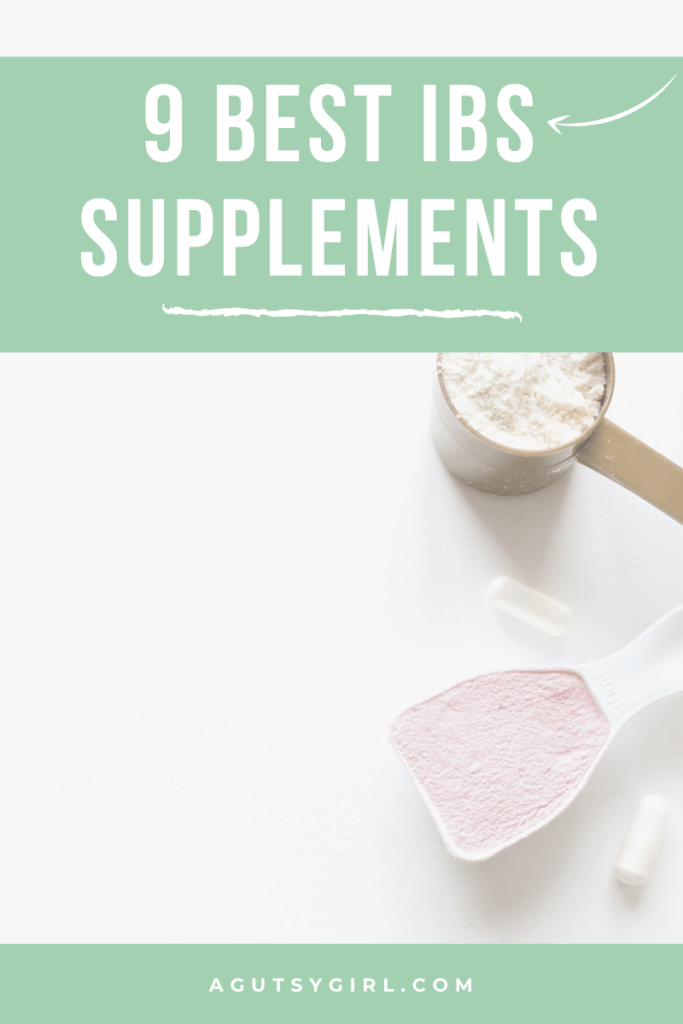 You will heal. I will help.