I'm sharing my opinion on the 9 best IBS supplements today.
IBS Root Causes
IBS, irritable bowel syndrome, is not "just" IBS like many will tell you it is. However, it is "just" a big pain in the a@#. The reason?
It's rarely ever "just" IBS. There is always something more going on. In fact, I have 7 root causes of IBS.
Here is one of them:
I wrote a book on leaky gut so I know a thing or two about it. To put it simply, leaky gut is when the junctions which are supposed to be tight lining the intestines loosen, causing food particles that should not seep through to seep through.
And when they do, all sorts of problems can arise. But again, though this is a "root cause" it's "technically" not much different than IBS. Leaky gut is actually leaky gut syndrome, so again, a collection of symptoms with an origin that cannot be identified.
Leaky Gut Meal Plan (4 Weeks to Detox and Improve Digestive Health)
….and just like with SIBO, if you search 'leaky gut' in the upper left-hand corner, you'll find many more articles.
Grab the other 6 root causes for IBS HERE.
Anyways, there are so many ways to naturally help that IBS diagnosis. While I think you absolutely need to investigate a more true underlying cause, I also believe there are some supplements that can help right now.
9 Best IBS Supplements
Click HERE to save this post for later.
Did you know that the global irritable bowel syndrome treatment market is expected to reach a market value of USD 2,988.6 million by 2023 from USD 1,890.9 million in 2017 and is expected to register a CAGR of 7.58% during the forecast period from 2018 to 2023? (Grab 13 more IBS stats HERE.)
And when I say "treatment market," what that means is the amount of money we will spend on supplements and medications to help the IBS diagnosis.
Believe me when I say that you absolutely, positively, 1,000% MUST treat the root cause in order to get well.
But some of that money can be well spent.
I believe in these 9 IBS supplements.
IBS – C, IBS – D, and/or IBS – M?
For each of the 9 supplements below, I've also made note of what type of IBS they are primarily used for. Work with your doctor, as always, on any and all of them.
constipation dominant = IBS – C
diarrhea dominant = IBS – D
mixed, both constipation and diarrhea, alternating = IBS – M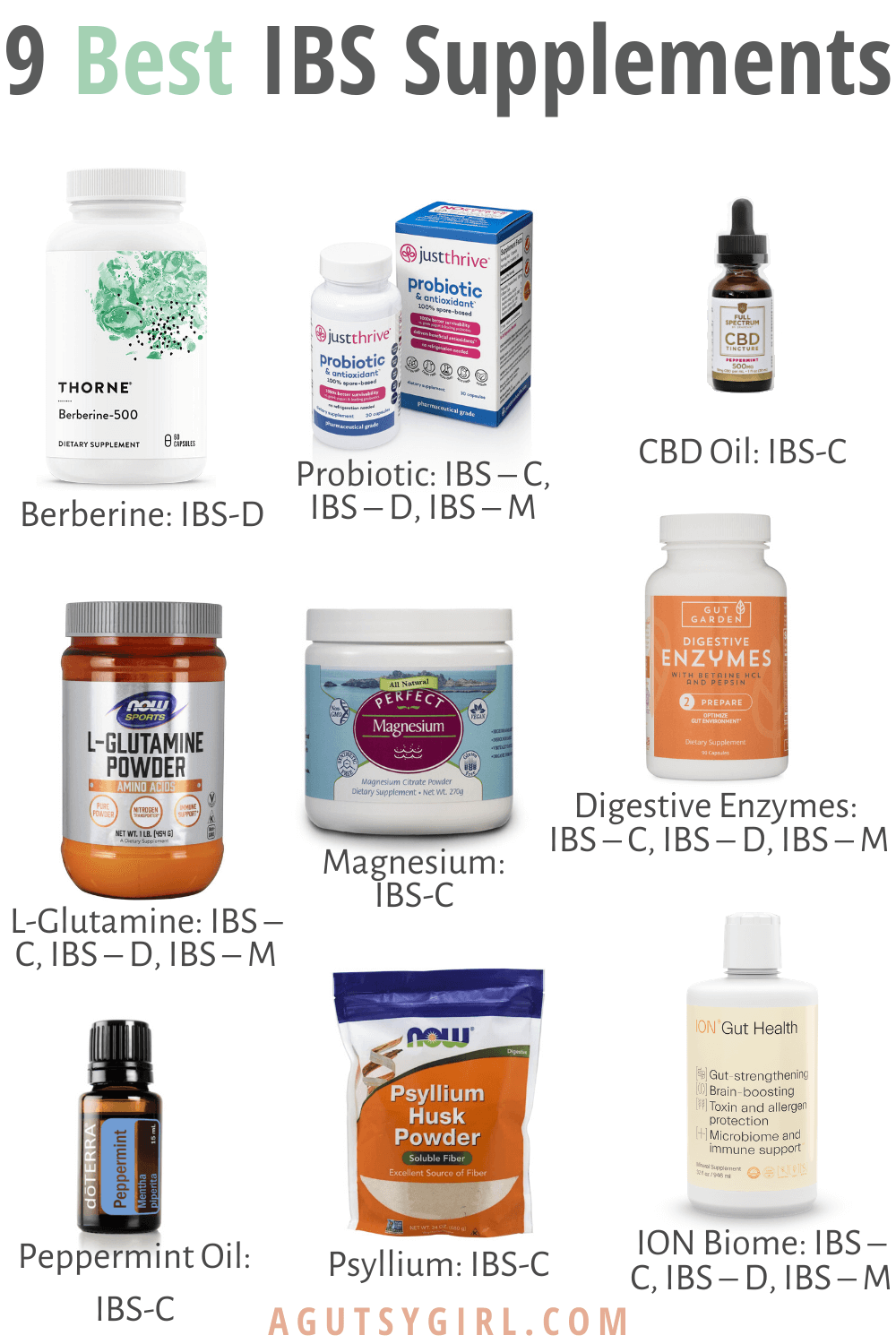 Sources: HERE, HERE, HERE, HERE, HERE, HERE, HERE, HERE, HERE, HERE, and HERE.
How are they working?
So how to know if they are working for you?
Ask yourself in a weekly recap, "How is this working for me?" See more about this exercise HERE.
Keep that journal! Keeping a food and lifestyle journal is your #1 chance for success. You can grab my 90-day PDF HERE or have me ship a beautiful, spiral-bound journal to your doorstep.

Are there any IBS supplements you'd add to this list? What has worked best for you?
If you liked this post, you might also enjoy:
All of these supplements and my recommendations for each can be found via the FREE Master Gutsy Resource links spreadsheet HERE

Xox,
SKH
You will heal. I will help.