I want to share 10 leaky gut causes today.
You'll find them all, with their respective detailed information, starting on page 7 of The Leaky Gut Meal Plan: 4 Weeks to Detox and Improve Digestive Health.
Leaky Gut Causes
Click HERE to save this post for later.
Alcohol
When it comes to the gut, research shows that alcohol promotes bacterial overgrowth, which in turn leads to an increase in the release of endotoxins.
Endotoxins activate proteins and immune system cells that promote inflammation.
Certain Painkillers and Non Steroidal Anti-Inflammatory Drugs (NSAIDs)
Among people who chronically use NSAIDs, research estimates that 65 percent will develop intestinal inflammation and up to 30 percent will develop ulcers.
Antibiotics
Overuse of antibiotics may leave the strong and drug-resistant bacteria behind to colonize the digestive system and exacerbate leaky gut syndrome.
Preexisting conditions
Preexisting conditions are usually found in conjunction with leaky gut.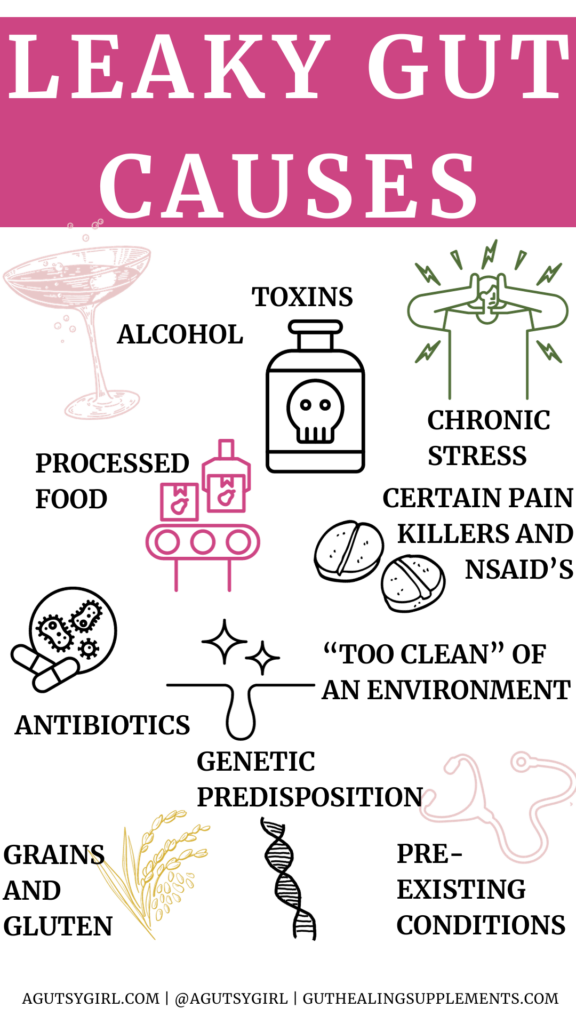 Processed foods
Many processed foods are inflammatory and high in allergens such as gluten and dairy, not to mention an abundance of sugar, refined oil, and artificial preservatives.
Chronic stress
Chronic stress is a major player in leaky gut, weakening the immune system and contributing to anxiety and depression.
Toxins
Listen, we can never completely avoid toxins. But when too many of them build up and cannot be eliminated appropriately, they cause damage to the body, including leaky gut.
And did you know that the skin is the largest organ involved in the elimination of toxins and waste?
Grains and Gluten
Even if you do not have celiac disease, eating grains can cause damage to your gut. Grains contains lectins and phytates, so-called antinutrients that bind to the intestines and make nutrients inactive in the body.
"Too Clean" of an environment
The overuse of antibacterial cleaning products and hand sanitizers wipes out all the beneficial good bacteria we need to fight off unwanted bacteria and illness. Today we know that gut bacteria plays a role in these 4 things:
Regulating hormones
Eliminating toxins
Creating natural antibiotics
Obesity, diabetes, and immune system
Genetic predisposition
Some people may be predisposed to leaky gut because they are sensitive to environmental factors that can trigger the body into initiating an autoimmune response.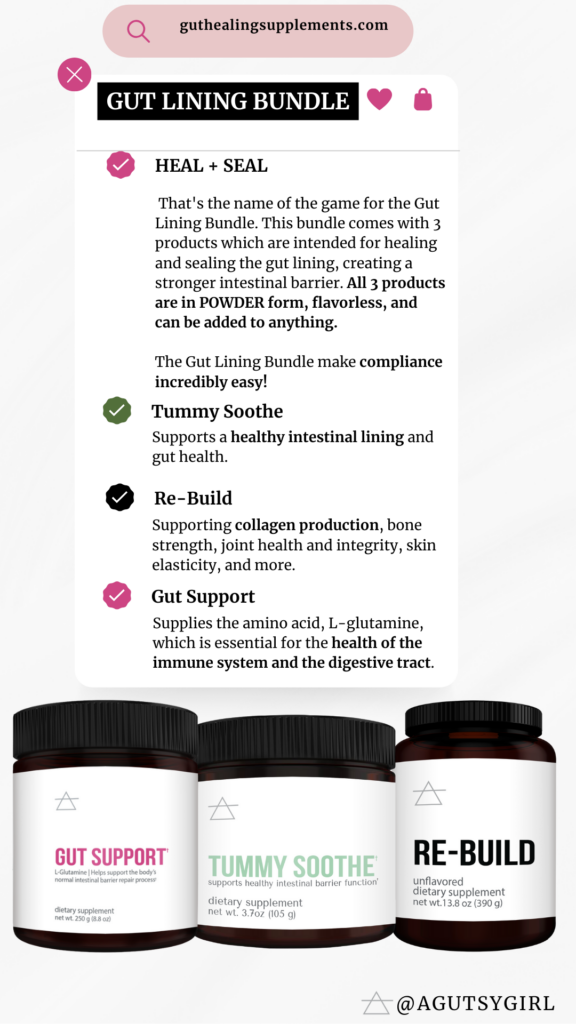 Heal + seal your gut lining with A Gutsy Girl's Gut Lining Bundle…..perfect for leaky gut syndrome.
Use code BLOG at checkout to save 15% off your bundle (or anything from guthealingsupplements.com)
Learn More About Leaky Gut Causes
I am fairly obsessed with all factors that go into leaky gut syndrome.
Writing the book was not my first time doing the research. 
In case you want to learn more about some of the above, check these articles out:
Areas of Interest for Further Research on Leaky Gut
I am looking forward to researching and writing about the following topics:
Endotoxins
Toxins (in general)
Lectins and phytates (antinutrients)
Genetic predispositions
But how about you? What would you like to know about in more detail?
If you liked this post, you might also enjoy:

Xox,
SKH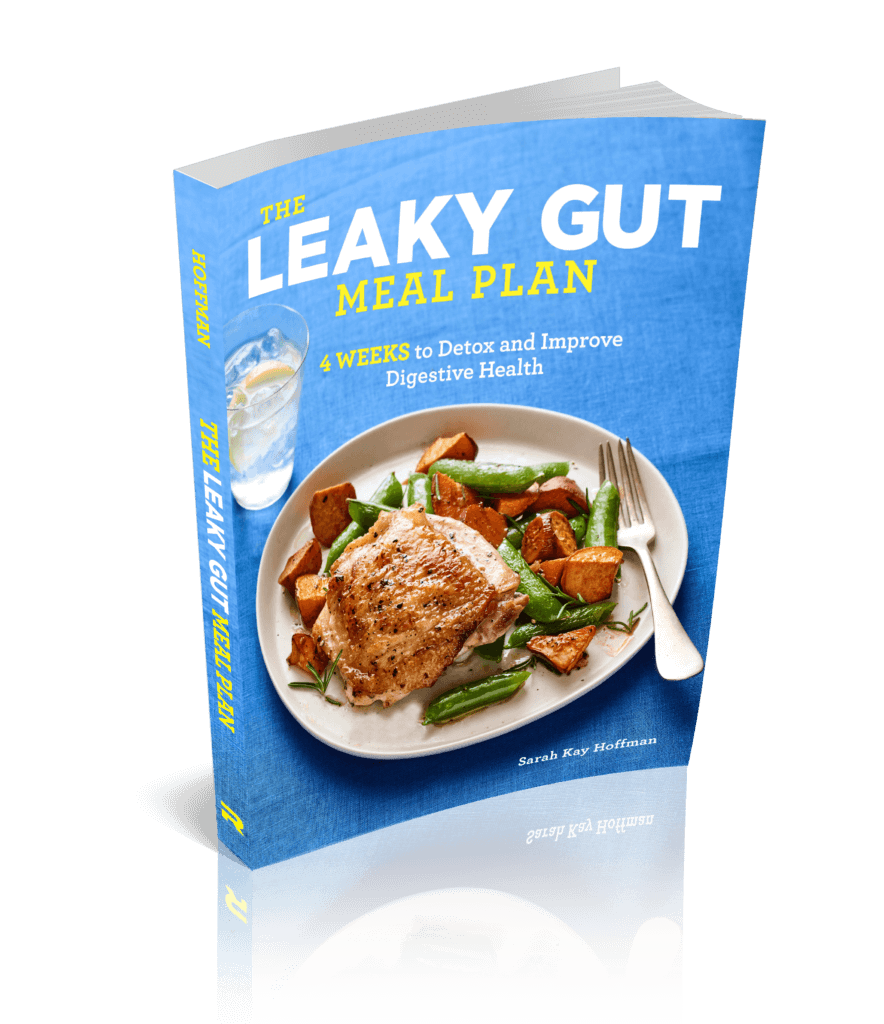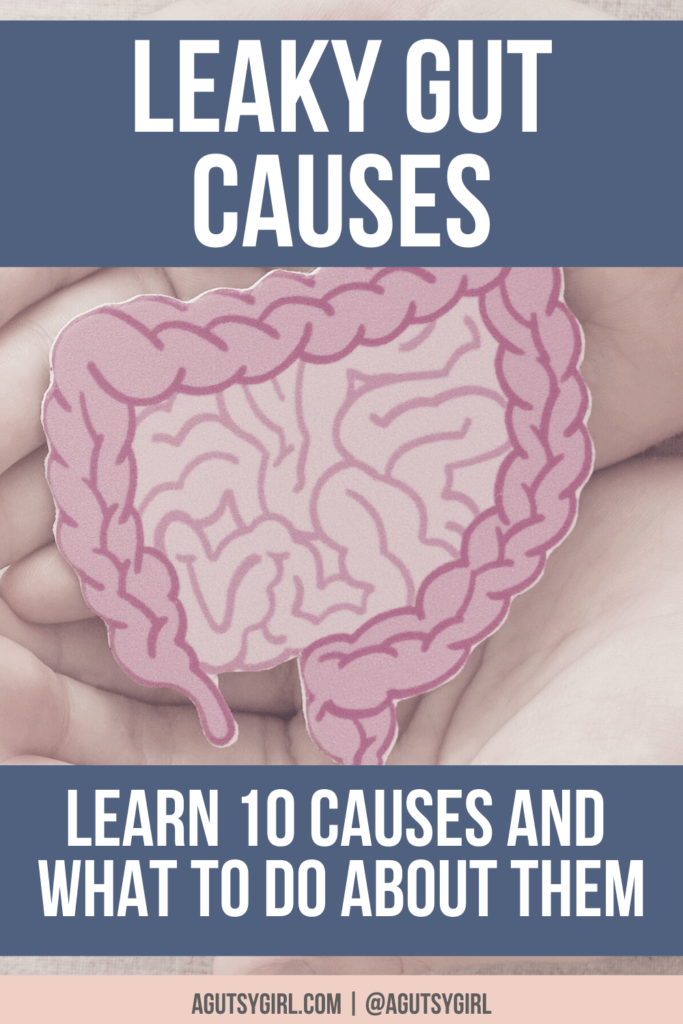 You will heal. I will help.