The real-food health police may be after me today once this post is published, but oh well. I have 16 things to do with a rice cake for you.
Rice Cakes
Now, let's be very clear. A rice cake is not a health or healing food at all.
The type of rice cake that would be used below is plain. It is either lightly or unsalted.
Its ingredients look something like this: Organic whole grain brown rice, sea salt.
Rice Cakes Nutrition
And the nutritional value extends about as far as (per cake): 40 calories, 0 fat, 1g of protein, 8g of carbohydrates, and 10mg of sodium.
There are macronutrients, but nothing else for the most part.
Are Rice Cakes Healthy?
Overall, no, rice cakes are not healthy. If we are talking about true health and not health as it relates to, "What has the least amount of fat and calories."
And while there might not be anything included in a rice cake for true health or healing, what I love about them are these 2 things:
They are low-FODMAP and almost "okay" for any specialized diet.
A rice cake is simply a vehicle which can host foods that might be more nutritionally sound.
16 Things to Do with a Rice Cake
Click HERE to save this post for later.
Plain.

Just eat it plain. Listen, if your stomach is a mess and you don't want to reach for Saltines (which have a lot more ingredients and are not gluten free), a rice cake might do the trick.

Rice Cake + Peanut Butter.

Top it with Almond Butter.

My current almond butter obsession is the Justin's Vanilla.

Spice It.

Try a rice cake and nut butter, then sprinkle the top with cinnamon.

Fruit.

Add sliced bananas to the top of a rice cake with nut butter.

Dried Fruit, Savory.

Spread Miyoko's plain cream cheese over the rice cake and top with dried cranberries.

Autumn Feels.

Spread Carrot Cake nut butter over the rice cake, then top with nutmeg.

Hummus.

Spread savory hummus over the rice cake then top with cucumber slices. Drizzle with garlic infused olive oil, if desired.

Tuna.

Mix tuna and Sir Kensington's Mayo, then spread on top of the rice cake. Add diced celery, if desired.

PBJ.

Make a traditional PBJ sandwich, using rice cakes as the "bread." We love Crofter's Organic jam (or anything local/homemade). By the way, THIS Raspberry Chia Jam and THIS Blueberry Chia Seed Jam are my recipes and they rock!

Coconutty.

Spread your favorite coconut butter over the rice cake, then top with shredded coconut.

Chocolate PB

Don't you dare judge this one! Spread peanut butter over the rice cake then drizzle with THIS sugar-free chocolate syrup. Yes, queen, yes.

Snickerdoodle Cookie

Spread the DELIGHTED BY Desserts Snickerdoodle Cookie spread over the rice cake. Top with cinnamon and nutmeg.

Minnesota Sushi.

Make my Minnesota Sushi and place it on top of the rice cake.

Yogurt

Make the Coconut Yogurt from The Leaky Gut Meal Plan: 4 Weeks to Detox and Improve Digestive Health, and spread over the rice cake. Then, top with your favorite sliced fruit. Bonus: this one contains probiotics.

Turn it into a S'more

Gluten-free campfire s'more with honey vanilla bourbon peanut butter.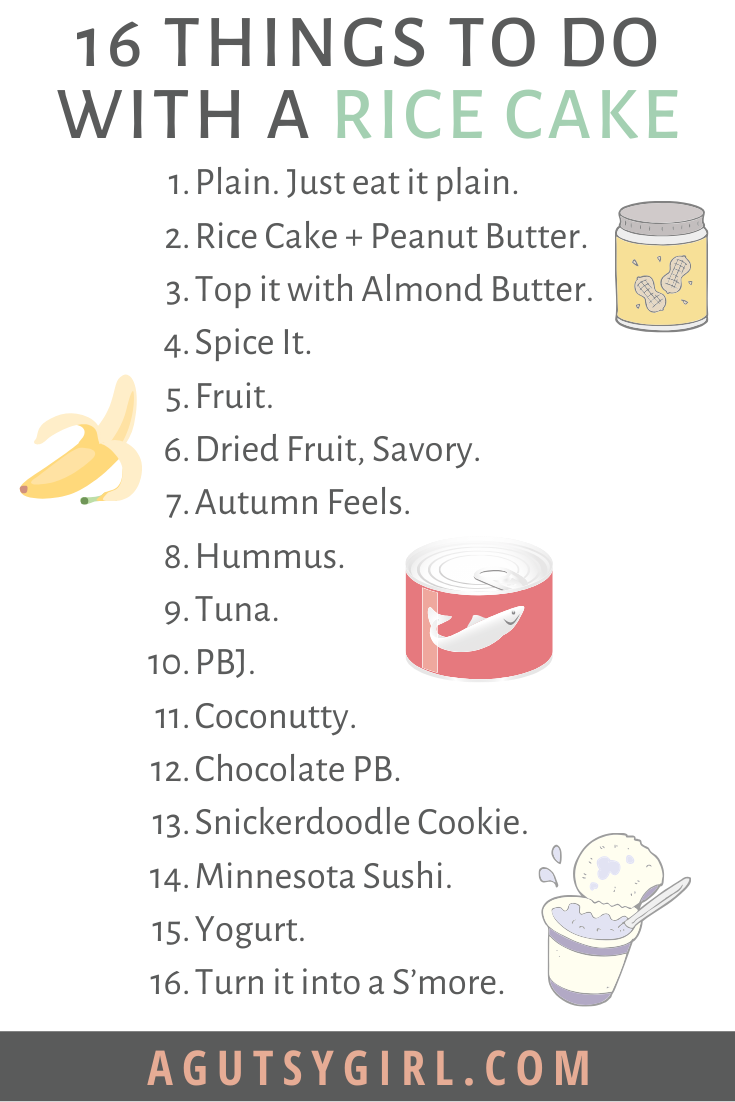 If you need some online shopping resources for the above try:
What's worse than eating the "wrong thing?" You guess it, not eating at all.
In order to heal, you must eat. And remember, you can't diet harder. These 16 things to do with a rice cake are not meant to be meal replacements.
But dang, how fun are they?!
If you liked this post, you might also enjoy:
You will heal. I will help.