Episode 2 of the A Gutsy Girl podcast explores the question, "Does coffee cause inflammation?"
Subscribe Today:
Apple Podcasts | Google Podcasts | Spotify | iHeart Radio | RSS
---
As I was considering starting this podcast, it was almost 100% of people who said, "Yes, yes I need this podcast in my life."
And when I inquired to those who said, "No," here was the feedback I heard:
All my favorite bloggers are moving to podcasting. I still enjoy reading posts vs. listening to podcasts.
That was interesting to me because of the way media consumption is shifting. And yet, I understood because even though I love listening to podcasts, I still enjoy reading blogs and articles.
However, I can't justify doing YouTube videos, launching a podcast, and keeping up with the same amount of blog posts (5+ per week).
The happy-medium for me is that the articles I write here are more about quality than quantity now. And furthermore, the days when a podcast airs, the blog post will surround and enhance that topic so that if you choose to not listen to the podcast, you'll still get something (different, though) out of the information.
Today's podcast episode and topic at hand surrounds the January challenge theme: coffee.
Does Coffee Cause Inflammation?
Click HERE to save does coffee cause inflammation for later.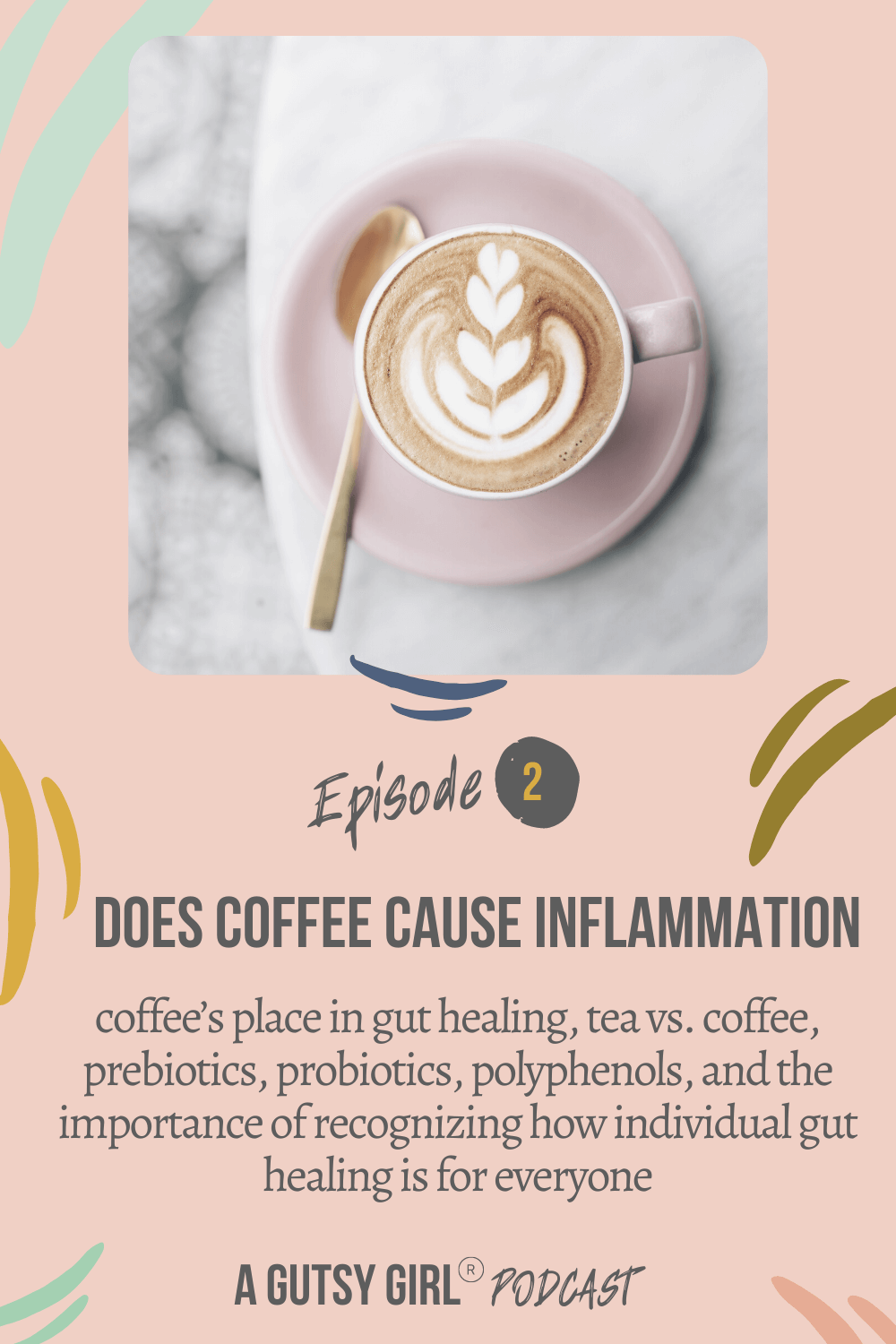 This is the grand question that everyone wants to know.
Below, you will find the show notes.
But for right now, I want to share some additional researched information.
Here are some common questions surrounding coffee/caffeine and the gut.
Why does coffee make my stomach hurt?
The most likely reasons coffee is hurting your stomach include:
Sensitive to the acid

The pH scale goes from 0 – 14 (0 = highly acidic; 14 = highly alkaline). A 7 is neutral. Coffee is somewhere between a 4-5 typically. So yes, it is more acidic than other things, but even a lemon is a 2, so coffee is definitely not the most acidic food/beverage we consume. Even still, for a condition like Acid Reflux or GERD (if you're there), the 4-5 might be far too much for you. And that could cause your stomach to hurt.

Caffeine

The caffeine molecule can irritate the stomach and act as a laxative. (Yes, this is also where we get the phrase, "coffee poops." Kelsey and I discuss this in the podcast.)

Combination of acid and caffeine mixed with empty stomach

If you're sensitive to either/both acidic foods or caffeine, and you're consuming coffee on an empty stomach, it could be a recipe for disaster. Many times, we do consume coffee on an empty stomach as it's the first thing most reach for in the morning.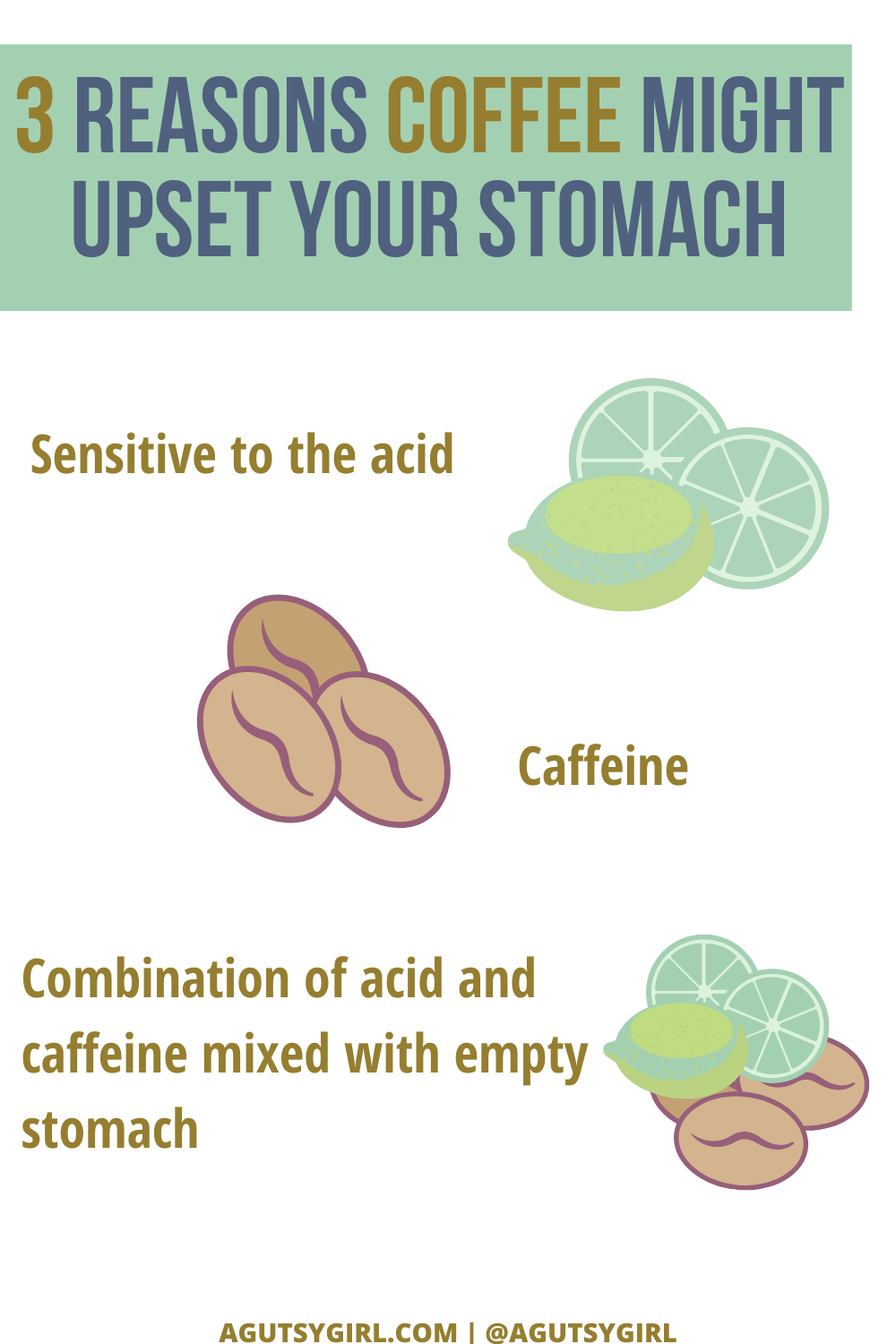 What is the correlation between coffee and leaky gut?
To be perfectly honest, there is not a ton of research out there which suggests a strong correlation between the negative effects of coffee for those with leaky gut.
The strongest connections include [you'll find them HERE]:
Coffee is kind of like wheat
Our bodies might think coffee is like gluten
Heartburn
Autoimmune conditions or those who are burned out ("adrenal fatigue")
But even those four reasons are fairly weak without a ton of backup.
My personal opinion is that the coffee and leaky gut correlation is not nearly as strong as coffee and heartburn and/or coffee with AI and/or "adrenal fatigue."
In fact, I think the real question with regards to coffee and gut health or general inflammation is: Are we talking about coffee as the beverage or coffee as a habit?
Are we talking about coffee as the beverage or coffee as a habit?
This question and the distinction is very important.
In fact, by keeping my gut healing journal this past month, I have been able to answer the question.

I don't mean to leave you hanging on it, but I'll share the results and my personal findings soon.
For today….
What is the healthiest coffee? Or how to make coffee healthier?
Let's keep in mind one of my golden thoughts; "healthy" is merely a subjective term.
Even still, here are some ways I believe coffee can be healthier:
Don't drink it black
Avoid drinking it on an empty stomach
Buy organic coffee
Put limitations on the amount per day / per sitting you consume
Strategically choose what you add to it (since you're not drinking it black) – need ideas? HERE are several.
Try the Gut Power Prebiotic and Probiotic Coffee (remember, AGUTSYGIRL is my code for 15% off at checkout)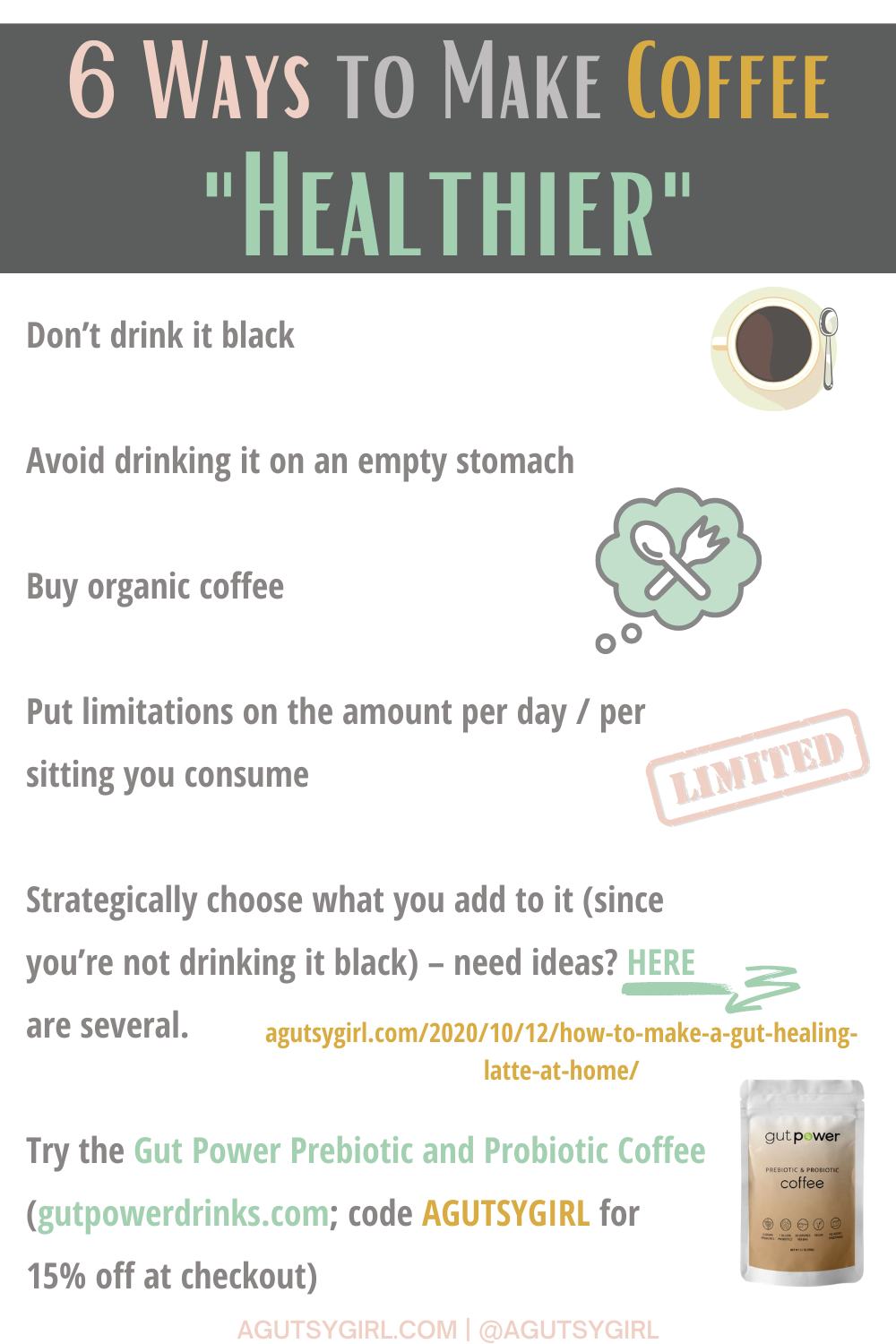 Green Tea vs. Coffee
I chose to put Green Tea vs. Coffee in its own section.
Some ask the question, "What is the healthiest coffee?" Instead of answering with a coffee answer they get a coffee alternative.
Tea, green tea, kombucha, etc. They are all great. And they all have their place. However, I am adamant that green tea is not now nor will it ever be coffee.
That's like saying cauliflower rice is rice. No. It's not.
Now that we are clear, let's just discuss green tea vs. coffee.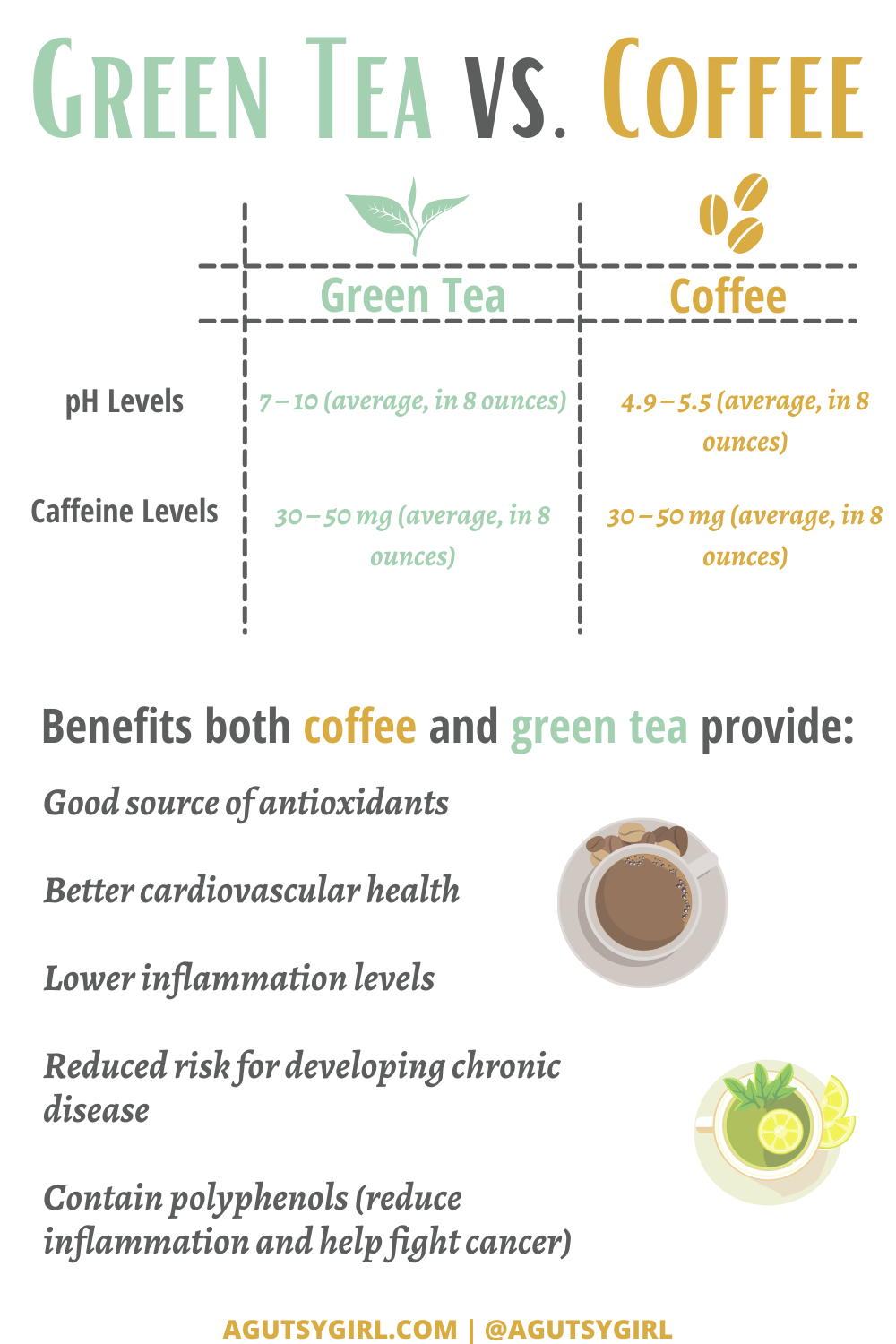 If the two main things we are concerned with when it comes to coffee hurting the stomach are pH and caffeine levels, then let's address them.
Green Tea vs. Coffee pH Levels
Green tea = 7 – 10 (average, in 8 ounces)
Coffee = 4.9 – 5.5 (average, in 8 ounces)
Green Tea vs. Coffee Caffeine Levels
Green tea = 30 – 50 mg (average, in 8 ounces)
Coffee, plain and brewed = 102 – 200 mg (average, in 8 ounces)
Therefore, if you have Reflux and/or "adrenal fatigue," then you might be able to infer from those numbers what's best for you.
However, if those two conditions are not a major concern, then here are 5 benefits both coffee and green tea provide:
Good source of antioxidants
Better cardiovascular health
Lower inflammation levels
Reduced risk for developing chronic disease
Contain polyphenols (reduce inflammation and help fight cancer)
Episode 2: Does Coffee Cause Inflammation Show Notes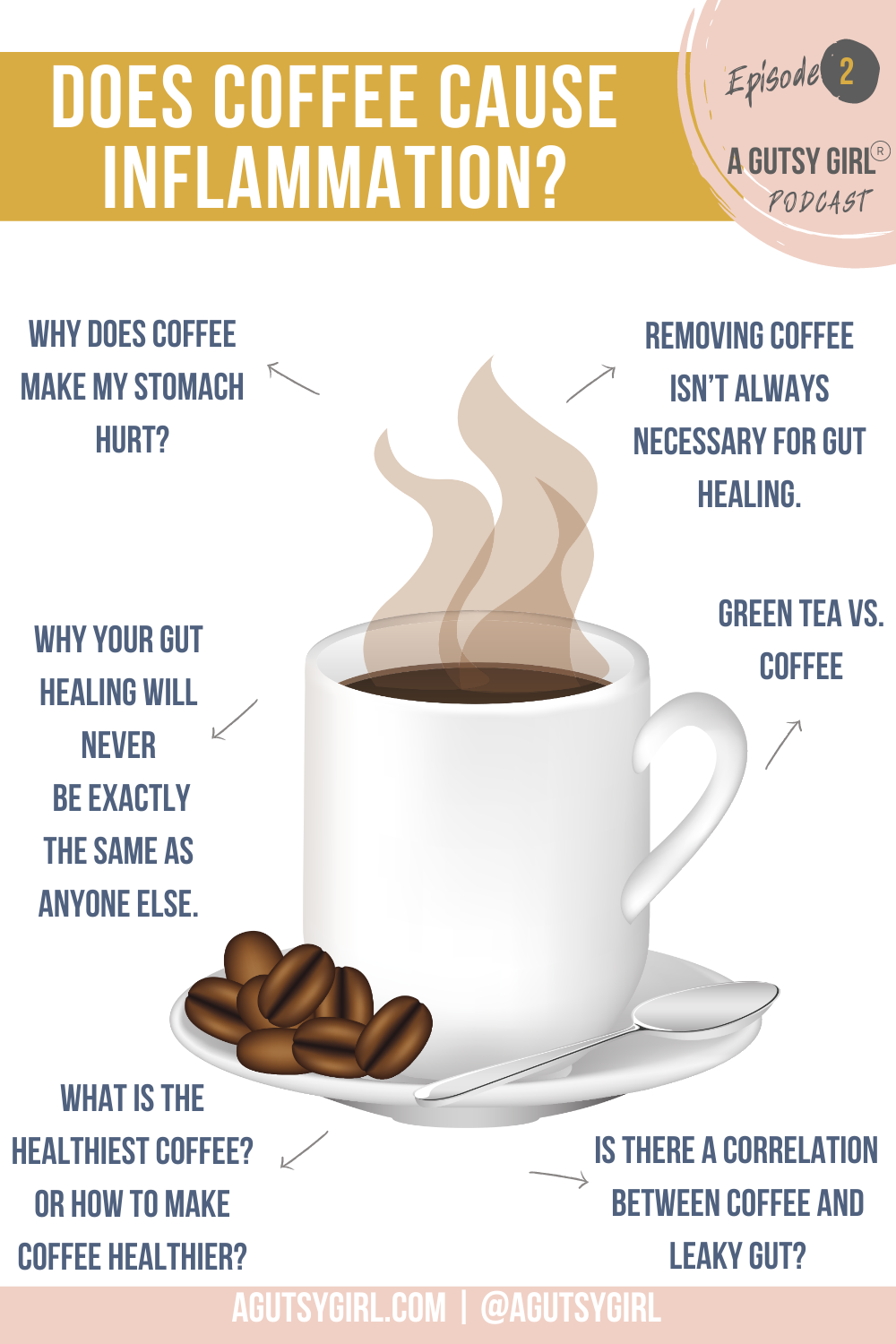 Today I will be joined by Kelsey Kinney, a privately practicing registered dietician and founder of Gut Power Drinks.
Kelsey has created her own line of probiotic and prebiotic drinks and will be sharing all of her knowledge about coffee's place in gut healing, tea vs. coffee, prebiotics, probiotics, polyphenols, and the importance of recognizing how individual gut healing is for everyone.
Resources Mentioned
More from A Gutsy Girl
Don't Miss These Thoughts
Removing coffee isn't always necessary for gut healing.
Is there a correlation between coffee and leaky gut?
Can you tolerate prebiotics on a low FODMAP diet?
Why your gut healing journey will never be exactly the same as anyone else.
Also, Kelsey shares how to make a "Gut Friendly Mocha."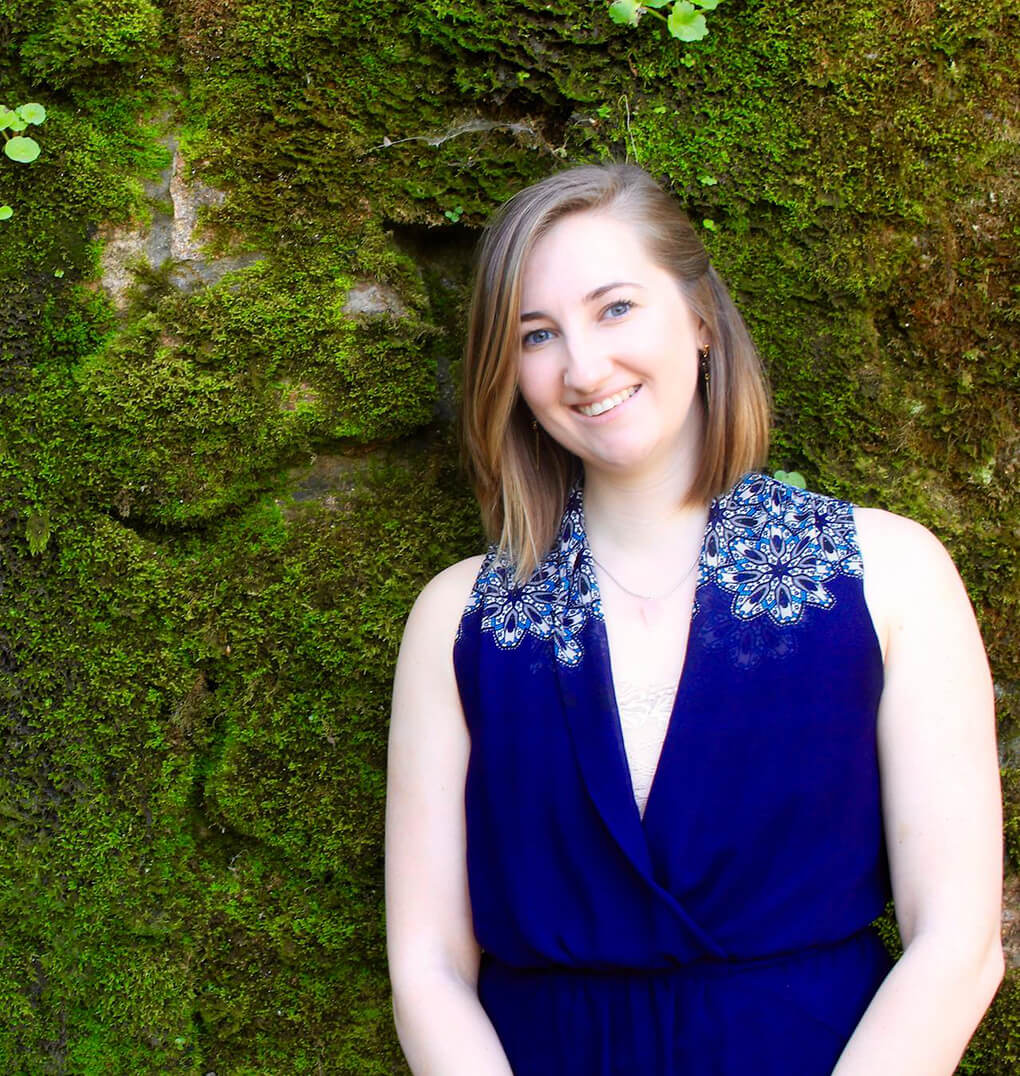 Wrap Up
Time to wrap this up. A huge goal for this show is to connect with even more people. Feel free to send an email to our team at podcast@agutsygirl.com.
We want to hear questions, comments, show ideas, etc.
Did you enjoy this episode? Please drop a comment below or leave a review on Apple Podcasts.

Xox,
SKH
You will heal. I will help.