Almost anything can be made better for the gut. And today I want to teach you how to make a gut healing latte at home.
Cafe Manager
In case you weren't aware, one of my claims to fame (insert sarcasm) is that way back in the day I was the Cafe Manager at an upscale health and fitness club in California.
Honestly, so much of what I have today I owe to that time period of my life. It was a stressful period, moving from Minnesota to California with Ryan, not even engaged yet. I was fully in on him and being together forever, but I hated my job and yet, moved with it from Minnesota to California.
Long story short, I hated that job so much that one day I just quit. Yeah, no backup job in mind, and no plan. But I could breathe again and Ryan was the best support so it worked for us (also, we did not have kids then).
Anyways, this is a huge story in and of itself, but why it matters for this post is because of what I ended up doing next.
I saw a "Front Desk" position open at the club. It didn't even pay $8 an hour, but I loved the woman who interviewed me (we are still good friends to this day!), and was so excited about the position.
I took the job with the plan of becoming a personal trainer there (began studying for an NASM Certificate), but ultimately worked my way up and around various positions within the club.
And yes, right after Front Desk was a Cafe Manager position. Boom!
Making Lattes
The entire club, including the cafe, got a major facelift right before I became the Cafe Manager. And within the cafe's facelift was the addition of Starbucks. Actually thought I had died and went to heaven when it was apparent that I'd be able to feed my caffeine addiction – for free – from Starbucks daily.
As good as it gets, darling, yes?!
Anyways, we had Starbucks employees come to train us on the espresso machine, how to appropriately make the regular coffee, and all about various coffee drinks.
Honestly it was fascinating to me!
So here we are, I learned the right way to make a latte.
And this is what I learned.
How to Make a Traditional Latte
Let's pretend we are making a Vanilla Latte.
Step One
Get your cup ready, then prepare 1 shot of espresso. This part was easy because with the espresso machine, it was automatic.
Step Two
Place a pump (or more, depending on preference for flavor strength) of vanilla into the cup. Stir or swirl together the espresso and vanilla.
Step Three
Take your (cold, important) milk out from the fridge and pour it into the stainless steel cup for frothing. Using the espresso machine, start from almost the bottom of the cup and froth the milk. Slowly slide the espresso "wand" up, along with the milk as it rises. The wand should stay close to the side of the cup.
Since this is a latte, it's mostly milk and (maybe) a little froth. No need for frothy bubbles until the very top.
Step Four
Using a spoon, pour the frothed milk into your cup about 3/4 way up. If you want to add a little foam to the top, you can.
However, remember that a latte's focus is frothed milk, not foam. Only a thin layer of foam should plop on top, if any at all. (The opposite of this is a Cappuccino.)
Step Five
Enjoy the beverage.
Okay, so now you know how I made a traditional one at the Club.
But let's create one together, for you to enjoy at home, with the bonus of some gut healthy ingredients.
How to Make a Gut Healing Latte at Home
Click HERE to save this post for later.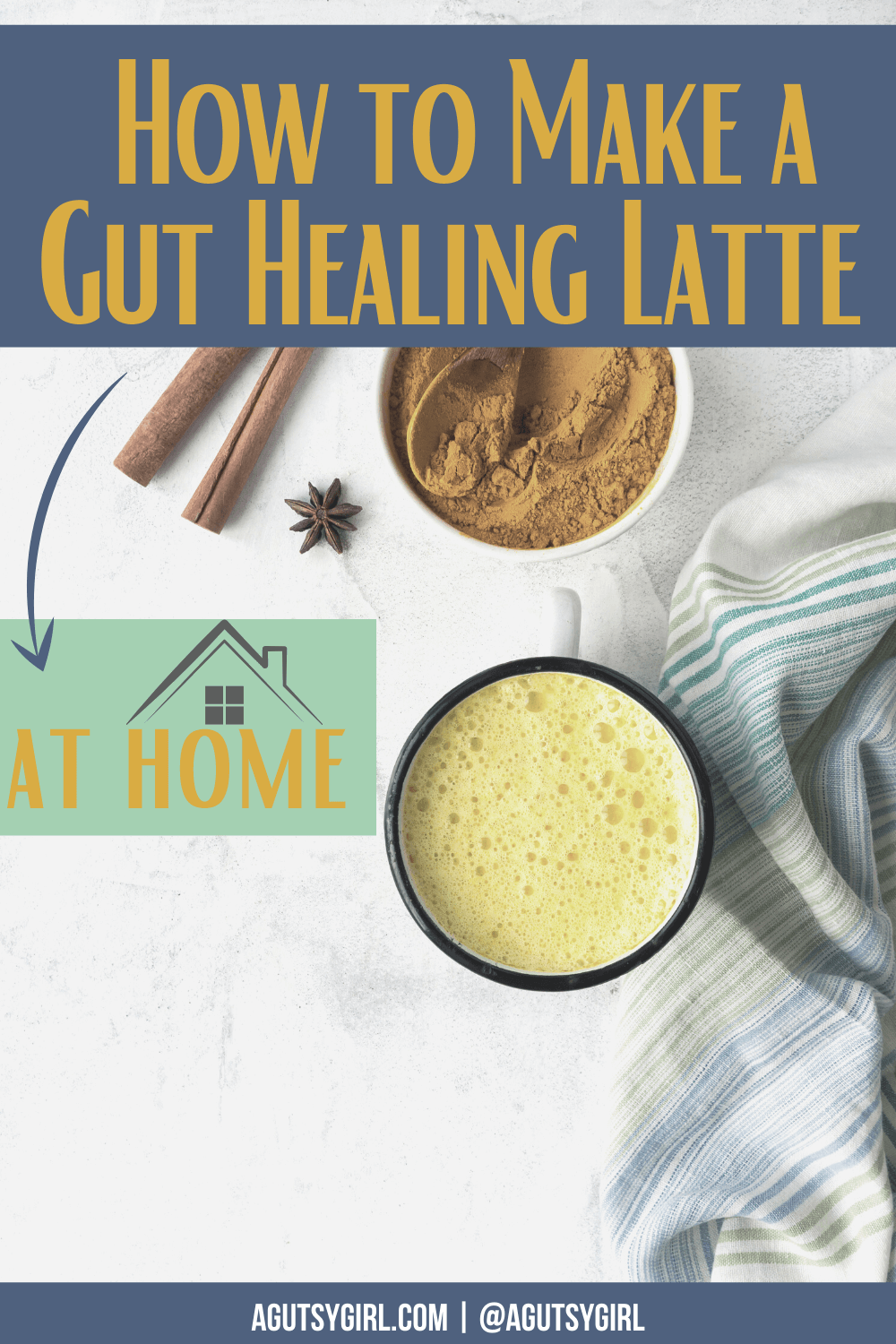 Do I actually think you can make your own Starbucks gut healing latte at home? Yes and no.
Yes, if you have an espresso machine. Otherwise, no, but you can get dang close.
So the way I'm going to break this down is by putting all the pieces together and then you choose which parts and pieces will work for you.
Obviously the most important part of this are those gut healing boosts anyways.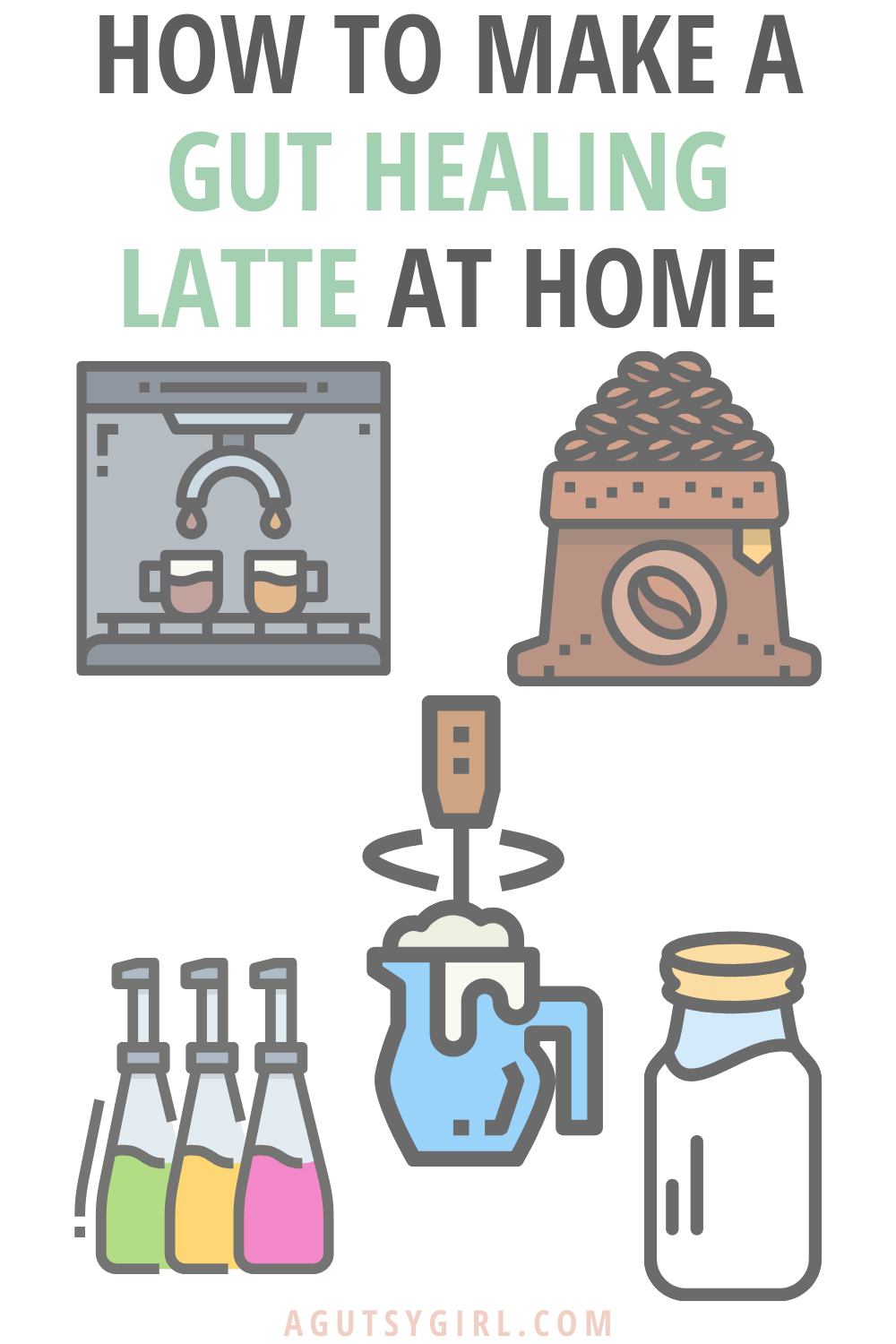 Espresso Machine / Making
Click HERE to save these espresso making ideas for later. I made sure there was something for every budget.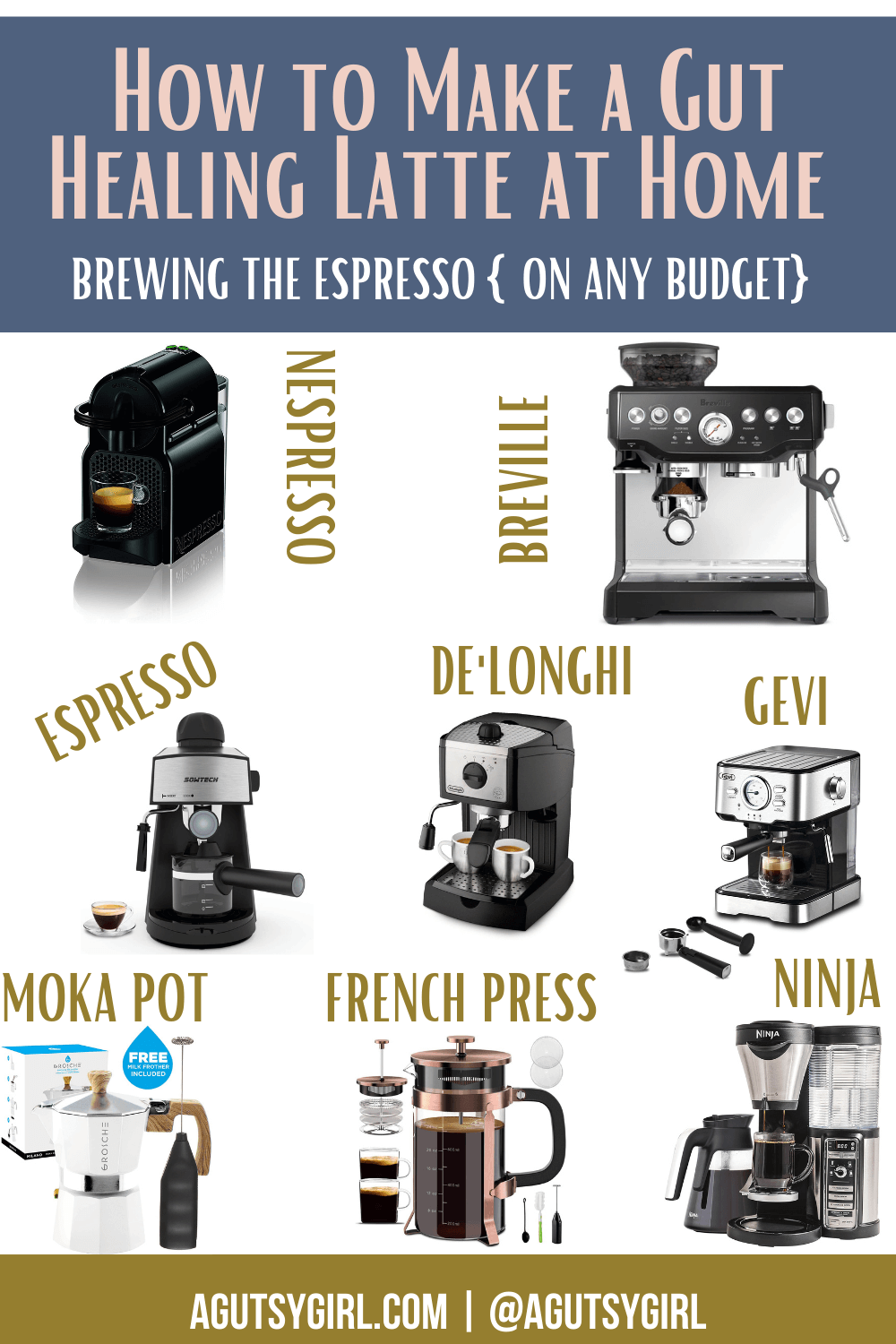 These are the top 5 found on Amazon, with various price ranges.
If you aren't looking for and/or don't want to invest in an espresso machine, you can still make a strong coffee that's similar to espresso. Consider using:
Ninja Coffee Maker with milk frother (we have this)
In fact, I have all three.
And yes, they do make a strong concoction.
Coffee / Espresso Beans
You might not believe it, but when making a gut healing latte, the coffee you choose is important. This is because I wouldn't exactly say that coffee and espresso is "healing." However, because it's one of the most heavily-sprayed crops, if you don't get the highest quality possible, it might be keeping your healing process from advancing.
I know. This is not what you want to hear. But it's true. No, I don't believe it will heal or not heal you, but it (like everything else) is a contributing factor.
With that, here are four high-quality organic bean brands I like:
By the way, if you choose decaf, it's especially important that organic is chosen because decaf is processed even more than regular.
Froth the Milk
If you have a heavy-duty espresso machine from above, you're set.
If not, here are other options for frothing that milk.
NestPark portable drink mixer. This is the cheapest way to froth milk. I have one and I love it.
Feverishly whisk milk in a bowl by hand. (Hey, you do what ya gotta do, right?!)
Use an electric mixer.
Traditional blenders also work. The best would be something small like a Magic Bullet of sorts.
Syrup
By the way, don't misunderstand this post to say that a vanilla latte is healing for the gut.
It's not.
There are just better ways to make that Starbucks latte at home so that you can also add in gut healing boosts (the differentiating latte factor here).
With that, you must know that syrups are not really any kind of health or healing. But, like you, I love them. If you don't love them, then absolutely keep this out.
You don't need it.
If you want to include syrup in your latte, check out Monin's Organic Syrups or Joe's Organic Syrups.
Milk
Because the milk makes up a majority of the latte, you want to choose optimally on this.
While I realize that everyone is using Oatly's Oatmilk, I'm going to talk you out of it quickly. Here are the ingredients in the plain Oatmilk:
Oatmilk (water, oats). Contains 2% or less of: rapeseed oil, dipotassium phosphate, calcium carbonate, calcium phosphate, sea salt, vitamin B12, riboflavin (B2), vitamin D2, vitamin A
I'm not sure about you, but I do not want rapeseed oil in my milk.
Here are milks I would choose and recommend for this DIY at-home latte, depending on which type of milk you have access to and/or prefer:
raw, organic milk from Organic Pastures (dairy) (Make note that this one is not going to be very accessible for many of you. I had access to it when we lived in California. And if you can get your hands on it, quite honestly, this milk is what would make the most incredible latte!)
organic milk (2% or whole) from Organic Valley, Clover Sonoma, and Stonyfield (dairy)
Elmhurst 1925 – I have an entire write up of their plant-based milks HERE (everything but coconut milk)
In fact, here is a little video I shot at the beginning of 2020 with Elmhurst. I actually love them.

Gut Healing Boosts for Your Latte
Click HERE to save these boosts for later.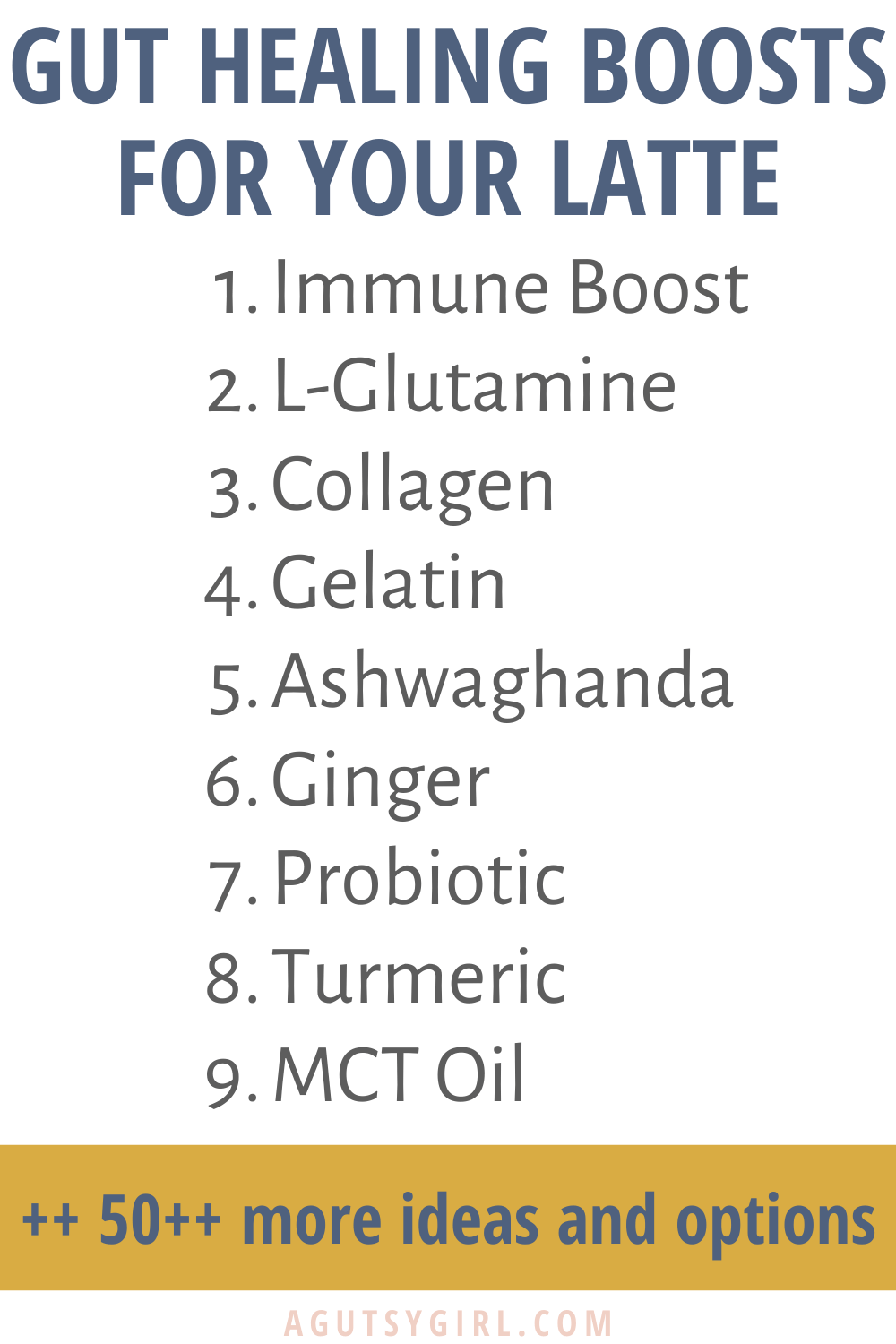 And now for the piece you've been patiently waiting for – those gut healing boosts to add to your daily latte addiction.
There are many gut healing boosts you could choose to add to your latte.
Some could be added together, but never would I do them all in one latte. Gross, anyways! Also, whenever you're adding powerful boosts like these, be sure they are right for you.
And wait, there's even more!
I recently stumbled upon this new product, MUD/WTR. Full disclosure: I've never tried it so I can't tell you for sure, but I love, love, love the concept and ingredients. While it's a caffeinated product, the ingredients used are lovely and could potentially be used to simply boost your latte. Here they are:
mushroom blend (chaga, reishi, lion's mane, cordyceps mycelial biomass cultured on organic oats)
cacao
Spice Blend (organic cinnamon, organic turmeric, organic ginger, organic cardamom, organic black pepper, organic nutmeg, organic cloves)
black tea powder
Himalayan pink salt
If you'd like to look at other lists I've created in the past for gut-healing latte boosts ideas and inspiration, check out:
Whew!
That was A LOT of goods for one post.
I hope you love and enjoy it as much as I love and enjoy putting it together (and drinking lattes)!
Questions? Leave them in the comments below.
If you liked this post, you might also enjoy:


Xox,
SKH
You will heal. I will help.