Ready for these 15 supplements for stomach lining support?
So, what is the stomach lining anyways? Maybe we should get this clear before talking about supporting it.
What is the Stomach Lining?
There are three phases of digestion. They include:
The Cephalic phase (oral)
Gastric phase
Intestinal phase
It is in this third phase, the Intestinal phase, where our attention is focused today.
And "technically" the stomach is only part of the upper GI tract.
The digestive system is made up of the gastrointestinal (GI) tract—also called the digestive tract—and the liver, pancreas, and gallbladder. Thus, when I say 15 supplements for stomach lining support, I actually mean, "15 supplements for the GI tract."
But who needs that much detail anyways?!
What you're looking for is for me to help you navigate things like:
"I have a leaky gut. What will help strengthen my gut?"
"What supplements can help build my intestinal lining?"
"Are there supplements that will help me tolerate food better?"
And so on.
So let's dive right on into them.
15 Supplements for Stomach Lining Support
Click HERE to save this post for later.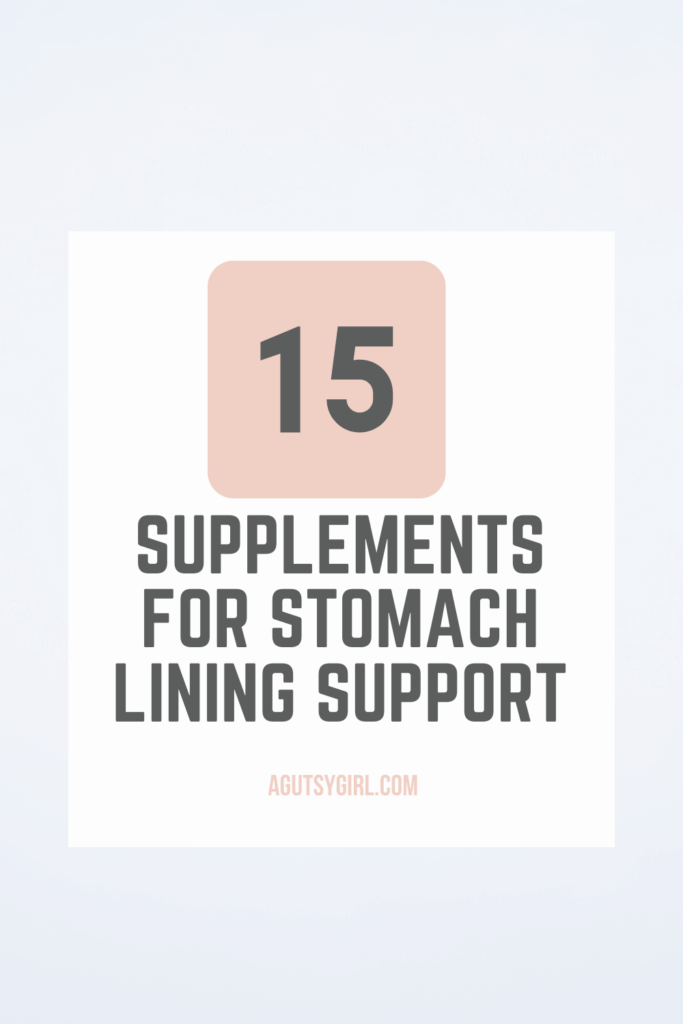 L-Glutamine
From my A Gutsy Girl's Bible, Glutamine is an essential amino acid that is anti-inflammatory and necessary for the growth and repair of your intestinal lining.
L-glutamine acts a protector and coats your cell walls, acting as a repellent to irritants. Check out 5 more L-Glutamine Benefits HERE.
Zinc
Zinc deficiency can arise from several sources, and a major physiological effect of zinc deficiency will be to induce leakiness in tight junctional seals and consequently epithelial cell layers.
You can learn more about why zinc is important for gut health HERE.
Probiotic
Probiotics can help leaky gut by assisting in the maintenance of normal mucosa (gut wall lining) function and also protecting the lining from injurious factors such as toxins, infections, and allergens.
Learn about the best probiotic for leaky gut HERE.
Collagen
Collagen provides the amino acids needed to repair and rebuild the intestinal wall and prevent a leaky gut.
You can even incorporate collagen into a Gut Healthy Whipped Coffee Recipe. 
Curcumin
According to the NIH,
While there appears to be countless therapeutic benefits to curcumin supplementation, most of these benefits are due to its antioxidant and anti-inflammatory effects.
The goal of all these supplements is really to reduce inflammation, which helps the stomach lining flourish.
Click HERE for more immune boosting gut health support options.
Digestive Enzymes
Digestive enzymes help your body break down food so that partially digested foods particles and proteins have less chance for damaging the gut wall.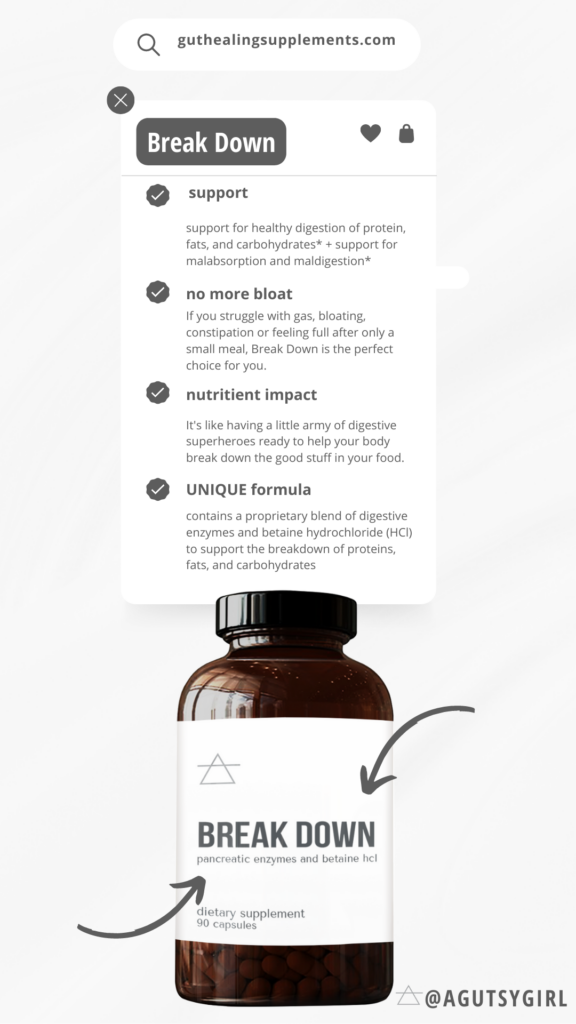 Breaking your food down is critical for gut healing and for repairing the stomach lining. Break Down is a proven, pharmaceutical-grade, digestive enzyme to help.
Use code AGUTSYGIRL at checkout to save 15% off your entire purchase at guthealingsupplements.com
You can learn all about them HERE.
Berberine
Berberine, typically used in conjunction with Allimax and Neem, helps support a healthy balance of microbes in the GI and respiratory tracts, and consists of a compound found in Oregon grape, barberry, goldenseal, and other herbs.
It has been found that Berberine protects intestinal mucosal integrity.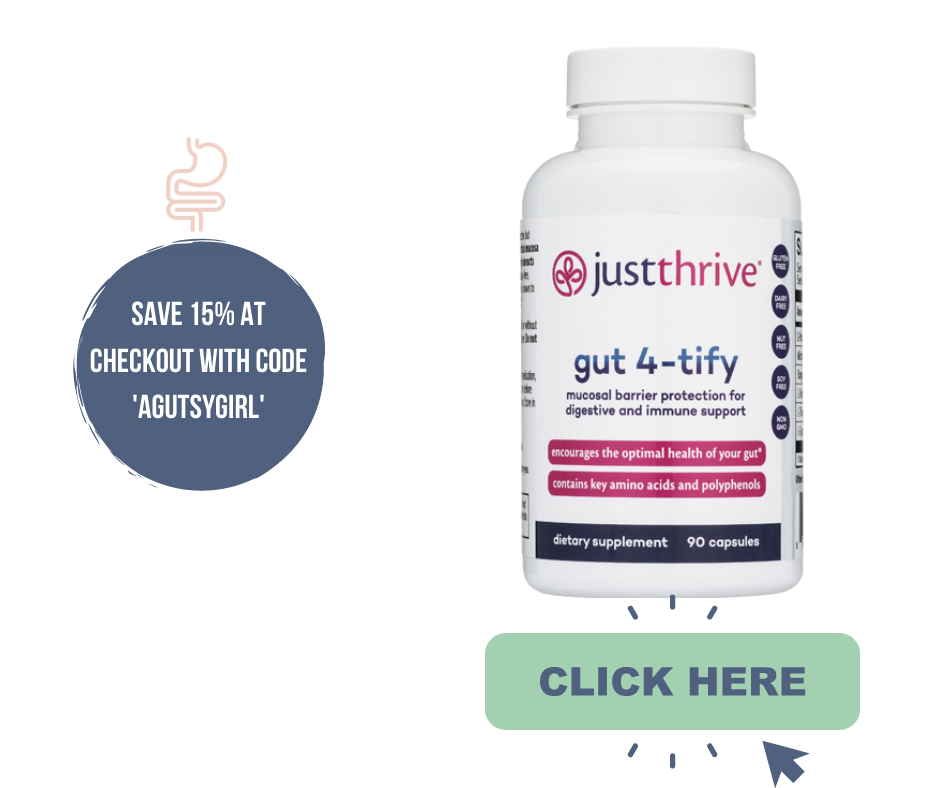 Gut 4-tify is the first supplement of its kind formulated to build a healthy mucosal barrier that provides crucial digestive and immune support.
Slippery Elm
Slippery elm is a mucilaginous herb that is used to add moisture or soothe irritated tissue. It has been used to address digestive disturbances where it acts as a gentle supportive agent to the intestines and promotes healthy mucosal tissue.
Slippery Elm is a digestive bitter. If you're wanting the Gut Health Guide to Digestive Bitters, click HERE.
Metagenics Glutagenics Supplement
The supplement features 3 key ingredients—glutamine, deglycyrrhizinated licorice (DGL), and aloe vera gel. Its purpose is to support the intestinal lining for healthy digestion, healthy immune function, and overall health.
I us THIS one.
Marshmallow Root
Dr. Josh Axe states, "Marshmallow helps restore integrity of the gut lining by forming a protective layer around small junctions. In addition, it seems to be beneficial for people suffering from other forms of inflammatory bowel diseases, including ulcerative colitis and Crohn's disease." 
N-acetylcysteine (NAC)
The effects of NAC are associated with some intestinal cell signaling pathways, such as EGFR, TLR4, apoptosis and tight junction signaling.
You can read more about it HERE.
Quercetin
Quercetin acts as an antioxidant that fights inflammation, which is the main cause for most diseases related to human health.
It can even come in powdered form so it + THESE other items are my top 13 gut healing boosts for smoothies.
Dr. Amy Myers states,
Deglycyrrhizinated Licorice (DGL) helps your body repair your gut lining by replenishing the mucus that creates a healthy intestinal barrier.
The nutrients in this formula promote the healing of damaged cells in the gut, restoring compromised intestinal permeability.
The supplement contains many of the individual items on this list, all bottled together. 
Gastro Comfort™ features the clinically tested ingredient PepZin GI™, which is a proprietary form of zinc complexed with carnosine that has been shown to support the integrity of the stomach lining by promoting its own natural healing processes.*
It also includes mastic gum, a resin from the mastic tree, which has traditionally been used to maintain gastric health.* In addition, this product has slippery elm and aloe vera to support a healthy digestive system.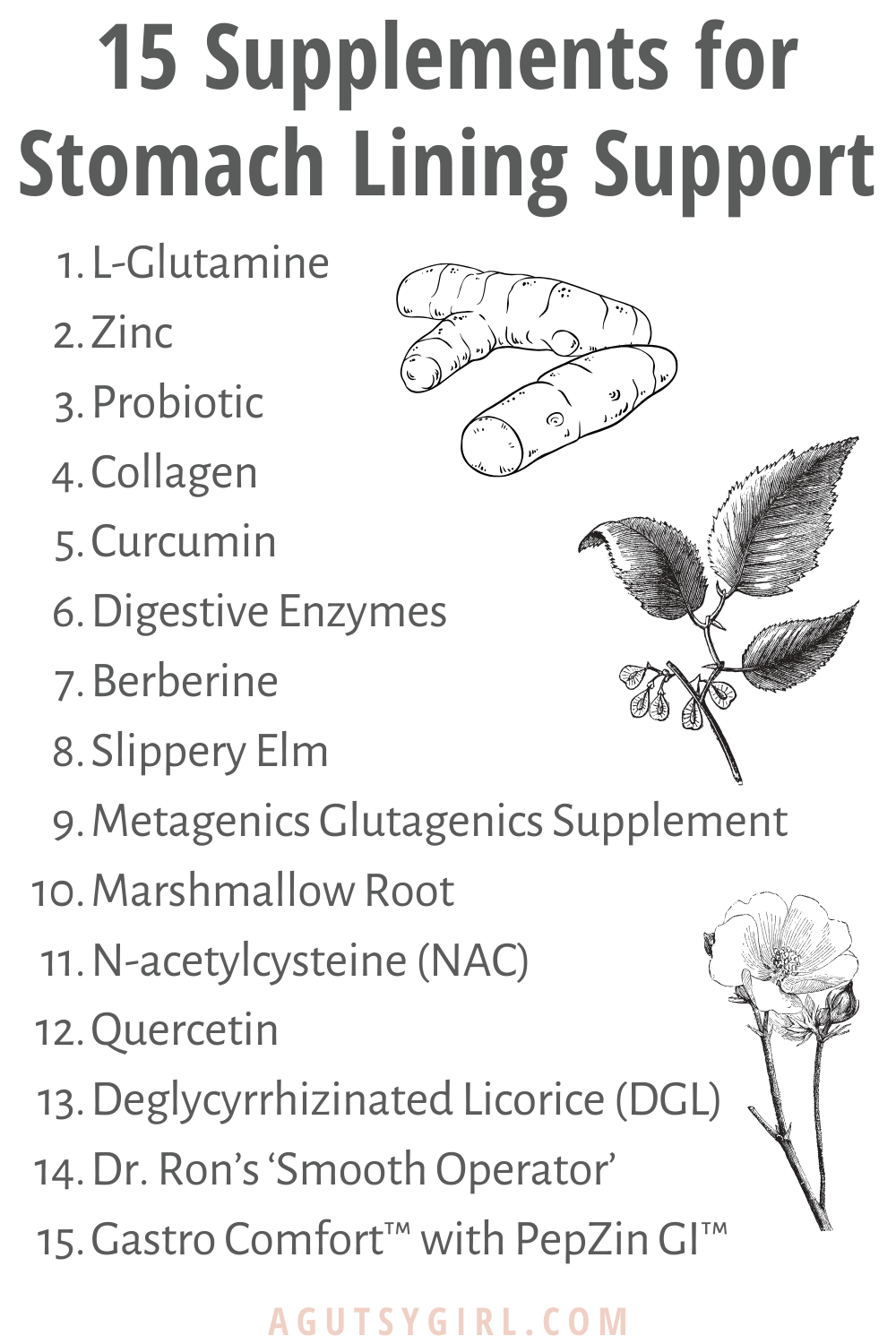 How to Take these Supplements
First, no you should not take all of these at the same time.
Next, some of them might not even be good for your body right now or ever.
And finally, whatever you do choose to take, be sure to read the product label for suggested amount.
Better yet, write the supplement down in your gut healing journal and at your next medical appointment, get the exact amount for you.
If you liked this post, you might also enjoy:
As always, this post contains some affiliate links. My full disclaimer and disclosure can be found HERE. Thank you for your continued support so I can provide the best gut health and healing information.
Xox,
SKH
You will heal. I will help.