Because I really love my java, I thought it would be a great idea to jump on this new trend and share with you how to make a gut healthy Whipped Coffee.
I've already made it clear that I do not and will not drink my coffee black. And I've shared with you exactly how I drink my coffee. 
Today I was actually going to give you a huge gut healthy latte bar of sorts. But given the current landscape, you'll enjoy Whipped Coffee more.
Also, gut healthy Whipped Coffee is not all that far off from how I drink my coffee on a daily basis. 
The difference is the method, process, and finished product.
What is Whipped Coffee?
Whipped Coffee is a popular drink in South Korea.
Dalgona Coffee Origin
There, it's known as "Dalgona coffee," and was given its nickname because of how much it tastes like the retro toffee-like candy dalgona.
The LA Times reports,
Made with equal parts instant coffee, sugar and water that's whipped to sit atop a glass of milk like a big, foamy hat, dalgona iced coffee is the latest trendy drink that might rival latte art for being photogenic Instagram-bait.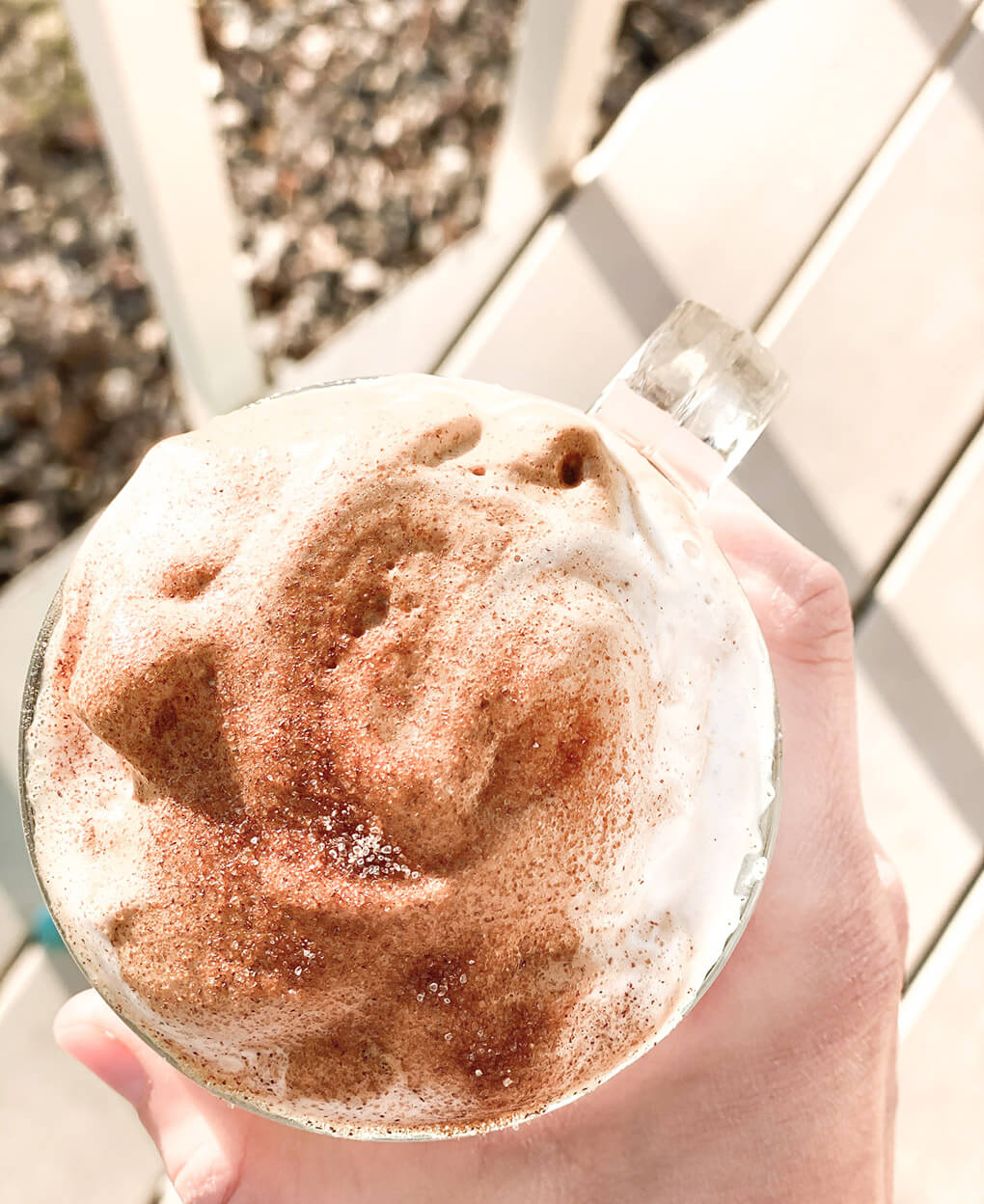 As the latest at-home viral sensation, people are making Whipped Coffee by using:
instant coffee, 2 tablespoons
sugar, 2 tablespoons
hot water, 2 tablespoons
They are then grabbing their hand-held mixers, mixing to a whipped state and pouring over milk and ice.
Because I read that you can mix it by hand with a whisk, I thought, 
Let's see if I can use the most basic tool (a whisk) and incorporate gut-healthy ingredients to make this our own.
And I did it!
How to Make a Gut Healthy Whipped Coffee
Click HERE to save this post for later.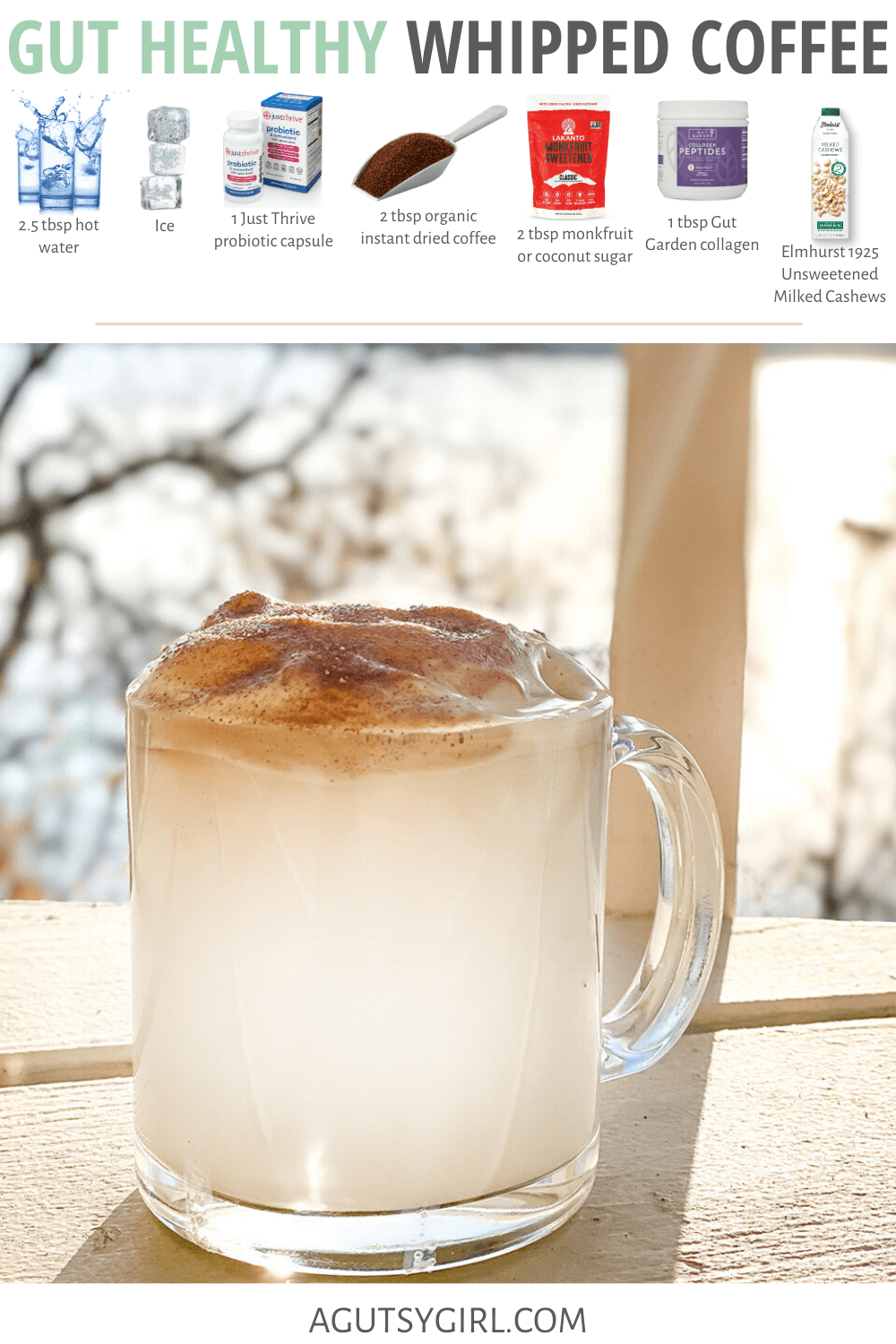 Making a Gut Healthy Whipped Coffee was easy, peasy, squeezy. You're just going to add in a couple extra things with a hint more water and boom!
If you want a gut "healthy" coffee of any kind, then the coffee and sugar you use does matter. 
Coffee is among the most heavily chemically treated foods in the world. It is steeped in synthetic fertilizers, pesticides, herbicides, fungicides, and insecticides. Using an organic, instant coffee is important. 
Sugar creates low-grade, chronic inflammation throughout the body, and while our coffee will still use sugar, an alternative one ("friendlier" for the gut) is used. The bottom line is that sugar is part of the Whipped Coffee creation. With my gut healthy version, I'm presenting two alternative options to plain, white cane sugar.
Gut Healthy Whipped Coffee Ingredients
Click HERE to save these for later.
Organic Instant Dried Coffee; Ground Coffee

You'll need 2 tablespoons of this ingredient. A couple brands I recommend are Mount Hagen Organic Fair Trade Freeze Dried Instant Coffee HERE, or Simple Truth Organic Instant Coffee HERE. By the way, if you are sensitive to caffeine, you can use instant decaf instead.

Sugar

Since you need equal parts sugar, you'll also need 2 tablespoons of this. I believe the two best options for making it "gut healthy" are monkfruit and/or coconut sugar. Monkfruit is a non-nutritive sweetener which has been shown to have anti-inflammatory properties, anti-aging properties, provide allergy relief, help control diabetes, and boost immunity. Alternatively, you could use Stevia (I just don't like the Stevia aftertaste).

More information about Monkfruit vs. Stevia can be found Here. I love and use Lakanto's Golden Monkfruit for this recipe. Coconut sugar is another option if you'd rather stick to "real" sugar. 

Hot Water

This is basic. But it must be hot so that the sugar crystals and coffee granules can dissolve instantly. You'll need equal parts of water to the sugar and coffee plus a little more because of the two extra gut-healthy ingredients added.

For your gut healthy Whipped Coffee, use 2 1/2 tablespoons hot water.

Collagen

This is the true "gut healthy" boost number one. I love Collagen (and Gelatin), and I added it in to this recipe as it helps restore and strengthen the intestinal lining with the amino acids and nutrients contained with it.

I use Gut Garden Collagen; more about the product can be found HERE.

Probiotic

The second true "gut healthy" boost is the probiotic addition. Of course choosing the right (aka high-quality + contains the strains and species you need) probiotic is critical here. Adding in a daily probiotic allows good (and different) bacterial strains to populate. A diverse bacterial population makes for a stronger, more efficient microbiome.

I use the Just Thrive Probiotic because that's the only probiotic we use in our house. Also, you can open the capsule up, pour its contents into your bowl while remaining certain the probiotic will not activate until it hits your stomach. You need this if you want the probiotic addition to matter. (Remember, use code AGUTSYGIRL at checkout to save 15% on the probiotic.)

Milk

While the star ingredients in this recipe are obviously the coffee elements, the main ingredient is the milk. Why main? Because you use the largest quantity of milk, then place a dollop (or six!) of the Whipped Coffee over the milk. So choosing the right milk is critical.

For this recipe, I believe one of the best gut health milks is the Elmhurst 1925 Unsweetened Cashew Milk. Why? Because it's plant-based (conventional dairy is the harshest on the gut; even organic is still hard for many to digest) and includes just two ingredients: filtered water and cashews. Seriously. That's it. Ladies, it does not get any better and cleaner than that.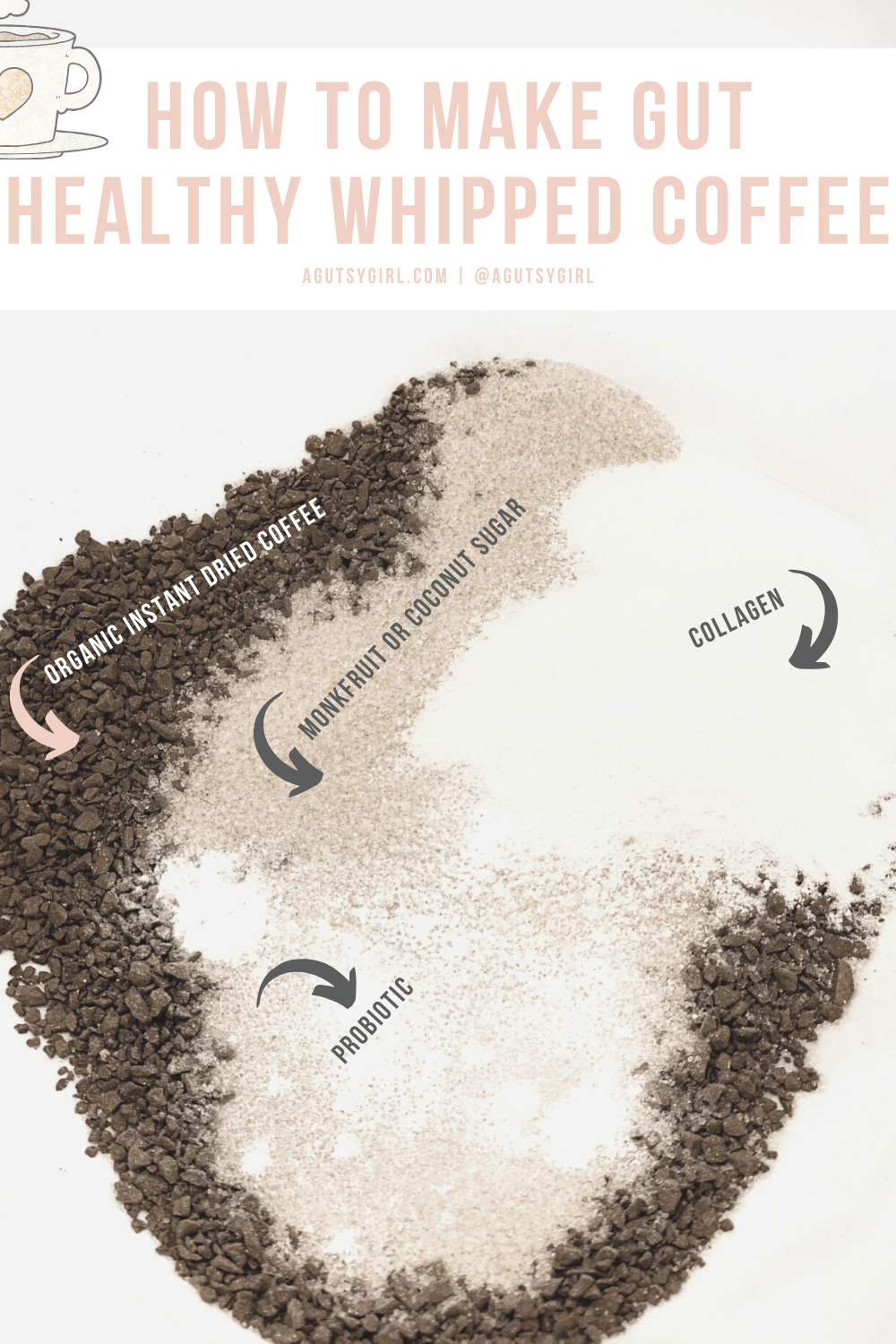 Instructions for Gut Healthy Whipped Coffee
Here is exactly what I did. 
Hand Whisk
Now, to be clear from the start. I did not use a hand-held mixer. I did this 100% by hand because this is the most basic, simplistic way. Also, when one is at home 24/7, it makes for a good arm workout 🙂 Kidding. Kind of.
You can absolutely use the electric mixer. But I'm proving you don't need to.
This is what the mixture looks like from beginning to end. You notice that I whipped it, by hand, for 12 minutes. 
Honestly, it's not that bad.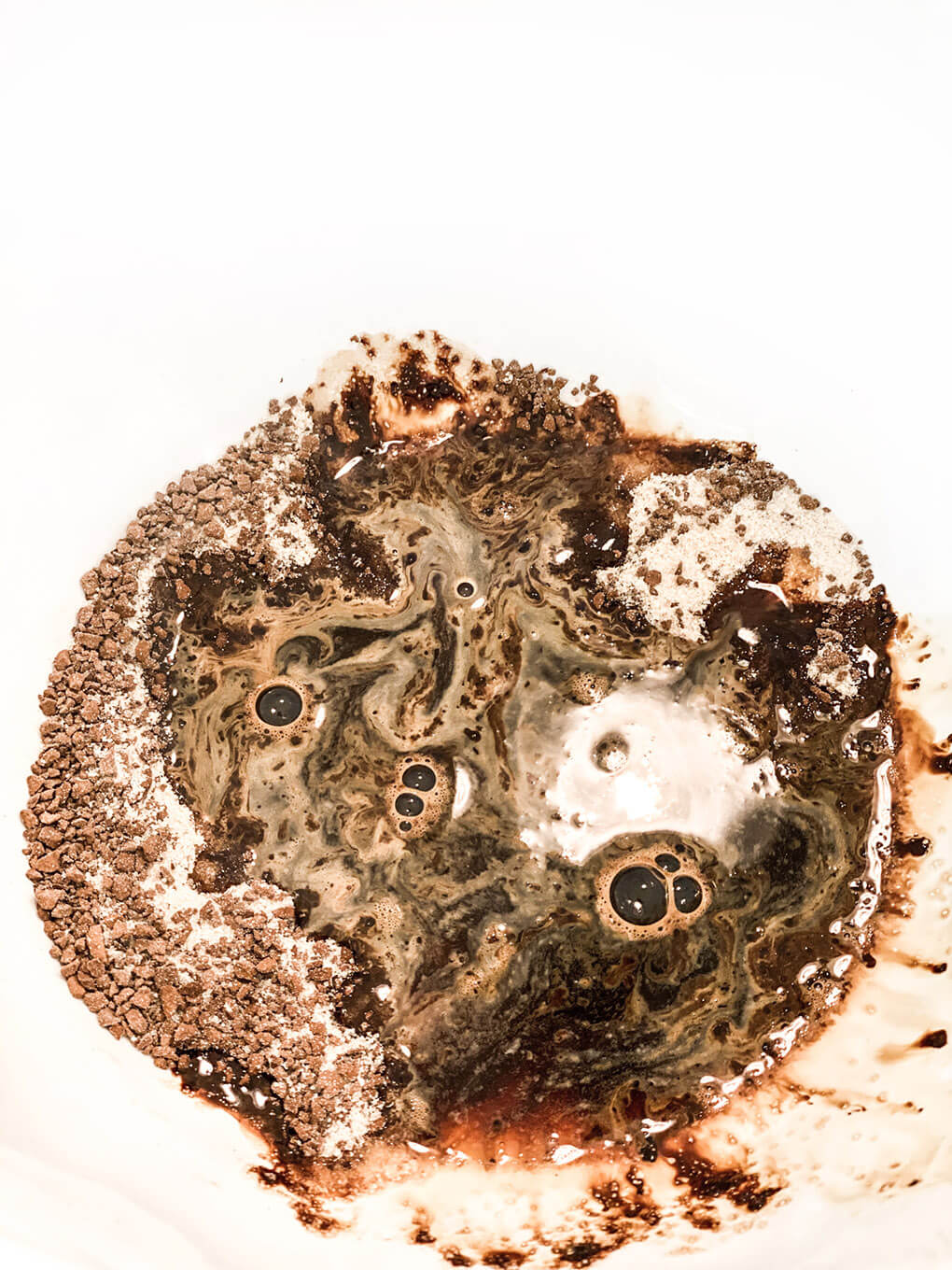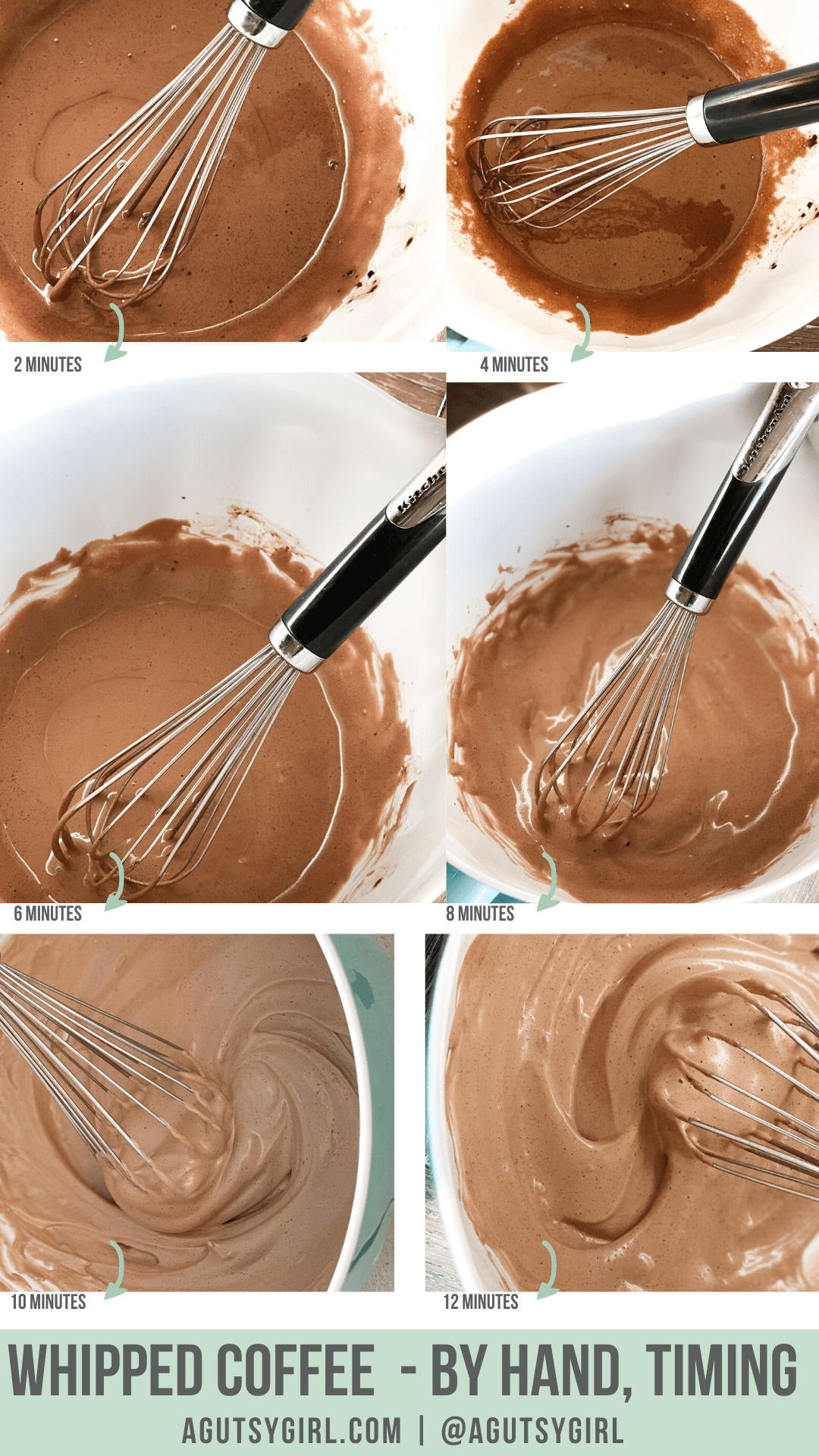 Once the whipping is done, you're basically set. Here are the full ingredients and instructions.
Full Instructions
This recipe is gluten-free, dairy-free, soy-free, and Keto-friendly (if you use the monkfruit).
Fancy Coffee
Gut Healthy Whipped Coffee
Prep time:
Cook time:
Total time:
Spin off of the trendy 'Whipped Coffee.'
Ingredients
organic instant dried coffee, 2 Tablespoons
monkfruit or coconut sugar, 2 Tablespoons
collagen, 1 Tablespoon (Gut Garden)
1 Just Thrive Probiotic capsule, poured out
hot water, 2.5 Tablespoons
Elmhurst 1925 Unsweetened Cashew Milk
ice
Instructions
Place the first 4 ingredients in a large mixing bowl, and stir together.
Add the hot water, and whisk by hand for 12 minutes. (It will form a "whip.")
Fill a glass with milk, about ¾ full.
Place a couple ice cubes in the glass.
Add several dollops of the whip on top, and enjoy.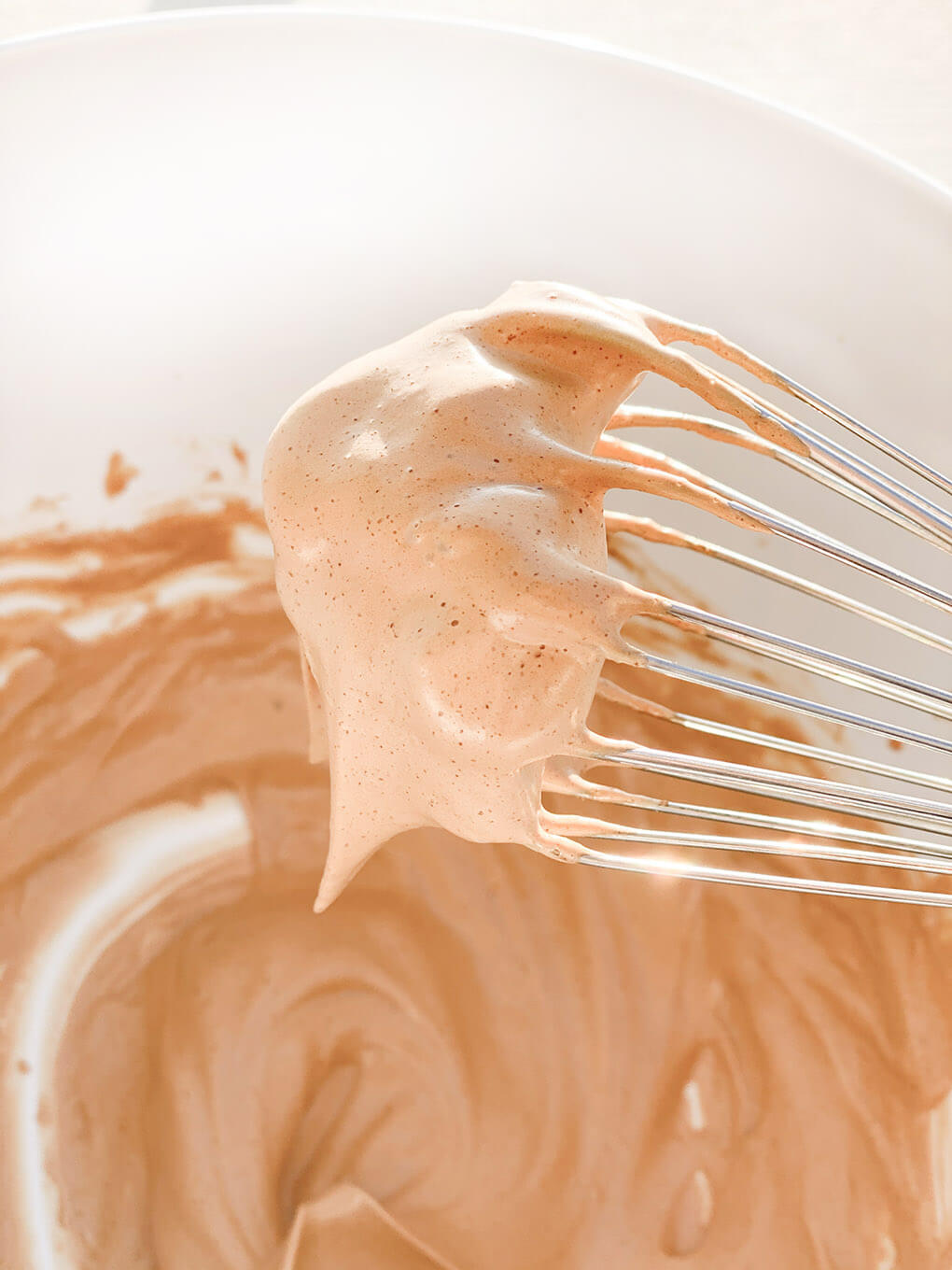 Incredible! Okay, now it's your turn to try it. If you try this gut-healthy version, upload it to Instagram and tag me @agutsygirl.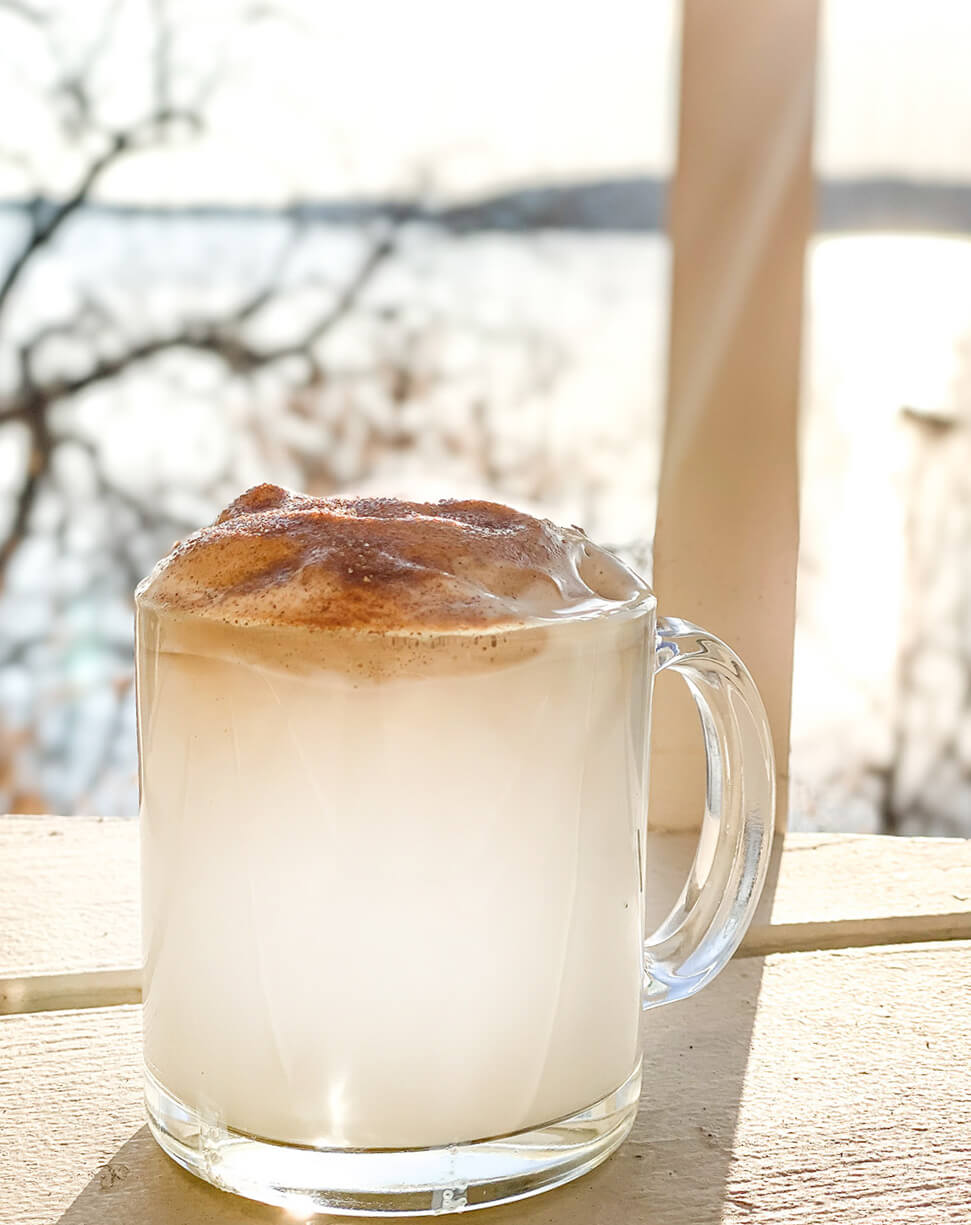 If you liked this post, you might also enjoy:
A Gutsy Girl's Master Resource links with special coupon codes 
Oh p.s. There's more! Once you make this recipe, you can also make the Whipped Coffee Popsicles. 

Xox,
SKH

You will heal. I will help.