SIBO, SIFO, and Candida. How are they similar? Or what differentiates them? Help is on the way.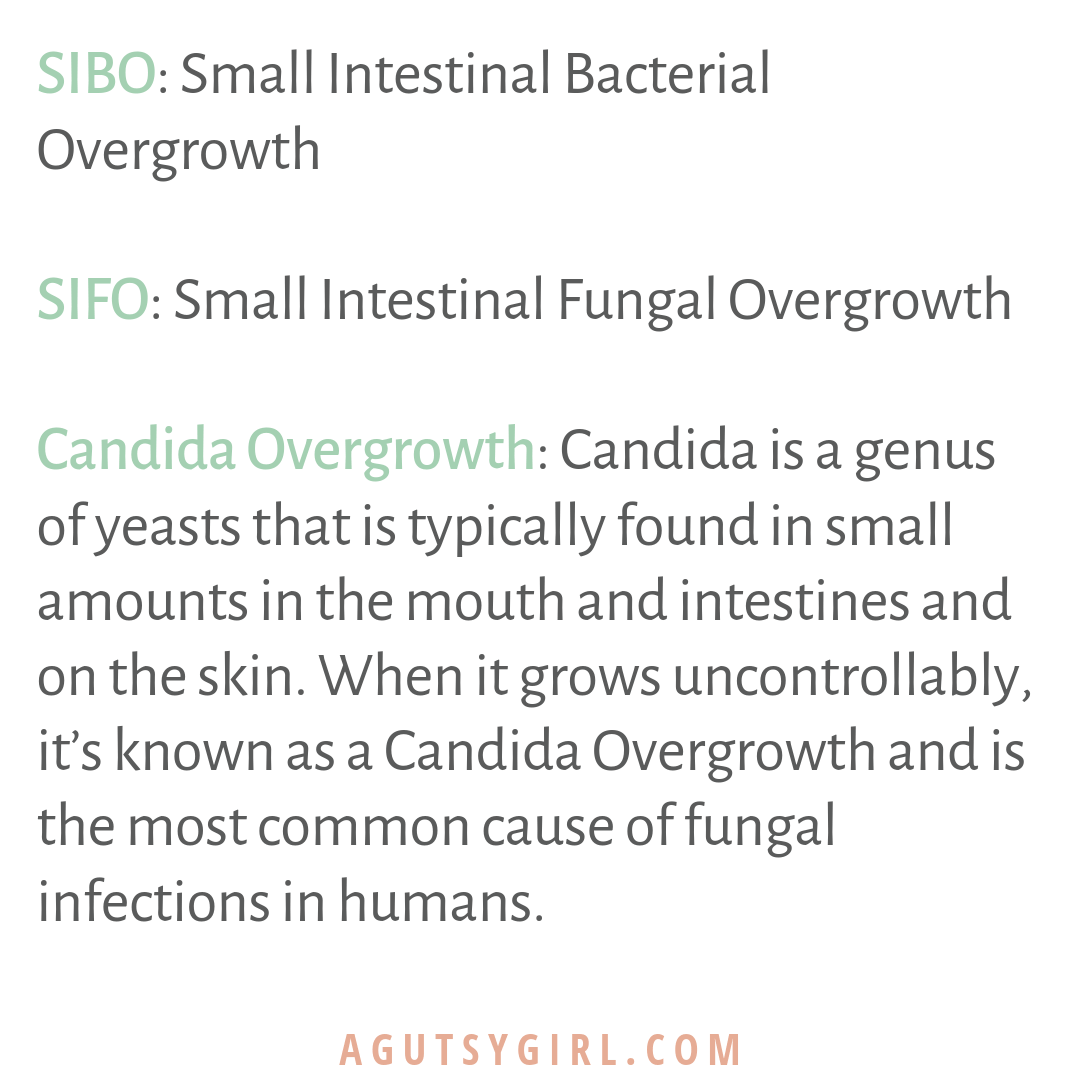 First, a quick definition for each:
SIBO: Small Intestinal Bacterial Overgrowth
SIFO: Small Intestinal Fungal Overgrowth
Candida Overgrowth: Candida is a genus of yeasts that is typically found in small amounts in the mouth and intestines and on the skin. When it grows uncontrollably, it's known as a Candida Overgrowth and is the most common cause of fungal infections in humans.
SIBO, SIFO, and Candida Overgrowth
Click HERE to save this post for later.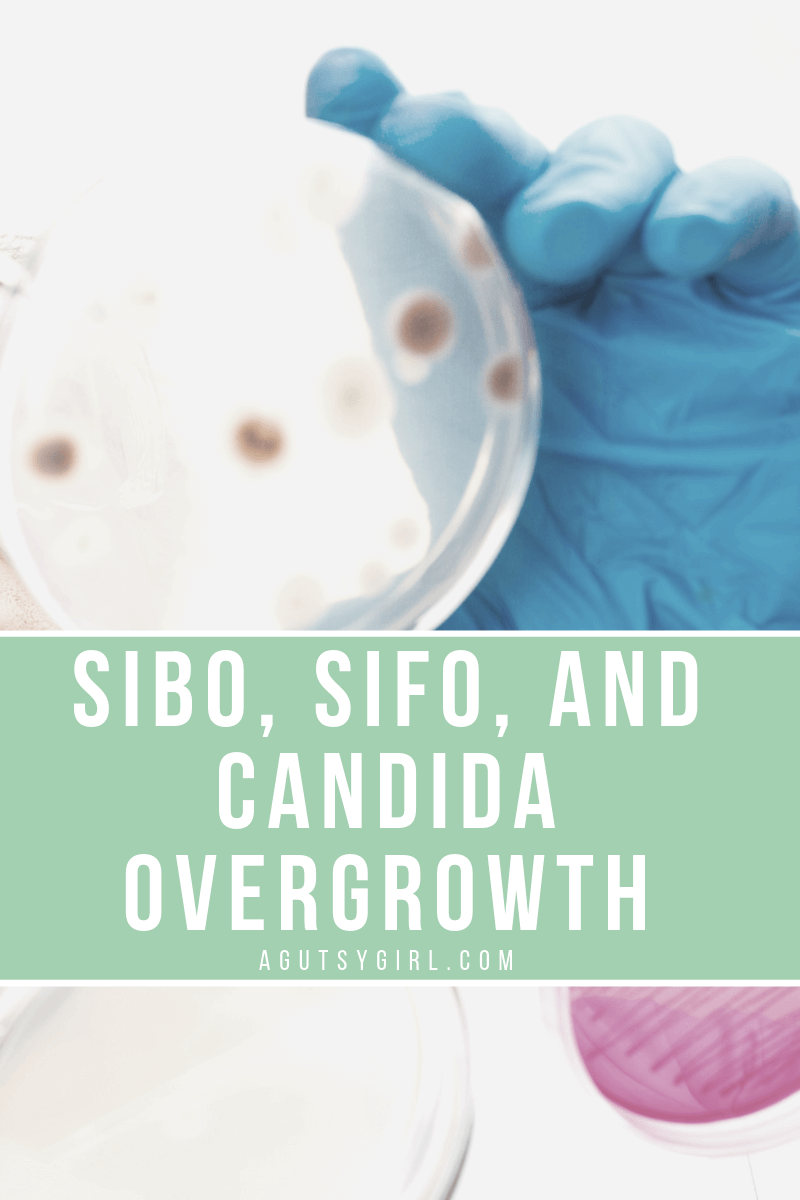 Still with me? Let's break each one down.
SIBO
Because I'm on a mission to massively research and produce all the content for you, I'm not going to beat this one over the head because I've already given you the goods. Learn:
SIFO
SIFO is very similar to SIBO; the difference is a bacteria vs. yeast.
As JJ Virgin simply states it, "SIBO features a variety of bacteria, while the most common culprit with SIFO is candida yeast."
SIFO signs and symptoms, according to JJ Virgin, are the same as those for SIBO. In fact, when studies on the two are done, the terms are used almost interchangeably SIBO/SIFO.
However, I don't believe they are truly interchangeable terms (see below).
Unlike SIBO, there is no SIFO breath test (or test at all) currently.
Treating SIFO includes any or all of the following: berberine, oregano oil, probiotics, Fluconazole, Nystatin, SCD, Low FODMAP Diet, and/or the Elemental Diet.
Dr. Satish Rao states, "The problem of SIBO and SIFO is unfortunately man-made. I have been practicing G.I. for 25 to 30 years, and I don't believe I've seen that many patients with these kinds of symptoms for a long time."
In other words, modern diet and lifestyle have lead to the eruption of SIBO and SIFO.
Candida Overgrowth
The problem with having too much yeast is that it breaks down the wall of the intestine and penetrates the bloodstream, releasing toxic byproducts into your body and causing leaky gut.
According to Dr. Amy Myers, here are the top 6 causes of a candida overgrowth:
High carb diets (because they fuel the overgrowth)
Excessive alcohol consumption (which weakens the immune system)
Fermented foods (which feed active Candida infections)
Medications (provide the perfect environment for Candida to flourish)
Chronic stress (impairs the immune system)
Autoimmune diseases (which are treated with immunosuppressants that reduce the body's ability to fight infections)
Candida Signs and Symptoms
Candida overgrowth signs and symptoms include:
Skin and nail fungal infections such as athlete's foot, ringworm, and toenail fungus
Feeling tired and worn down or suffering from chronic fatigue or fibromyalgia
Digestive issues such as bloating, constipation, or diarrhea
Autoimmune disease such as Hashimoto's thyroiditis, rheumatoid arthritis, ulcerative colitis, lupus, psoriasis, scleroderma, or multiple sclerosis
Difficulty concentrating, poor memory, lack of focus, ADD, ADHD, and/or brain fog
Skin issues such as eczema, psoriasis, hives, and rashes
Irritability, mood swings, anxiety, or depression
Vaginal infections , urinary tract infections, rectal itching, or vaginal itching
Severe seasonal allergies or itchy ears
Strong sugar and refined carbohydrate cravings
Testing for a Candida overgrowth is done via IgG, IgA and IgM Candida Antibodies, Complete Blood Count (CBC), stool testing, and/or a Urine Organix Dysbiosis Test.
Treating a Candida overgrowth includes:
Cutting sugar. According to Dr. Josh Axe, "Not only does Candida thrive on sugar, but it also needs an acidic environment to survive."
Add in Candida fighters like garlic, turmeric, and coconut oil.
Get in a high-quality probiotic.
Consider a Candida cleanse to jump start the healing efforts.
Diet to exclude: high-sugar fruits, gluten, deli meats and farm-raised fish, refined oils and fats, condiments, certain dairy products, sugar and artificial sweeteners, nuts and seeds that are higher in mold (peanut, cashew, pecan, pistachio), caffeine, alcohol, sugary beverages, and nitrates plus sulfites.
Using antifungal botanicals like cat's claw, caprylic acid, berberine, and more.
Sources: HERE, HERE, and HERE.
Are SIFO and a Candida overgrowth the same things?
From the research I've done, SIFO and a Candida overgrowth can be the same thing, but they aren't always.
SIFO is a fungal overgrowth. Candida is a type of fungus. So, sometimes (maybe even oftentimes), SIFO is caused by Candida.
However, it might also not be because there are several types of fungi found in the gastrointestinal tract. They include:
Candida
Galactomyces
Geotrichum
Debaryomyces
Saprochaete
Cladosporium
Saccharomyces
Trichosporon
Penicillium
Aspergillus
Cryptococcus
Malassezia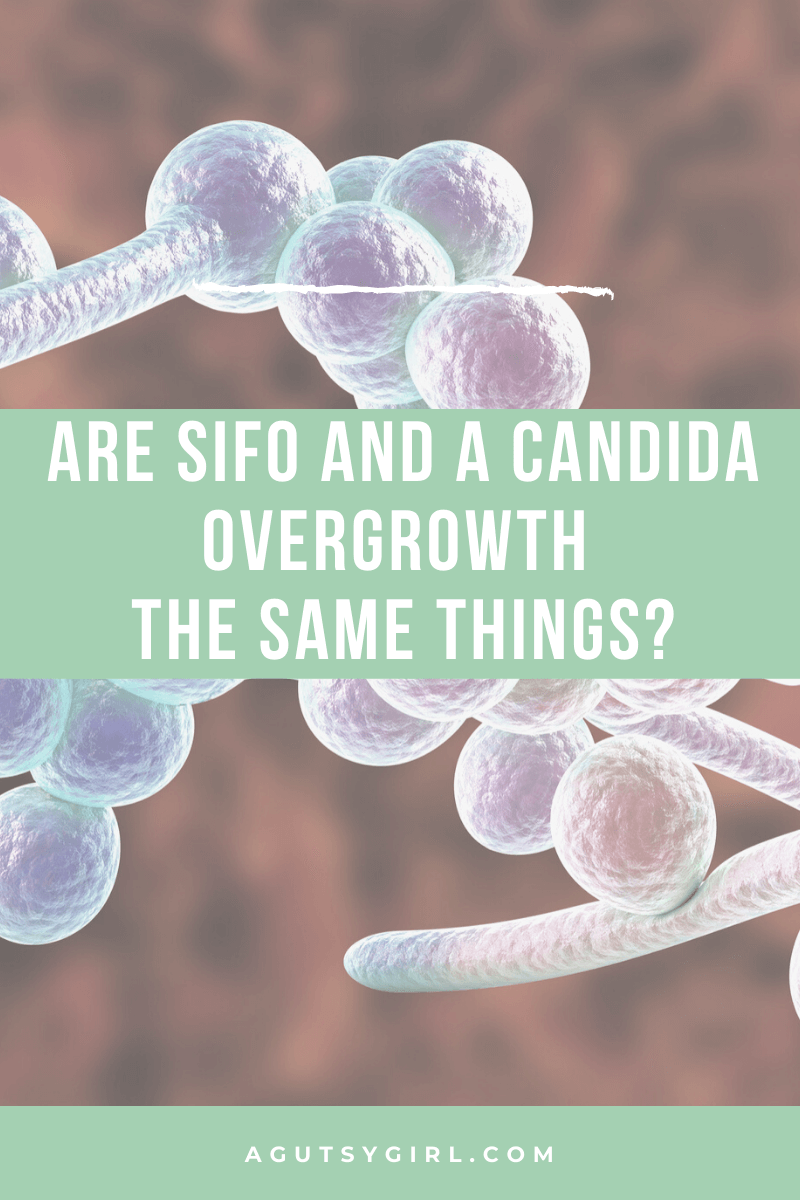 My Thoughts on SIBO, SIFO, and Candida Overgrowth
Because all three are very similar in the way they show up symptom-wise, if I didn't know which I had, here are the exact steps I'd take:
First, I would get tested for both SIBO and a Candida overgrowth.
Then, if one or both of those are positive, begin a treatment protocol while also investigating other root causes to it. Remember, just because you treat them doesn't mean they will be gone forever if you haven't addressed why they were there in the first place.
If you aren't responding to the SIBO and/or Candida treatments, consider SIFO as your culprit.
If you test negative for both SIBO and a Candida overgrowth, also consider SIFO.
It's all so complicated, right?
There are so many terms, diagnostic tools, and then ways to approach healing the gut.
My best piece of advice is always three-fold:
Test, test, test vs. guess, guess, guess.
Start where you are, do what you can.
No one knows your body better than you. Do what is right for you.
Questions? Ask away!
And p.s. Know someone who could benefit from the information on A Gutsy Girl? Share this post on Facebook today or forward them the main link – agutsygirl.com.
If you liked this post, you might also enjoy:

Xox,
SKH
You will heal. I will help.