GAPS vs AIP vs SCD. How do you know which gut healing protocol to follow?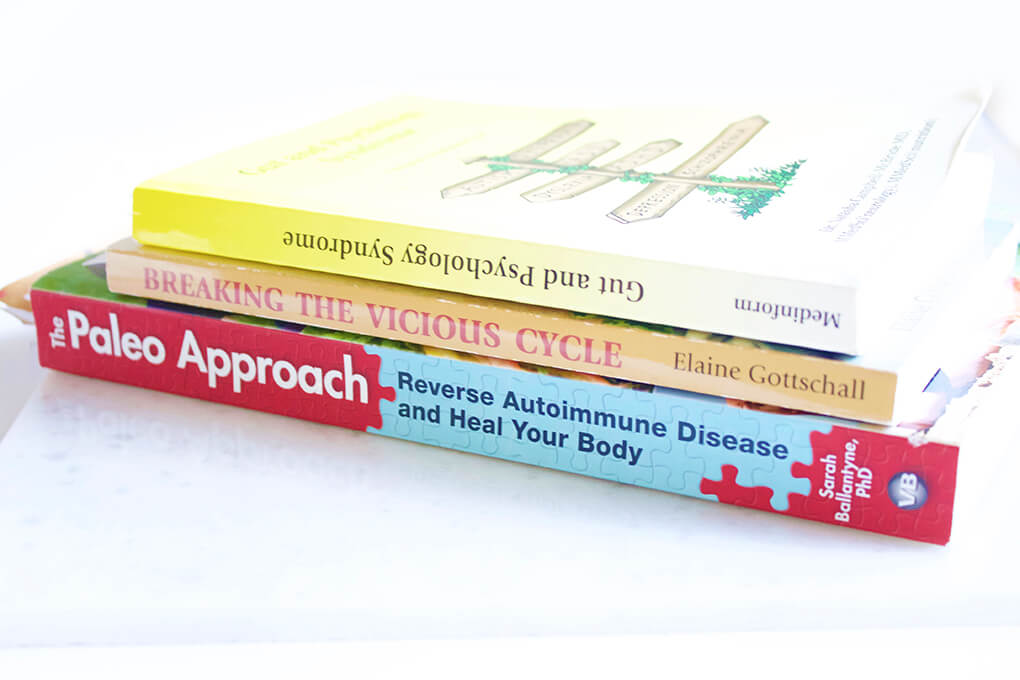 A reader emailed me about the three protocols. She wanted my thoughts on which would be best to address her chronic food intolerances, poor digestion, chronic constipation, hormonal issues and overall poor digestion and absorption.
Since this post has been a long time in the making, I figured I'd just lay it all out here from the perspective of someone who has studied all three of them in detail for many years, has been on each of them at one point or another, and who has healed the gut in some pretty fantastic ways.
In the images below, you can see that I have all 3 protocol books. Each book has a ton of writing, highlighting, bookmarking, etc. because I have read and then re-read them all several times.)
GAPS vs AIP vs SCD
Click HERE to save this post for later.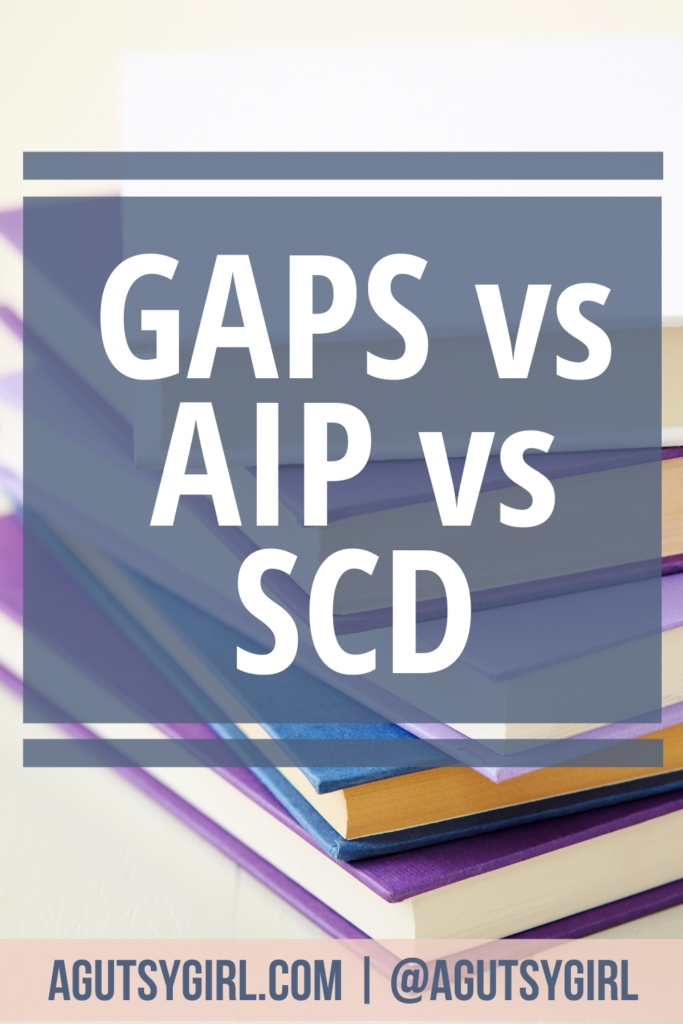 Here is a brief overview of each, to help get us started.
GAPS (Gut and Psychology Syndrome)
Stands for Gut and Psychology Syndrome
Created by Dr. Natasha Campbell-McBride
You move through healing "stages" (6 of them in the beginning, each stage might last only a day or two, depending on your circumstances) and end at the full GAPS Diet for up to 2 years
Inspired by the SCD (also part of this post)
The main book is better and more comprehensive than the SCD one, in my opinion
Avoid processed foods, refined oils and sugars, grains, gluten, some lentils, soy
Still allowed to have things like nuts, peanuts, some sweeteners, some dairy (in fact it's encouraged)
A lot of emphasis on bone broth and fermented foods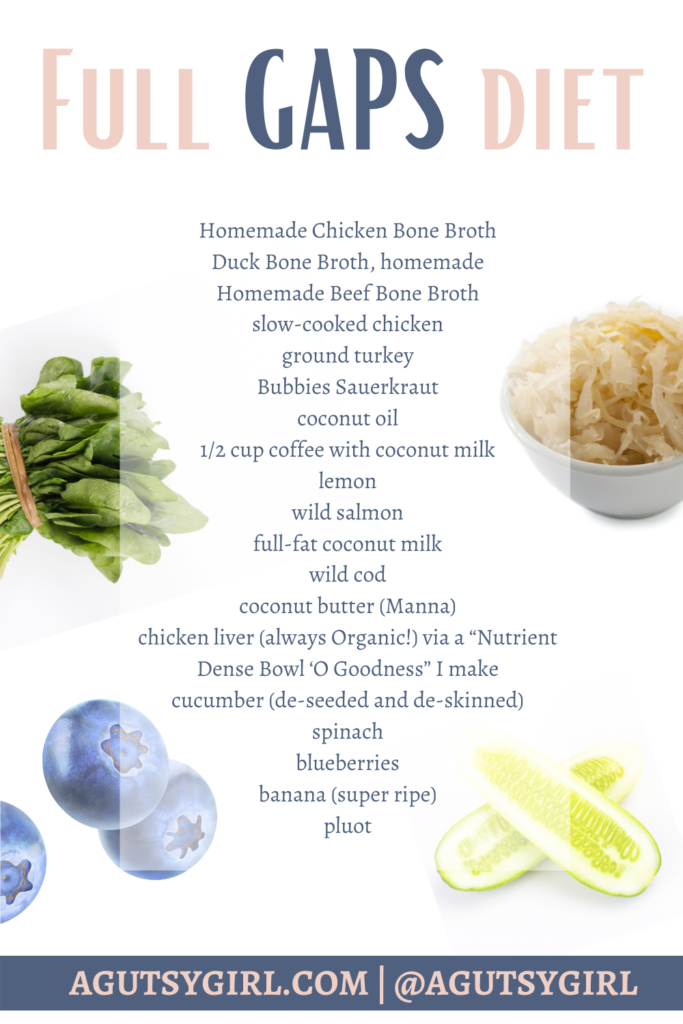 GAPS Resources: Gut and Psychology Syndrome Diet, GAPS Guide, GAPS Diet, and other places on my blog I've written about the GAPS Diet.
AIP (Autoimmune Protocol)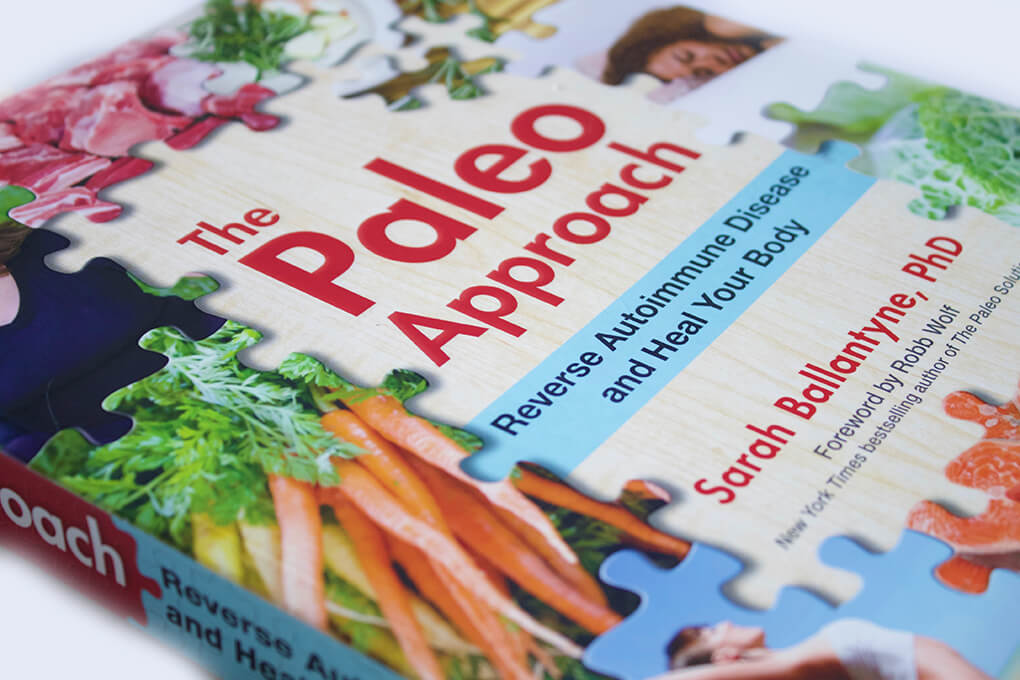 Stands for Autoimmune Protocol
Some call it Autoimmune Paleo because it's essentially the Paleo diet on steroids
This book, by Sarah Ballantyne PhD is, by far, the best and most comprehensive of the 3. Seriously….killer!
Originally developed by Loren Cordain PhD, popularized by Sarah Ballantyne PhD
Avoid processed foods, refined oils and sugars, grains and pseudo-grains (like quinoa), gluten, legumes, soy, dairy, nightshades, non-nutritive sweeteners (like Stevia), eggs, nuts, seeds, alcohol
30-day elimination period, and then you begin reintroducing things
AIP Resources: The Paleo Approach: Reverse Autoimmune Disease and Heal Your Body, The Autoimmune Paleo Cookbook, and other places on my blog I've written about AIP.
SCD (Specific Carbohydrate Diet)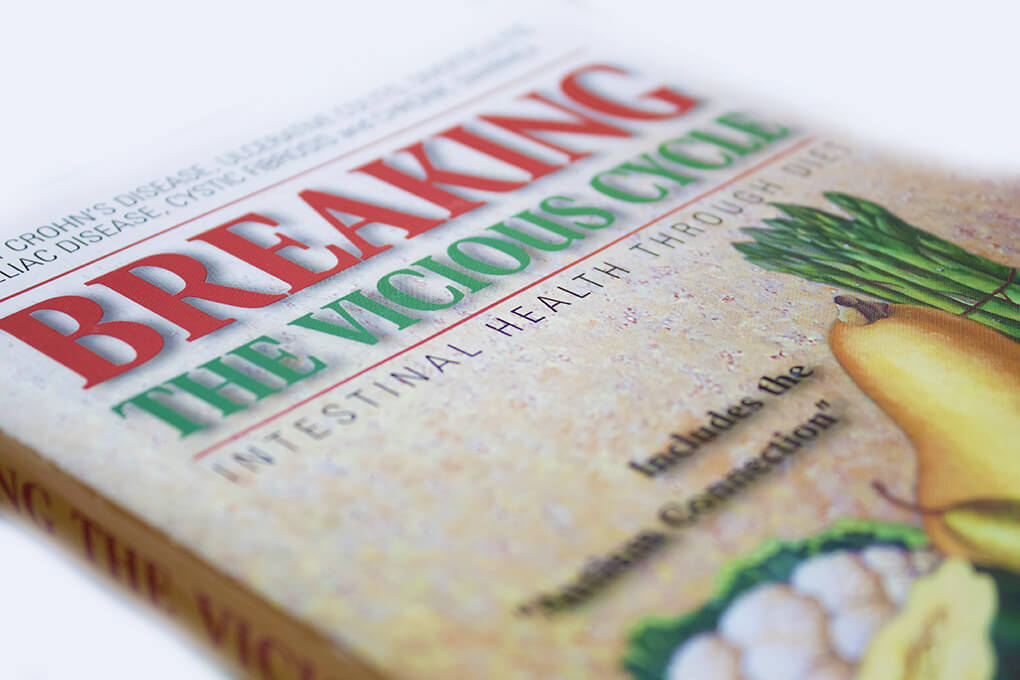 Created by Dr. Sidney Haas, but popularized by Elaine Gottschall
SCD is, "based on the theory that by eliminating most carbs (primarily grains, starches, dairy, and sugars) and allowing only specific carbs that require minimal digestion, it can reduce inflammation and make eating enjoyable for people with gastrointestinal (GI) disorders."
Avoid all grains, beans, legumes, sugar, most dairy, starchy vegetables and non-grain flours, fermented beverages, and even chocolate/cacao
SCD Resources: Breaking the Vicious Cycle: Intestinal Health Through Diet, Specific Carbohydrate Diet, SCD Lifestyle, Pecan Bread, and other places on my blog I've written about SCD.
Should I Choose GAPS, AIP, or SCD?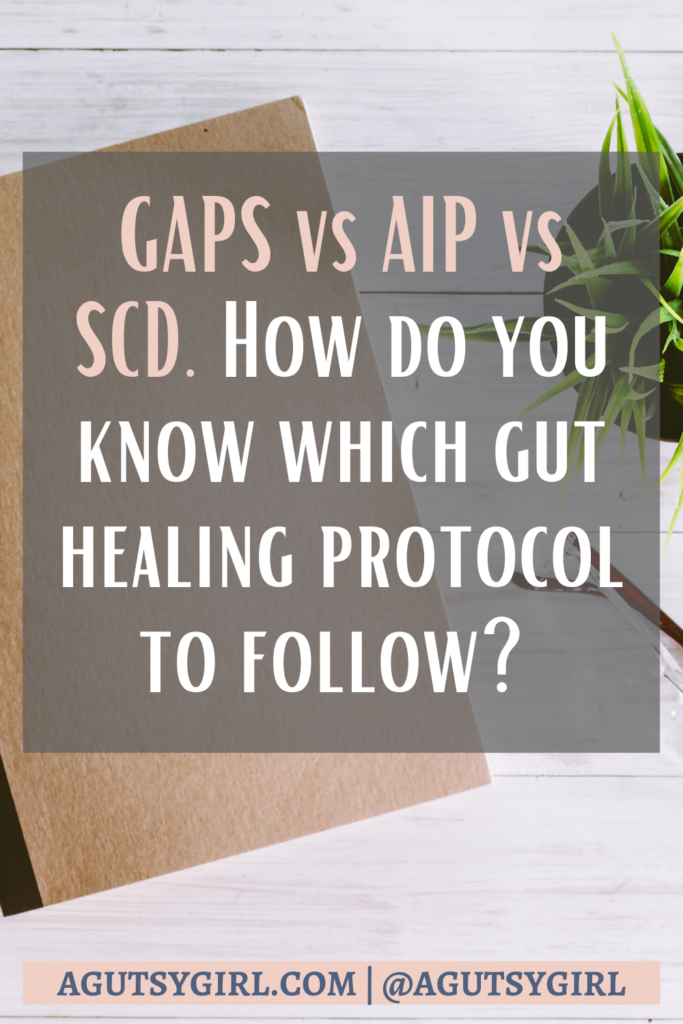 You will hate my answer, but I have to be honest: It depends.
In fact, despite what I'm about to tell you, you might be better off choosing none of the above.
In 2009, when I began my healing journey and my gut was the worst it had ever been, I went on a strict GAPS diet for a very long time.
I stayed on the Intro Diet for a short while and instantly felt better. As I got better, though, I didn't move in an appropriate manner to new GAPS stages.
Ultimately, I ate too little, with too few nutrients, for too long that it lead to "adrenal fatigue" and hormonal problems.
I got worse (my gut got worse) again and then was also diagnosed with SIBO, which is a bacterial overgrowth in the small intestine where a strict GAPS, SCD, and/or AIP just would not do.
To make a long story short, what I learned during these past 8+ years about diets, healing and following any one protocol is that they simply do not work.
You can, however, take the diet healing protocol that *best* fits your current circumstances (with the understanding that these circumstances can change quickly), and then 100% customize it for you.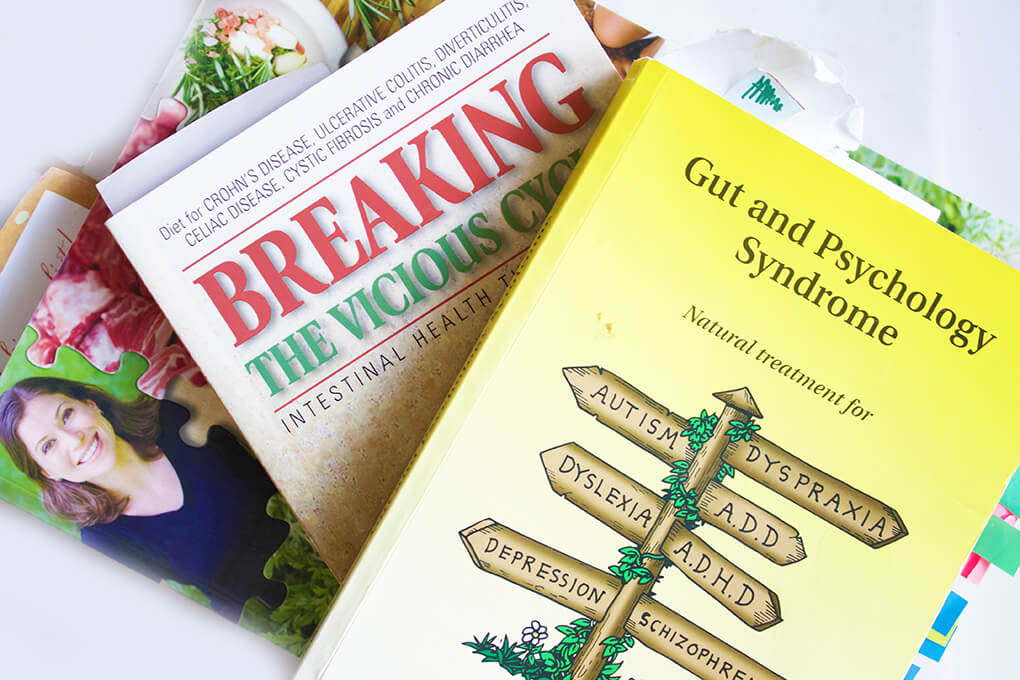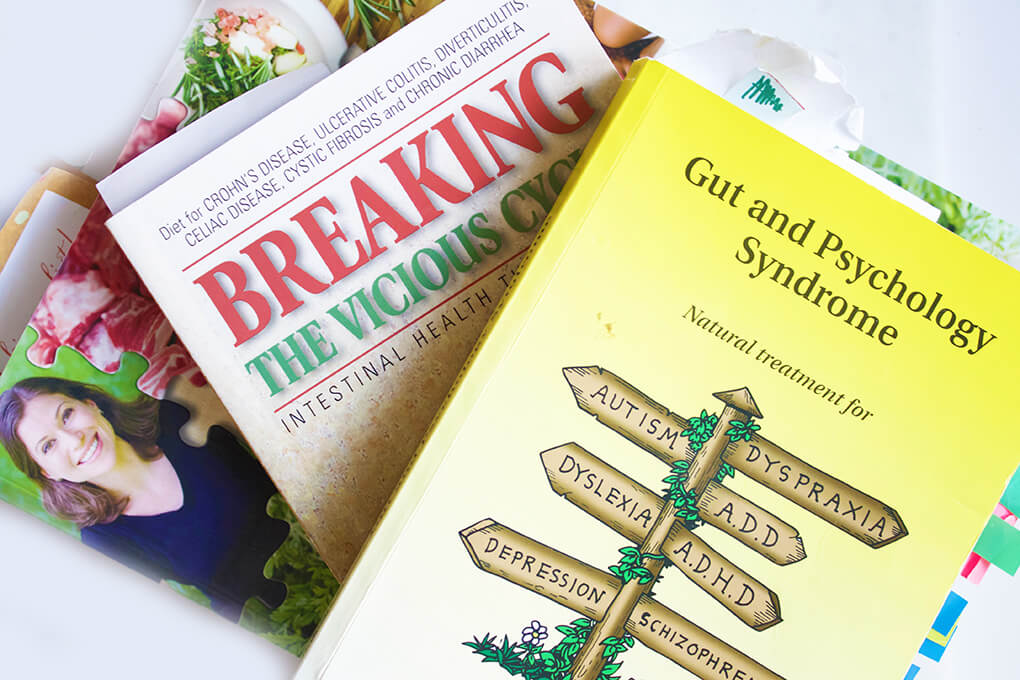 Questions to Ask Yourself
I put together 5 questions that you should answer in order to start honing in on what might be best for you.
What have you been diagnosed with? Note: I said diagnosed, not guessed by Dr. Google.
What are you allergic to? Or what are you certain you don't tolerate? (A custom food journal might help realize these.)
Are you bloated and constipated or do you have diarrhea? (For example, if you are super bloated, sometimes GAPS is not right for you because the intro stages really have nothing to make you "go.")
Are you not active at all, somewhat active, or very active?
Do you have the ability to easily navigate GAPS, AIP, SCD, and/or any other intensive protocol? (The one is huge!)
I know it's frustrating when you are dealing with so many internal gut and other issues.
I've been there, so I know the pain and discontentment they bring to life. But I also know that the promise of any one diet to heal all your problems and make everything perfect is false. It will not work now, and it will not ever work. (Also because healing involves more than just diet – sleep, stress reduction, etc.)
Start where you are, make the best possible decisions, do what you can, and get ready to reap some real benefits not merely dictated by any one diet protocol.
Questions about any of them? Have you tried any or all of GAPS, AIP, SCD? What are your thoughts on GAPS vs AIP vs SCD?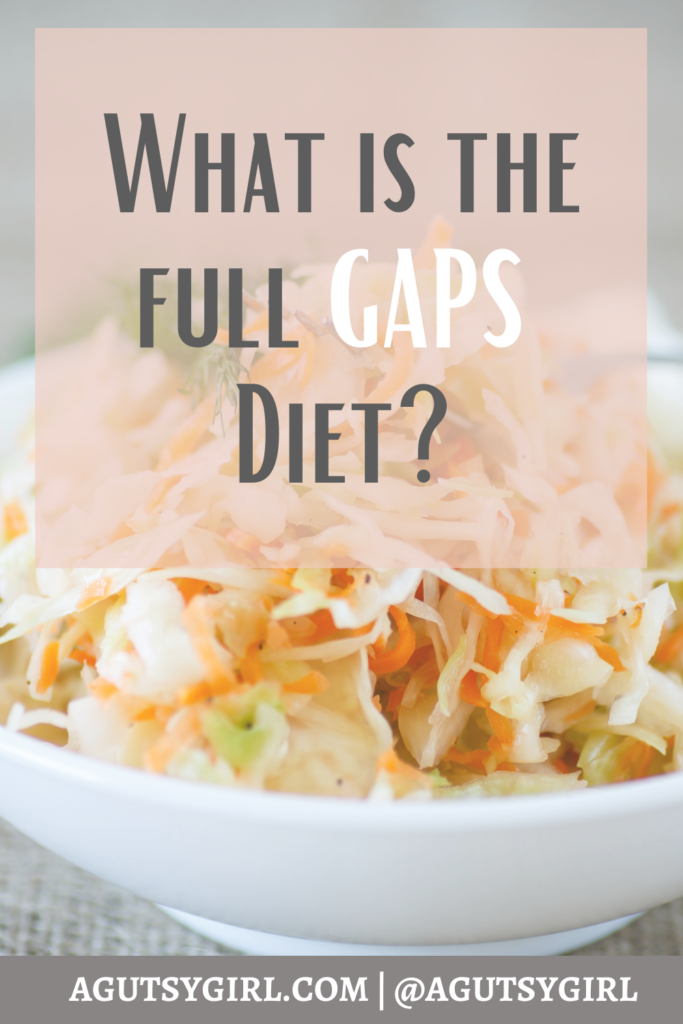 If you liked this post, you might also enjoy:
Xox,
SKH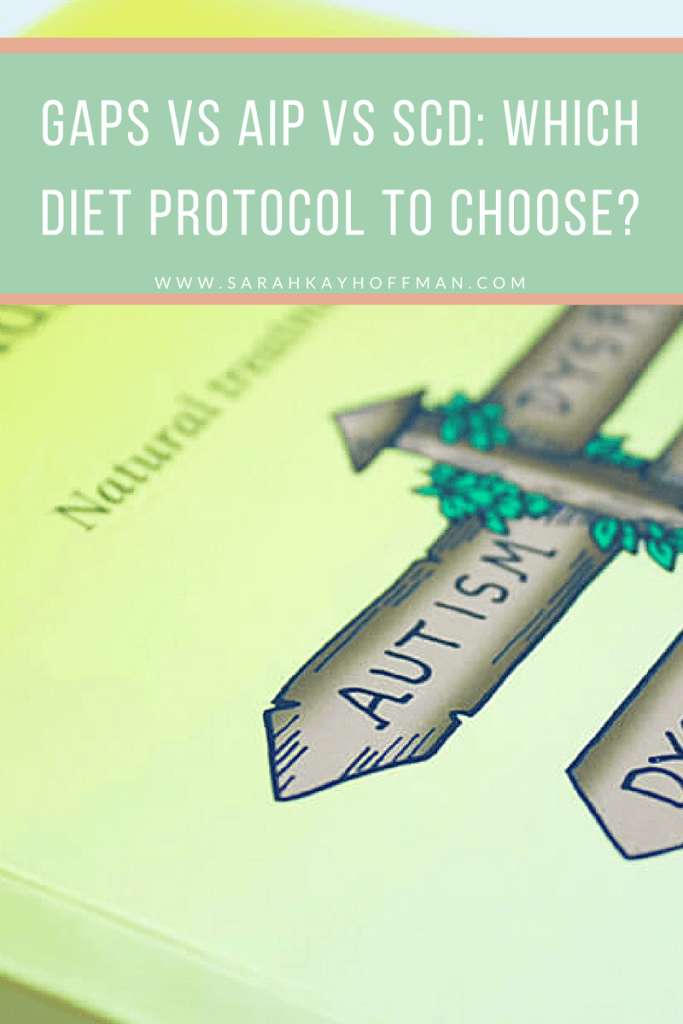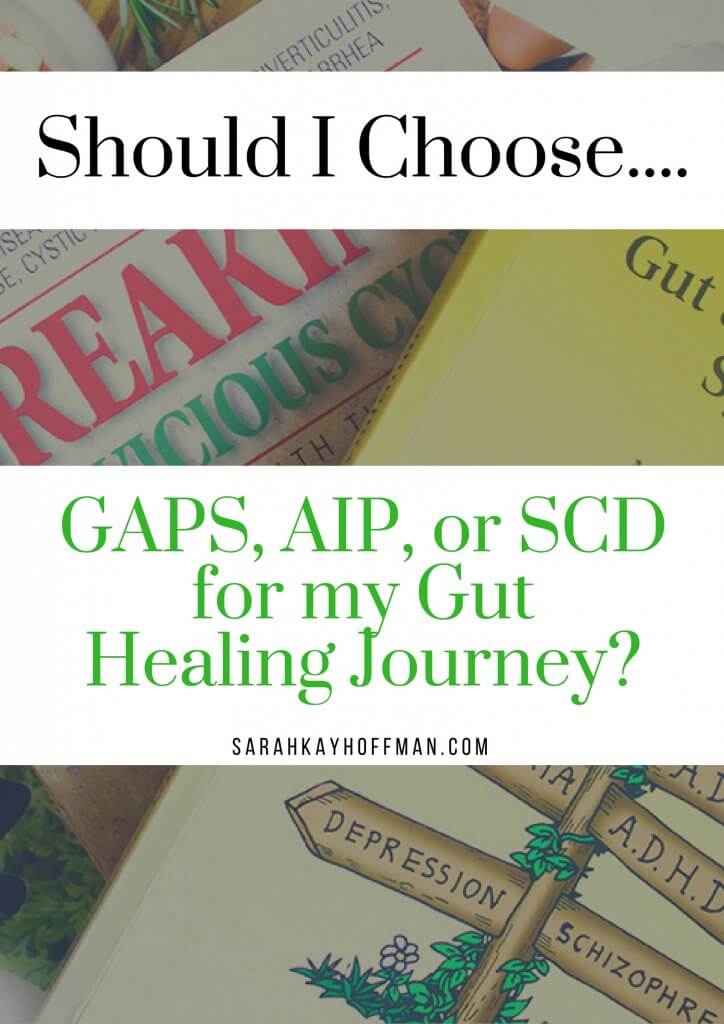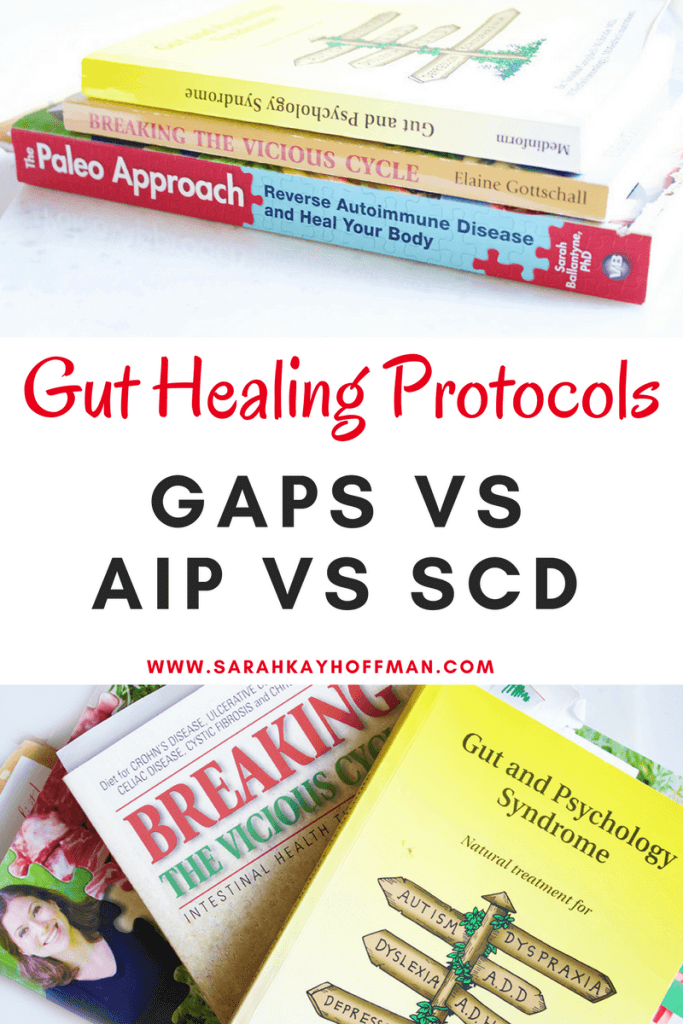 You will heal. I will help.