Ready for this post I'm about to share about how I healed SIBO long term?
Of course you are. You've been ready since I wrote out my Master List of SIBO Healing Tools.
Every single person is different, so just because this is what worked for me, doesn't mean it will for you. This is because healing SIBO is dependent upon healing the root cause of it in the first place.
But here is why I think you'll be able to extract a lot of goods from what I'm about to share with you — I'm feeling 100%, had a perfect bloodwork + count come back right after, and I have never gone a day feeling miserable since I got well. (On the flip side, Y'all know the Instagrammers and bloggers who say they have "healed their gut" one day; the next, showing "real life bloated pictures." Catch my drift?!)
Alright, after battling this for over 4 years now, I am 98% confident that the root to my SIBO evils was:
Years of chronic dieting that lead to
Low stomach acid and enzyme levels and then
Deeply rooted stress and anxiety that I never admitted to having
The threesome got me sick and then kept me sick.
How I Healed SIBO Long Term
Click HERE to save how I healed SIBO long term for later.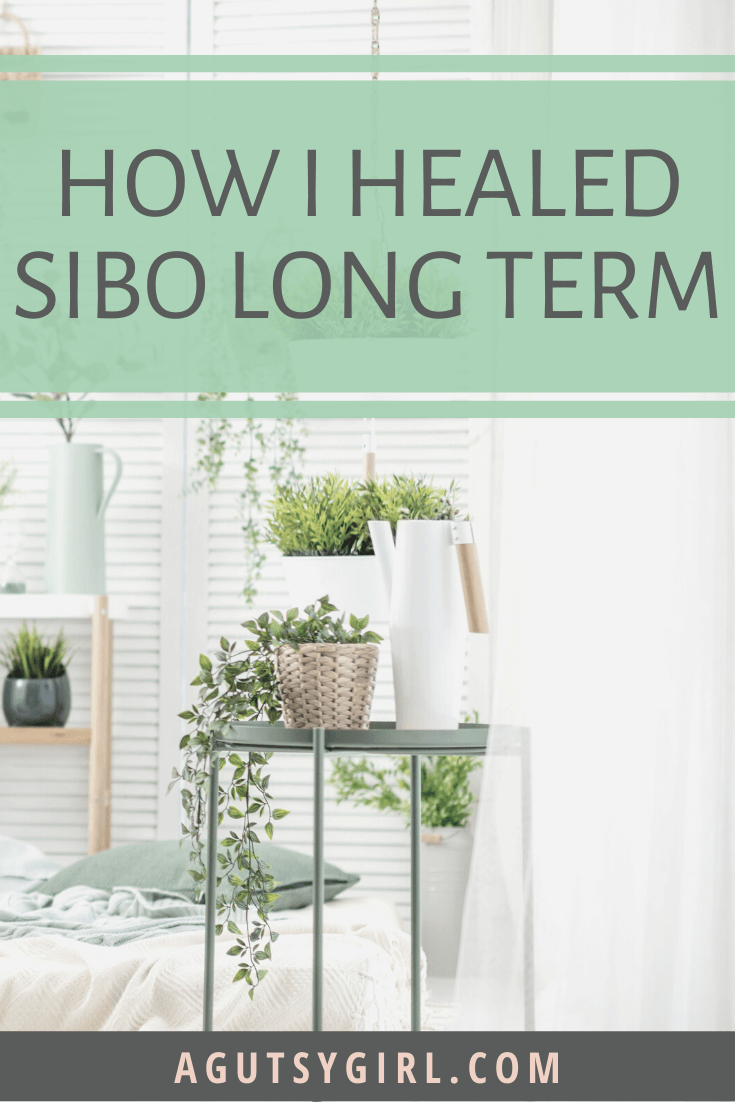 Today I'm ready to share how I healed SIBO long term and how I am thriving, how I got well – I believe, for good.
I'm just going to go right in order; giving it straight to you, starting from the SIBO medications.
Overgrowth
The overgrowth (SIBO; small intestinal bacterial overgrowth) is present, here with a vengeance, at the beginning of this timeframe.
June 1 – 28, 2018:

4 weeks of Rifaximin and 2 weeks of Neomycin. You can read everything in detail for those 28 days HERE.

July, 2018:

I had a Colonoscopy and Endoscopy. It was all clear and normal. At first I thought that I perhaps was misdiagnosed with Colitis in 2008, but others have suggested to me that it could have healed so much that it no longer shows up. I don't care which it is. The report was lovely. Immediately after the SIBO antibiotics I did do super low carb and low FODMAP (this time it was sane Low FODMAP!), but not for long. In fact, at the end of July I ate all the things while in Italy. Other things as noted HERE: No hard workouts, lower back focus, massages, and chilling the f@#$ out. Even by July, the inflammation weight started to shed. I also kept the supplements fairly minimal: daily L-Glutamine, enzymes, and HCL. Here and there for everything else.

August, 2018:

By August, I was definitely eating all the things; no restrictions (except I'll always be nearly gluten free and mostly dairy free).

I also started intermittent fasting and meal spacing sometime around this timeframe as well.

September, 2018:

Nothing changed, but I started to become very aware of the fact that if I didn't get years of stress and anxiety under control, I would have a SIBO relapse.

October, 2018:

I saw a doctor for this anxiety for the first time in my entire life. She listened to me, and was able to catch onto things most had missed over the years. That day, I did two things:

Got on anxiety medication, and
Set up an appointment with a therapist

November, 2018 – February, 2019:

Nothing changed from a diet or supplement standpoint, except that I started eating far less meat. However, I worked on everything internal: forgiving (others and myself), leaving stressful situations, and attaching to only the things that bring me pure joy.

Also, for all of fall through the end of the year, I did no-to-light workouts only. There was nothing intense or hard core, and making this decision was one of my best yet (from a healing standpoint).

March – present, 2019:

Everything same as before, except that in March I began using the Just Thrive Probiotic. I really didn't use a probiotic for several months, and the only way I would have changed that is had I found Just Thrive earlier.
SIBO Probiotics
Please make note from number 7 just stated, "I really didn't use a probiotic for several months."
It's true. Everyone wants to know, "What probiotic should I take with SIBO?" Three things on that:
When I was symptomatic, I didn't take ANY probiotic.
Long-term, a probiotic has been great for me personally!
I have a post on SIBO plus probiotics HERE.
This post was updated in 2021.
Current status is that I am still thriving and have never had a single setback.
p.s. I know all of the above (and all of the below) because I kept a strict Healing Blooms from Within journal. If you don't want to keep track with the physical journal, there is also the downloadable PDF version HERE.
My Personalized SIBO Diet, Medication, Supplements, Lifestyle
Okay, now if you want it listed out, item-by-item from the master list, here are all the things I've done since June, 2018.
No "diet," and what I mean by that is there isn't a name for the way in which I eat. i.e. Paleo, GAPS, Vegan, etc.
Mostly Vegetarian, though
Usually no gluten (but sometimes now)
Rarely dairy
LDN
Anxiety medication (not for SIBO, but to help address underlying reasons for repeated prior relapses)
HCL
Enzymes
Probiotic
Multivitamin
Dysbiocide (on and off)
Some other minimal supplements here and there
Therapy (1 – 2 times per month)
Intermittent Fasting
Meal Spacing
Meditation (I try at least a few minutes, several times per week – hey, it's a start)
Massage (once per month)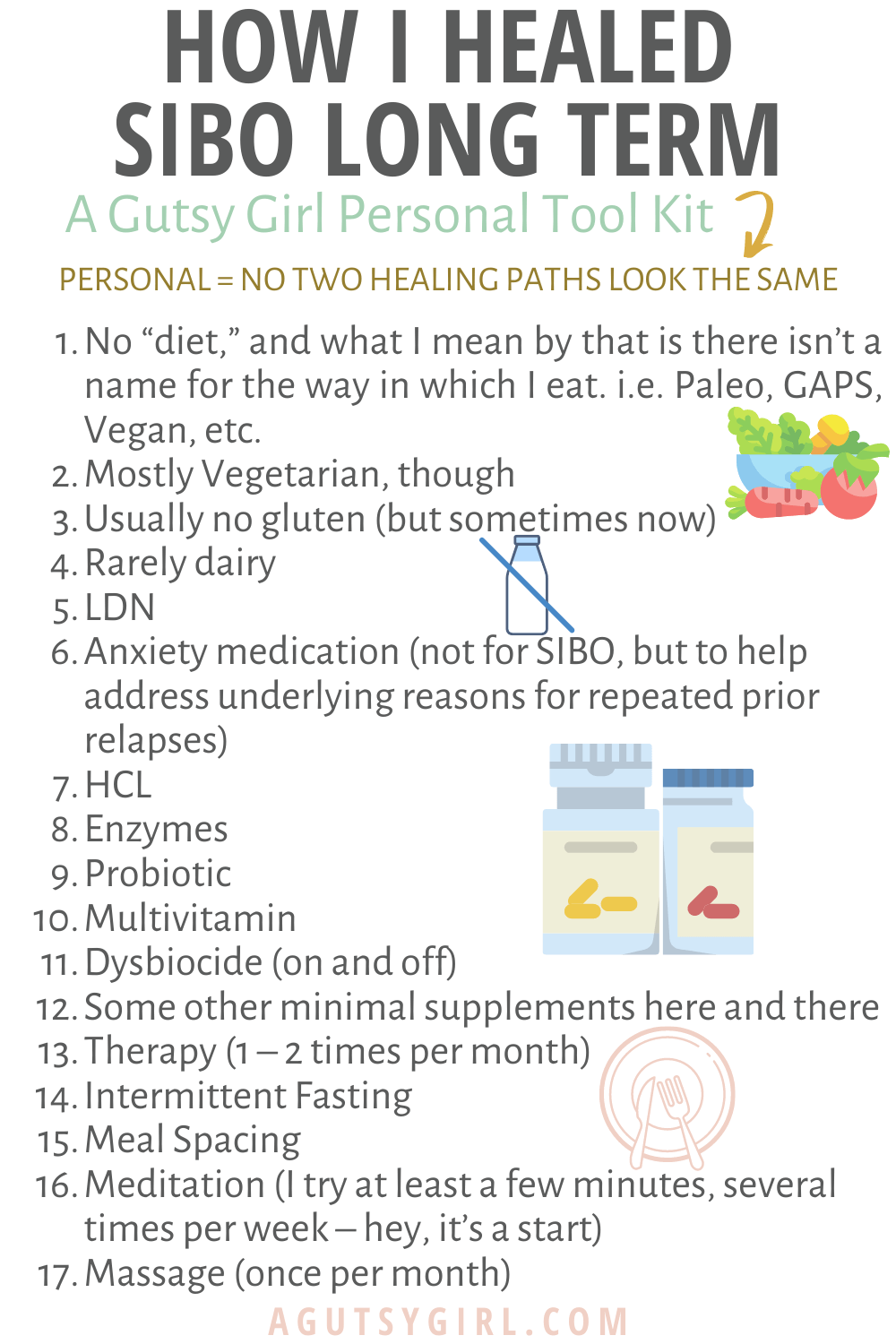 Other Things People Ask About
Here are some other things people ask about:
I drink alcohol, but rarely (like maybe a drink or two per month).
And I also drink coffee, daily; it looks like this.
My workouts are slim-to-none compared to what they used to be, and I've made peace with that. On the days I've had at least 8-9 hours of sleep, I'll workout fairly hard for a super short duration. Then, I eat a ton afterwards and rest and recover until my body says, "Okay, we are good to go again." Guess what? Sometimes that means several days to a week. (If you want more on this, read "What I think About Workouts and Gut Healing.")
When I say, "no diet," I also mean, "Variety." These days, I'm working on eating as many different things in a day as possible. Less of more vs. more of less. <—- This is also a concept I've been researching and studying for helping the microbiome thrive. When I was scared of food or healing my gut incorrectly, I ate probably ten things or less and a lot of them. My approach is the opposite these days.
Finally, I journal, read the Bible, and say mantras as often as possible, "I am healed, and I no longer have SIBO."
Healed Forever from SIBO?
Wouldn't I love to tell you that I'm healed forever? But I can't predict the future. What I can tell you is that I am 100% confident the way I went about healing this past time was my secret key.
That secret key barely had anything to do with diet, and instead had everything to do with the combination of un-diet, supplements, medication, and lifestyle.
I had to take my head out of it with all the "this is how I should heal" thoughts, and for once just listen to what I NEEDED.
Today I am grateful for all the research I do to help you identify the right tools for your own toolkit, but I'm also grateful that I figured out the right ones for my personal journey.
This concept can be found via the Circle of Healing. Check it out HERE.

Apply This to Your Own Journey
If there is one thing I want you to take from what I learned, it would be this: If you're already doing all the "right" things from a diet and supplement standpoint, maybe you haven't dug deep enough. Ask yourself,
How is this working for me?
And if the answer is, "I'm still feeling miserable," then ask yourself,
What could be something underlying that I don't want to address?
Start there, go with it; you might be surprised where you end up.
Don't be afraid of new diet changes (ahem, less restriction), supplements, and a whole new lifestyle. And please if you need medication, whether it's Rifaximin, LDN, or something for another outstanding problem, do not shame yourself. I'm incredibly serious.
This is your life, and I promise that you're the only one who knows exactly what you need.
I'm going to keep on healing for now……and with the energy and inspiration, sharing every last thing I can to help you heal, too.
Questions regarding how I healed SIBO long term? Leave them in the comments below.
If you liked this post, you might also enjoy:
Need more resources? Grab The Gutsy Girl's Bible and/or Reasonable SIBO.

Xox,
SKH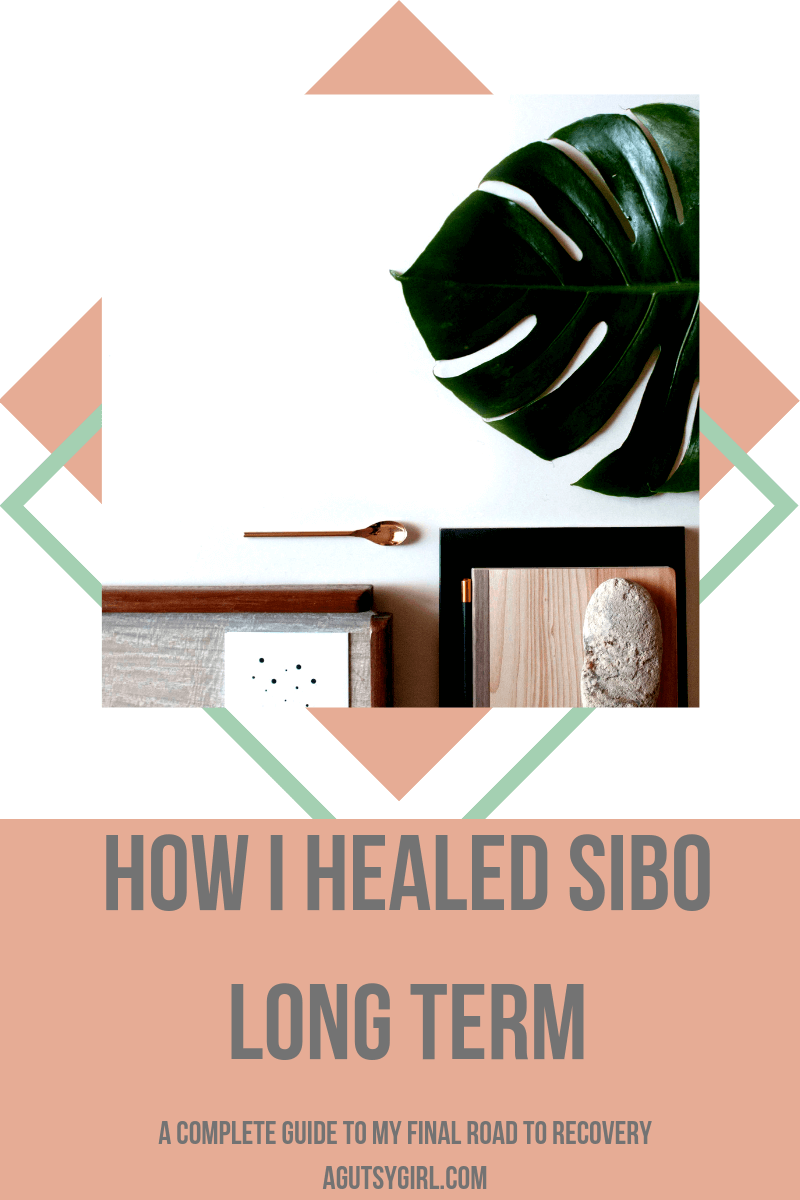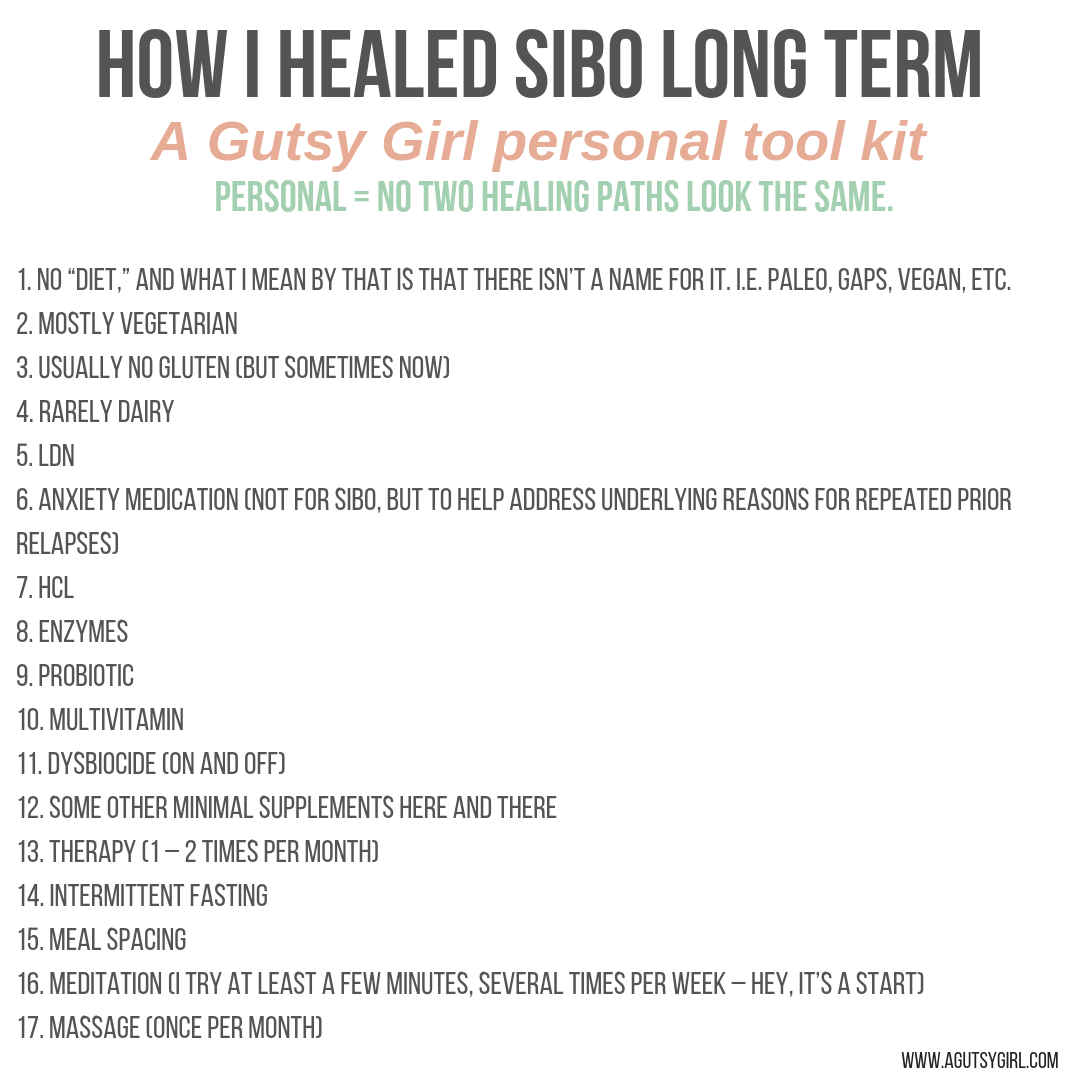 You will heal. I will help.