I believe in the power of the mind. And so today I want to share with you 31 gut healing mantras.
First, some of you might be confused when I use the term mantra since the word oftentimes coincides with a sound or vibration. For example, "om," which is frequently used in medication.

However, in addition to a word or sound being repeated for concentration, the definition of a mantra is also,
a statement or slogan repeated frequently
And this is what I'm talking about today (and usually).
Some people refer to them as mantras; others as positive affirmations.
Whatever you choose to call them, the point in practicing them is to speak into existence what you want your reality to become.
Mantras for Your Gut Healing Journal
I am so confident in the power of mantra that when you open your 90-day gut healing journal to page 3, you'll see your personal identifying information.
This journal belongs to….
Start date….
End date….
My gut healing mantra….
Yes, the first thing you should do before starting the journal is to set that mantra. And you should say it as often as possible.
To help you start, I've created a list of 31 gut healing mantras.
31 Gut Healing Mantras
Click HERE to save these for later.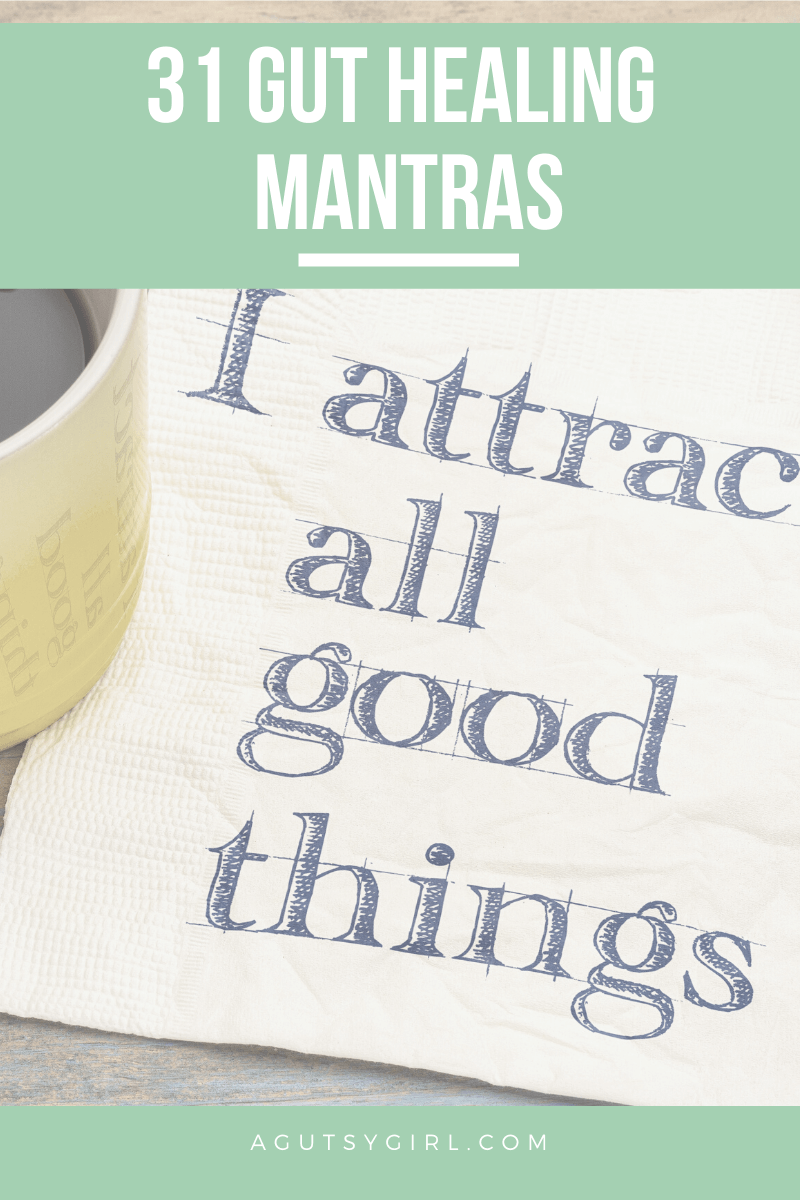 My body is healthy; mind is brilliant; soul is tranquil.
I possess the qualities needed to be extremely successful.
My ability to conquer my challenges is limitless; my potential to succeed is infinite.
I am at peace with all that has happened, is happening, and will happen.
Everything that is happening now is happening for my ultimate good.
I am a powerhouse; I am indestructible.
Though these times are difficult, they are only a short phase of life.
I am conquering my illness; I am defeating it steadily each day.
My life is just beginning.
Am I good enough? Yes I am.
I'm allowed to take up space.
My past is not a reflection of my future.
Today I make the choices that allow me to thrive.

I am healed; I no longer have SIBO

This is what I lived and breathed in 2019.

I am healing at my pace, not the pace from a book, magazine, or guru.
My body is healthy, and I'm grateful.
I'll surround myself with positive people who will help bring out the best in me.
I'm allowed to take the time to heal.
Perfection isn't the only way to success.
I accept the lesson my pain is offering me.
This illness doesn't define me.
Difficult times are part of my journey and allow me to appreciate the good.
This will be my healthiest year yet.
I let go of all that no longer serves me.
Negative thoughts only have the power I allow them.
My pain, both mental and physical, is gone.
Everything I am going through is making me a stronger, wiser, and more compassionate person.
I have created the perfect rainbow of health.
The bloat is gone, and I am free to live.
It is time to heal and I choose to be in alignment with my body's way of doing that.
I honor my body's wisdom by trusting the signals that it sends.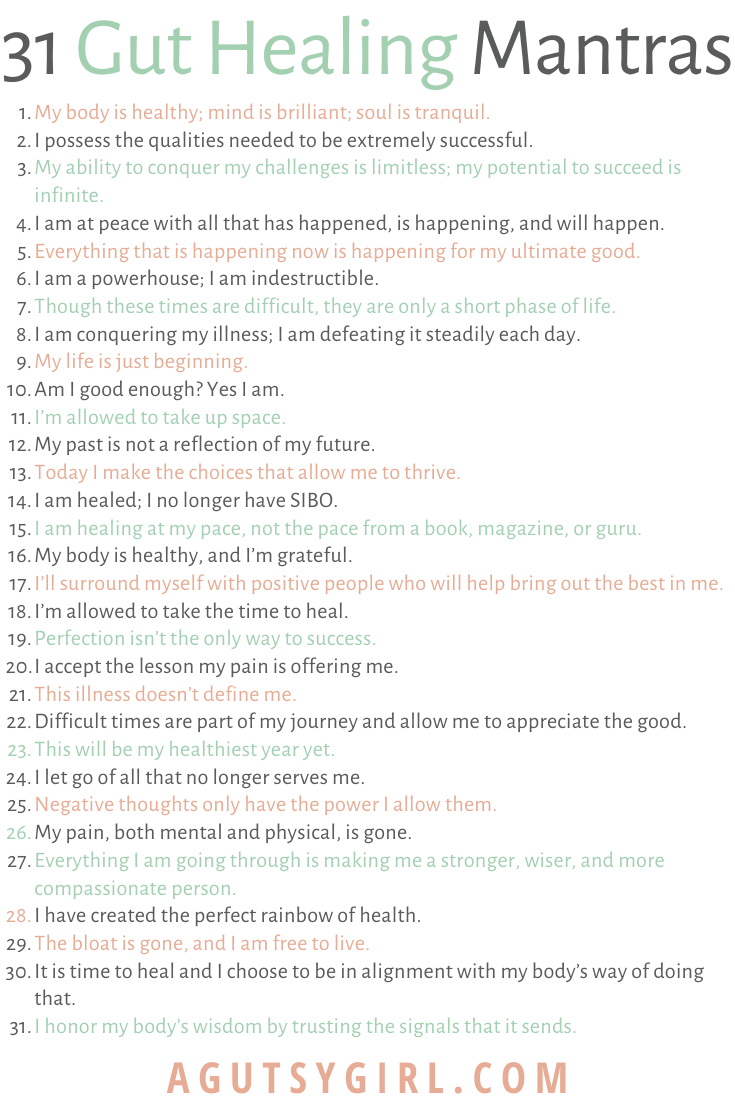 Create Your Own Gut Healing Mantra
Many of the above came from other places, as noted by the sources. And many others are mine that I have said over the years, and want to give to you for inspiration.
I believe you should create your own, based on your unique circumstances.
Start with the list above

Use the words as inspiration. Then, tinker with those words to make them right for you.

Write down a few that resonate with you

Feel free to write out as many as you like. Then, whittle it down to just one or two. You want to stay hyper-focused on just one or two. Don't try to have mantras galore. For one, you won't remember them all. And two, you can't do them all. One is great; truly all you need.

Ensure it's believable

You must believe whatever you're choosing to say over-and-over. If you don't, why should your body trust you?
Ready to give this a try?
Your mind is powerful. You are powerful.
If you enjoyed this post, you might also enjoy:
Sources: HERE, HERE, HERE, HERE, HERE, and HERE.

Xox,
SKH
You will heal. I will help.