Do you know how mindset changes gut healing?
Well after this post you certainly will.
Because you must know this….without the right mindset, it's nearly impossible to heal the gut.
What is Mindset?
So what is mindset anyways?
Your mindset is simply just the established attitude towards (something/anything) you have.
Psychology Today says it is "a belief that orients the way we handle situations—the way we sort out what is going on and what we should do. Our mindsets help us spot opportunities, but they can also trap us in self-defeating cycles." If you would like to read more about psychology, then learn more by visiting this page.
For the purposes of this post, I am discussing mindset as it relates to how you feel about yourself. And I am also talking about mindset as it relates to how you view gut healing.
Both are important for your success.
By the way, this mindset information is part of the LIVE Zoom presentation I'm doing this upcoming Monday, March 30, 2020 at 12pm CST. Reserve your spot by clicking HERE.
How Mindset Changes Gut Healing
Click HERE to save this post for later.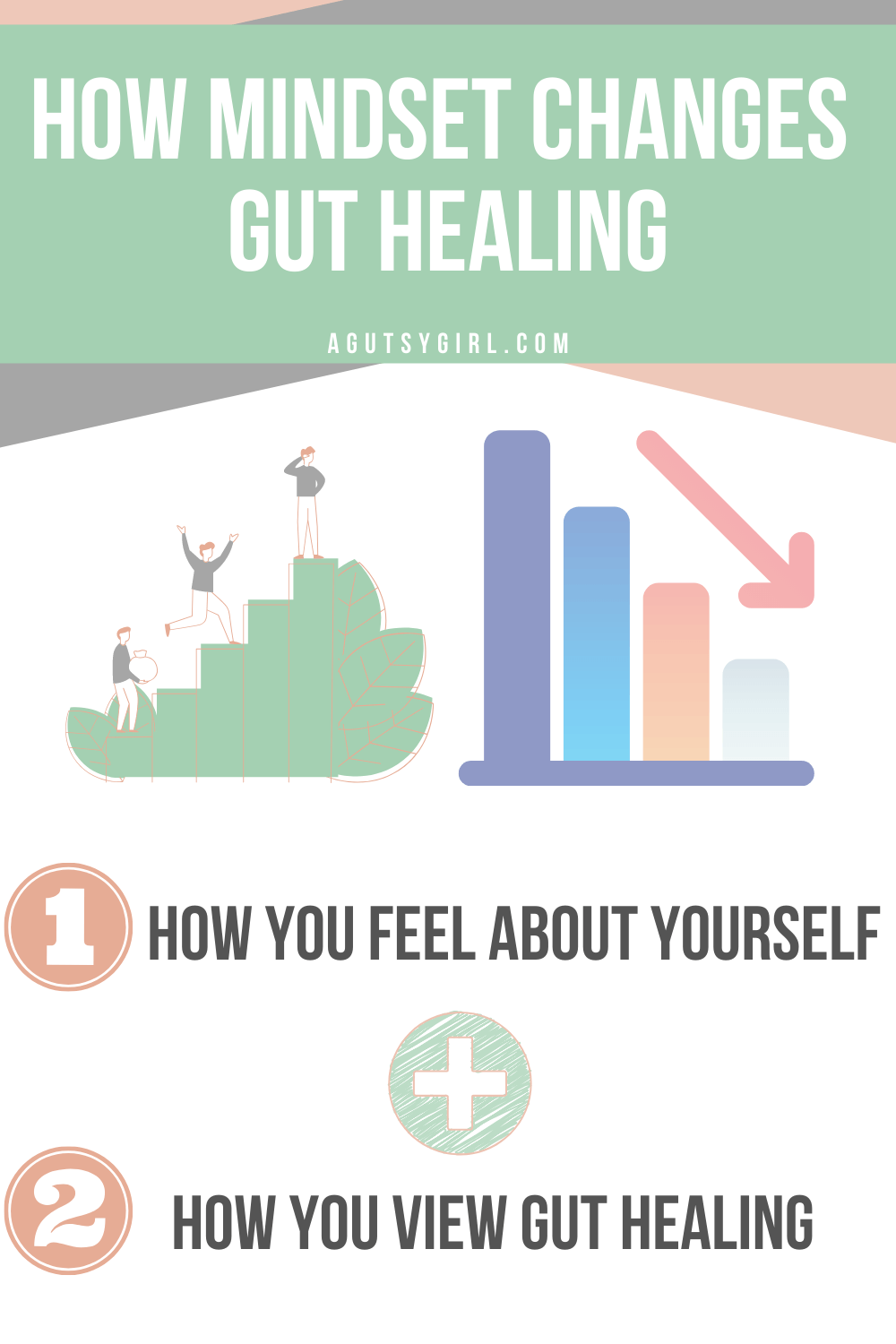 Here is how mindset changes gut healing:
Your mindset sets you up for success

When your mindset is right, you'll move with full conviction towards healing. Success, though it won't be overnight, can and will happen.

Or your mindset sets you up to fail

Without the right mindset, there won't be gut healing. You've heard the saying and it's true: Whether you think you can or think you can't, you're right. (Henry Ford)
So your mindset will either set you up for success or failure.
But how do you know which mindset leads to success or failure?
Here you go.
How You Feel About Yourself
Low self esteem.

When you look inwards, if what you see and feel are negative, it makes it hard to heal. If you're constantly telling yourself you're not good enough, not worthy enough, and that everything and everyone is against you, you're defeated. If you dwell in the doldrums and look down upon yourself, a body that wants to heal, then why would your body work with you to help?

High self esteem.

This looks like confidence, a "can-do" capable attitude and positive mantras. Despite circumstances, you believe in you. And you don't need anyone or anything else to solidify those thoughts. It's not arrogance by any token. Instead, it's simply believing that you are worth healing and happiness.
You might have already had an inkling that how you feel about yourself plays into the overall success or failure of your healing.
But you might not have guessed this next one. And that is, how you view gut healing, the process of it.
How You View Gut Healing
This is too hard.

It's not worth it. I am defeated already because of xyz reason. This is such a chore. What's the point? Do any of those sound familiar? I'd love to tell you that I've never thought them or said them out loud. Because I for sure have. But when I was saying them, I never healed. What I believed kept coming true. And what I told myself became my reality. For every statement, there is an opposite thought, idea, and statement. If you stay stuck here, nothing will change. And also, nothing will change because you are not actually making changes.

I've got this.

There is always something I can do to help my situation. I will not give up. There is so much hope. I'm stronger than the circumstances. Healing will happen. Now how about those? Do they sound familiar? In my personal experiences when those were the words I told myself, things began to change; to heal. No one ever said that healing your gut would be easy, but if you believe you can and put in the work to make it happen, things will change.
The Perfect Storm
And listen, in order to set up for successful healing, you must possess a strong mindset about self and the process.
This won't work if you have a high self esteem, but believe healing your gut is too hard. It also won't work if you have a low self esteem, but tell yourself, "I've got this."
Why? Because possessing only one of the combination doesn't initiate action. And action, darling, is the only way you truly can heal your gut.
All the positive mantras, beliefs, and ideas you tell yourself and keep tight to the vest mean nothing without action.
Getting Started Today
Here is how you can get started today.
Be honest with yourself. Take some time out of the day and reflect on both how you view yourself and how you view gut healing.
And after you're very honest with yourself, if you haven't yet created the perfect storm, start there. Do what you can, with what you have.
Right now, you could sink in and let current circumstances take over.
Or, you could get your mindset clear and right, plant those seeds, and watch as you bloom. And yes, maybe all because of this (new) mindset you developed.
Hope to have you join the Zoom presentation on Monday HERE.
And if you enjoyed this post, you might also enjoy:
Xox,
SKH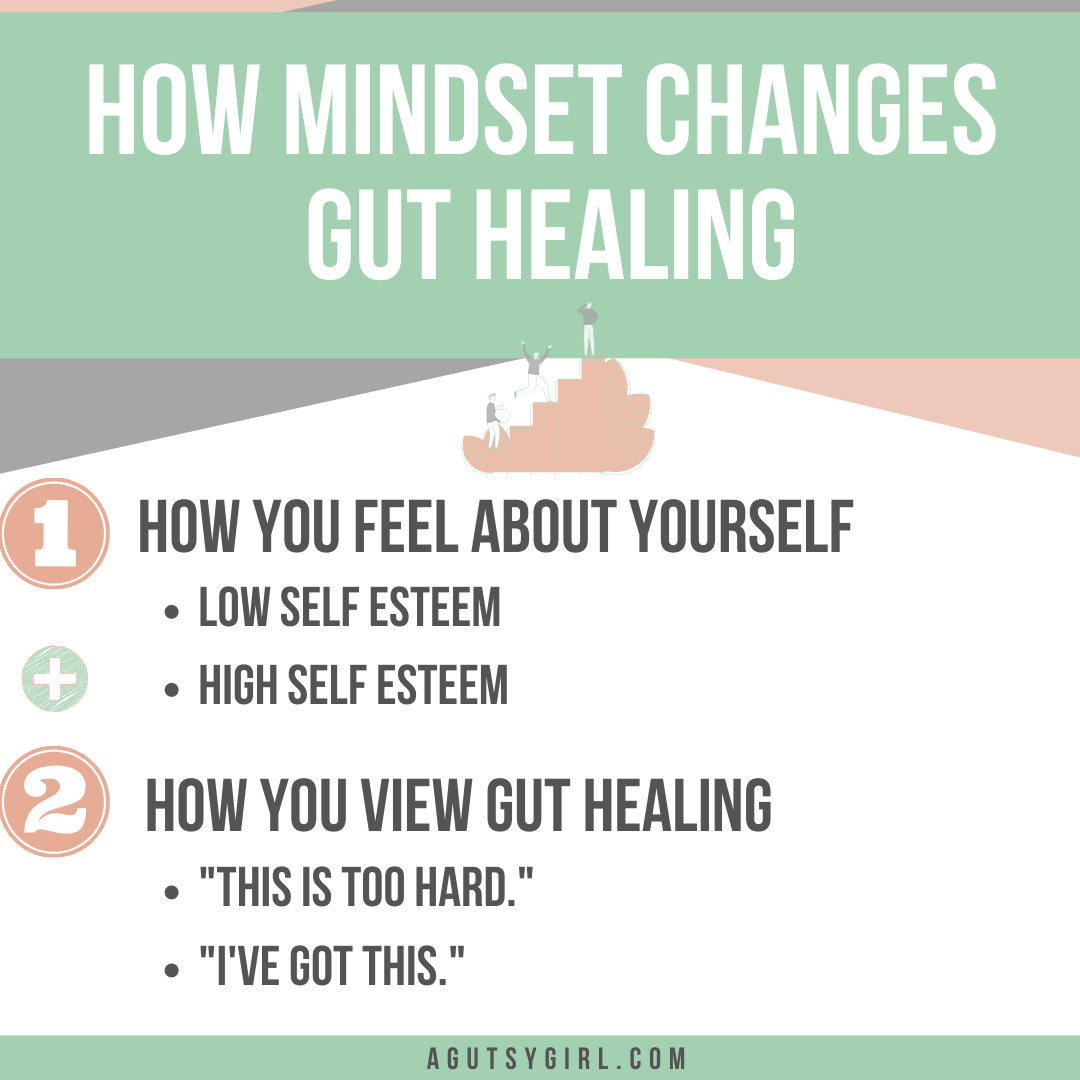 You will heal. I will help.