Why does the word shampoo make me laugh if I say it several times in a row? Anyways, today I want to tell you about my new natural shampoo ingredients.
Do you want in on a little secret?
I am obsessed with Beautycounter; from the products to the mission, and the opportunities that come from it. All of it.
And because I love and believe in it all so hard, if there is something I don't like I'm not afraid to say so. It's more important to me that I stay true to myself, and to you as well.
So I'm going to come out and just say it. I do not care for the Beautycounter Shampoo and Conditioner. The ingredients are still incredible, but the products just didn't work for my hair. I used both products for awhile because I desperately wanted them to work for me.
But alas, they didn't and they don't as much as other hair treatment options.
So I gave up trying to make it work, and right about the time when I let it go, Katie (aka Wellness Mama) came out with her own product-based company.
Wellnesse
Now seriously, who doesn't know and love Katie? It's hard not to. I met her for the first time at Expo West in 2019. And then in 2019, she invited me to record a podcast episode with her. Obviously, I happily obliged. The interview was great, and you can listen to it HERE.
Well anyways, Katie's commitment to people and products and living in the most natural way possible is extremely admirable.
I mean, I'll be perfectly honest with you. She has me far leveled up! If you've never tried her homemade Elderberry Syrup, it's a must.
Katie's website was already hugely popular and successful. And then she recently started Wellnesse, which is a personal care company that "makes the highest quality products that are not only safe, but packed with beneficial ingredients that are like extra goodies for your body."
I was thrilled when I saw a shampoo was in the product lineup!
Natural Shampoo Ingredients
Click HERE to save this post for later.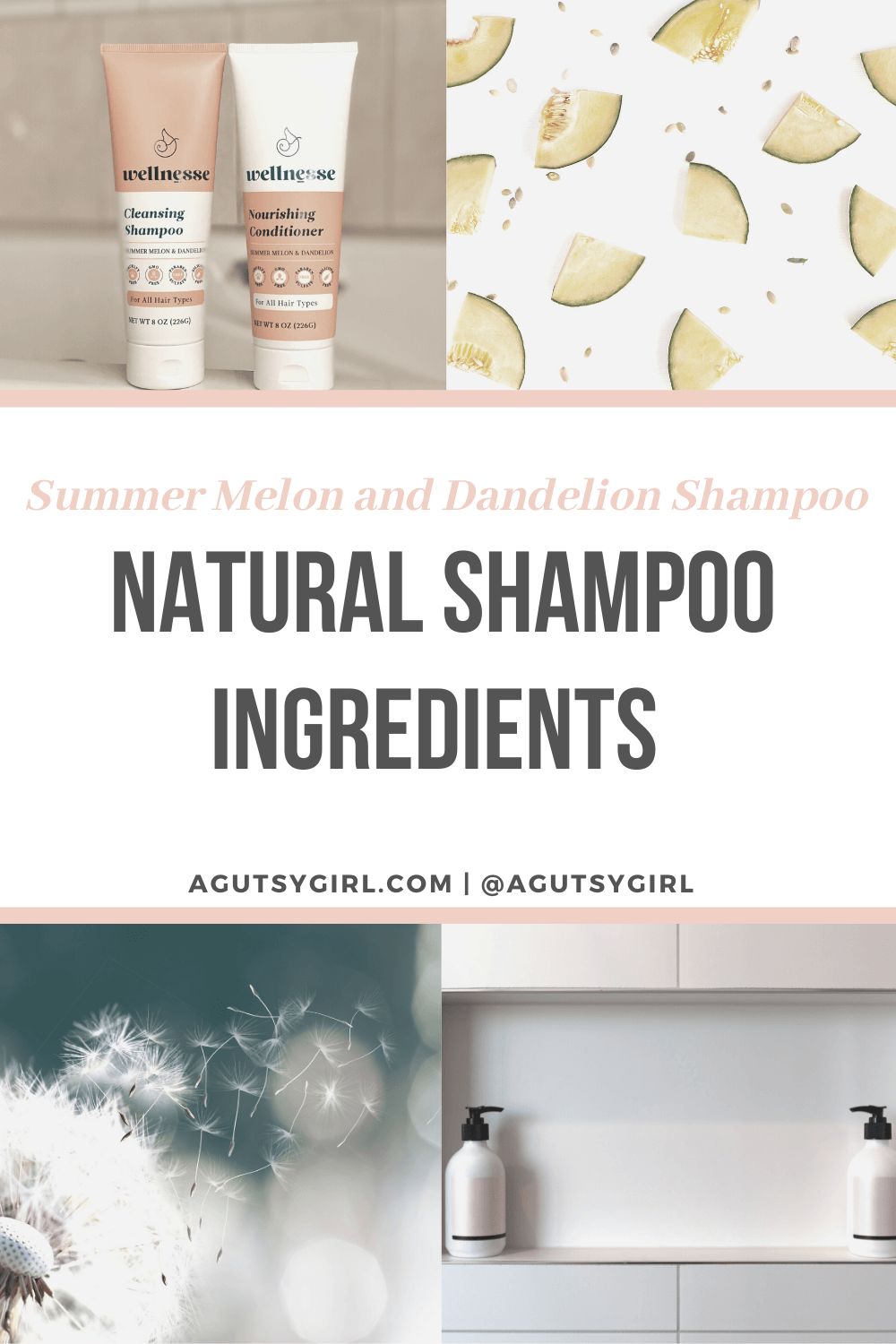 I took a quick liking to this shampoo due to these 4 main reasons:
It didn't leave my hair dry.
Even without conditioner, I was able to comb through it without breakage. p.s. I don't use a ton of conditioner because my hair is so fine.
It doesn't have a strong scent; I'm sensitive to strong scents.
The ingredients are lovely, and I trust Katie.
Summer Melon and Dandelion Shampoo
Here are the exact ingredients in the Summer Melon and Dandelion Shampoo: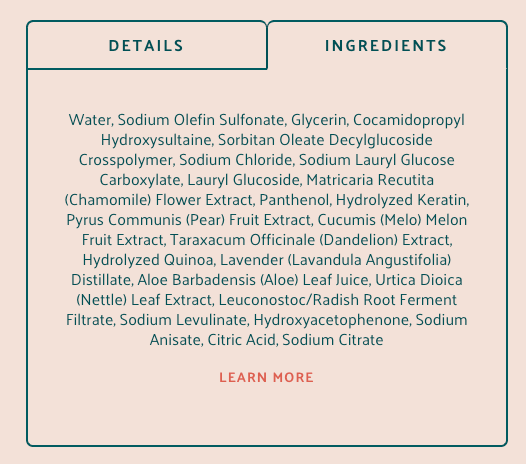 That's a long list, right?
Rest assured, there are no ingredients used in these products that rate lower than a "2" from the Environmental Working Group.
In fact, every single one of those ingredients has a "1" rating except for the glycerin and hydrolyzed keratin (which are a "2").
You can buy once for $16 or subscribe and save $2 per bottle. There is free shipping over $40 and free returns if you hate it (you won't!) You'll find it all HERE.
But wait, there's more. For those of you who love to geek out on ingredients like I do, I put together more information about all ingredients contained in this shampoo.
Summer Melon and Dandelion Shampoo Ingredients
Not only am I telling you the ingredients contained in the product, but also what they are and why they are contained in the shampoo.
Water

It's just fresh water, and this is the base for the shampoo.

Sodium Olefin Sulfonate

This is a surfactant, cleansing, and foaming agent. It creates suds and foam.

Glycerin

A colorless, odorless, emollient that is sweet-tasting and non-toxic which is part of a natural preservative blend.

Cocamidopropyl Hydroxysultaine

This is a coconut oil derived surfactant that is used to condition, foam, and cleanse.

Sorbitan Oleate Decylglucoside Crosspolymer

A 100% natural emulsifier derived from sugar, corn, and olive oil that binds oil and water.

Sodium Chloride

Sea salt made from evaporated ocean water which thickens the shampoo.

Sodium Lauryl Glucose Carboxylate

A sugar-based surfactant that removes oil and cleanses hair

Lauryl Glucoside

A bacteria that acts as a probiotic for your hair and is common in fermented foods like yogurt. It is used in the shampoo as a surfactant, cleansing agent.

Matricaria Recutita (Chamomile) Flower Extract

The extract of chamomile flowers which conditions and provides aromatics for hair. Side note: Chamomile is my current obsession.

Panthenol

A form of vitamin b derived from plants that is a highly effective humectant to moisturize hair.

Hydrolyzed Keratin

This is a sheep-wool derived protein that smooths hair, reduces frizz, and promotes gloss. (BTW – remember that this product is cruelty-free.)

Pyrus Communis (Pear) Fruit Extract

The extract of pears which adds a delicious scent.

Cucumis (Melo) Melon Fruit Extract

The extract of cantaloupe and honeydew, which also adds a delicious scent.

Taraxacum Officinale (Dandelion) Extract

The extract of dandelion flowers, which again is added for scent.

Hydrolyzed Quinoa

A quinoa grain extract that is broken down with water. This ingredient helps repair hair damage and benefits hair growth.

Lavender (Lavandula Angustifolia) Distillate

An organic aromatic water extracted from steaming lavender flowers that soothes hair and scalp.

Aloe Barbadensis (Aloe) Leaf Juice

Sugar-based surfactant made from naturally occurring raw materials. It's used as an emulsifier and stabilizer for the formula.

Urtica Dioica (Nettle) Leaf Extract

The extra from the nettle leaf plant which stimulates hair growth, restores shine, and prevents breakage.

Sodium Levulinate

A salt, combined with Sodium Anisate which acts as a comprehensive natural preservative.

Hydroxyacetophenone

This is a compound found in arctic cloudberries, and is full of antioxidants. It is another part of the natural preservative blend.

Sodium Anisate

A natural, anti-fungal compound, combined with Sodicum Levulinate acts as a comprehensive natural preservative.

Citric Acid

An organic acid naturally occurring in citrus fruits that maintains pH and boosts the product's preservative system

Sodium Citrate

A salt derived from citrus fruits that balances the pH of scalp.
Get You Some Shampoo!
And there you have it. The natural shampoo ingredients in the shampoo I finally found, love, and fully recommend.
But wait, there's even more!
I have updated this post in 2021, as there is now a dry shampoo from Wellnesse as well.
Not Your Mother's Dry Shampoo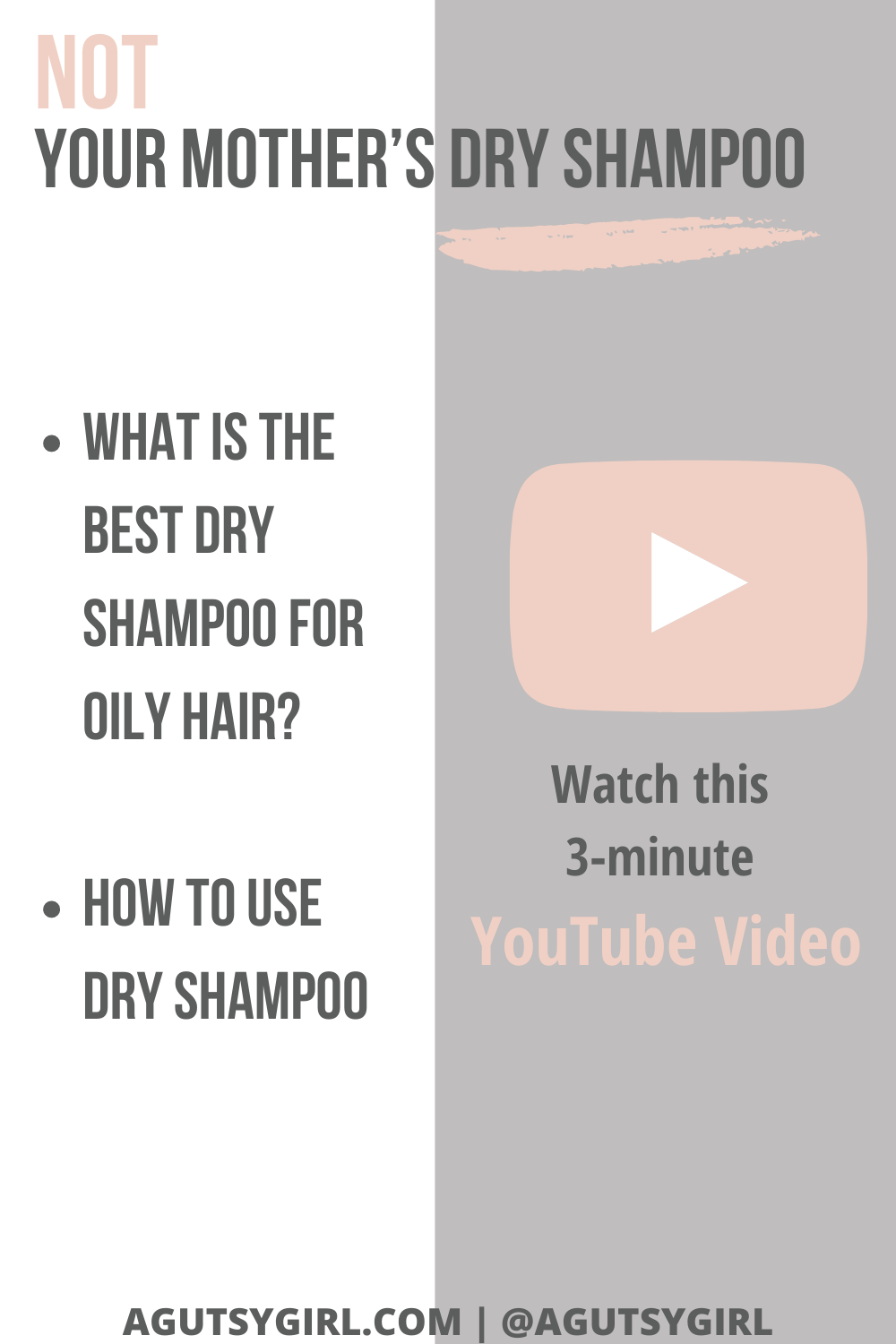 I can't get enough of my Hibiscus & Blackberry Dry Shampoo from Wellnesse.
This dry shampoo….
Cleanses and conditions, helps maintain hair's natural pH balance, and even stimulates hair growth. All powered by the cleanest natural ingredients possible.
This is the first time I have ever used dry shampoo. As a huge skeptic, I didn't think there was any product, "clean" or otherwise that could benefit my thin, oily hair.
I, thankfully, was wrong. And because I fell in love so hard, let me show you how easy it all is.
How to Use Dry Shampoo
Just watch how simple and effective this is. And yes, yes I did practically just jump out of bed when I made this video. No makeup, hair still in a high ponytail.
Best Dry Shampoo for Oily Hair
So why is this the best dry shampoo for oily hair?
Contains kaolin clay, which absorbs oil at your roots, improves hair elasticity, promotes hair growth, and repairs damage
Includes hibiscus and cactus flowers, which maintain moisture, reinforce shine, is rich in antioxidants, and boosts hair growth.
Uses lavender oil, which detoxifies and soothes scalp, combats hair loss and thinning, and balances natural pH of hair
Dry Shampoo Powder
The Wellnesse dry shampoo powder comes in two types:
All hair types
Darker hair types
You'll find both types HERE.
If you liked this post, you might also enjoy:
Full disclosure: Wellnesse sent me the shampoo, conditioner, and toothpaste free of charge. When I loved the product, I became a Wellnesse affiliate. What this means is that when you purchase from Wellnesse using my links, I make a small amount at no cost to you. This allows me to keep A Gutsy Girl thriving for you on a daily basis.
Xox,
SKH
You will heal. I will help.