I have been using and buying Beautycounter products like crazy, and simultaneously have been doing all the skin health and endocrine disruptors research.
I am no spring chicken. Let's just get that out of the way. When it comes to skincare and makeup, I have always been a minimalist. And in fact, I will be my entire life.
But I am 34, and even though my skin is 100% Perioral Dermatitis under control, it is far from perfect.
I need to use some basic things on a daily basis now, but honestly? Now that I've been upgrading to Beautycounter and replacing all my old stuff, I feel excited about skincare and (gasp) even makeup.
I believe with all my heart, though, that the foundation for good skin health, starts from within. Nothing you use topically (face wash, moisturizer, or makeup) matters if your insides aren't well.
That said, if what you're using topically isn't as high quality as the food you're using to nourish your body with, you must know that damage is being done.
Topical items often contain endocrine disruptors.
There is no end to the tricks that endocrine disruptors can play on our bodies: increasing production of certain hormones; decreasing production of others; imitating hormones; turning one hormone into another; interfering with hormone signaling; telling cells to die prematurely; competing with essential nutrients; binding to essential hormones; accumulating in organs that produce hormones. (source)
I told you awhile back that I am studying through Chris Kresser's ADAPT program. And so today I put together some skin health information for you…..
Skin Health and Endocrine Disruptors
Click HERE to save this information for later.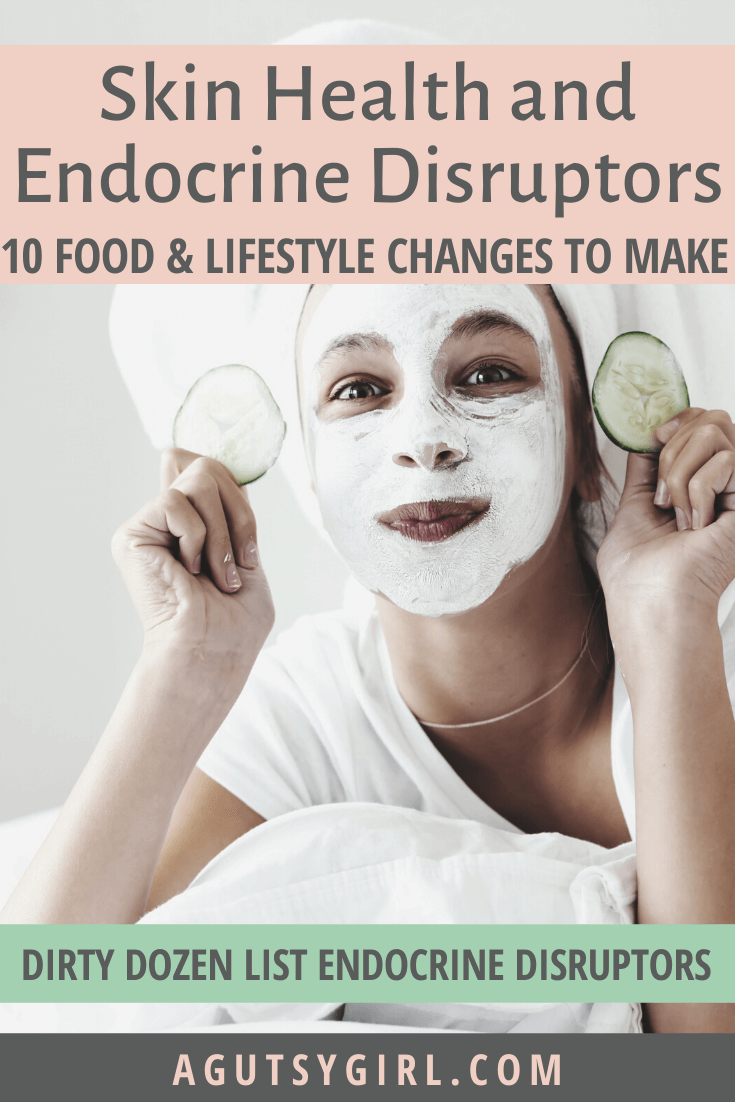 Let's start with you and your own skin health. Take this quiz.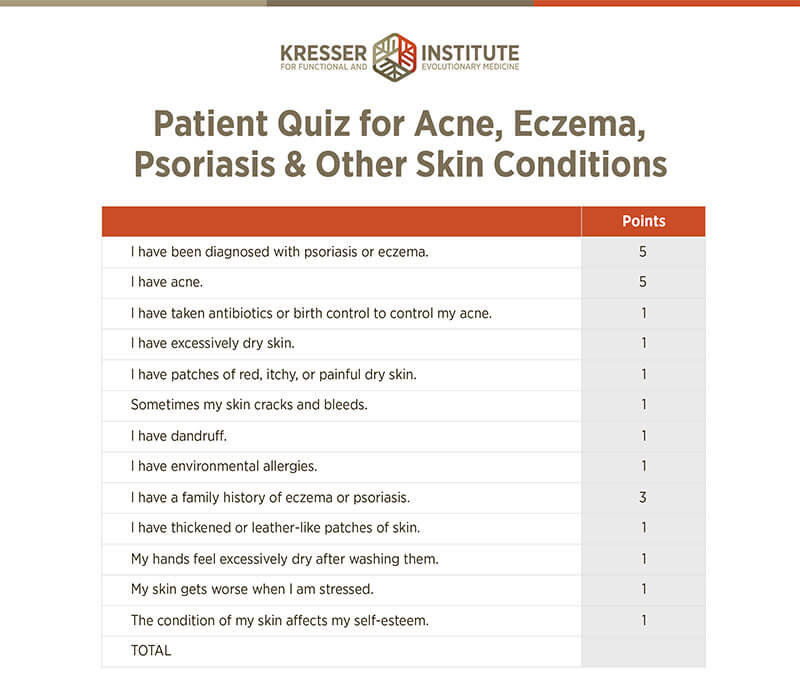 Tally up your total number. The higher your final number, the more at risk you are for skin problems.
And if you are at risk for skin problems, I believe it's a dual approach to healing: food + lifestyle and skincare products + routine.
Here are 10 things you can do immediately from a food and lifestyle standpoint
(Taken from Chris Kresser's ADAPT Academy.)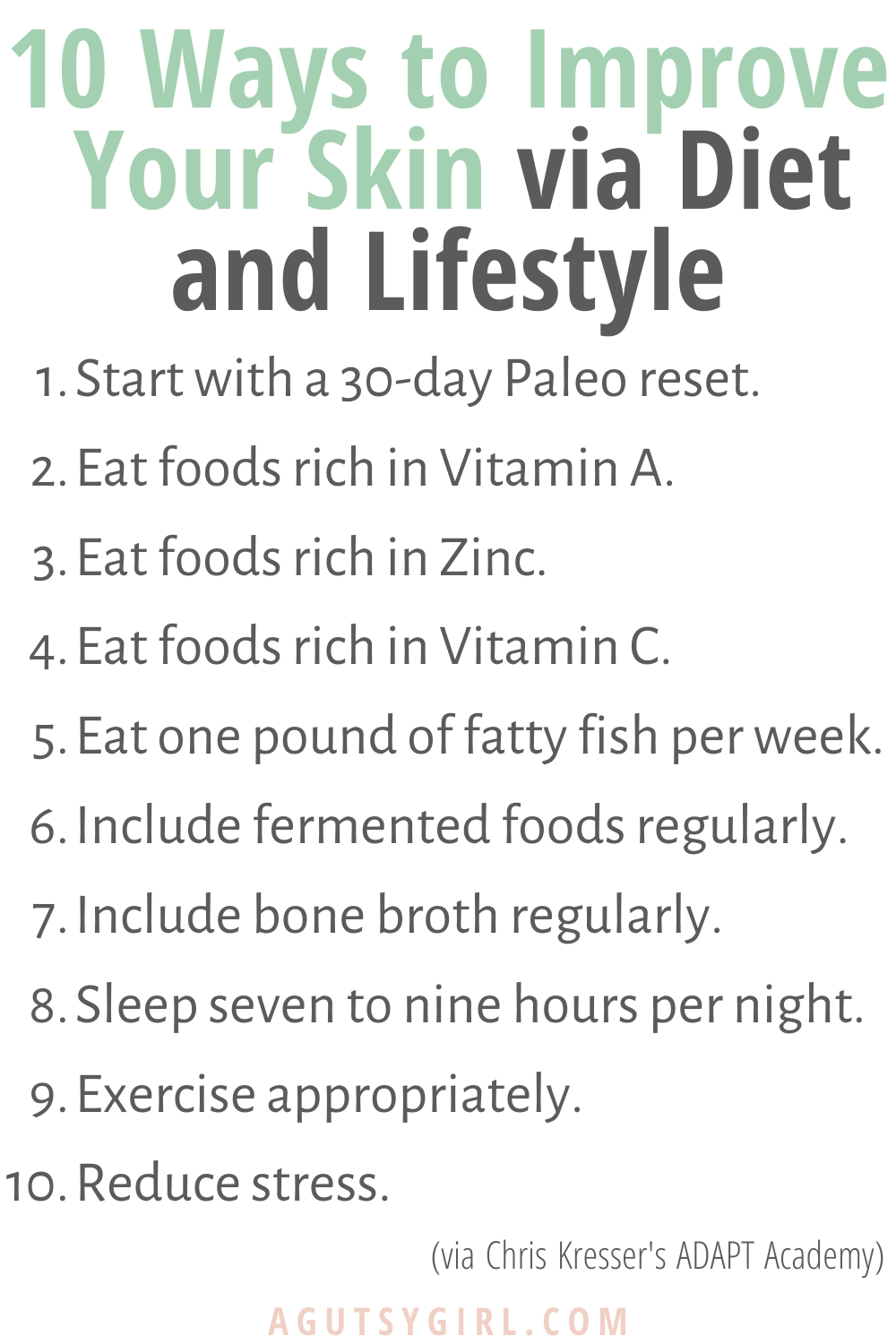 Stat with a 30-day Paleo reset.
Include fermented foods regularly.
Eat foods rich in Zinc.
Include bone broth regularly.
Sleep seven to nine hours per night.
Exercise appropriately.
Reduce stress.
Eat one pound of fatty fish per week.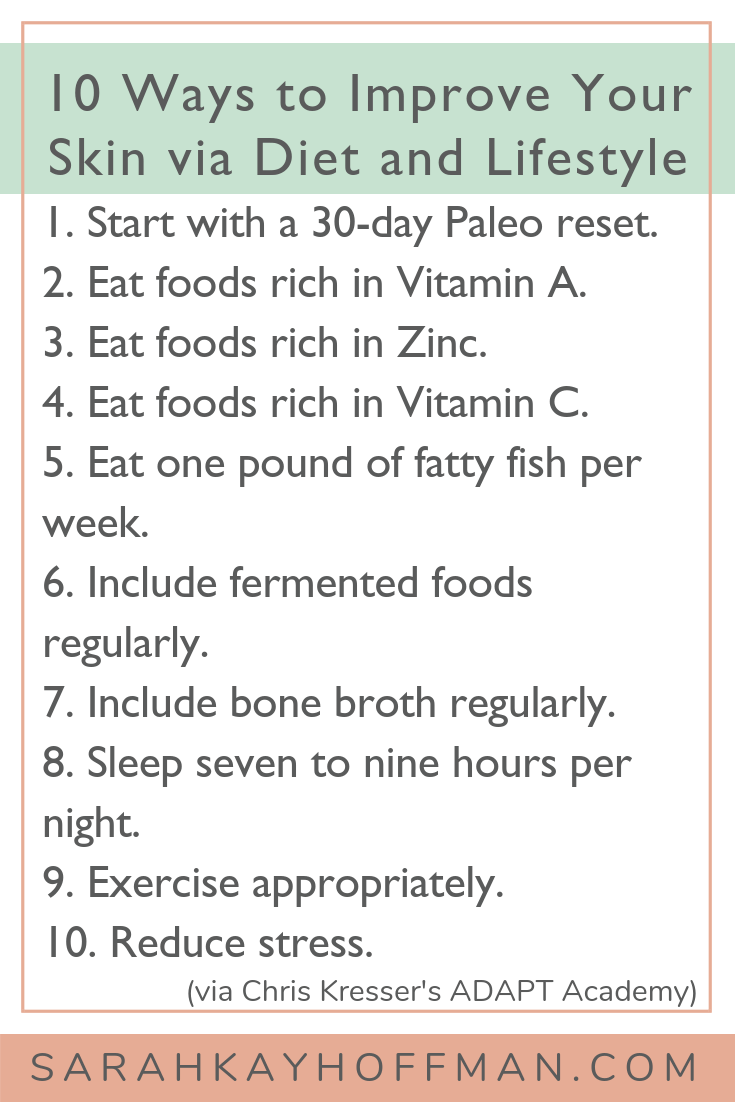 Endocrine Disruptors
I've been obsessed with knowing all the things about food and lifestyle as they relate to healing (the above information), but the other part – the topical part – is what I am now focused on learning as much as possible about.
I started by learning about the Dirty Dozen Endocrine Disruptors.
Endocrine disruptors are chemicals that may interfere with the body's endocrine system and produce adverse developmental, reproductive, neurological, and immune effects in both humans and wildlife. (source)
What are the Dirty Dozen Endocrine Disruptors?
Click HERE to save this list for later.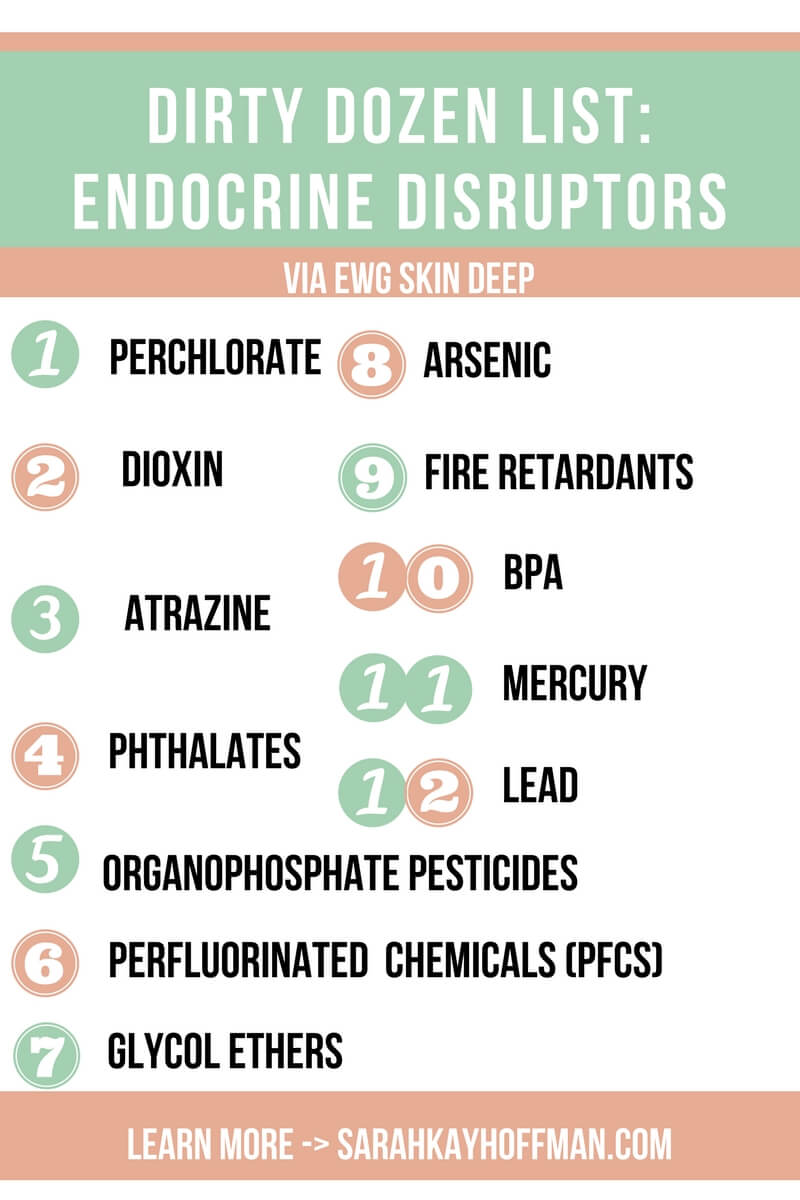 BPA
Dioxin
Atrazine
Phthalates
Perchlorate
Fire retardants
Lead
Arsenic
Mercury
Perfluorinated chemicals (PFCs)
Organophosphate pesticides
Glycol Ethers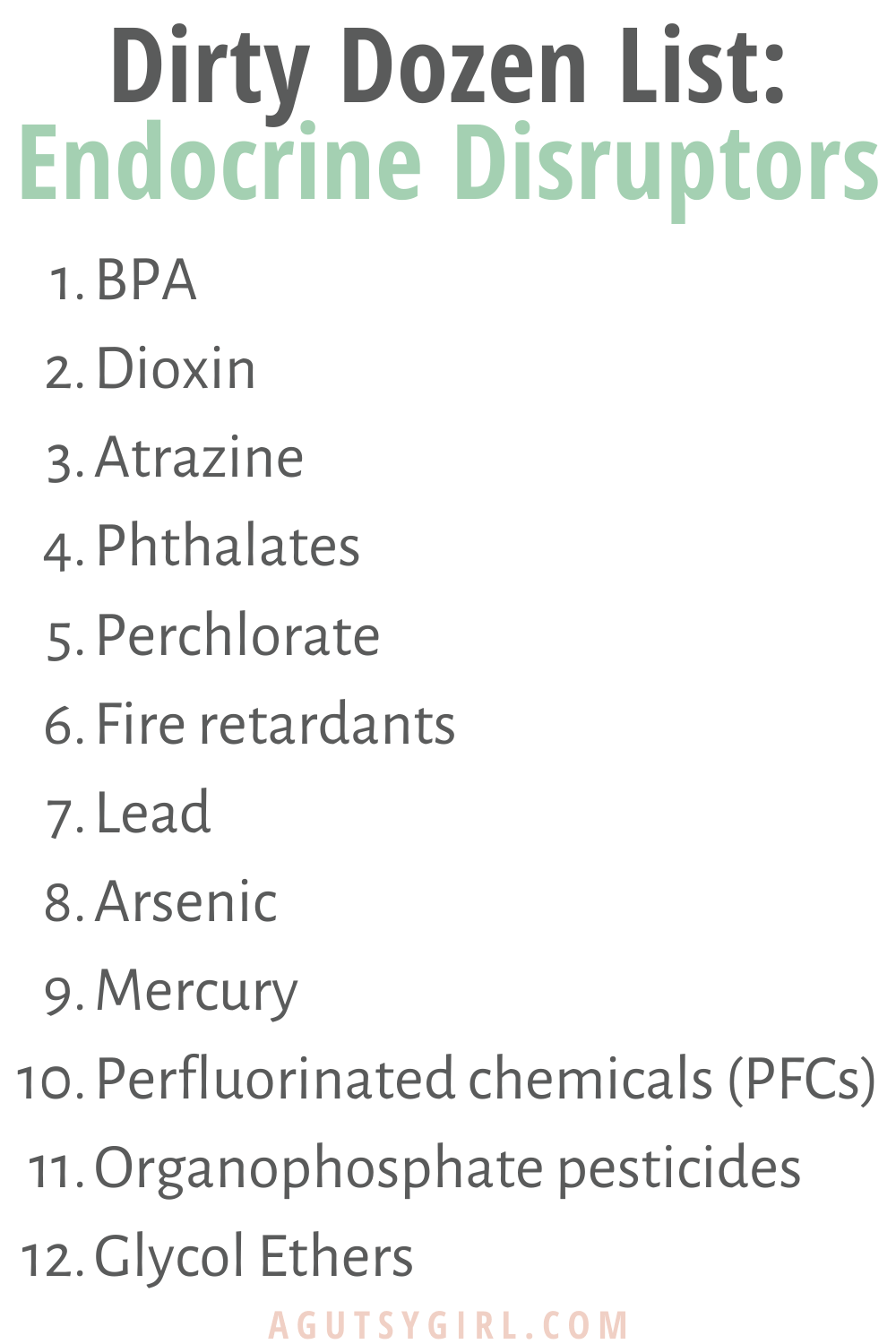 You can learn all about each of them HERE.
I have used products with those 12 things in them for years. We can't go back and change anything, but we can take the acquired information and make a change.
I have written all 12 ingredients down, and am watching for them in anything and everything we buy.
And this all comes back to the one change I've made immediately – switching from random skin and body care products to only using safer skincare and beauty items.
And no, it's not only Beautycounter, either. In fact, you can see a list of all Recommended Skin, Body, and Personal Care Items HERE.
Some New Things
Little-by-little, I am swapping out all my old makeup and skincare stuff and swapping in for Beautycounter.
I'm not asking myself, nor am I asking you to straight up dump every last thing you have and invest thousands in new product. If you need to, finish what you have and when it's time to replace, consider the safer skincare options.
(Caveat – if you have Perioral Dermatitis, and are still using toothpaste and products containing this, change immediately.)
In addition to all of these Beautycounter products I've tried, here are 5 full-sized products I recently bought (and what was swapped for them):
Make One Personal Care Change
Today, make the decision to make one change for better skin health and one change for reducing the endocrine disruptors load in your life.
Under "Skin Health" above, choose one of the 10 things you can do immediately from a food and lifestyle standpoint, and focus on it.
Under "Endocrine Disruptors" above, choose one of the ingredients, find a product you currently own that contains it and swap it.
If you have your own blog or website and you, too, are passionate about skin health, endocrine disruptors, and safer skincare ingredients in general and would like to host your own Beautycounter Virtual Party, reach out.
If you're interested in joining the safer beauty mission, check THIS out.
Again, this is about sharing information without fear-mongering, and most of all…..having fun!
Want more? Read: Are Your Skincare Products Toxic? Makeup and cosmetics + 7 tips for avoiding chemicals that harm fertility + The Never List + State of the science of endocrine disrupting chemicals + How Endocrine Disruptors Destroy Your Body + 10 Sources of Endocrine Disruptors and How to Avoid Them
If you liked this post, you might also enjoy:
Xox,
SKH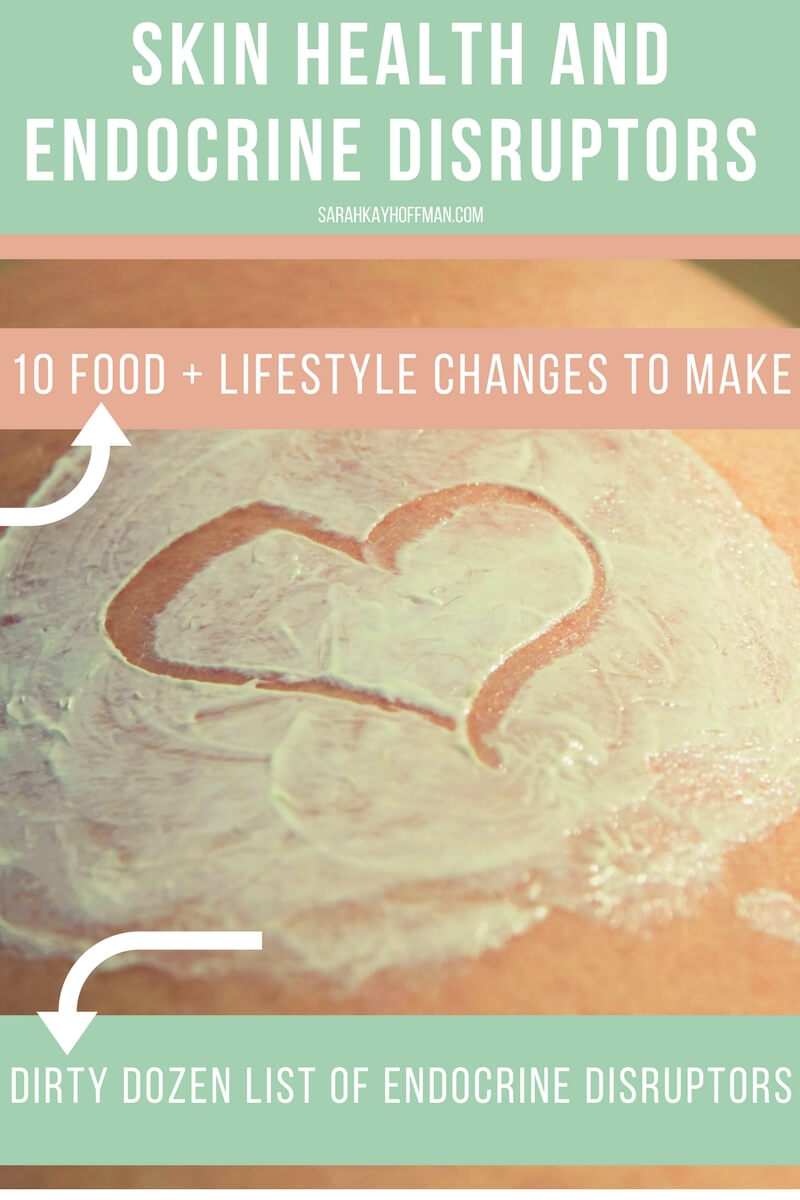 You will heal. I will help.