Put this Comfort Spicy Sweet Potato Fries recipe on repeat.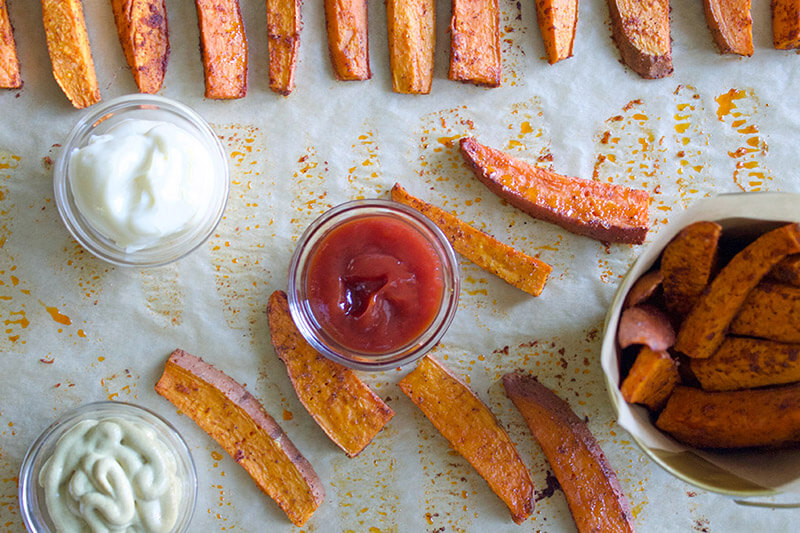 Because, yes, friends, that's what these are – a comfort food.
Non-Traditional Thanksgiving
We have decided to opt out of any and all traditional Thanksgiving and Christmas gatherings this year. And by "we," I mean Ryan, the babies, and I. We are not going to Minnesota, and we are not spending the holiday(s) with any friends and their families. 
This Thanksgiving and Christmas are likely to be very different for us, and for this year, that's okay.
We are planning to take the kids to the mountains or the ocean or whatever we feel like on those holiday days and weekends. There are no major plans, just the plan to make this holiday season different.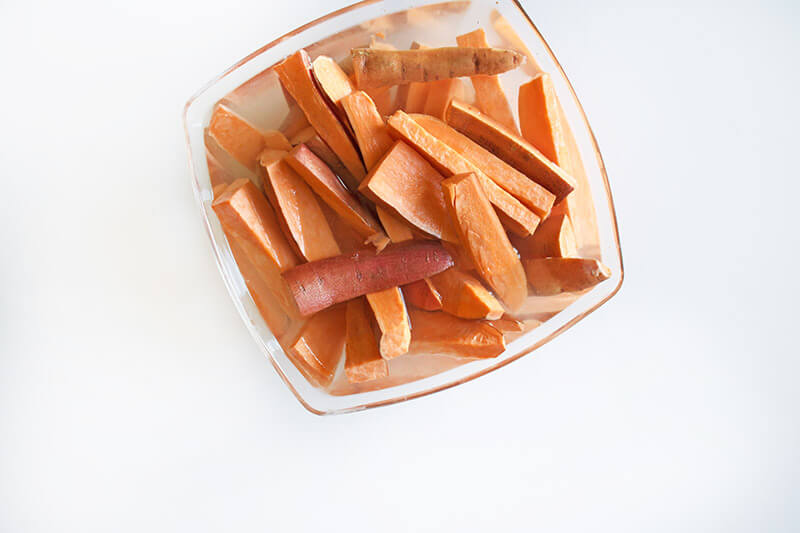 What won't be different are the copious amounts of food we will make, cook, bake, and enjoy!
Just as this holiday is going to be different, so might the food options be different as well.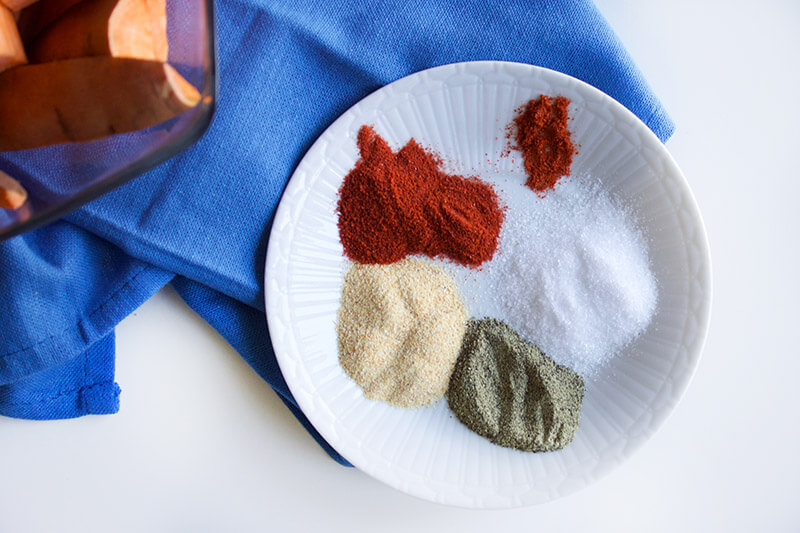 Isaiah's Stomach
I've been sharing bits and pieces, here and there, about Isaiah's stomach. Because of the stomach issues, I'm not really wanting to make huge traditional meals and desserts because I don't want to be forced into saying, "I'm sorry. No, Isaiah. You can't have that. Here, you get to have this instead."
He has been such an amazing little trooper throughout it all, but I've started switching my approach to it, and instead of always making him something else, I'm trying to just make things he can eat, too, so that I can avoid the heartbreaking look of sadness and confusion on his face.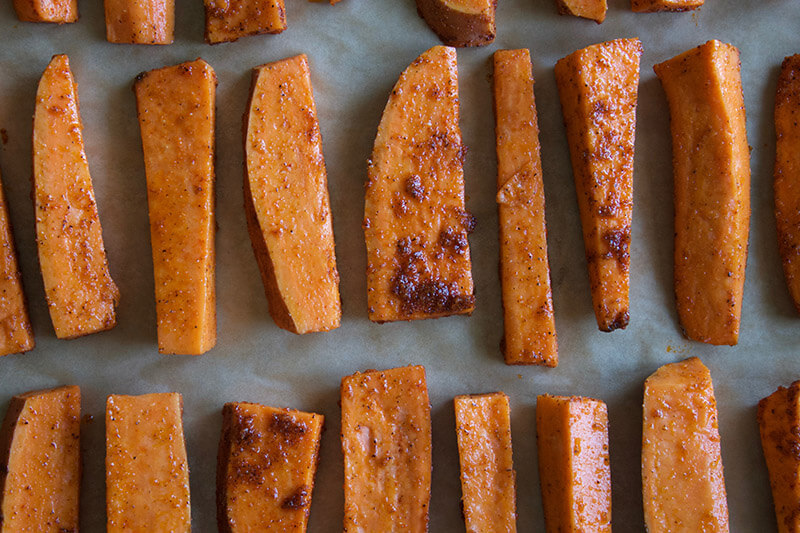 I digress.
This does have to do with these Comfort Spicy Sweet Potato Fries, so back to them.
There are a couple ways we have done potatoes for Thanksgiving throughout the years – mashed potatoes with butter and gravy and/or loaded sweet potatoes with butter, sugar, and marshmallows.
Both of those options could work for Isaiah, with modifications. But instead of making too many modifications, I decided we'll just do something not traditional and make my Comfort Spicy Sweet Potato Fries.
Gutsy Children – Quantity Matters, Too
Here's the thing…..he can't have many sweet potatoes (he would eat a huge sweet potato or two in one sitting if he could). I've figured out he can tolerate somewhere between 1/2 – 1 cup. If he were just eating a plain sweet potato, that would be gone quickly. But with my fries, he will a) have more fun eating them, and b) feel like he's able to eat more.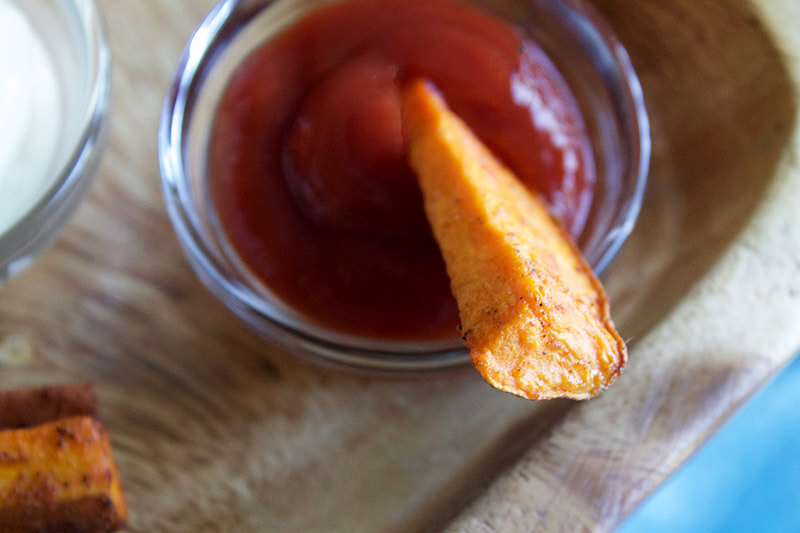 This original recipe used garlic powder and a different oil. I am suspect of garlic for Isaiah, so I took both out and swapped in Nutiva's Liquid Coconut Oil with Garlic. In my Garlic and SIBO blog post, I explained why, if you can't tolerate garlic, you are still likely to tolerate oils infused with garlic.
The recipe is super basic but perfectly spicy (it's not sweet – that's Sweet Potato – not spicy sweet), and also not too spicy because I don't love a ton of spice. If you wanted to make them sweeter, you could add 1.5 tsp sugar of choice (I'd choose Coconut Sugar). 
Otherwise, keep the recipe sugar-free, and enjoy these fries for all they are!
I can promise you that our little Hercules man does and will.
Comfort Spicy Sweet Potato Fries
Click HERE to save this recipe for later.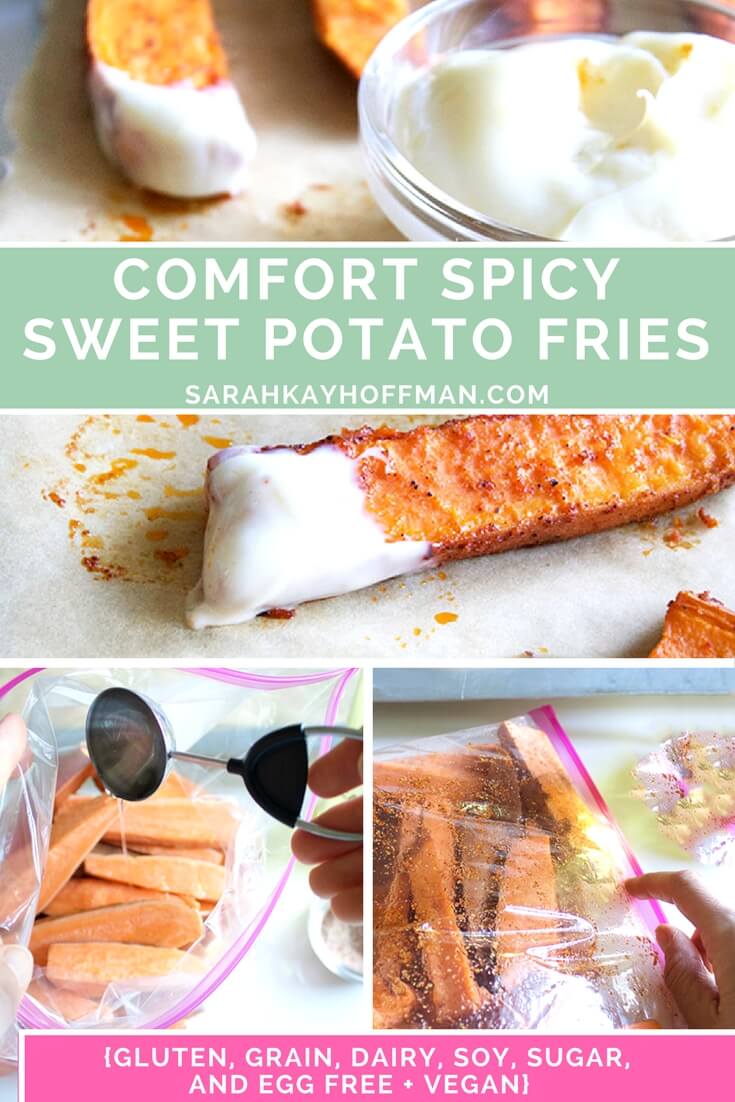 Comfort Spicy Sweet Potato Fries
Author:
Sarah Kay Hoffman
Prep time:
Cook time:
Total time:
A little spice goes a long way in these Comfort Spicy Sweet Potato Fries.
Ingredients
2 large sweet potatoes (750-800g)
2.5 Tbsp Nutiva Organic Liquid Coconut Oil with Garlic
1.5 tsp Sea Salt
1 tsp pepper
1 tsp paprika
pinch, cayenne pepper
Instructions
Preheat oven to 425 degrees.
Slice the sweet potatoes into fries by cutting the sweet potato in half. Then, cut each half into fry shapes by cutting down the sweet potato lengthwise. Be sure to keep the fry wedges as evenly sized as possible.
Place the fries in a bowl, and cover with water for 5 minutes.
Drain water, and pat fries dry with a towel.
In a small bowl, place the salt, pepper, cayenne, and paprika. Stir.
Once the fries have dried, place in a large plastic ziplock bag.
Add the oil and spice mixture to the bag, close ziplock, and shake vigorously until completely mixed together.
Evenly spread and lay fry wedges out flat on a large parchment-covered baking sheet.
Bake for 15 minutes.
Flip fries over, and bake for another 15 minutes
Serve immediately as is or with condiment of choice.
Notes
Optional: If you don't want these sugar-free, you can add 1.5 tsp sugar of choice.
I served these with
Sir Kensington's Mayo
,
Sir Kensington's Mustard
, and organic Ketchup.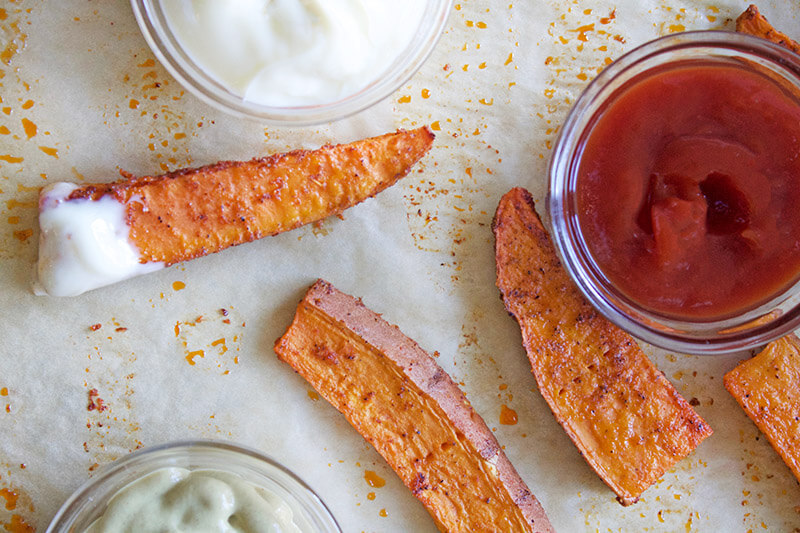 Do you like Sweet Potato Fries? How about the idea of skipping a year for all the traditional Thanksgiving and Christmas festivities? Yeah, I'm not sure how I feel about it either. 
If you liked this post, you might also enjoy:

Xox,
SKH
You will heal. I will help.