You will have Thanksgiving leftovers; that's a fact. So here are 7 things to do with Thanksgiving leftovers.
Before we dig into these 7 things to do with Thanksgiving leftovers, let me just be very clear and up front with you about something.
When I say, "Yes, I think you should use leftovers," I actually mean it. No, like I really mean it. If you were to come to our house for dinner and there is any waste, I am constantly complaining about it and cringing on the inside.
I try not to get so upset over spilled milk, spoiled food, and wasted meals, but it's so hard because I hate the inefficiency.
Anyways, all of that to say; don't just toss the Thanksgiving leftovers.
Give them another chance.
7 Things to Do with Thanksgiving Leftovers
Click HERE to save these 7 things to do with Thanksgiving leftovers for later.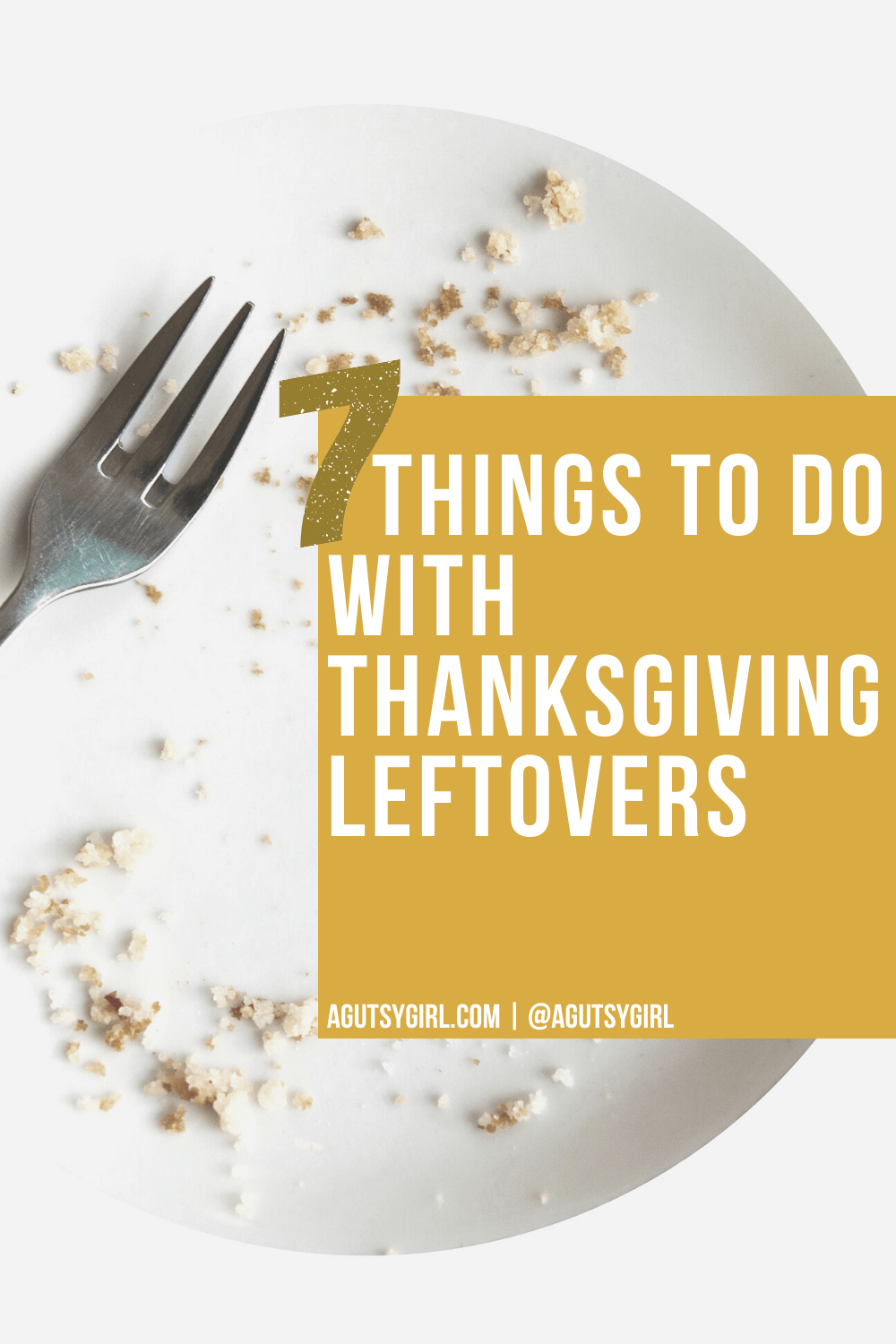 Share with friends and family

I'm not sure about your family, but in ours we always divide up leftovers. If you're making the Thanksgiving meal, invite people to bring reusable containers over. This way, you'll keep plenty for your household and they will get plenty to bring home, too.

Make bone broth

I have always said it, and I mean it. My favorite part of the Thanksgiving meal are all those turkey bones, skins, and other leftover parts that can then be made into bone broth. You can even make my Chicken Bone Broth recipe, swapping out the chicken bones for turkey ones.

Then make soup

By now, everyone knows that sipping on bone broth, as is, is my preferred way for enjoying it. But it's not for everyone. In that case, just make soup. Use the broth as your base and add other things to it: vegetables, meat, and maybe even a grain like rice or quinoa if desired. Thanksgiving is the meal that just keeps on giving.

Give to a local shelter, if they are receptive.

I don't even know if this is possible in most communities anymore, but it's at least worth looking into if you have so many leftovers that you have no clue what to do with. Another thing to do if you can't give to a proper shelter, is to drop off for someone, anyone who might need it – at their house, apartment, or even on the street. When Ceci lived with us in California, we attempted a version of this during the holiday season.

Freeze

Depending on the Thanksgiving menu, many items could be frozen to save for a later date to avoid spoiling in the fridge. If you're really worried about having too many leftovers and like this idea, you could even plan your menu around items that will be easy to freeze.

Does the dog need a treat?!

Like humans, dogs will react different to foods, too. But my dogs love a good treat, and by that I mean, "anything and everything they can eat, they will eat." If the kids have had their tiny fingers all over meat and rice, and it's just not going to be saved or reused because of it, the dogs get it. Remember, I absolutely hate wasting food, so this is sort of the last resort.

Repurpose

And last, but not least, the suggestion found everywhere: repurpose the food. Have too much turkey? Make a turkey sandwich, toss it in with soup, or make a homemade turkey pot pie. Seriously, if you just put into the old Google, "What to do with Thanksgiving leftovers," you'll stumble upon a ton of recipes and ideas.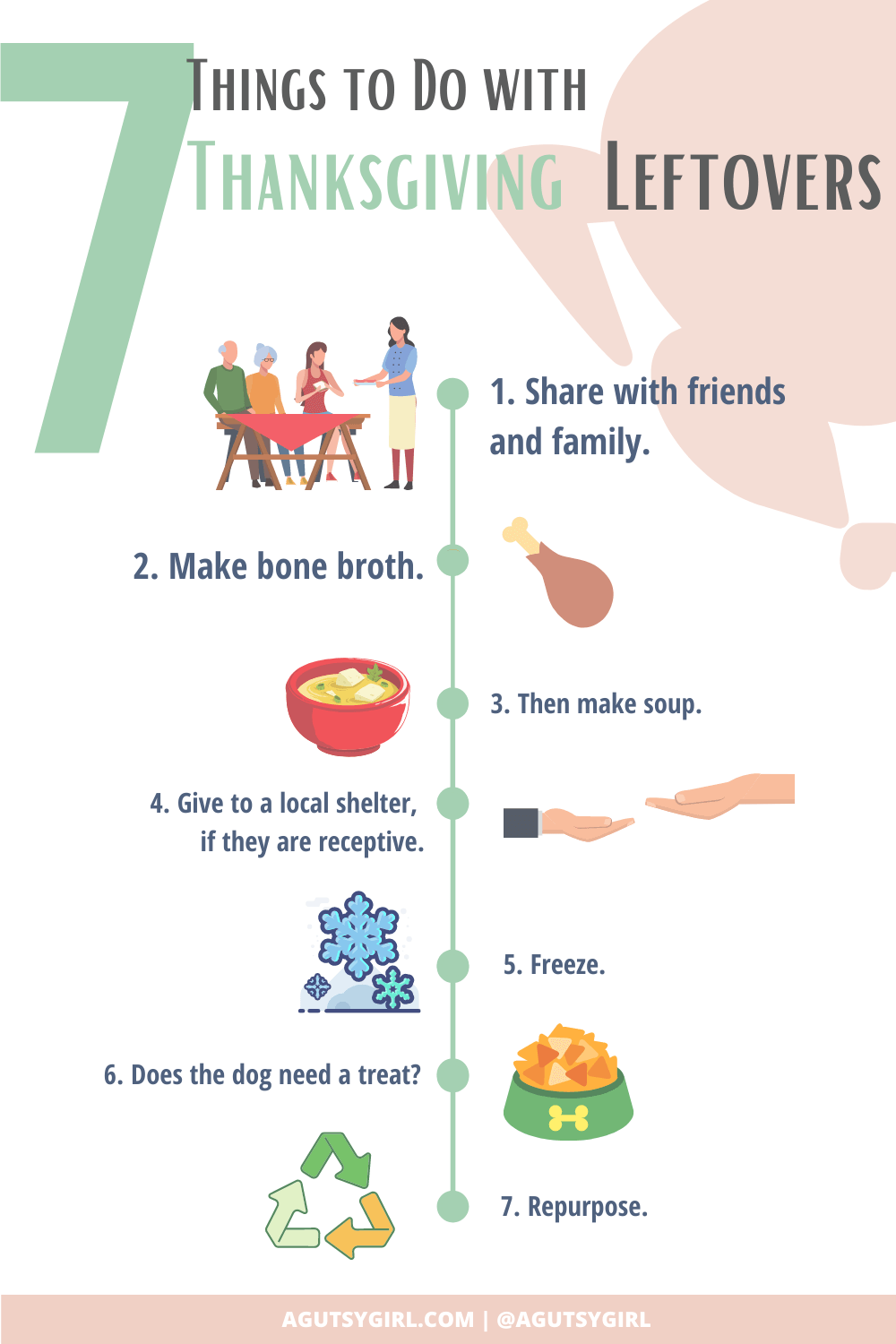 And there you go!
Now, one more thing. I realize that you might not live in the United States, and thus, you might not even celebrate Thanksgiving.
You know how this list is useful for you? Use it in the same way you would for any extra-large meal, family gathering, event, etc.
Because remember, wasted food is never a good idea 🙂
If you liked this post, you might also enjoy:
Disclosure: This is a paid, sponsored post in partnership with Providence St. Joseph Health. Learn more about plus connect with them on Facebook, Twitter, and/or Instagram. All opinions started here are 100% my own. I appreciate your support, as this compensation helps with expenses to keep this website up and running, and for me to continue sharing all that I can with you. For my full disclaimer and disclosure click HERE. Thank you for your support!

Xox,
SKH
You will heal. I will help.