Interested in 11 gut health holiday season survival tips? Good. I'm here for you.
The holiday season is usually filled with all sorts of goodness.
From the first bite of Halloween candy all the way to that last glass of champagne to ring in the New Year.
But sometimes, for those in our Gutsy circle, the holiday season feels difficult.
You want to eat everything, but not bloat.

You're hoping to just "be normal" without getting asked a hundred questions around the dinner table.

And gosh danggit, you want to wear that fancy dress on New Year's Eve without feeling the need to "cover up" misery.
I know. And I see you.
So today I'm giving you 11 gut health holiday season survival tips so you can enjoy as much as possible.
11 Gut Health Holiday Season Survival Tips
Click HERE to save this post for later.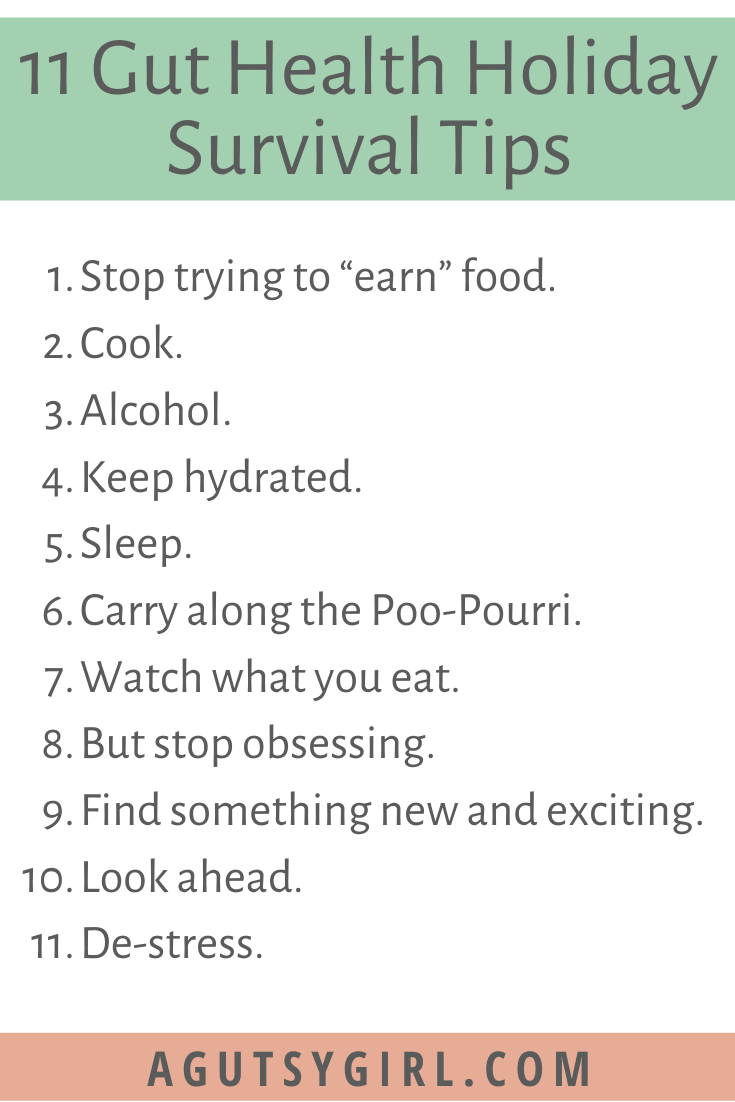 Stop trying to "earn" food.

Seriously. You know what most people try to do during the holiday? Go to the gym and workout extra hard so that they can eat food. First of all, if your gut is not well, working out harder, faster, or longer is not your friend. In fact, I don't believe that working out and gut healing should coexist. Second, you need food every single day to not only survive, but also heal. There is no need to "earn" it.

Cook

Eat home-cooked meals as often as possible since you're likely to attend a lot of holiday parties for many other meals.

Alcohol

Watch your alcohol intake at holiday parties. Alcoholic beverages and gut-healing (and overall gut health) really don't work together. I know, I desperately tried!

Drink a lot of water to keep hydrated. (Hate water? Me, too. Try THIS.)

Don't get so overbooked that the nightly zzz's suffer. After just one night of poor sleep, you'll feel it. Sure, you can do it from time-to-time, but don't make a habit out of it. Besides, the more tired you are, the hungrier you're likely to feel.

Grab a small one and place it in your purse. Nothing is worse than needing to go, but worrying about leaving your trace. This stuff is like magic.

Watch what you eat

Yes, of course you might need to be cognizant about what you're eating. If you're allergic to nuts, have Celiac, or anything else that's known to make you ill, then you must be aware.

But stop obsessing.

If you aren't absolutely sure and simply trying to control every last ounce of food consumed, just stop. I know, easier said than done, but you must try. Obsessing will get you nowhere. More food obsession does not equal quicker healing.

Find something new and exciting.

Keep with the holiday season. Check out the A Gutsy Girl Holiday Gut Wish List HERE. You're going to love it.

Look ahead.

The holiday season will be over before you know it. Embrace all that it is now, but get ready to challenge yourself to something new come January. Want to feel inspired? Then you might enjoy THESE New Year Inspirations!

De-stress.

Every single day find some way to de-stress. I have a huge list of ways to stress less HERE.
Not Rocket Science
These holiday gut survival tips are not rocket science. They are merely meant to be reminders.
The bottom line is that the healthier we stay, the happier we are all season long.
If you liked this post, you might also enjoy:

Xox,
SKH
You will heal. I will help.