Today I am sharing how I healed my Perioral Dermatitis naturally.
I was just about to give up and get on antibiotics when miraculously I healed at a rapid pace. I cannot pinpoint any one thing, but there are many things that stand out as to why I healed.
While I believe that numbers 1-10 below were CRITICAL, I also believe that it was number 11 which truly ended up being the key factor.
Boils Down to a Leaky Gut
For the record, healing Perioral Dermatitis ultimately requires healing the gut.
I followed The Gutsy Girl's Bible: an approach to healing the gut first and foremost. If you're looking for a specific meal plan and a hard-copy book, grab The Leaky Gut Meal Plan: 4 Weeks to Detox and Improve Digestive Health.
Consider joining the 28-Day Program for extra hand-holding as well.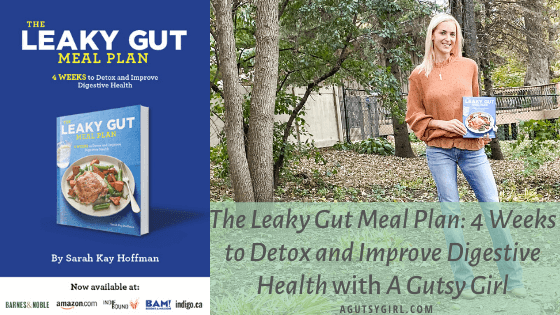 Updated in 2017: By using all the methods below, I've continued healing, but I've switched my skincare routine and products 100% to Beautycounter. And it has been absolutely incredible. Read more HERE, and join my quest for ultimate skincare health.
By the way, THIS is the line for acne, and my most favorite product from it is the Acne Spot Treatment. If your skin is not oily, you can still use the spot treatment, but instead, choose the incredible Cleansing Balm.
If you're interested in going on FREE 12- days of safer beauty journey, click HERE.
Below you'll find the things worked for me. And if I can even give one person hope that something might work for them, then my job here is done.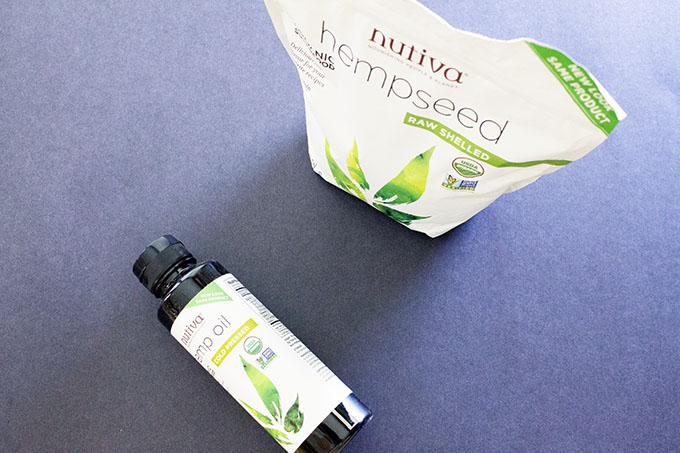 How I Healed My Perioral Dermatitis Naturally
Click HERE to save this post for later.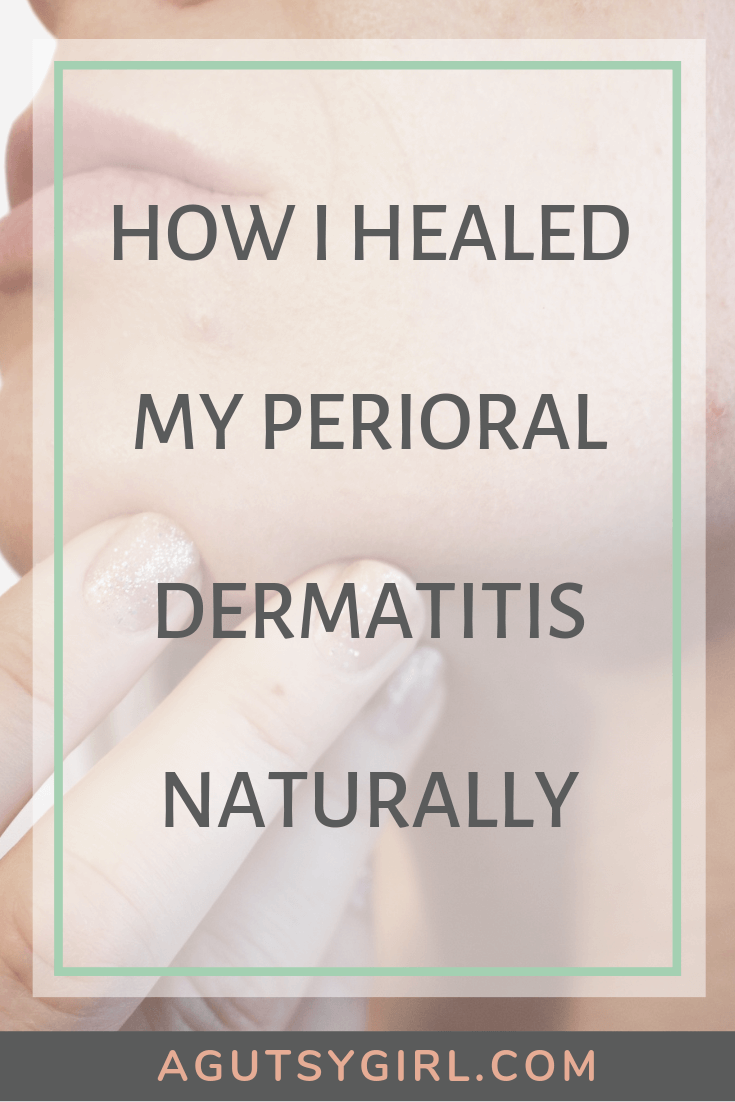 GAPS Diet

I fully believe my healing was jump started when I went back (intensely) on GAPS. I'm not on GAPS right now, but I believe it was critical then.

Moringa

Moringa is an amazing herb that I learned about while at the local Farmers' Market this past summer. It has been used for many things, and while I initially started using it for digestion, I believe it (maybe indirectly) had positive impacts on the skin condition.

Hemp is powerful, internally and externally. In the beginning, I was using coconut oil on my face, until the condition seemed to be getting worse. I stopped that, and I started using hemp oil. I would topically apply about 1/2 of a dime-sized amount to the affected areas nightly before bedtime. Additionally, I began consuming a lot of hemp internally – the seed and oil. We eat it several times a week now in various ways. "Hemp is loaded with all 20 amino acids (including the 9 essential)," and I believe its dense nutrition helped. (Checkout one of my favorite hempseed recipes ever. And my Lemon-Garlic Basil Spaghetti Squash with Hemp is also incredible!)

It's not that I love it, but rather that cod liver oil is highly anti-inflammatory and since Perioral Dermatitis is a form of inflammation, I needed to reduce inflammation as much as much as possible. (I also did this by eating wild fish more in general.) I took/still take 1 teaspoon Cod Liver Oil daily.

I returned to the consistent use of probiotics. Updated in 2019 to add: Use the Just Thrive one! I swear by it now, as do many others.

Sleep

I have been starving my body from sleep, and in a million ways it manifested into so many unwanted things. I focused on 8+ hours a night. Some nights I could grab more, and some a little less, but the amount of sleep I'm getting overall has greatly increased. (Read also: Sleep and Gut Healing.)

You think it sounds crazy, but I swear by this stuff now (–> sorry I stole so much of yours, Samarah!) I just use a little, but it made a huge difference.

I'm still sprinkling it on/in things 1-2 times per day.

Face Wash

I never used traditional face wash while I was flaring. I kept it as minimal as possible. (Keep in mind also, though, that I'm pretty minimalistic when it comes to the amount of makeup I wear.)

Toothpaste

This ONE thing can make a huge difference (click HERE to read about it). It did for me! I stopped using all traditional toothpaste as well, and never buy toothpaste with SLS and/or fluoride. It's "Earthy," but I enjoy it -> Earthpaste.

Consistency

I have all but healed my Perioral Dermatitis, but it took months. There was no quick-fix-overnight scheme. I stayed consistent, and I did items 1-10 on a consistent basis.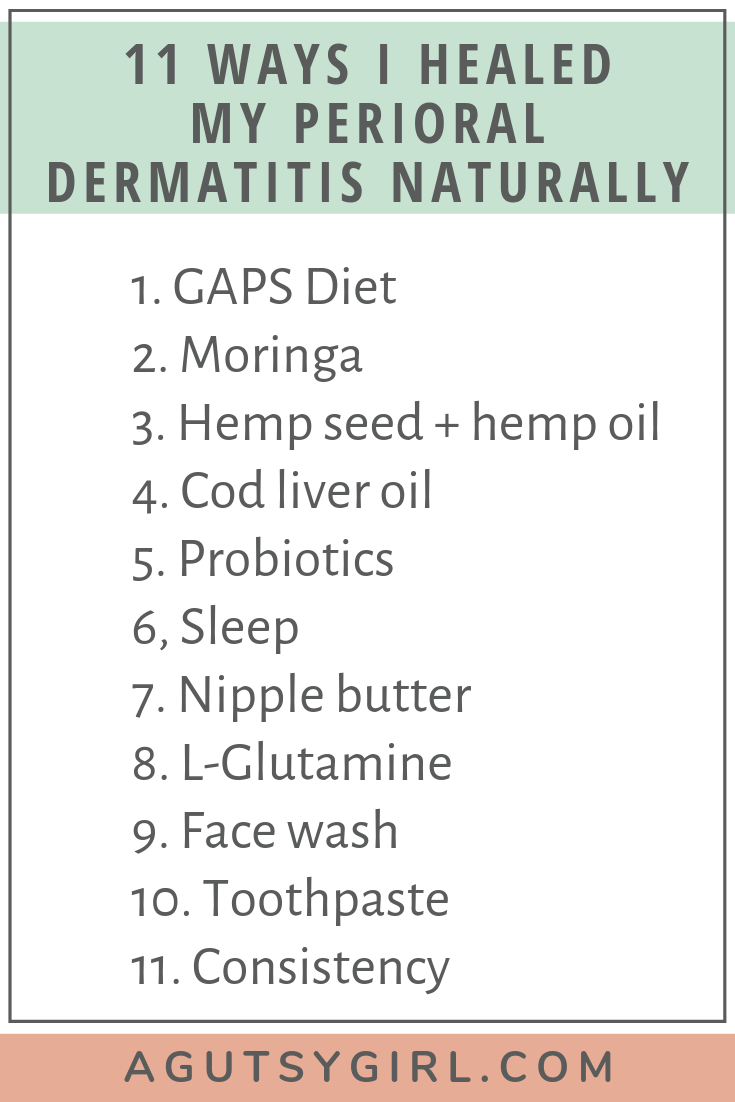 Beginning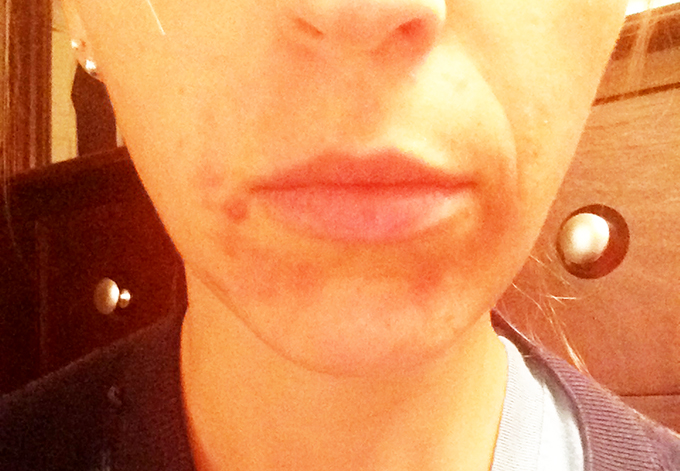 Today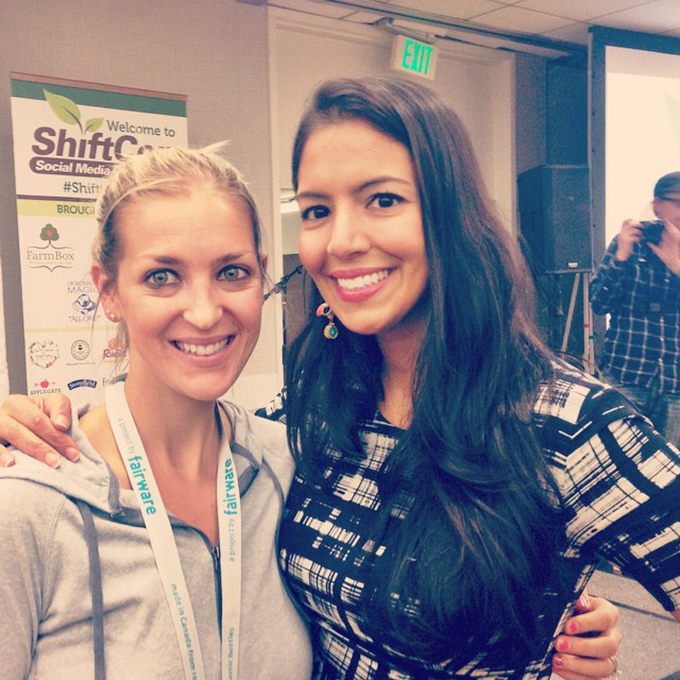 Those are things I have done for how I healed my Perioral Dermatitis naturally. Questions? How about you?
Want more? Check out My Perioral Dermatitis Journey HERE. Don't forget to grab The Gutsy Girl's Bible for more or go on a FREE 12-Day Safer Skincare Journey.
Updated in 2019 to add: If my PD was this bad today or ever again, I would do all of the above, and for products, I would choose to use just the Beautycounter Cleansing Balm (as the face wash and moisturizer).

Xox,
SKH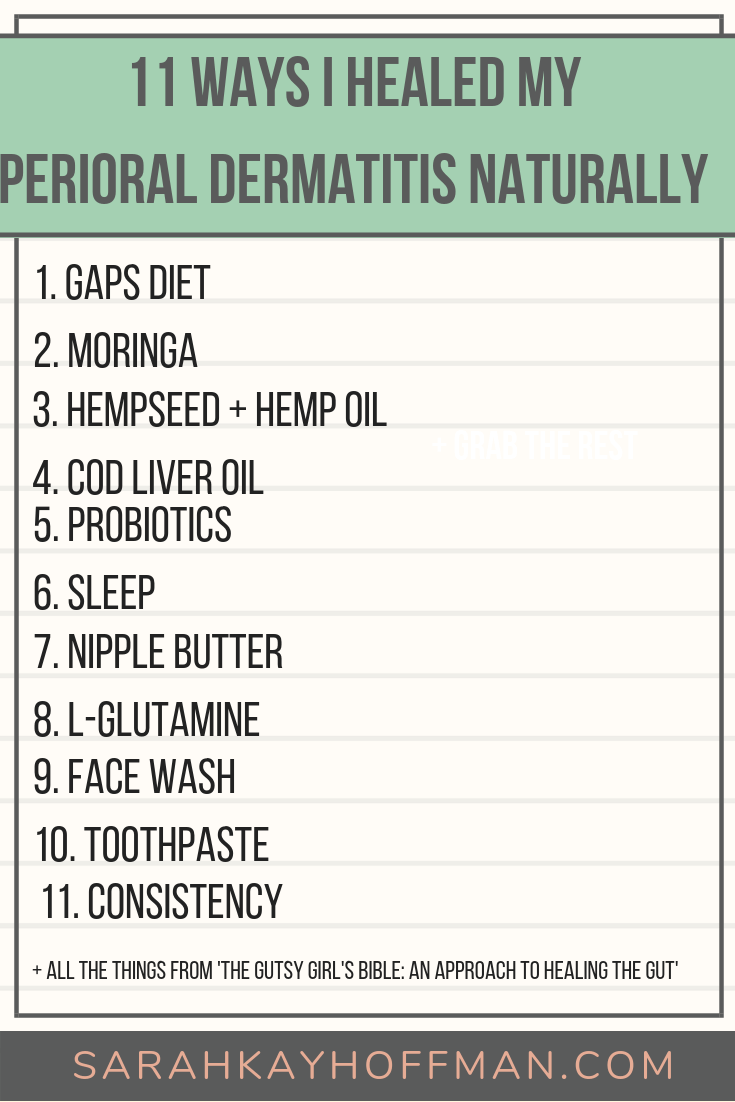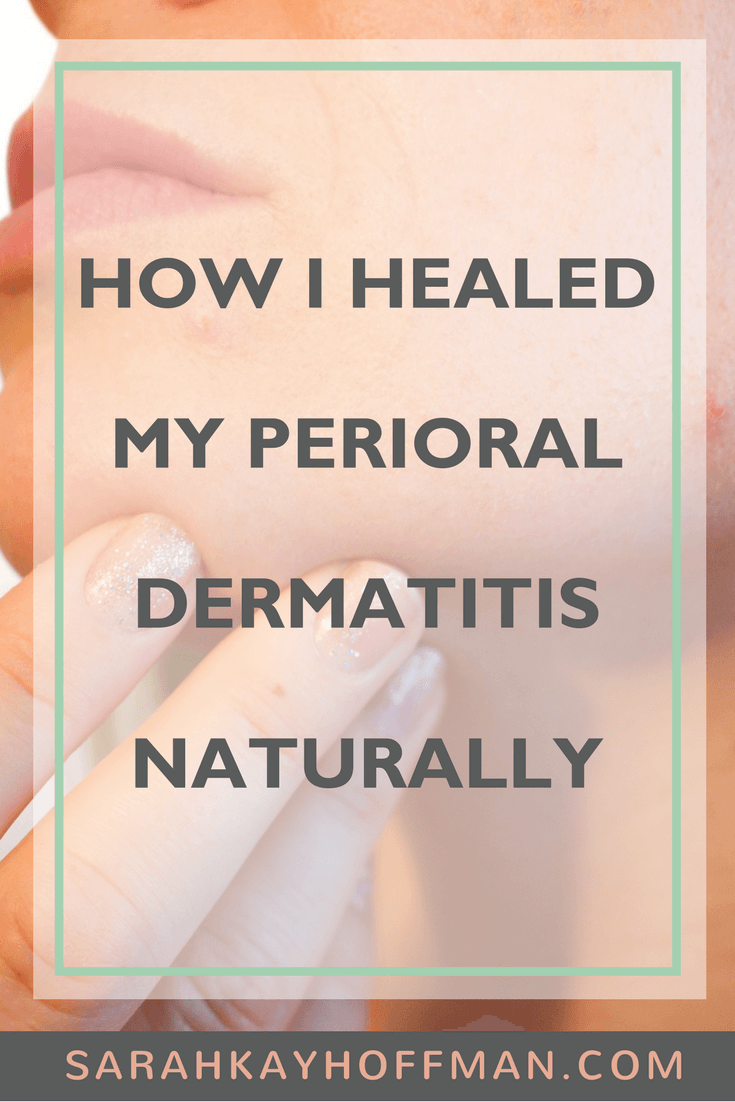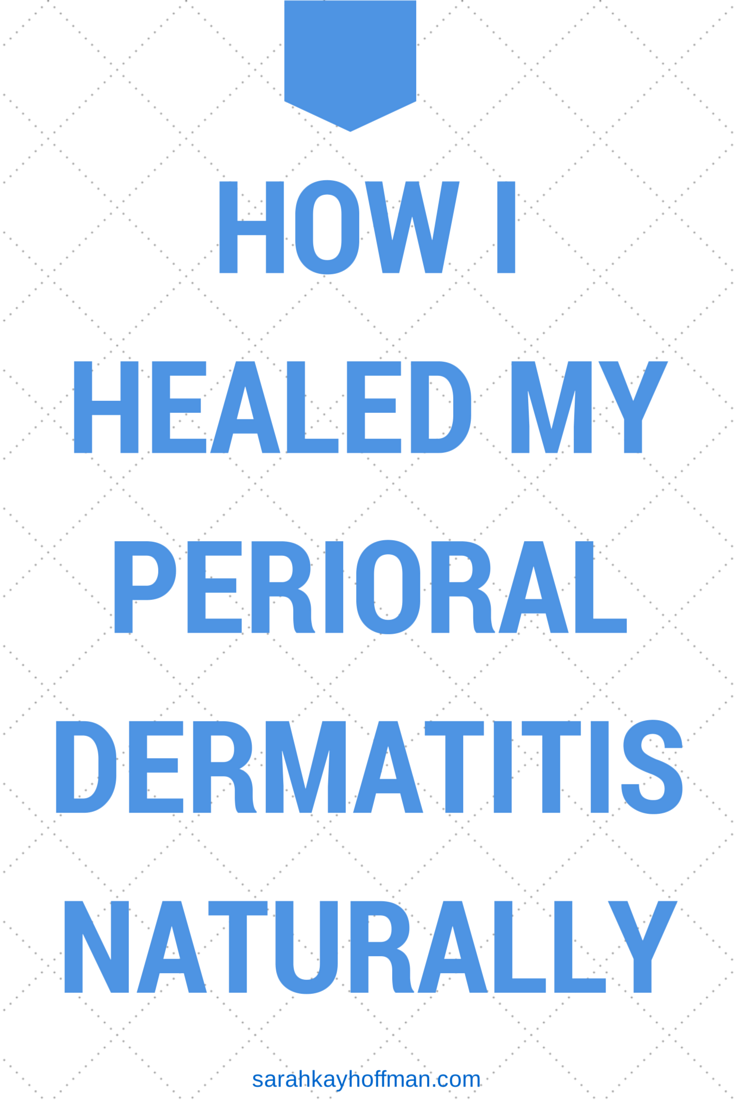 You will heal. I will help.