Today I'm sharing an amazing resource, The Never List.
Over the years, I've written about things I learned as they pertained to removing unsafe things from products to help heal my Perioral Dermatitis. Here are some of the posts you might enjoy:
Up until this point, it has mostly been about SLS and SLES (Sodium Lauryl Sulfate and Sodium Laureth Sulfate).
But then I started really digging around and realized just how many ingredients are doing more harm than good.
I listened to one of the latest Better Everyday podcasts with Sarah and Dr. Brooke this past week. The podcast was all about skin, and at one point Dr. Trevor Holly Cates mentioned how sometimes a warning will be given to not put things on the skin, as it would seep into the system so quickly. She then made a note (something to the effect of), "Then why do we allow everyday skin and body care products to be filled with chemicals and unsafe ingredients?"
Her saying that really hit me. We never think twice about the things we put on our skin, but we are constantly analyzing and overanalyzing every last thing we put into our bodies (for healing purposes).
But even still, my issue was and always has been….well what exactly are those XYZ ingredients? And what should I be looking for? I know you have the same questions because you've been asking me for them.
And now I have them.
The Never List
Click HERE to save this list for later.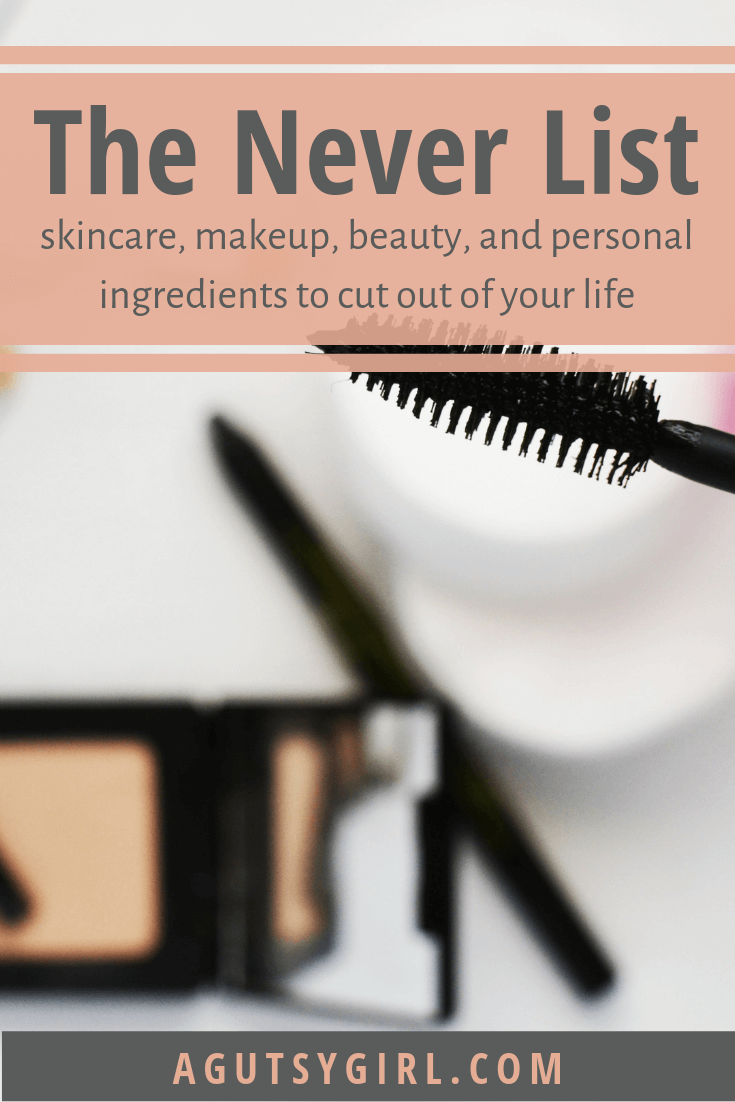 Benzalkonium chloride:
a disinfectant used as a preservative and surfactant associated with severe skin, eye, and respiratory irritation and allergies. Found in: sunscreens, moisturizers.

BHA and BHT:
synthetic antioxidants used to extend shelf life. They are likely carcinogens and hormone disruptors and may cause liver damage. Found in: lipsticks, moisturizers, diaper creams, and other cosmetics.
Coal tar hair dyes and other coal tar ingredients:
a byproduct of coal processing that is a known carcinogen. It is used as a colorant and an anti-dandruff agent. Found in: hair dye, shampoo.
Ethylenediaminetetraacetic acid (EDTA):
a chelating (binding) agent added to cosmetics to improve stability. May be toxic to organs. Found in: hair color, moisturizers.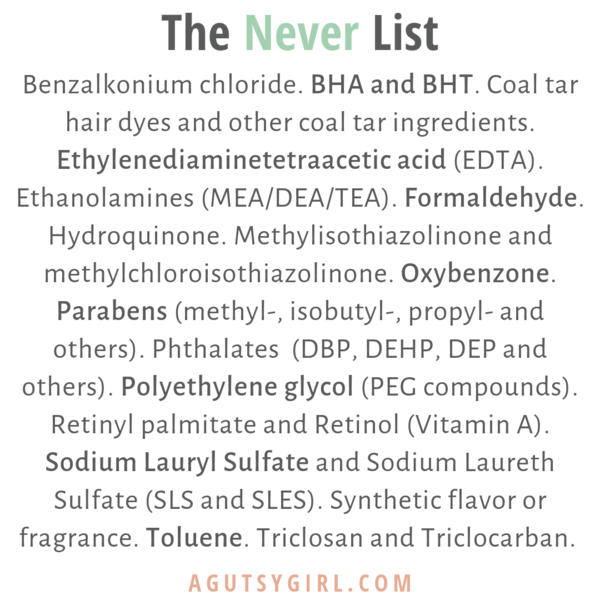 Ethanolamines (MEA/DEA/TEA):
surfactants and pH adjuster linked to allergies, skin toxicity, hormone disruption, and inhibited fetal brain development. Found in: hair dyes, mascara, foundation, fragrances, sunscreens, dry cleaning solvents, paint, pharmaceuticals.
Formaldehyde:
used as a preservative in cosmetics. A known carcinogen that is also linked to asthma, neurotoxicity, and developmental toxicity. Present where quaternium-15, DMDM hydantoin, imidazolidinyl urea, diazolidinyl urea, sodium hydroxymethylglycinate, 2-bromo-2-nitropropane-1,3 diol (Bronopol), and several other preservatives are listed. Found in: shampoo, body wash, bubble bath.
Hydroquinone:
a skin-lightening chemical that inhibits the production of melanin and is linked to cancer, organ toxicity, and skin irritation. Found in: skin-lightening creams.
Methylisothiazolinone and methylchloroisothiazolinone:
chemical preservatives that are among the most common irritants, sensitizers, and causes of contact skin allergies. Found in: shampoo, conditioner, body wash.
Oxybenzone:
sunscreen agent and ultraviolet light absorber linked to irritation, sensitization and allergies, and possible hormone disruption. Found in: sunscreen, moisturizer.
Parabens (methyl-, isobutyl-, propyl- and others):
a class of preservatives commonly used to prevent the growth of bacteria and mold. Parabens are endocrine (or hormone) disruptors, which may alter important hormone mechanisms in our bodies. Found in: shampoo, face cleanser, body wash, body lotion, foundation.
Phthalates (DBP, DEHP, DEP and others):
a class of plasticizing chemicals used to make products more pliable or to make fragrances stick to skin. Phthalates disrupt the endocrine system and may cause birth defects. Found in: synthetic fragrance, nail polish, hairspray, and plastic materials.
Polyethylene glycol (PEG compounds):
PEGs are widely used in cosmetics as thickeners, solvents, softeners, and moisture-carriers. Depending on manufacturing processes, PEGs may be contaminated with measurable amounts of ethylene oxide and 1,4-dioxane, which are both carcinogens. Found in: creams, sunscreen, shampoo.
Retinyl palmitate and Retinol (Vitamin A):
a nutrient that may damage DNA and speed the growth of skin tumors when used topically. Found in: moisturizer, anti-aging skincare.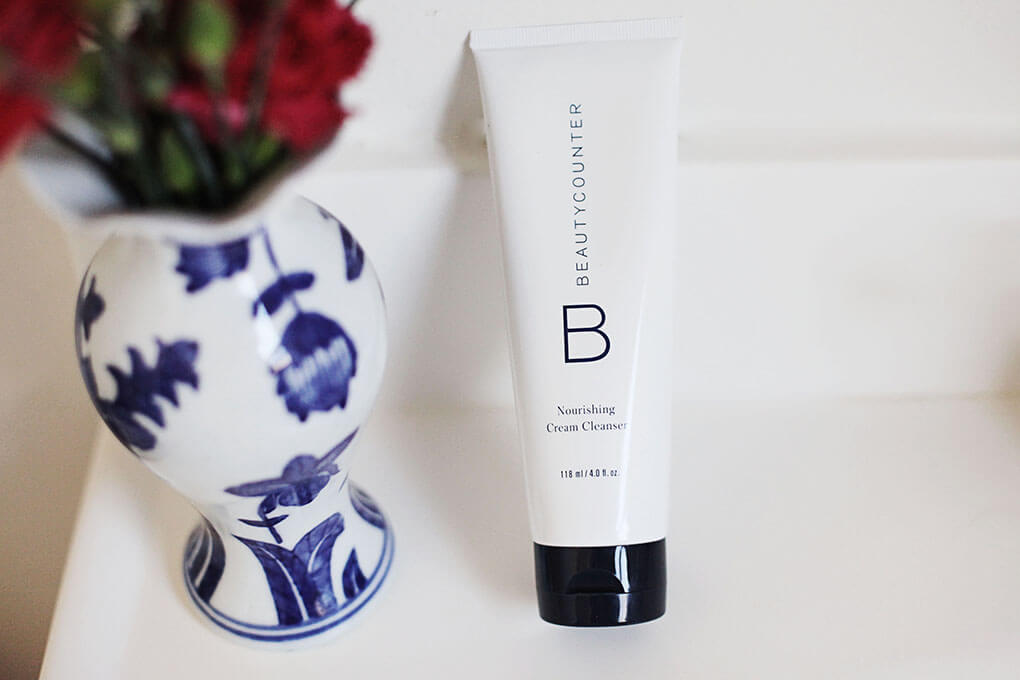 Sodium Lauryl Sulfate and Sodium Laureth Sulfate (SLS and SLES):
SLS and SLES are surfactants that can cause skin irritation or trigger allergies. SLES is often contaminated with 1,4-dioxane, a byproduct of a petrochemical process called ethoxylation, which is used to process other chemicals in order to make them less harsh. Found in: shampoo, body wash, bubble bath.
Synthetic flavor or fragrance:
an engineered scent or flavoring agent that may contain any combination of 3,000-plus stock chemical ingredients, including hormone disruptors and allergens. Fragrance formulas are protected under federal law's classification of trade secrets and therefore can remain undisclosed. Found in: all types of cosmetics.
Toluene:
a volatile petrochemical solvent that is toxic to the immune system and can cause birth defects. Found in: nail polish.
Triclosan and Triclocarban:
antimicrobial pesticides toxic to the aquatic environment; may also impact human reproductive systems. Found in: liquid soap, soap bars, toothpaste.
Beautycounter will never test our finished products on animals, nor do we ask others to.
Sources: National Institutes of Environmental Health Sciences, CosIng, Health Canada, The Endocrine Disruption Exchange, EWG Skin Deep Cosmetics Database
(Source)
You can make it even easier for yourself, your friends, family, and co-workers. Prink this sheet out by clicking HERE, cut the sections, and hand out for an easy purse keepsake.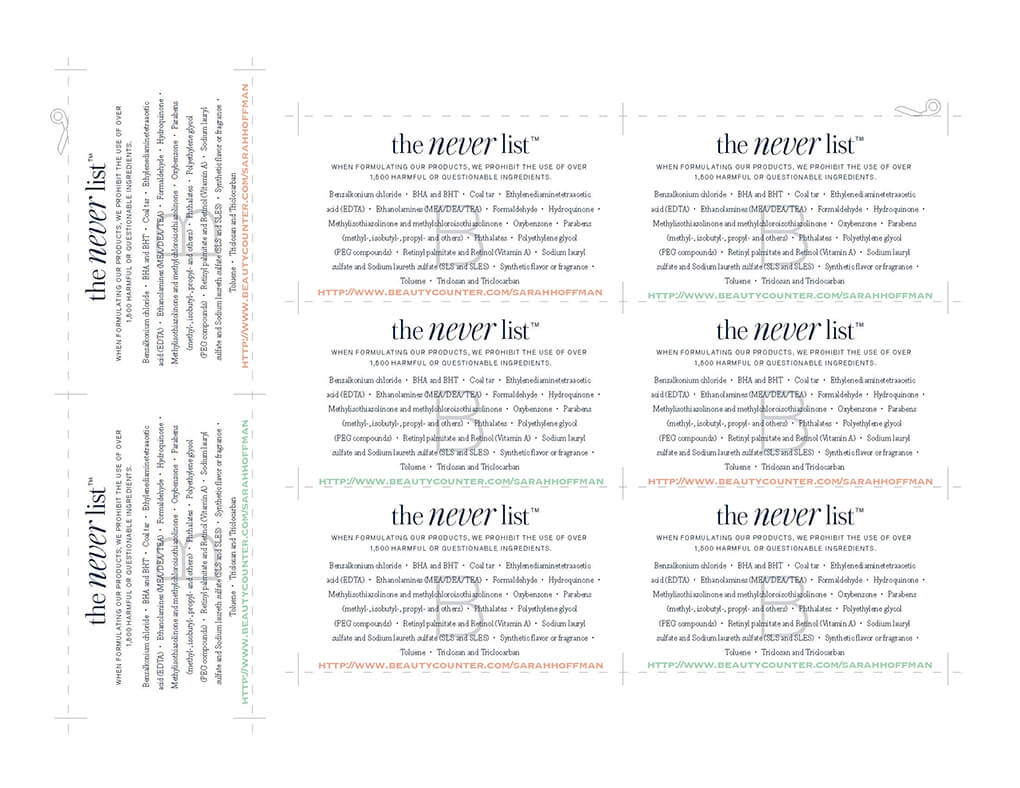 These ingredients are never used in any Beautycounter products, which is precisely why I joined the company and mission as both a die-hard customer and consultant.
You won't find the Never List ingredients in products for your children nor will you find them in products for yourself.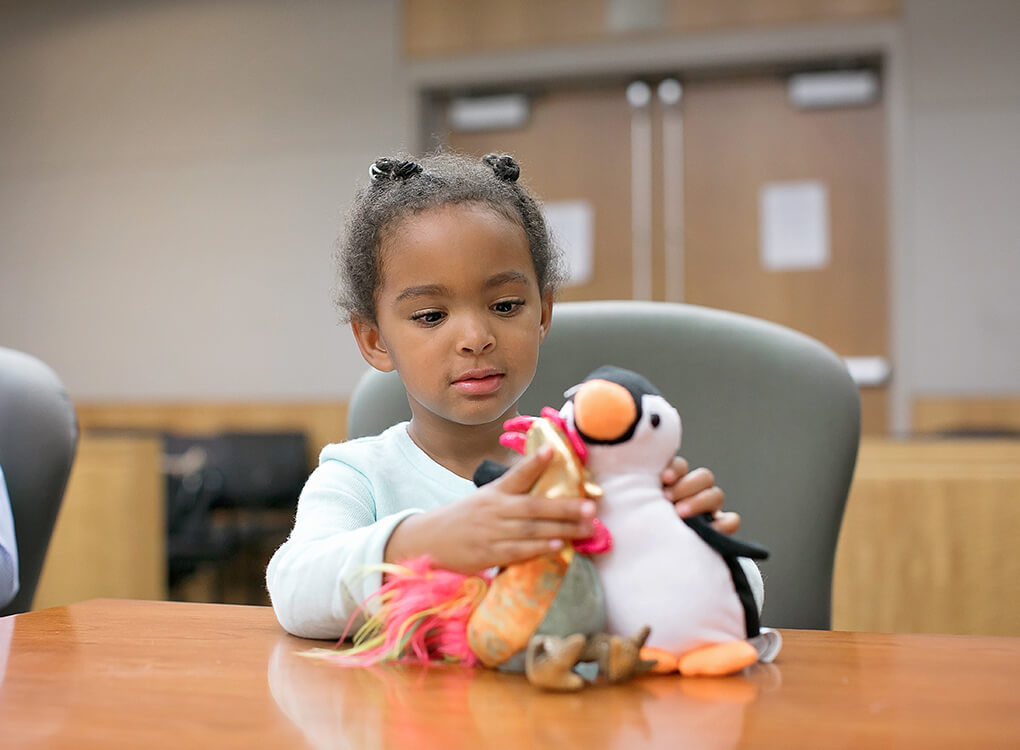 Now, if you used one of these ingredients every now and then will you die? Um, no.
Again, my approach is NOT to put fear into your hearts, minds, and lives. If you read my post this weekend, Why Organic, you'd understand more about that.
My goal, as I mentioned is to have you arrive at the place where instead of thinking, "I have to die someday," start thinking, "How can I live better today?"
The more we know, the better our decisions can be.
Want more? Sign up for the Safer Skincare newsletter HERE. Or go on a FREE 12-Day Safer Beauty Exploration Journey HERE.
Xox,
SKH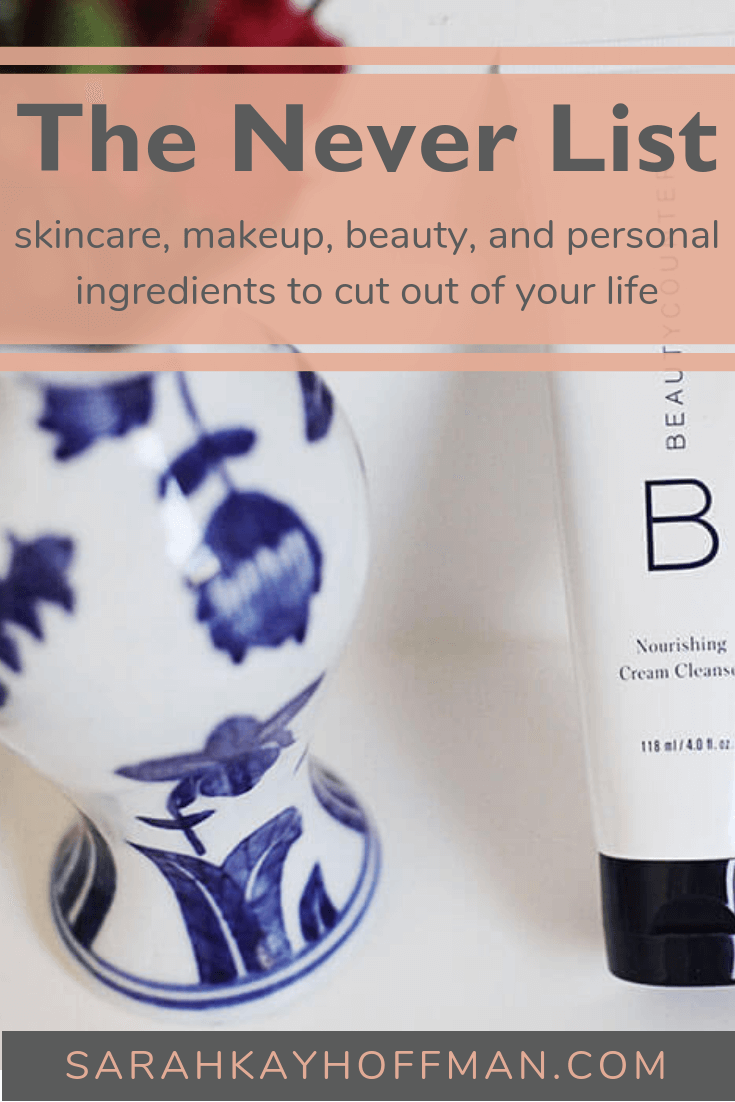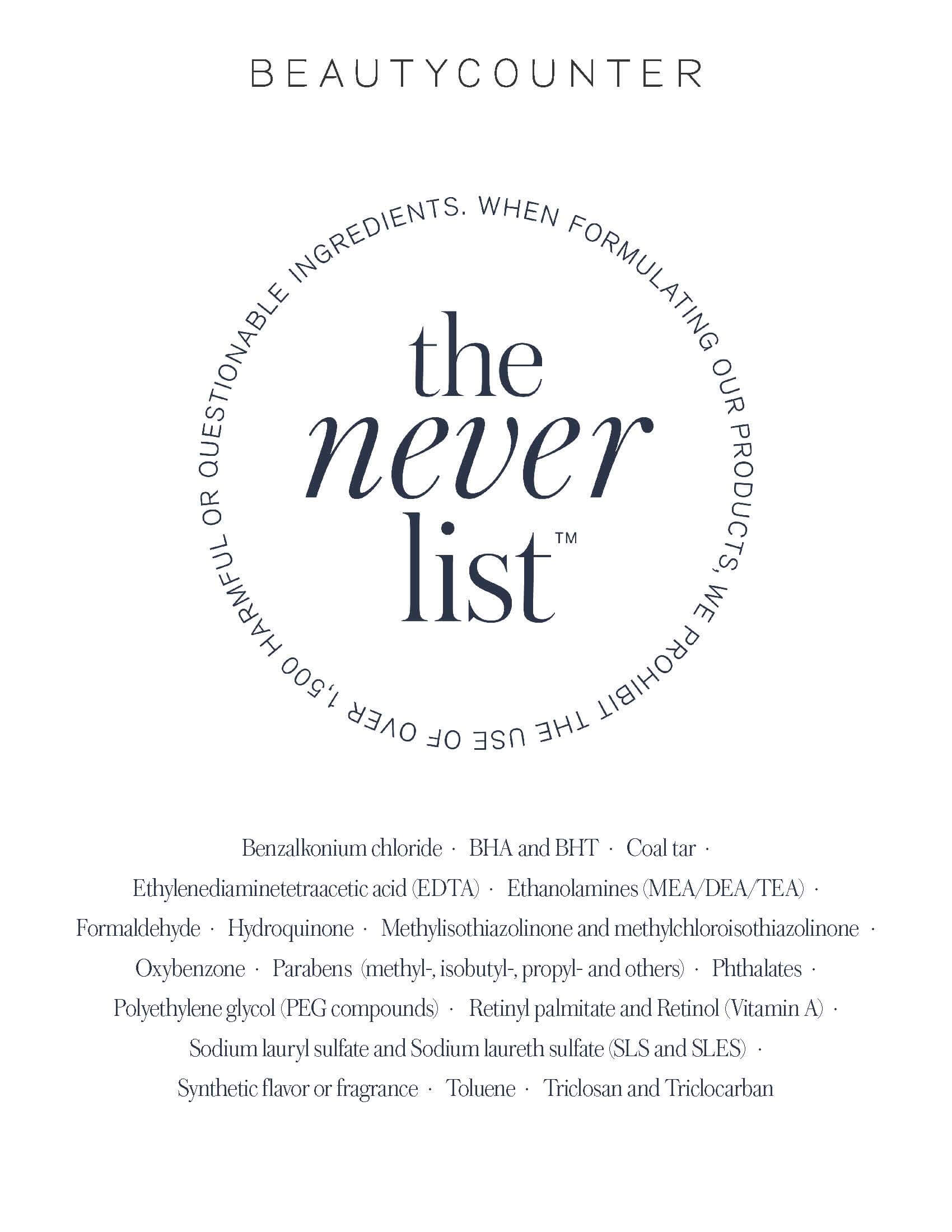 You will heal. I will help.