If you're only focusing on food, you've got this gut-healing game all wrong. You must consider these 21 gut healing lifestyle components as well.
More on lifestyle discussed in my brand new course in conjunction with Clean Eating Magazine, 30-Day Gut Reset. Click HERE to sign up and use code SKHSAVE20 at checkout to save 20%!
For years, I believed it was all about what I was or was not eating. I can promise you it's absolutely not. In fact, I really wanted it to be all about the food. Why? Because then I could control it. I'm so Type A that if you tell me, "Eat nothing but peas, Saltine crackers, and chicken and you'll be healed," I would.
But it's simply not that easy.
Healing the gut is incredibly hard and insanely complex mostly due to the lifestyle components.
And while it's easy to write that, it's much harder to work on the lifestyle components. Part of the reason is because – well, life – the other is that we question, "What are the lifestyle components to begin with?"
Here are 21 gut healing lifestyle components.
21 Gut Healing Lifestyle Components
Click HERE to save this post for later.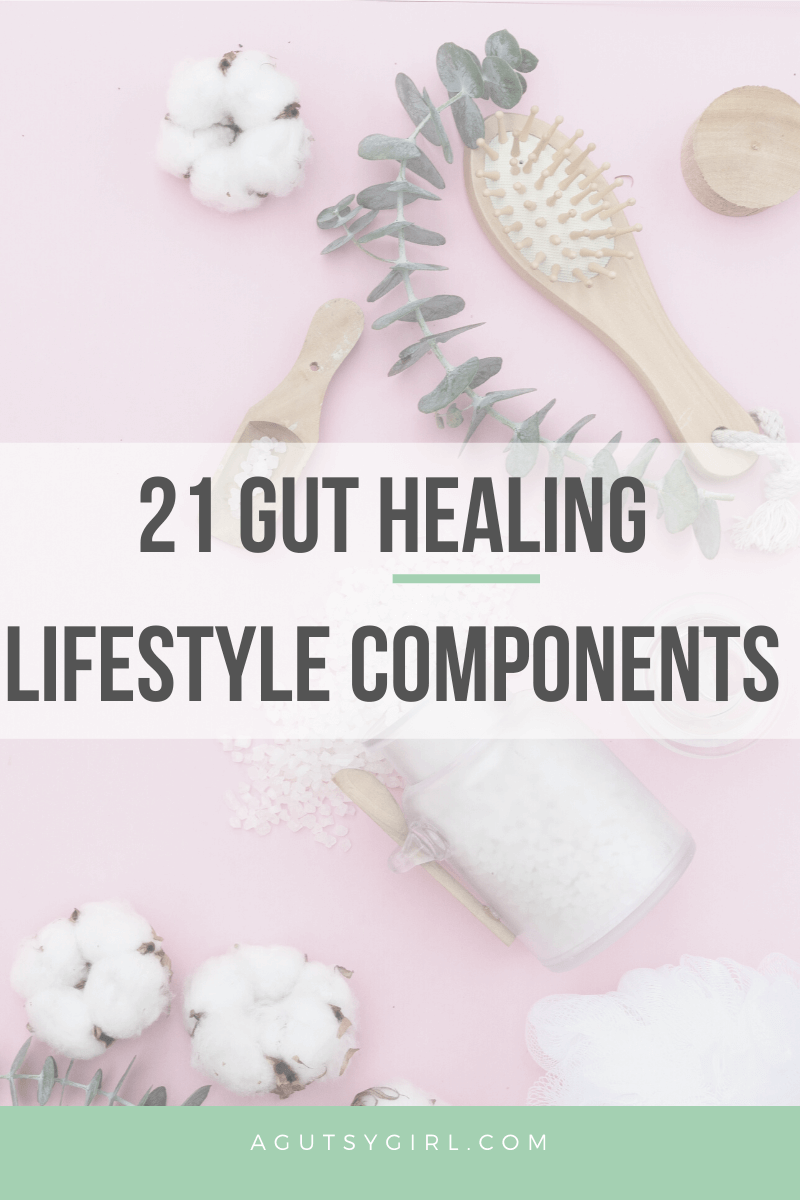 Learn to breathe

My Apple Watch reminds me to breathe, and I love that about it. Also, I practice THESE breathing techniques.

Chew your food 30-40 times per bite

Yes, it sounds bizarre, but it's true. When you don't chew thoroughly, food can be improperly absorbed and digested. If you want to learn more about this concept, check out my post on "Is How We Eat as Important as What We Eat?"

Stay hydrated, but don't drink water with meals

Alas, Hydration is critical.

Form community with others who are on your same journey

Sure, your friends and husband can be a wonderful support system, but only those on this journey will empathize with you. Find them. Connect with them. They are your people. I have a huge community on Instagram that loves sharing, so if you're not already following there, click HERE to join.

Don't eat the same foods daily

I'm a creature of habit; you are probably, too. But in order to not let yourself become too dependent (and then perhaps intolerant to) on a limited number of foods, choose diversity. This is what the microbiome needs from you as well. And, in fact, it's my secret to achieving an optimal microbiome.

Breathe in calm

This one has been incredible for me lately. Try infusing (diffuse) the air with clean, calming scents.

Stop eating on-the-go, stressed

Try to take a minute to just stop and eat.

Socialize in general

I know. When you're bloated and miserable, socializing might feel like the last thing you want to do. I'm not saying you always have to go out (no, because…..rest). I am saying that human interaction is necessary. We were made to live in community.

Break up with those intense workouts

I must stick to this one. And this is why I don't believe in workouts for gut healing.

More play, less work

I love this to help inspire you, "The master in the art of living makes little distinction between his work and his play, his labor and his leisure, his mind and his body, his information and his recreation, his love and his religion. He hardly knows which is which. He simply pursues his vision of excellence at whatever he does, leaving others to decide whether he is working or playing. To him he's always doing both." ― James A. Michener

Find something you're truly passionate about

You must have that thing that you are, actually, obsessed with. For me it's A Gutsy Girl. This blog, business, and YOU – the community. Lights me up, every single second of every single day. Well, this and A Thyme for Milk and Honey which documents my actual life 🙂

Get a therapist

You better believe I have one. The first time I saw her was about a year ago. Finally bit the bullet, and I've never looked back. Is it a coincidence that my gut continues to be 100%? Nope.

Do inner-healing work

I love, love, love Natalie Ehmka. She literally did help change my life. Check her out if you're ready for the emotional and mental deep dive….

Devote yourself to something (or someone) far bigger than you

For me it's two-fold: this mission of helping you heal your gut and your life through empowerment (see bottom of this post). And it's also God. The Lord gave me this journey to spread far and wide to help. I owe it all to Him.

Get a pet

We currently have: 2 Great Danes and a Peekepoo. I'm covered. p.s. they will give the old microbiome a boost!

Stop using junk makeup and skincare

Beauty should not be damaging. I use Beautycounter HERE almost exclusively. But even when I don't, the ingredients on THIS Never List are never purchased. Wondering about your current ones? Check out one of my favorite resources – EWG's Skin Deep®.

Toss out the chemical-filled cleaning supplies

There are still some chemical-laden cleaning supplies in our house. Honestly, there probably always will be. But every single chance I get, I swap up. I personally use my Branch Basics kit every single night for counter spray. Want to know a simple, lovely scented spray mix? Prepare the counter spray with the Branch Basics kit and then drop a few (or more!) lemon essential oil droplets into the mixture. Fresh and clean. Use code 'AGUTSYGIRL' HERE for 15% off all Starter Kits at Branch Basics.

Touch your feet to the ground

Grounding is good for the gut and soul, which are basically the same thing 🙂

Learn to control that stress

This one is so vague, and I loathe when people share it because stress includes approximately 1.4 billion things. But I'm here to actually help you, so I have concrete ways to control it. Check out: 28 Ways to Reduce Stress and 8 Stress Management Tactics.

Sleep more

If you think 4 hours of sleep will suffice when you're healing your gut, please reconsider. Read Gut Healing and Sleep HERE. Want to track your sleep in a delightful way? Then you need my 90-day gut healing journal.

Relationships

Choose the right relationships. You don't need to be friends with everyone, and you never need to be physically or emotionally abused. This one is huge and can make all the difference.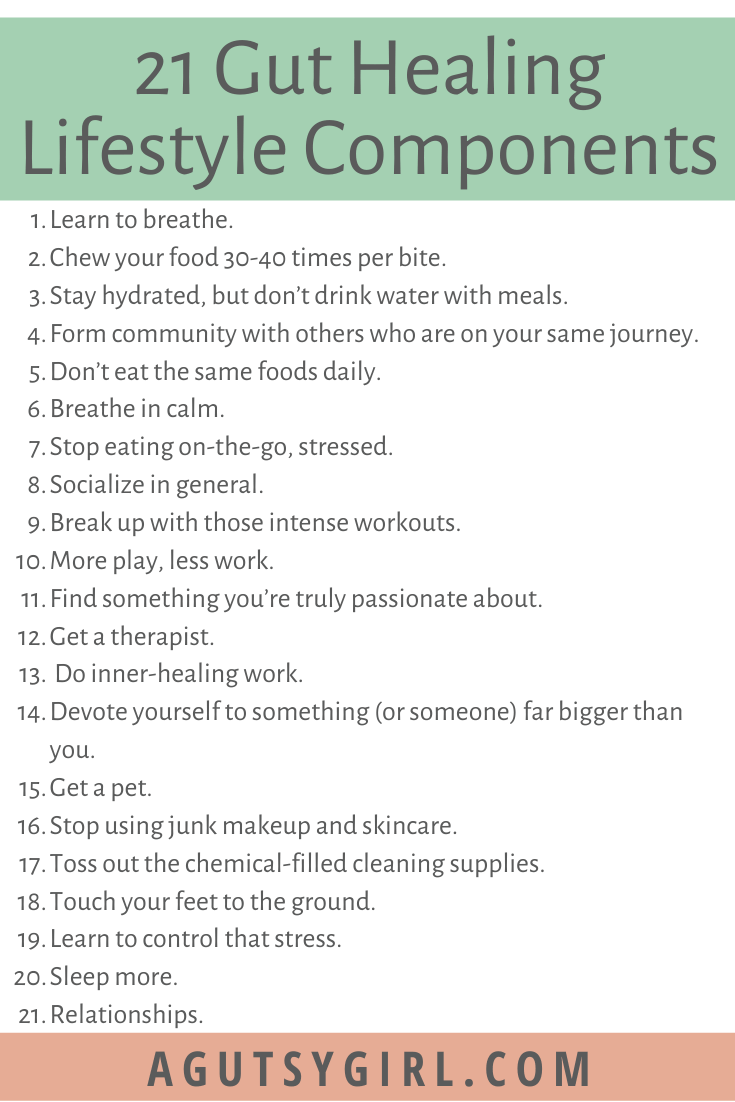 Empowerment
My mission is to empower you to:
Heal your gut. Heal your life.
Be your own advocate. When you aren't getting the answers or support you need, move on, keep searching, and don't give up.
Choose the foods and lifestyle components that are 100% customized for you; no one else. There is no one way or the highway when it comes to gut healing and/or gut health. There is only the way that's unique to and for you.
Is there anything you'd add to the list of 21 gut healing lifestyle components?
If you liked this post, you might also enjoy:

Xox,
SKH
You will heal. I will help.