I'm here to offer you something incredible today. It's an emotional and mental deep dive for gut healing.
For most of a decade, I focused on physically healing my gut.
When I healed for good, though, it was based on a holistic approach. And for once, I'm not referring to holistic simply through "clean eating." No, this holistic approach to healing was (and is) emotional, mental, and physical.
The three forms of healing are not the same, though they are oftentimes used interchangeably.
Emotional, Mental, and Physical Healing
While I'm fairly confident that you understand physical healing at this point, emotional and mental healing might be nebulous.
To break them down in the simplest terms:
Emotional = expressing emotion
Mental = processing information
But without having a grasp on both, everlasting gut health and gut healing will be difficult.
Emotional and Mental Deep Dive for Gut Healing
Click HERE to save this post for later.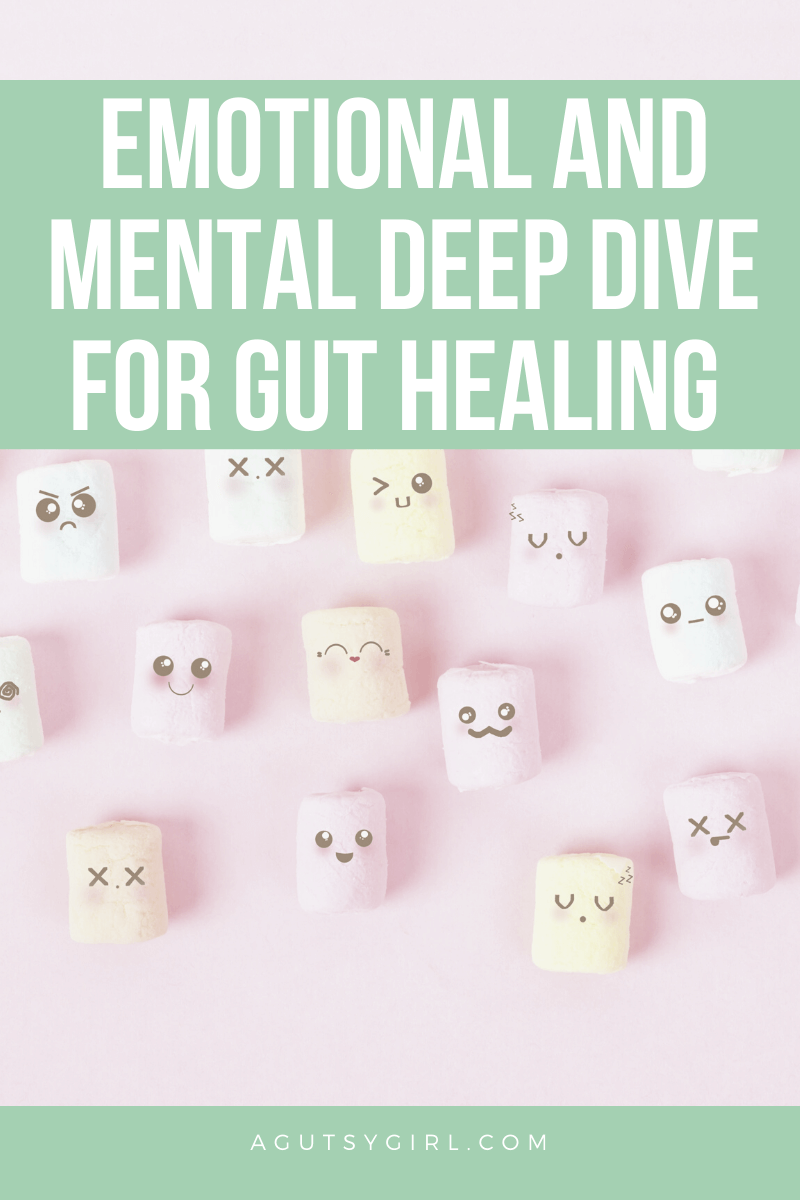 It's been a year since I had my very first emotional and mental deep dive for gut healing.
Let me be clear, though. At the time, I had no idea the implications it would have on my gut healing journey. Today I know for certain the implications it had.
And that's my job – to share with you information that will save you years of headache and heartache.
I "met" Natalie through Makenzie, my old boss (and friend) at DELIGHTED BY Desserts. Makenzie set me up with Natalie for this initial Deep Dive session.
What Does a Deep Dive Session Include?
During your Deep Dive session with Natalie, she will read and translate energy. She accesses her higher self, in order to talk to yours. (In her own words, "It's still me and all, but kinda like a Clark Kent & Superman situation.")
She will offer you specific coaching tools, and can also translate and give you the messages your higher self is wanting you to hear. Your session will be exactly the clarity you need, in order to help you on your path.
During the session, if she feels called to, she will also record it so you have it to playback at a later date. The first deep dive I did with her was not recorded; the second one, though, was.
Sessions with Natalie are done via video; anyone worldwide can work with her. In fact, she currently works with people all over the world.
When there is any kind of unprocessed or stuck emotion in the body, it can manifest as stuck energy, which creates pain, discomfort, or disease. With a dive energy clearing session, we can go in and identify what may be keeping you stuck or manifesting the symptoms you're experiencing. Afterward, you'll have a clear understanding of what's happening and what to do about it to take healing to the next level.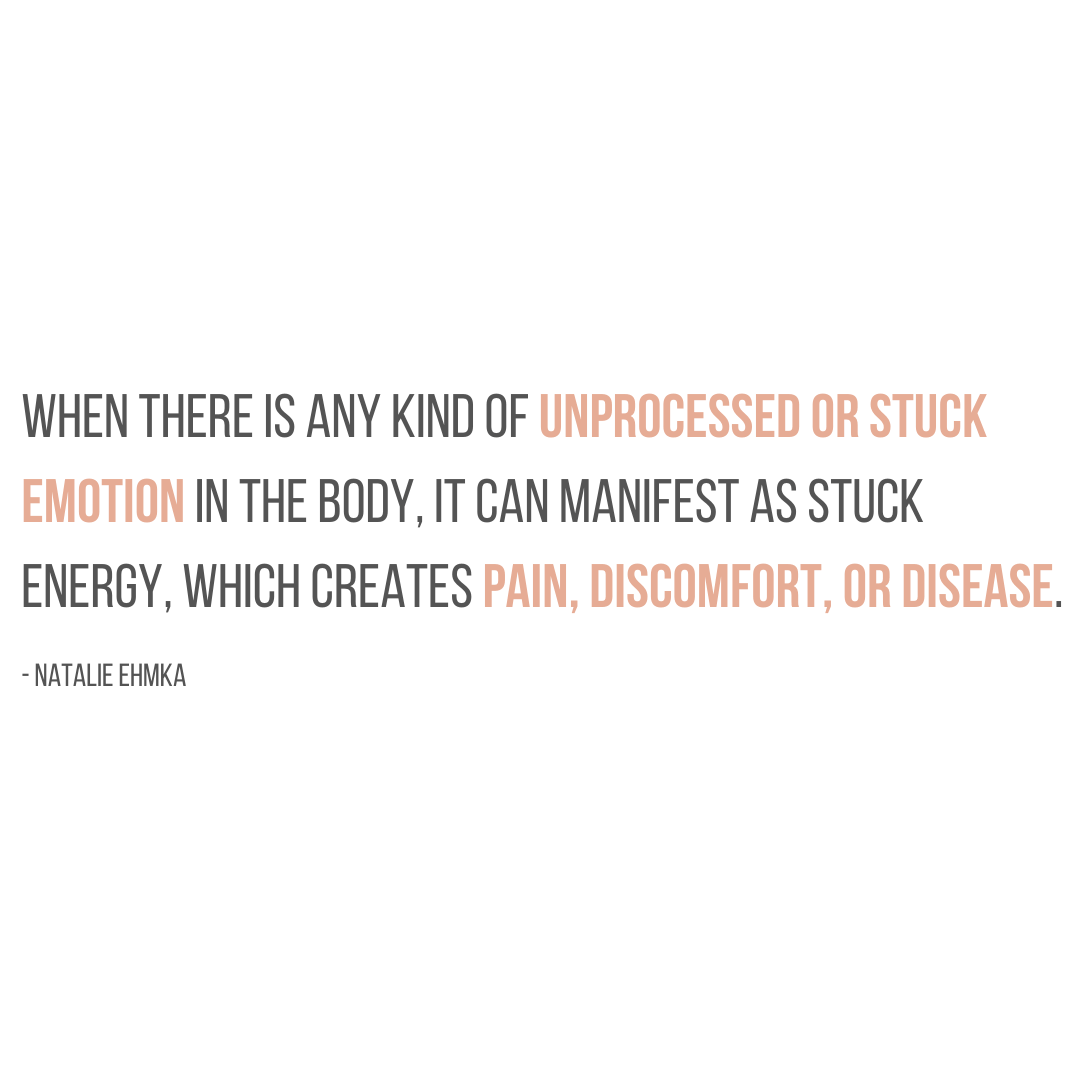 My Own Experience
You'll see this on Natalie's site, but here is what I said immediately after our session was over,
I am speechless right now. My session with Natalie was so incredible. It filled in some last pieces of the puzzle in my life that I have not been able to figure out. I would have literally paid ANYTHING for a session like that!
The reason was because Natalie helped me tap into things from my childhood that I had not been able to release for years – aka my entire life.
I recently learned that I'm a type 4 Enneagram. And it's funny because I probably didn't even need to take the test – Natalie told me that during our deep dive. She told me that I had been holding alllll the feelings, not just my own, for years because the only place I was expressing the feelings was through my writing.
And listen, while I would write 24/7 if I could, it's not possible. Furthermore, even if I was writing 24/7, because I feel so much, it wouldn't all make its way out anyways.
But once I understood this part of me, she helped take me through releasing, "junk in the purse."
From our session, I took notes upon notes. And I refer back to them all the time.
But the critical part at that time was the key it helped unlock for my gut healing journey.
I was able to more clearly process the information and then express it.
Who is Natalie Ehmka?
A speaker, corporate trainer, and sought-after energy coach to world-changers, influencers, and leaders all over the globe, Natalie Ehmka uses her intuitive spiritual abilities to help leaders of this generation and the next, strengthen their energy and positive impact on the world.
In addition to being a member of the Forbes Coaches Council, and CEO of With Heart Communications, Inc., she has been a nationally-known motivational speaker and leadership trainer for the past 15 years.
Natalie specializes in taking the world of spirituality, energy, human behavior, and the factors that influence change, and applying them to everyday life and business in a practical, tangible way.
When she's not coaching, you can catch her as host of The Worldchanger Podcast, where she shares tips and info to help us all magnify our impact and leave each other better, every day.
Your own Deep Dive Session
If you're interested in booking your own session with Natalie, you can do so HERE.
And no, this is not an affiliate link. I do not make any money (currently) when you purchase.
However, you will be astounded at what you walk away with.
If you liked this post and want to learn more about this topic, check out:
Xox,
SKH
You will heal. I will help.