Vagus Nerve stimulation is very important in overall gut health.
I have talked about it here and there on my website, but this past week on Instagram, you guys told me you wanted a full post on it.
So here we are.
Before we dig into how to stimulate the Vagus Nerve, let's start with what the Vagus Nerve is.
What is the Vagus Nerve?
Vaga, in Latin, means "to wander."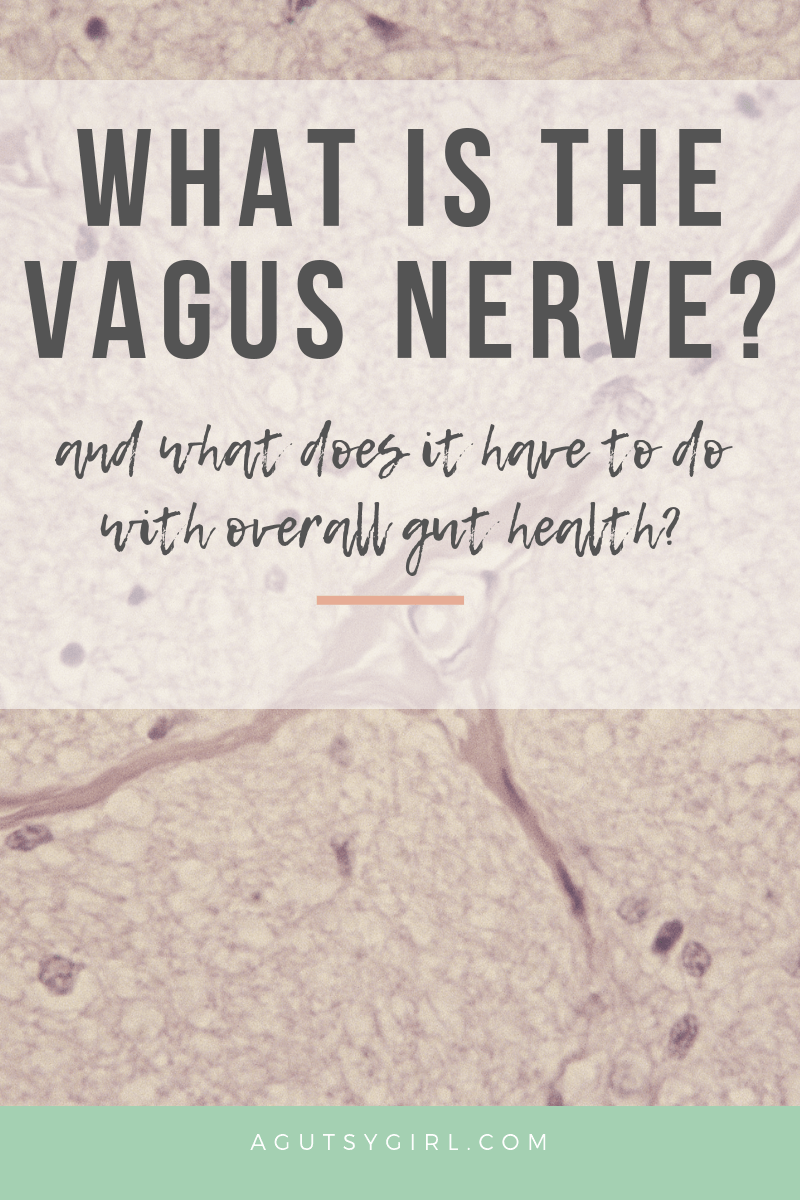 The vagus nerve, the longest of the cranial nerves (there are 12 pairs of cranial nerves total), controls your inner nerve center—the parasympathetic nervous system. And the parasympathetic nervous system is highly relevant for the Gutsy community,
Sometimes called the rest and digest system, the parasympathetic system conserves energy as it slows the heart rate, increases intestinal and gland activity, and relaxes sphincter muscles in the gastrointestinal tract.
As the controller, then, the Vagus Nerve has an important job.
Besides its role in helping us make memories and breathe, it is highly involved in preventing inflammation, initiating the body's relaxation response, and translating between gut and brain.
In fact, the NIH says about the Vagus Nerve,
It establishes one of the connections between the brain and the gastrointestinal tract and sends information about the state of the inner organs to the brain via afferent fibers.
If you watch this short video on the Vagus Nerve, you can visually connect the dots.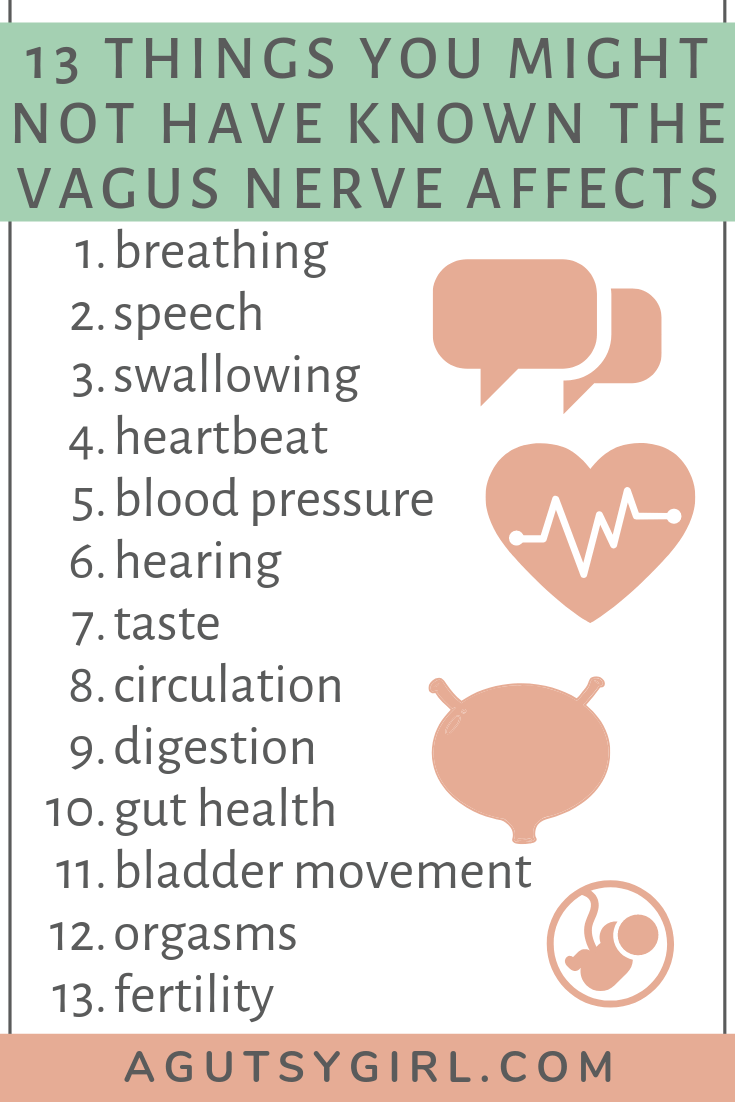 And you'll see how the Vagus Nerve directly affects:
breathing
speech
swallowing
heartbeat
blood pressure
hearing
taste
circulation
digestion
gut health
bladder movement
orgasms
fertility
Now that you can see just how important it is, the question becomes, "How can we stimulate the Vagus Nerve?"
Vagus Nerve Stimulation
Click HERE to save this post for later.
Vagus nerve stimulation (VNS) refers to any technique that stimulates the vagus nerve, including manual or electrical stimulation. For the purposes today, I am only discussing manual stimulation; things you can do on your own at home.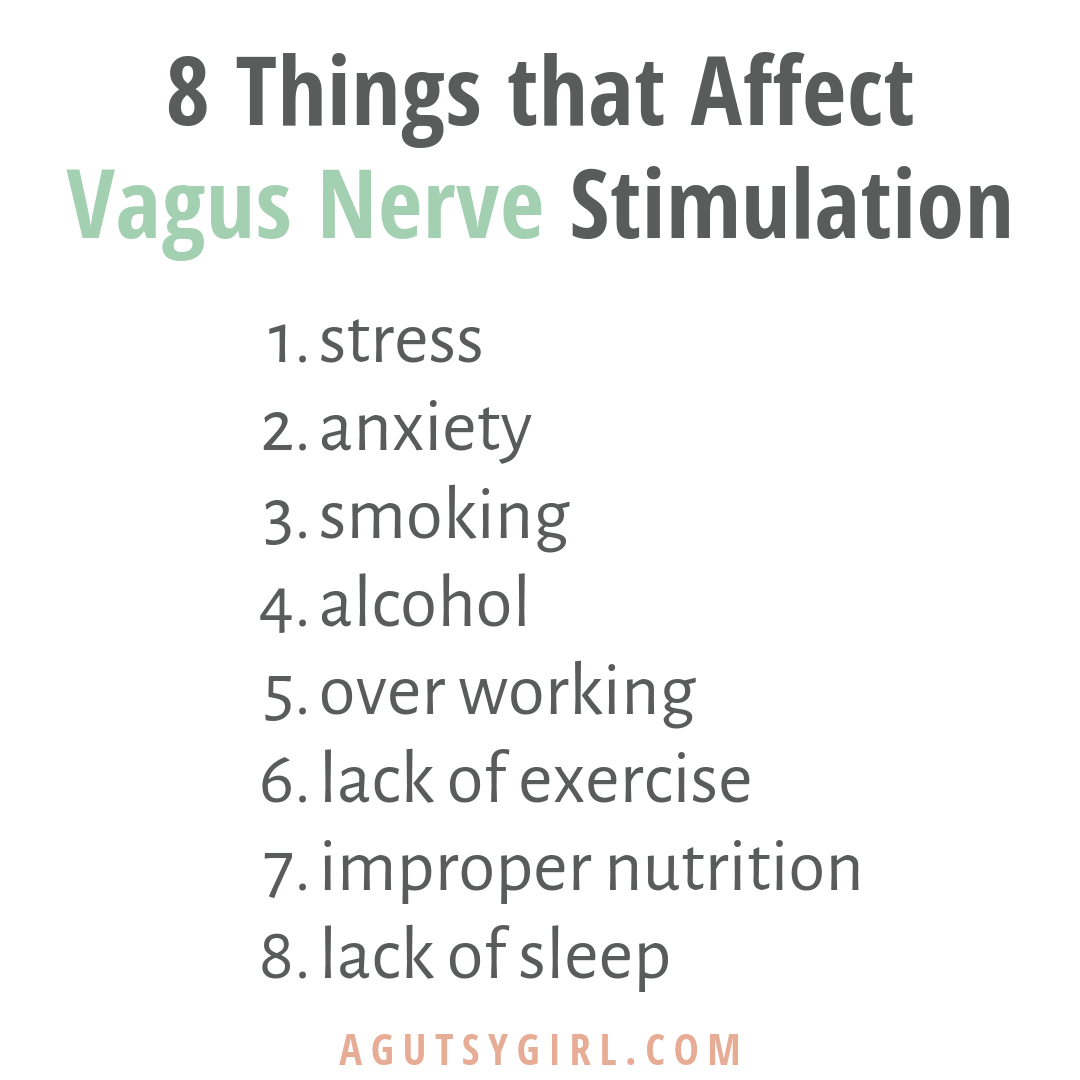 First, here are 8 things that can affect Vagus Nerve stimulation:
stress
anxiety
smoking
alcohol
over working
lack of exercise
improper nutrition
lack of sleep
And when it is negatively affected, here are some issues that can transpire:
depression
anxiety
obesity
cardiovascular disorders
hypertension
diabetes
digestive disorders
chronic inflammation
kidney malfunction
infertility
Parkinsons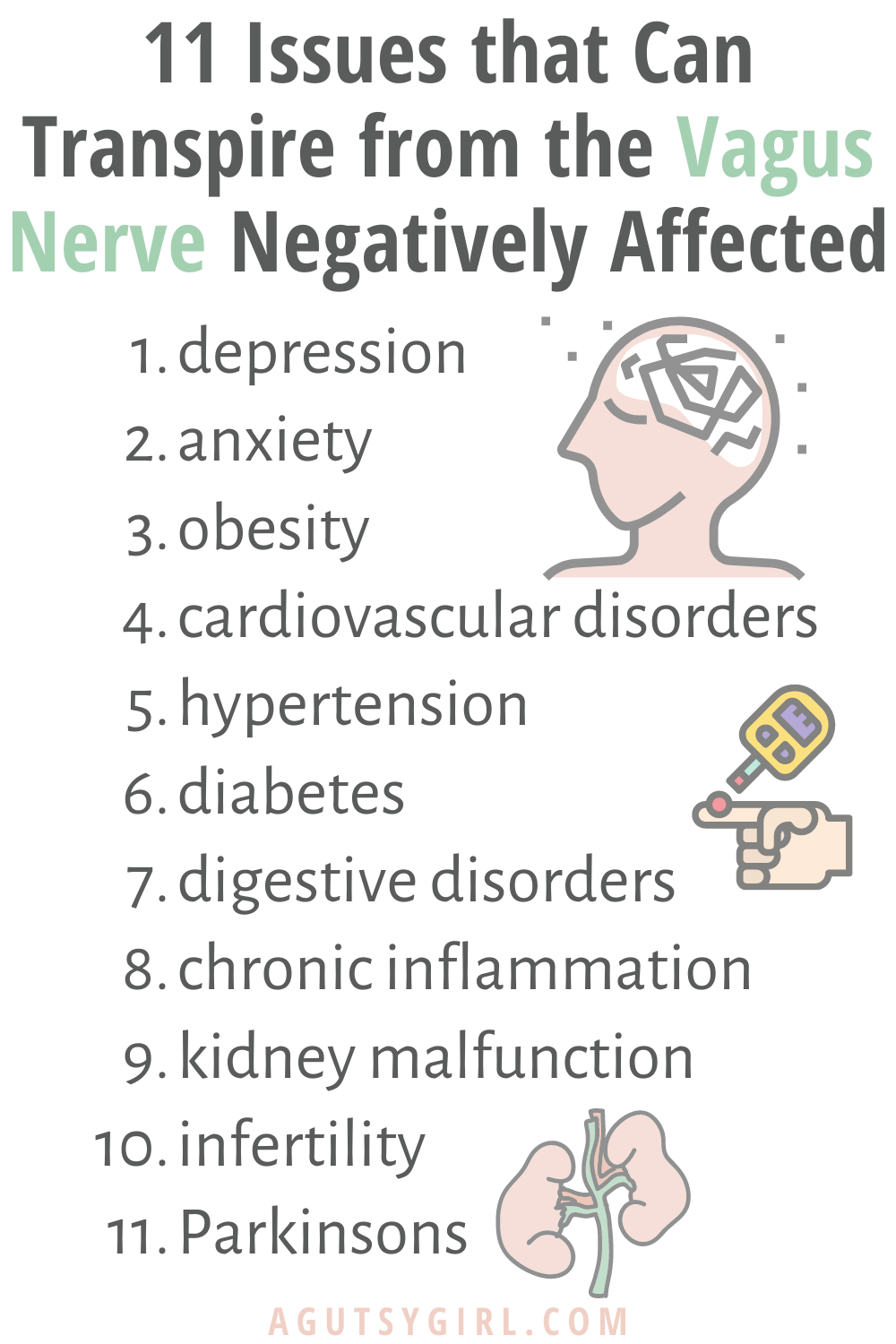 But help is on the way!
11 Things You Can Do at Home for Vagus Nerve Stimulation
Check out 32 science-backed ways to stimulate the Vagus Nerve HERE. These are 11 I wanted to touch on today. You can save all 11 HERE.
Breathing Exercises. I taught you back in 2012 my favorite breathing exercise. You'll find it HERE.
Meditation.
Exercise. Movement is good; too much is not. By the way, do you know that I do a simple healthy challenge each month on Instagram? See the simple movement that's coming up for June and join us HERE.
Yoga.
Omega-3-rich diet.
Probiotics and a Probiotic-rich diet.
Singing and chanting.
Splashing your face with cold water. Or cold therapy in general. Wellness Mama has written about Cryotherapy and details its benefits. But even if you can't do that, simply exposing your body to cold can help.
Hugging.
Massages. This one seems like a "luxury," and it is, but it was also a huge piece to my healing.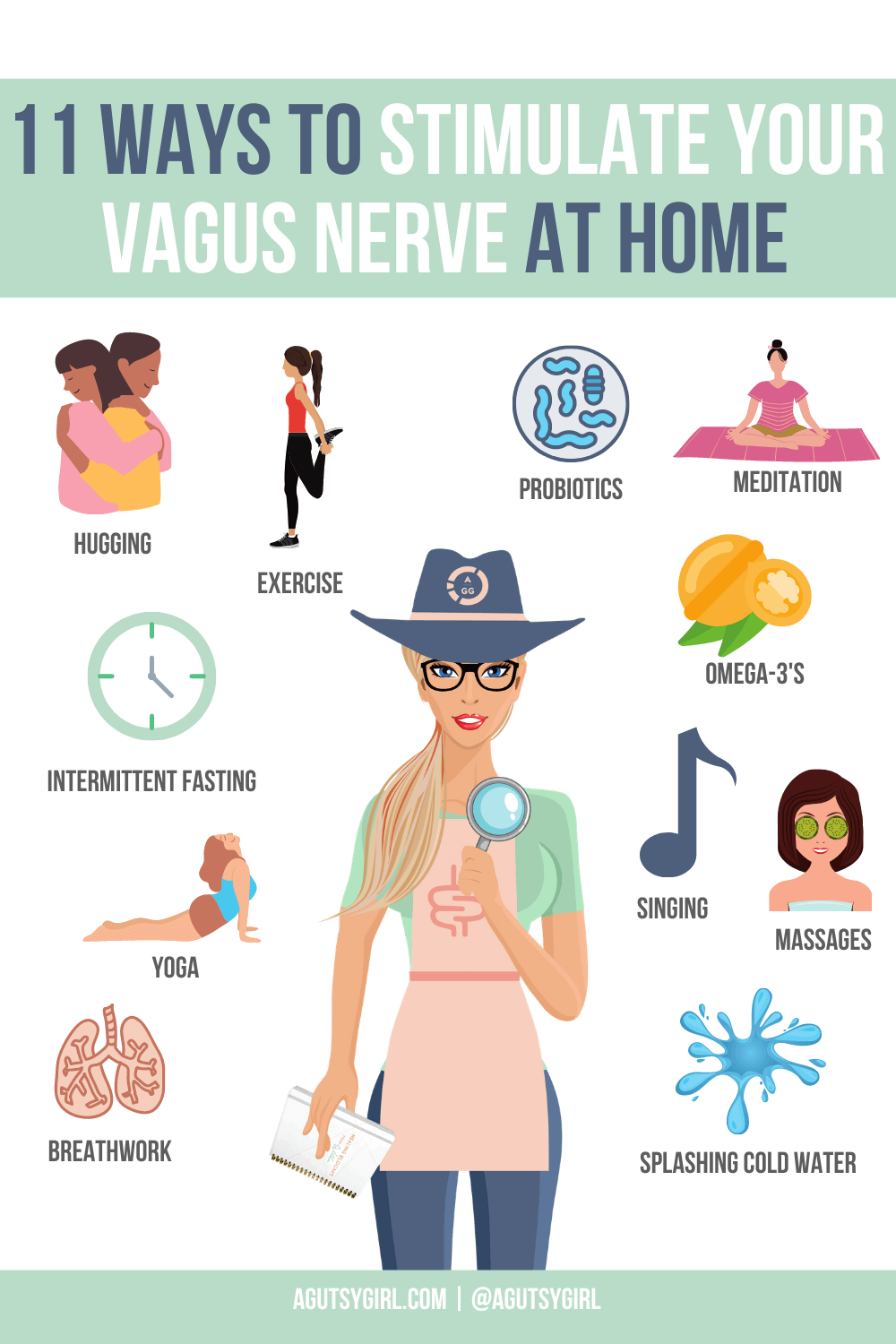 Do you see how important the Vagus Nerve is now for overall gut health? What else would you like to know and/or have me dive deeper into as it relates to the Vagus Nerve?
If you liked this post, you might also enjoy:
Xox,
SKH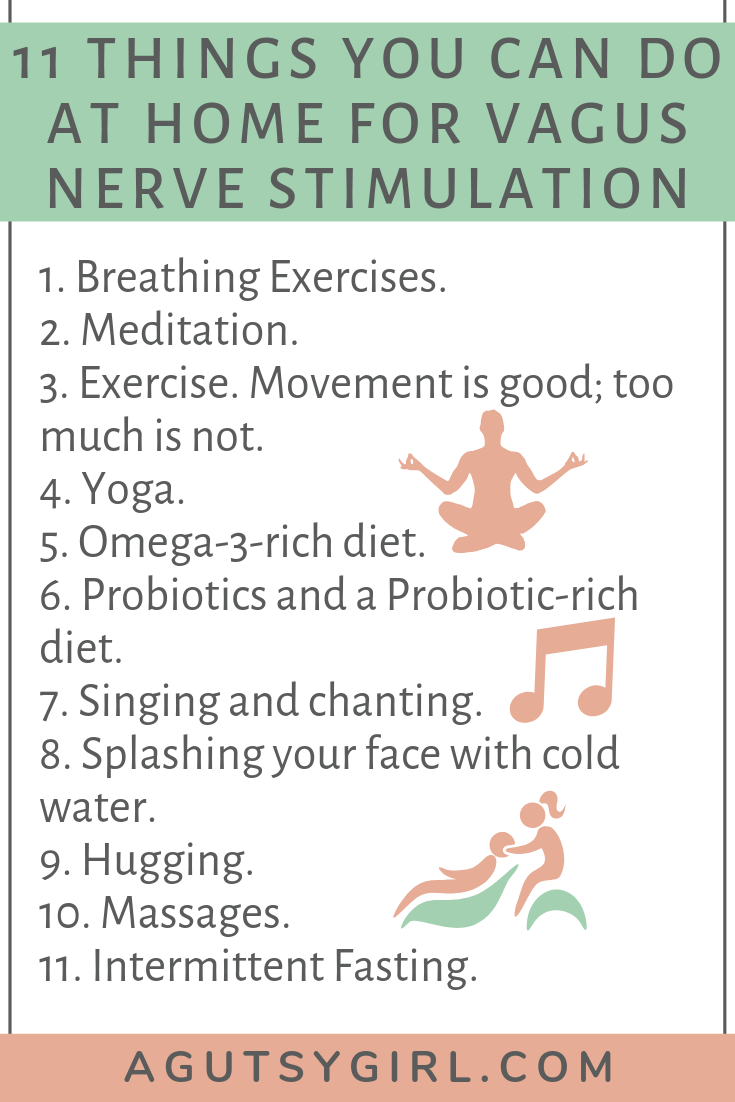 You will heal. I will help.