I need to share with you the anatomy of a gut-friendly cookie recipe today because….baking.
If I had to start my gut-healing journey all over again, one thing I would have done differently is restricted less.
Well, I actually would have not restricted in the first place. Once that damage was done, I wouldn't have restricted more in order to heal faster.
Long-term it just doesn't work.
That's not to say I would have freely eaten junk. Eating more and a variety doesn't have to mean junk.
Anyways, National Cookie Day is a super important holiday so I thought I'd share how, no matter what, you should be able to eat the d#$% cookie, too.
Cookie Recipes
My first idea for today was to make an allergen-friendly cookie recipe with you and share it. I didn't know if said cookie should be gluten, dairy, or sugar-free and/or low-FODMAP, so I asked on Instagram Stories.
Hundreds of you responded. The problem was that it was pretty much even across the board.
So that didn't help.
And then I realized that I could just empower you to make the cookie recipe that would be best for you.
Basic Sugar Cookie Recipe
Since it's the holiday season, I chose a Basic Sugar Cookie recipe to make an example out of.
This is Alton Brown's classic Sugar Cookie recipe. They get a 4.5 out of 5 star review from over 1,000 reviews. I'd say it's legit.
Ingredients
3 cups all-purpose flour
1 cup unsalted butter, softened
3/4 teaspoon baking powder
1 cup sugar
1/4 teaspoon salt
1 egg, beaten
1 tablespoon milk
Powdered sugar, for rolling out dough
Directions
Sift together flour, baking powder, and salt. Set aside. Place butter and sugar in large bowl of electric stand mixer and beat until light in color. Add egg and milk and beat to combine. Put mixer on low speed, gradually add flour, and beat until mixture pulls away from the side of the bowl. Divide the dough in half, wrap in waxed paper, and refrigerate for 2 hours.
Preheat oven to 375 degrees F.
Sprinkle surface where you will roll out dough with powdered sugar. Remove 1 wrapped pack of dough from refrigerator at a time, sprinkle rolling pin with powdered sugar, and roll out dough to 1/4-inch thick. Move the dough around and check underneath frequently to make sure it is not sticking. If dough has warmed during rolling, place cold cookie sheet on top for 10 minutes to chill. Cut into desired shape, place at least 1-inch apart on greased baking sheet, parchment, or silicone baking mat, and bake for 7 to 9 minutes or until cookies are just beginning to turn brown around the edges, rotating cookie sheet halfway through baking time. Let sit on baking sheet for 2 minutes after removal from oven and then move to complete cooling on wire rack. Serve as is or ice as desired. Store in airtight container for up to 1 week.
Now, you can either make like Alton and just eat those d#$% cookies or you can make your own version and still eat the d#$% cookies.
After looking at this recipe, here is how I would break it down.
Anatomy of a Gut-Friendly Cookie Recipe
Click HERE to save this post for later.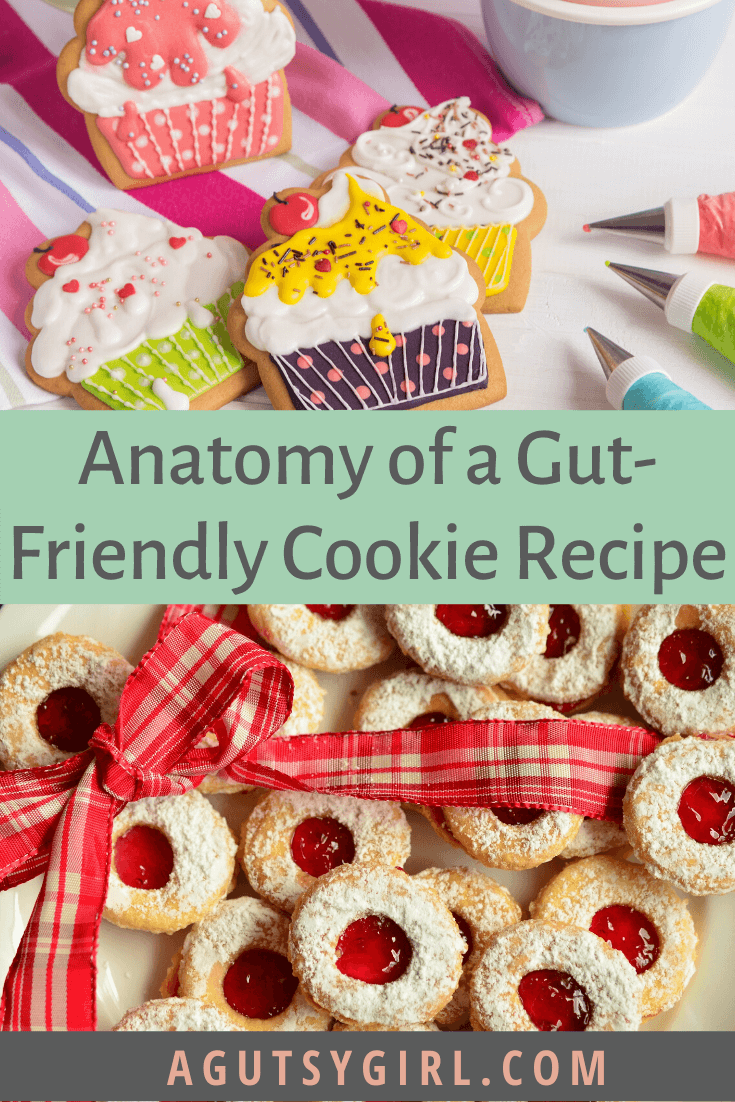 Every item on the list is gluten free.
SF = sugar free (I included nonnutritive sweeteners in the SF category as well because many of you who are SF are still using things like monk fruit and Stevia.)
DF = dairy free
P = Paleo
V = Vegan
Flour Replacements
This recipe uses a lot of flour, and because coconut flour is very tricky to work with, I wouldn't consider it for a replacement in this recipe. (Read: 16 Things to Know About Coconut Flour) Here are some options:
If you use the almond flour, though, you would likely need more eggs and/or other binders. Almond flour is not as tricky as coconut, but it still presents its challenges.
And remember, almond meal and almond flour are not the same things. Learn all about each of them HERE.
Butter Replacements
1 cup of unsalted butter, softened is easily replaced. That said, you might not want to. In that case, I'll give those options, too.
Organic Valley Unsalted Butter. SF, Low-FODMAP (some consider this Paleo now, too)
Nutiva Organic Buttery Coconut Oil. You measure this first and then melt. SF, Low-FODMAP, DF, P, V
Nutiva Organic Shortening. Trust me, I use this as a swap-in all the time. SF, Low-FODMAP, DF, P, V
Organic Ghee Butter. SF, Low-FODMAP, DF (depending on sensitivity), P
Miyoko's Cultured Vegan Butter. SF, DF, P, V
Find all these and more under the Holiday Baking tab on the Master Gutsy Spreadsheet HERE.
Sugar Replacements
Most classic sugar cookie recipes use around 1 cup of plain, white sugar. And honestly, while sugar is not good for overall health, I oftentimes think that a little of the real thing is far healthier than mounds of fake sugars. You decide what's best for you.
Notice I did not include honey, molasses, maple syrup, or any other liquid sugar forms to replace the plain, white sugar. This is because liquids and crystals won't necessarily swap 1-for-1. They might, but it's not likely to translate correctly in this recipe.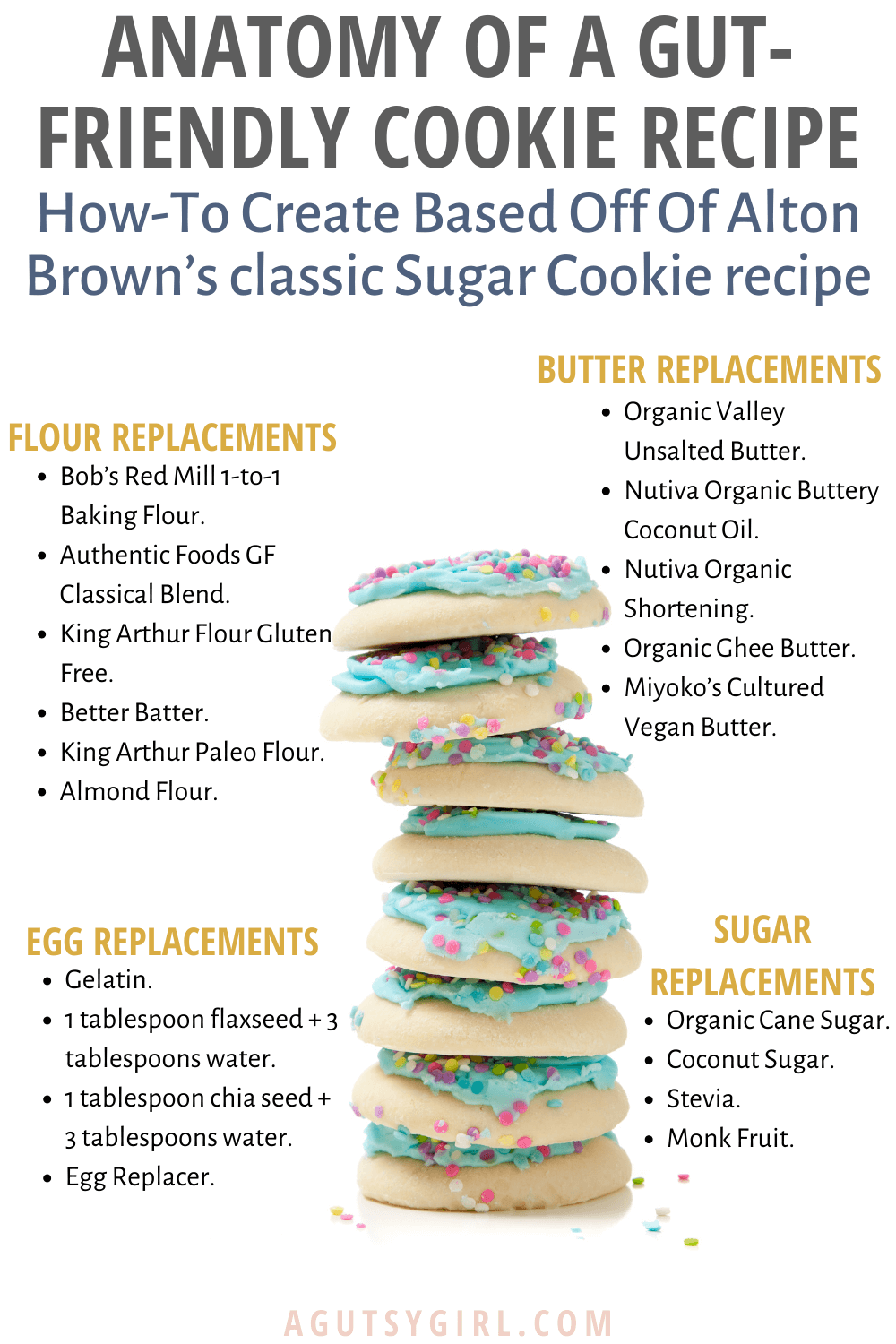 Egg Replacements
Because the recipe uses only one egg, and if you don't use coconut or almond flour, you could possibly swap out the egg. Unless you can't have eggs due to AIP, allergy, or some other medical reason, really the only reason I'd cut them is if I were Vegan. Because I'm not Vegan, I do eat them.
Note: there was a time when I absolutely could not do eggs. Eggs used to send me straight to the ER.
If you just keep the one egg, it's SF, Low-FODMAP, DF, and P.
Gelatin. 1 tablespoon is about equivalent to one egg. SF, Low-FODMAP, DF, P (Use code 'GUTSY10' at checkout to save an automatic 10% on this and everything from Perfect Supplements.)
1 tablespoon flaxseed + 3 tablespoons water. SF, Low-FODMAP, DF, P (debatable), V
1 tablespoon chia seed + 3 tablespoons water. SF, Low-FODMAP, DF, P (debatable), V
Egg Replacer. SF, Low-FODMAP (debatable due to the psyllium husk), DF, P (debatable), V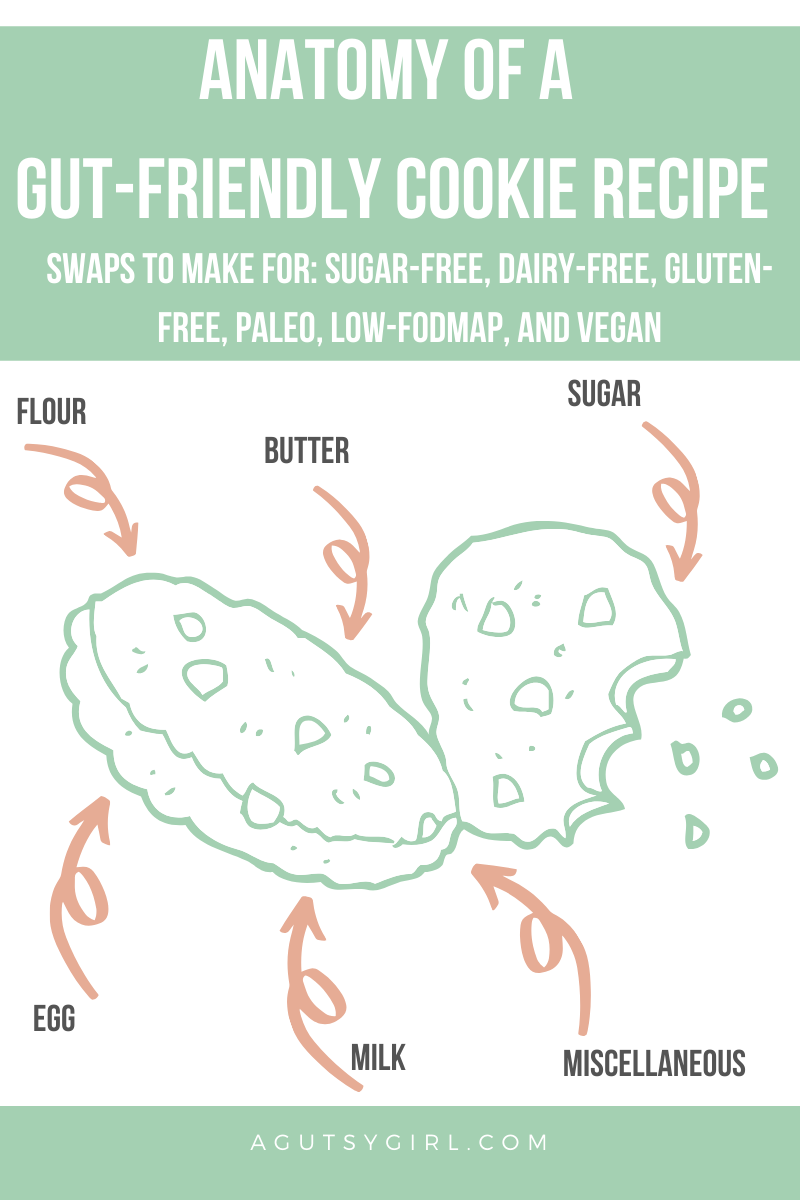 Milk Replacements
Milk is super easy to swap out if you can't have dairy. I have already broken this down in a full post called Which Milk to Choose HERE.
Miscellaneous Baking Replacements
The miscellaneous items include baking powder, salt, and powdered sugar (for rolling the dough).
Baking powder can be swapped by using a combination of apple cider vinegar and baking soda. Some don't use baking powder due to the cornstarch. I was one for many years. Instead, use 1/2 teaspoon of apple cider vinegar mixed with 1/4 teaspoon of baking soda for each 1 teaspoon baking powder called for. SF, Low-FODMAP, DF, P, V
You can also use 1/2 teaspoon of lemon juice mixed with 1/4 teaspoon of baking soda for each 1 teaspoon baking powder called for. SF, Low-FODMAP, DF, P, V
Salt is SF, Low-FODMAP, DF, P, and V. There is only 1/4 teaspoon in the entire recipe, so I'd never swap it.
The point of the powdered sugar is to leave that final sugary taste on the cookie. It's hard to swap this with something else, so I'd recommend using either:
And there you have it, the anatomy of a gut-friendly cookie recipe. Over the past 10+ years I've gotten really good at this.
If you found this post useful and helpful, consider sharing it with friends and family on Facebook HERE.

Want more Gutsy baking information and/or cookie recipes in general? Check out:
You will heal. I will help.