The leaky gut meal plan is not a diet, at least not in the sense that you might think.
I received a message from someone yesterday who personally loves my book, but was not comfortable sharing it because she thinks the meal plan recommends around 1,300 calories a day. So I combed through it all, and can absolutely see how she arrived at that understanding.
Instead of getting mad or feeling offended, I thanked her because it was something I did not see. "And," I said, "I'm going to write a whole post about it to set the facts straight."
What is a Diet
First, according to the dictionary, as a noun, here are the two definitions of the word "diet."
the kinds of food that a person, animal, or community habitually eats – i.e. a vegetarian diet

a special course of food to which one restricts oneself, either to lose weight or for medical reasons. – i.e. I'm going on a diet.
The book title is, The Leaky Gut Meal Plan: 4 Weeks to Detox and Improve Digestive Health. So while it might sound like a diet book, it's actually a meal plan book. Meal planning is simply devising a plan for any number of meals on any given day, week, or month. It is not a customized definitive….unless of course it is.
What I mean by that is that meal plans can look like a hundred different things. But the only time it would mean calorie restriction is if the meal plan was created by a doctor or nutritionist who told you exactly what to eat at approximate times with stringent calorie goals; minimums and ceilings. In this case, you might also be heavily tracking on a computer-based program or via notebook.
In no way, shape, or form is any of that done or mentioned in the book.
Here are the 3 reasons why:
I am not a doctor or a nutritionist, and I don't give out any definitive calorie minimums or ceilings.
On a mass-marketed level (which is what any nationally published book is), there is no way to have a customized caloric-based meal plan in a book directed towards optimal gut health.
Diets (by way of restriction for weight loss) and stringent meal plans aren't actually going to heal your gut.
Let's talk about all of this.
The Leaky Gut Meal Plan is Not a Diet
Click HERE to save this post for later.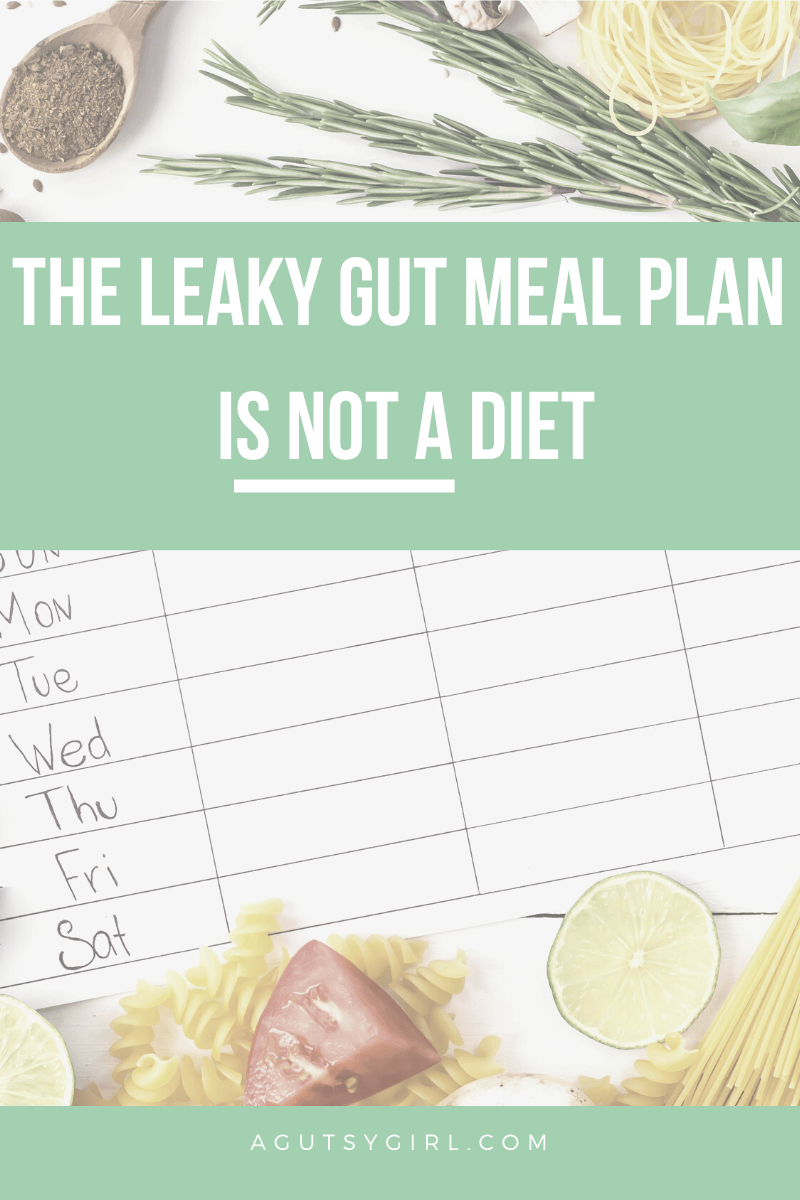 There is a recipe in the book that has like 900-ish calories per serving. When I first saw that (because no, I did not calculate the nutrition facts), I about fell over. My thoughts included: that's nuts, no one will try this awesome recipe due to the calories, and is this okay?
But then I brought myself back to:
And wait, sometimes gut healing is a diet – that's okay – this recipe is about healing.
This book is not a calorie guideline for daily caloric consumption.
Who cares?! I eat stuff like this all the time and once I healed my gut, weight normalized to where it naturally wants to be.
75 Recipes
75 recipes are included in the book, but not all 75 are used in the actual meal plan. This is because the publisher wanted to make the meal plan practical.
It's not practical to expect anyone to make a recipe with high cooking times and multiple ingredients for lunch on a Wednesday. So, on many days, lunches consist of leftovers from prior meals. And furthermore, there would never be a meal where you could only have one serving.
The leaky gut meal plan is not a diet.
On any given day, you can and should eat for healing not for a weight loss goal. I will promise you with everything I have that they are conflicting goals if your relationship with food isn't optimal.
So Then What Else Do I Eat?
I realize that if you're hungry in between the three standard meals I provide on any given day, you might not be certain as to what you should be eating.
Because I get that, here is what I'll suggest:
Look at the shopping lists by week. Take those main foods and create more snack options out of them. Take my Simple Meal Ideas While Gut Healing for inspiration and run with it.
Refer to The Gutsy Girl's Bible for multiple food lists. This will help you even more understand what might work and/or not work for you and why.
Join the 28-Day Leaky Gut Program for additional inspiration and ideas.
But no matter what, do eat. Do not count the calories.
Listen, if you are overweight or need to lose weight from a medical standpoint then you absolutely, positively, 1,000% must use this "meal plan" in conjunction with a nutritionist or doctor who can help you navigate and fine tune every last detail.
Whatever you do, please don't misunderstand my book to be advocating for eating less and healing more. I have been very vocal about the fact that that does not work. And I have also been vocal about the fact that the eating less and healing more mindset dug my hole even deeper.
Part of the work I do now, in addition to giving you all the information for healing, is advocacy work around what can and does lead to this mess for many women to begin with. And it's not the liver you chose to eat or not eat; the probiotic that you did or didn't take.
Please know that I'm always cheering for you to become more, not less; to count minutes filled with health and happiness instead of calories in a recipe.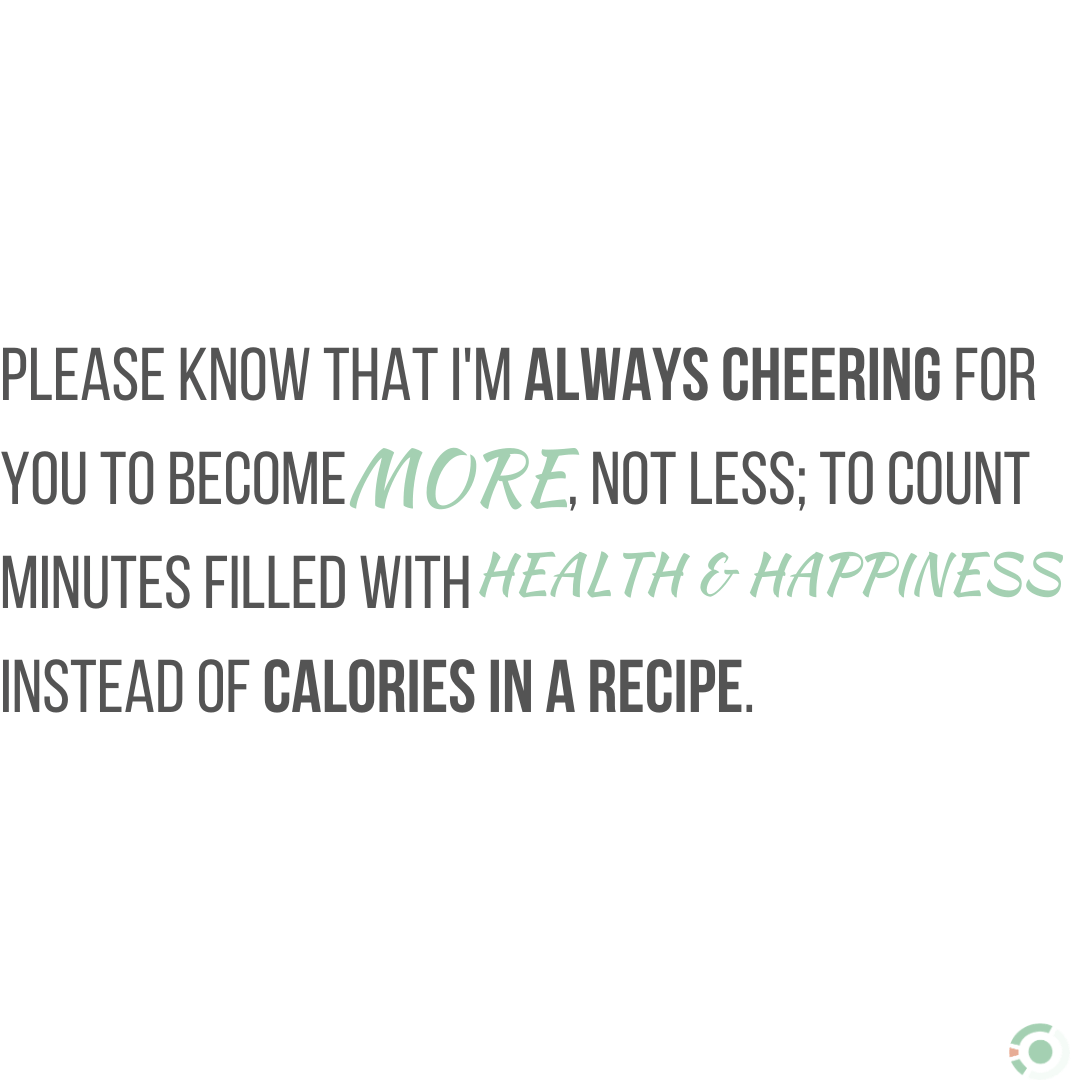 Xox,
SKH
You will heal. I will help.