"I'm having so many issues with my skin. Is it connected to what's going on in my gut?" The chronic skin issues and the gut connection conversation is in full force today.
Do you know how many times per week someone reaches out on the gut-skin connection?
Too many to count.
Subscribe Today:
Apple Podcasts | Google Podcasts | Spotify | iHeart Radio | RSS
---
Chronic Skin Issues and the Gut Connection (Episode 31 with Jennifer Fugo)
Click HERE to save this post for later.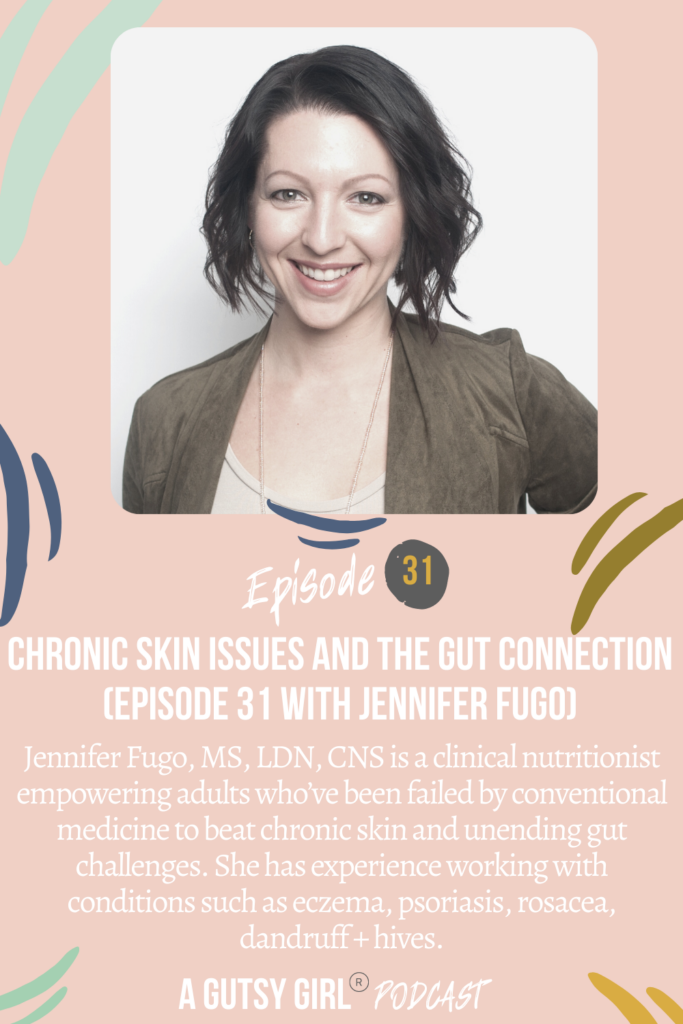 Resources Mentioned
Jen's main website HERE
Here's Dr. Weinstock's episode on the SIBO-Rosacea Connection HERE
Jennifer on Instagram
Skin Rash Root Cause Finder eGuide → use the eGuide to figure out what your unique 3 to 5 root cause combo is so you know what to focus on!
Don't Miss These Thoughts
Jen's story; she didn't start out as a practitioner, but instead a patient – what were her gut-skin symptoms
What are some of the hidden root causes that underlie chronic skin rashes?
"There is way too much fixation on food." – Jen
"Steroid creams block inflammation, but we don't know where that inflammation is coming from. Inflammation can come from any where, and can show up somewhere else." – Jen
Can gut problems (even ones that may not be apparent or obvious) trigger skin rashes?
How are histamine intolerance and skin reactions connected, if at all?
This stat is mentioned, "SIBO is found in approximately 77% of those with Rosacea." Is there a medically sound reason for that?
Is there a difference between addressing gut issues in someone with gut problems vs someone with skin problems? Or is the approach the same no matter what?
Her thoughts on using topical treatments (washes, creams, exfoliants, etc.) for combatting chronic skin issues. Does it work? Or is it just marketing?
What is the No-Moisture Therapy Method?
Jen's top 2-3 tips for identifying the larger picture of what's driving skin issues (and figuring out if your gut is involved)
Jennifer's 3 convictions around gut health and gut healing.
More from A Gutsy Girl
1. Welcome to A Gutsy Girl Podcast
2. Hang out on Instagram
3. BFF's on YouTube
4. Free resource: The Master Gutsy Spreadsheet
5. Rated-G Email Club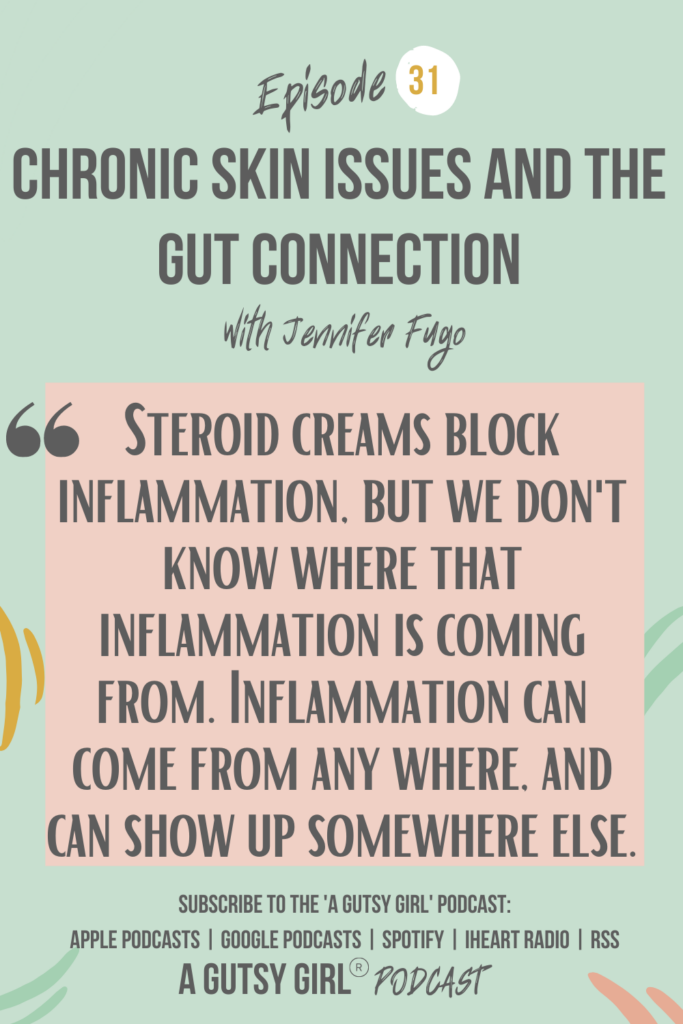 Wrap Up
Time to wrap this up. As always, a huge goal for this show is to connect with even more people. Feel free to send an email to our team at podcast@agutsygirl.com. We want to hear questions, comments, show ideas, etc.
Did you enjoy this episode? Please drop a comment below or leave a review on Apple Podcasts.
Jennifer Fugo Bio
Jennifer Fugo, MS, LDN, CNS is a clinical nutritionist empowering adults who've been failed by conventional medicine to beat chronic skin and unending gut challenges. She has experience working with conditions such as eczema, psoriasis, rosacea, dandruff + hives — with clientele ranging from regular folks to celebrities + professional athletes.
Jennifer also founded her own line of skincare + supplements available at www.QuellShop.com specifically for people struggling with these chronic skin issues.
She holds a Master's degree in Human Nutrition from the University of Bridgeport and is a Licensed Dietitian-Nutritionist and Certified Nutrition Specialist. Her work has been featured on Dr. Oz, Reuters, Yahoo!, CNN, and many podcasts and summits. Jennifer is a faculty member of the LearnSkin platform, an Amazon best-selling author, and the host of the Healthy Skin Show.
Xox,
SKH
You will heal. I will help.